8 Best Post-Sunburn Care Products To Protect Your Skin – 2023
Seal in moisture and soothe your red, irritated skin with gentle, calming formulas.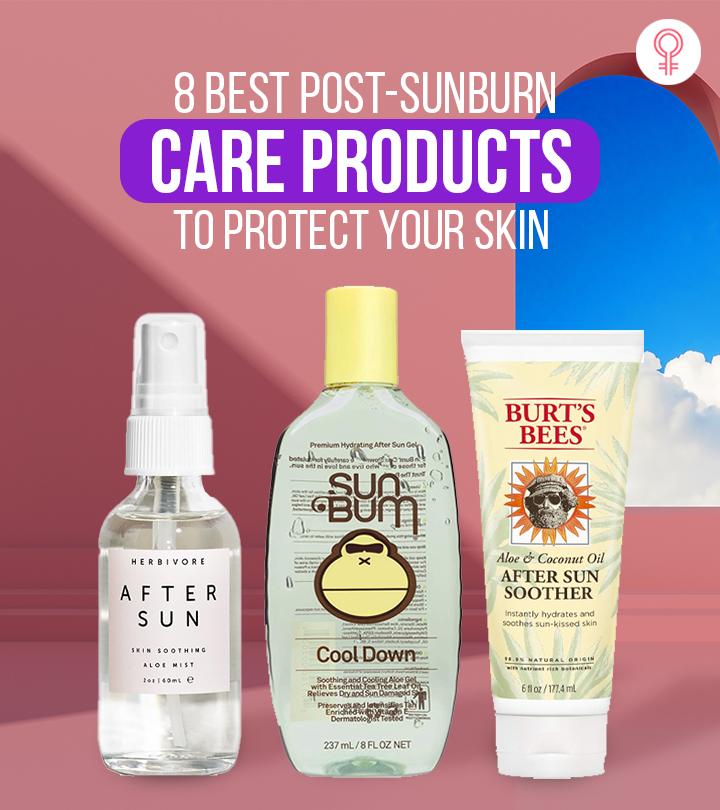 If you are looking for the best after-sun skin care products, we have just what you need. Summer calls for more preparation than just a summer body. You need to have enough skin care products to protect you from the UV rays and something to soothe your skin if you get a sunburn. Here is a list of 8 post sunburn products that will ensure the tan stays without any burns on your skin. So, who is ready to enjoy a fun summer! Scroll down for more information.
8 Best After-Sun Skin Care Products – 2023
This lush post-sun body butter by HAWAIIAN Tropic is infused with rich moisturizing ingredients that leave your skin super-hydrated for 12 hours. Coconut oil, shea butter, and avocado oil nourish your skin and soothe sunburns. This lotion has a sweet and exotic coconut scent that uplifts your senses while leaving your skin silky smooth.
Key Ingredients: Coconut oil, Shea butter, and Avocado oil
Pros
Smells good
Non-greasy
Non-sticky
No residue
Absorbed quickly
Cons
Price at the time of publication: $9.83
The after-sun lotion by BURT'S BEES is lightweight, does not leave a greasy feeling post-application, and is absorbed easily to provide instant relief after sun exposure. It contains aloe vera extracts that soothe and calm your skin. Glycerin and honey are natural humectants that form a protective barrier on the skin to hold in moisture. The coconut oil conditions your skin and minimizes any irritations. This antioxidant-rich lotion is all-natural and keeps your skin soft and healthy.
Key Ingredients: Glycerin, Honey, Aloe vera, and Coconut oil
Pros
Lightweight
Absorbed quickly
All-natural ingredients
Non-greasy
Paraben-free
Sulfate-free
Petroleum-free
Silicone-free
Phthalate-free
Cons
Price at the time of publication: $20.82
The Hanalei Island Aloe Gel is made with a blend of aloe vera, papaya enzyme, and Hawaiian noni to provide hydration, nourishment, and relief from sunburns. The aloe vera soothes and heals sunburned skin, and the papaya enzyme provides gentle exfoliation to smooth and refresh the skin. Another powerful ingredient, Hawaiian noni, rich in antioxidants and vitamins, helps to nourish and protect the skin from free radical damage. It also helps to prevent the early appearance of signs of aging. This gel is perfect for use after a day in the sun or as a daily moisturizer to keep your skin hydrated and healthy. The lightweight formula gets absorbed quickly and leaves no greasy residue.
Key Ingredients: Aloe vera, Papaya enzyme, and Hawaiian noni
Pros
Cruelty-free
Paraben-free
Absorbs quickly
Lightweight formula
Non-greasy
Cons
None
Price at the time of publication: $15.99
This hydrating moisturizer by Solar Recover replaces the lost moisture from your skin after prolonged sun exposure. It does not smear or leave a sticky feeling and is absorbed well into your skin. This moisturizer is infused with natural anti-inflammatory ingredients like calendula and chamomile oil that relieve the pain and redness caused by sunburns. The vitamin E extracts, lavender oil, and sesame oil nourish the skin, calm down flaring, and reduce pain.
Key Ingredients: Geranium oil, French seaweed, Calendula, Chamomileoil, Vitamin E, Lavender oil, and Sesame oil
Pros
Easy to use
Non-greasy
Lightweight
All-natural ingredients
Cruelty-free
Smells good
Cons
Price at the time of publication: $23.36
This ultra-cooling gel mask BY PETER THOMAS ROTH is infused with natural botanical extracts that provide instant relief post-sunburn. The papaya, orange, and pineapple extracts are rich in vitamin C and soften your skin. It also fades tan and gives your skin a boost of brightness. The refreshing aloe vera extracts soothe redness and calm down skin damages. The lemon extracts stimulate collagen production, fastening the healing process. Regular use of this mask detoxes your skin for a clearer complexion. Click this video to learn more about the product.
Key Ingredients: Cucumber, Papaya, Chamomile, Pineapple, Sugar maple, Sugarcane, Lemon, Bilberry, Orange, and Aloe vera
Pros
Non-greasy
Non-sticky
Leaves no residue
Absorbed quickly
Ideal for daily use
Cons
Price at the time of publication: $51.89
The COOLA Radical Recovery Moisturizing Lotion is made of 70% organic ingredients. It refreshes and recovers your skin from sun damage. The lotion is enriched with antioxidants like sunflower oil and aloe vera that soothe your skin and give it long-lasting hydration. It also contains lavender oil, rosemary extract, and mandarin peel, which refresh your skin and act as anti-inflammatory agents. Other ingredients include orange peel, cedar oil, and century plant extract, which give you relief from sunburns, rashes, and allergies. The lotion absorbs quickly and feels non-greasy. It has a refreshing lavender fragrance.
Key Ingredients: Aloe vera, Agave, Sunflower oil, Lavender, Sweet orange, Mandarin peel, Rosemary extract
Pros
Rich natural ingredients
EcoCert certified
Mild fragrance
Suits all skin types
Long-lasting results
Absorbs quickly
Cruelty-free
Reef-friendly
Dermatologist certified
Gluten-free
Cons
None

Price at the time of publication: $22.6
This cooling mist by HERBIVORE quenches your skin after a long day in the sun. It contains aloe vera extracts that naturally soothe your skin while hydrating it. This formula induces faster healing and calms irritation. Peppermint oil, rich in menthol and known for its medicinal properties, imparts a cooling sensation to the skin. Lavender essential oil has antifungal and antiseptic properties that calm inflammation and soothes dryness. This all-natural mist is instantly absorbed into your skin and gets rid of any discomforts caused due to sunburns with ease.
Key Ingredients: Mint, Lavender, and Aloe vera
Pros
All-natural ingredients
Smells good
Vegan
Alcohol-free
Artificial preservative-free
Artificial color-free
Sulfate-free Petroleum-free
GMO-free
Paraben-free
Cruelty-free
Cons
None
Price at the time of publication: $12.0
This soothing After Sun Balm by BADGER restores dry skin with natural antioxidants and deeply moisturizes it. The skin conditioning ingredients like shea butter, cocoa butter, organic extra virgin olive oil, and jojoba oil offer optimal nourishment and soothe your skin. The enchanting Moroccan blue tansy oil and lavender impart a reinvigorating tropical scent and possess antibacterial properties that relieve skin irritation. The orange and lime oil fasten the healing process by improving skin elasticity.
Key Ingredients: Blue tansy oil, Organic extra virgin olive oil, Jojoba oil, Cocoa butter, Shea butter, and Lavender
Pros
Absorbed well
Petroleum-free
Fragrance-free
Dye-free
Paraben- free
GMO-free
No synthetic chemicals
Gluten-free
Cruelty-free
Cons
Price at the time of publication: $9.41
Why Trust StyleCraze?
The author Shiboli Chakraborti is a certified skin care coach. She researches the skin care products before recommending them. She also analyses user reviews and opinions from trusted online platforms before listing safe and effective products. These after sun care products nourish and soothe the skin and keep it youthful and smooth without being greasy and sticky.
Frequently Asked Questions
What to do after getting a sun tan?
Suntan or UV exposure can generate free radicals, leading to skin damage. In case of a suntan, first, cleanse your skin and then use a soothing gel or creme to calm down any irritation. Finally, use a gentle exfoliator to scrape off the dead skin cells alongside the tan.
What is better for sunburn – aloe or lotion?
Aloe vera restores lost moisture and soothes your skin after a sunburn. Regular lotions may not soothe your skin, but you can invest in lotions with cooling ingredients like lidocaine, cucumber, or aloe, as they relieve sunburn and have calming effects on your skin.
Can you use after-sun lotion as a regular lotion?
Yes, you can! After-sun lotions make a great choice for daily moisturization, as they soothe your skin, boost hydration levels, and heal UV damage caused by daily sun exposure. However, after-sun lotions tend to leave a dewy finish post-application.
What is the difference between after-sun lotion and moisturizer?
Moisturizers are ideal for winters, as they moisturize your skin and nourish it. In comparison, sun lotions are ideal for summertime, as they protect your skin from the harsh UV rays of the sun and prevent skin damages.
Is after-sun gel or lotion better?
It is up to you whether to use a lotion or gel. The gel may feel more cooling, and the lotion may feel more hydrating.
What is the best after-sun lotion for sensitive skin?
The non-comedogenic, hypoallergenic La Roche-Posay Posthelios After-Sun Face & Body Soothing Gel is ideal for anyone with sensitive skin.
How often should you apply sunburn care products after the sun?
Use post-sunburn care products as often as needed. It is essential to keep damaged or burned skin moisturized to avoid peeling.
How long does after-sun last?
After-sun care products usually last for at least three years.
Recommended Articles