13 Best After Sun Lotions To Soothe Your Skin
Hydrate and cool your skin to keep it healthy and relaxed after a long day outdoors.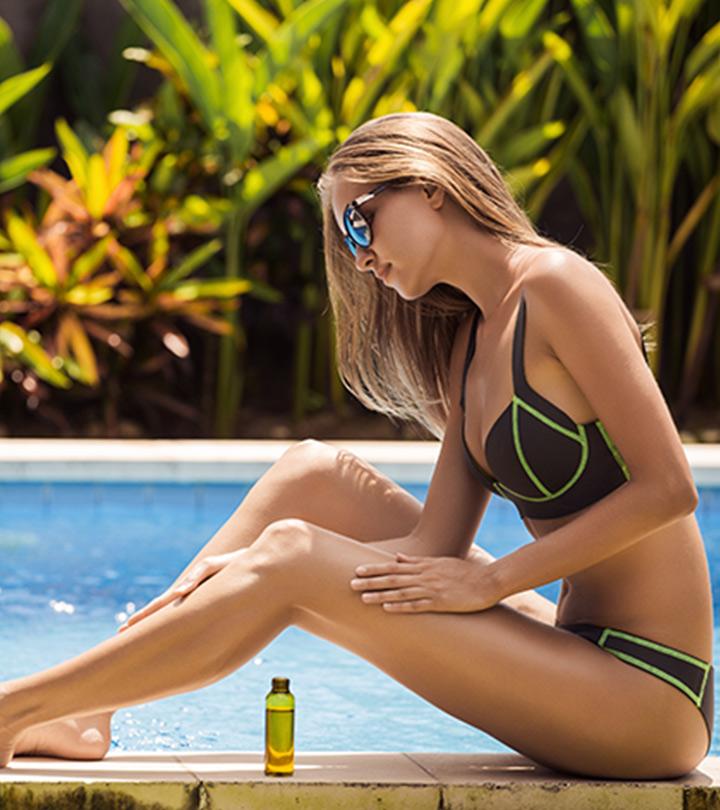 Sometimes, sunscreen is not enough to protect your skin from the harmful rays of the sun. It may even leave you with a slight suntan or sunburn, even after continuous reapplication. To ensure your skin heals effectively after sun damage, you need to invest in the best after-sun lotions. The best part about this product is that it is manufactured in various forms like creams, sprays, lotions, etc. To avoid peeling skin to wreak havoc, a layer of this product will soothe your irritated skin and help repair the damage that your regular sunscreen could not protect. Skin epidermis damage is a more common and sad reality that showcases inflammation, redness, and long-lasting skin issues when exposed to UV rays. It is essential to invest in a calming and repairing after-sun lotion that perfectly hydrates your skin. Scroll down to find the 13 best lotions to help get rid of sunburnt or dry skin.
What Does An After-Sun Lotion Do?
A lightweight hydrating good after-sun lotion restores the skin's moisture levels while forming a barrier to trap the heat in your skin, which could potentially further on to skin damage. After-sun lotions also offer anti-inflammatory benefits and lock in moisture while accelerating the healing of wounds. It also helps reduce radiation damage, which can be triggered after being under constant exposure to sun rays.
13 Best After-Sun Lotions To Help Reduce And Protect Sun-Exposed Skin
The Hawaiian Tropic Silk Hydration After Sun Lotion is a silky gel-based after-sun lotion that nourishes your skin after a long day in the sun. A fantastic choice for those with oily skin, it is a lightweight formula that offers a barely-there sensation. The unique blend of shea butter, aloe, and a dual-ribbon hydrating formula provides 24 hours of moisturization, leaving you with a smooth, supple, non-greasy feeling. The moisturizing after sun lotion is also accompanied with tropical botanicals and fruits like mango, papaya, passion-fruit, plumeria, and guava, which work actively to keep your skin healthy and nourished. Watch this YouTuber's honest review to get a better idea about the product and its features.
Pros
Reef-friendly
Weightless formula
Cruelty-free
Lasts up to 24 hours
Cons
Some may find the fragrance intense
Price at the time of publication: $6.99
Burt's Bees Aloe & Coconut Oil enriched After-Sun Soother will help you lessen any inflammation caused by a sunburn. The soothing after-sun lotion gently moisturizes your skin with aloe vera extracts and coconut oil. This aloe vera after-sun lotion is specially formulated to condition and rejuvenate your skin after sun exposure. The fast-absorbing ability of the lotion is derived from natural sources and is ideal for those with sensitive skin. The Burt's Bees after sun lotion claims to be of 98.9% natural origin without parabens, phthalates, petrolatum, and SLS and could possibly be the best lotion for skin peeling after sunburn.
Pros
Weightless formula
Non-greasy texture
Contains 98.9% natural origin ingredients
Does not contain parabens, phthalates, petrolatum, or SLS
Suitable for sensitive skin
Cons
Some may find the consistency slightly watery
Price at the time of publication: $20.82
 After a long day out in the sun, your skin requires the proper amount of pampering to revive and to replenish moisture levels. For this, you can opt for Sun Bum's Cool Down lotion as it is a cornucopia of aloe, vitamin E, cocoa butter, jojoba oil, and cottonseed oil. The after-sun face and body lotion is a light, non-greasy formula that absorbs quickly, leaving the skin feeling soft yet bare while acting as a skin barrier from premature aging. This after-burn lotion is also hypoallergenic, reef-friendly, cruelty-free, and vegan. This paraben-free after burn lotion is also  gluten and propylene glycol-free.
Pros
Cruelty-free and vegan
Neutralizes free radicals that reduce chances of premature aging
Packed with aloe, cocoa butter, jojoba oil, and cottonseed oil
Non-greasy and quick absorbing
Hypoallergenic
Reef-friendly
Cons
Some may find the formula chalky after it dries on the skin
Price at the time of publication: $11.99
A good after-sun tan lotion  is a great way to secure a long-lasting tan while being a preventive product that tackles skin peeling. This after-sun tanning lotion by Piz Buin is a fast-absorbing lotion that provides 24-hour moisturization to restore the skin's hydration levels and to enhance natural tan pigments with the help of tanimel. Tanimel is a tan intensifying plant extract that helps produce a natural-looking tan on the skin. Along with tanimel, this after-tan moisturizer lotion also includes glycerin, vitamin E, and shea butter.
Pros
Contains tan boosting ingredient tanimel
Locks moisture
24-hour hydration
Provides a longer lasting tan
Cons
Price at the time of publication: $16.5
Want to use an after sun lotion that is hassle-free and has the best 2 ingredients? Well, this Banana Boat After-Sun Lotion review perhaps could leave you in awe. This lotion is an intensely moisturizing formula that helps improve your skin's texture while retaining your natural tan for long periods. Formulated with vitamin E and aloe vera gel, it helps prevent peeling and drying. The formula is non-greasy and an ideal option for minor sunburns and irritated skin. With an addition of hydrolyzed collagen, this lotion seeks to retain the youthful appearance of your skin. This video will give you a better insight into the product.
Pros
Contains aloe vera
Soothing qualities
Anti-aging
Non-greasy
Ultra-moisturizing
Cons
May take some time to absorb
Price at the time of publication: $34.81
On the hunt for an organic after-sun lotion? Check out the Maui Island After Sun Sealer for its abundance of natural ingredients like aloe extract, sunflower oil, rosehip oil, shea butter, passion flower oil, vitamin A,C, E, Hawaiian ginger, Maui coffee extracts, and green tea extracts. This natural after-sun lotion is bound to nourish your skin while fighting any ailments caused by sun exposure. High in organic ingredients, this tan sealer also helps in lengthening the longevity of your tan and locking in moisture.
Pros
Organic after-sun lotion
Ultra-hydrating
Suitable for dry skin
Pleasant fragrance
Cons
May not be best-suited for those with oily skin
Price at the time of publication: $48.2
The Coola after-sun lotion is the answer to your worries if you're looking to cure overexposed skin. This vegan after-sun lotion has 70% certified organic ingredients that are rich in antioxidants with components like sunflower oil. Lavender oil is infused to charge anti-inflammatory benefits and aloe vera offers a soothing sensation. Ingredients like rosemary extracts help bring a refreshing feeling to the skin while agave binds moisture into the skin with its vitamin-rich properties. The lightweight lotion also incorporates a naturally-derived lavender scent topped with plant-protectors like red algae, red raspberry seed oil, and plankton that act as natural sun barriers.
Pros
Cruelty-free
Eco-cert certified
Suitable for damaged skin
Reef-friendly
Skin-soothing
Cons
Price at the time of publication: $32.0
This after-sun aloe sun lotion by SunBurnt is a hydrating lotion infused with natural organic aloe vera gel, cucumber, coconut oil, and algae extract. These ingredients help in soothing and cooling affected areas. An aloe after-sun lotion for sunburns such as this one helps rehydrate and immediately cool down parched skin that's seen a hot day. Combined with botanicals like calendula and echinacea, this fragrance free after sun lotion helps the skin heal minor burns, rashes, and eczema and absorbs quickly without feeling dry. This product is free from parabens, glycol, sulfate, and phthalates.
Pros
Paraben-free after sun lotion
Glycol-free
Sulfate-free
Non-greasy
Absorbs quickly
No artificial fragrance or dyes
Cons
Some may find the coconut oil scent slightly off-putting
Price at the time of publication: $10.79
Bless your skin with the BoaVida After Sun Nutrient Cream to reduce redness, flaking, and peeling. The cream will make your tan last longer and help heighten your natural pigment. Formulated with the organic goodness of cupuacu butter, aloe vera gel, and shea butter with an addition of vitamin E, this moisture retention cream is non-greasy and leaves your skin feeling healthy. Ideal for sensitive skin, this gluten-free after-sun lotion is made without parabens and has a citrus vanilla aroma that encompasses the jar. This could be labelled as the best after-sun lotion to prevent peeling.
Pros
Reduces redness, flaking and peeling
Ideal for sensitive skin
Non-greasy
Lengthens the duration of tan
Cons
Price at the time of publication: $13.75
This aloe vera sun lotion by Nivea is a quick-absorbing formula that leaves your skin intensely moisturized for up to 24 hours. The after sun lotion is primarily infused with aloe vera and avocado oil that maintain the elasticity of the skin. Lather the after sun moisturizer evenly on your skin after a day out in the sun and allow the product to seep into your skin and provide the ample nourishment required to hydrate and protect your skin. The lotion helps retain a lasting tan while keeping your skin amply hydrated.
Pros
Lasts up to 24 hours
Suitable for dry skin
High in hydration
Soothes and maintains elasticity of skin
Cons
Price at the time of publication: $8.7
The Ocean Potion aloe after-sun lotion  repairs and heals sun or wind burnt skin. This lotion seeks to soothe, cool, and condition the skin and regular use of this lotion also guarantees an extended tan-life. With antioxidants like vitamins B, C, and E, this product provides a tranquilizing effect for moisturized skin with the added benefits of aloe vera, seaweed, algae extracts, and deep sea minerals. You may have found the best after sunburn lotion as it is rich in richly hydrating and flavonoid ingredients like cocoa, coconut oil, sunflower seed oil, citrus, and tea tree oil extracts to further rejuvenate and protect the skin.
Pros
Ideal for daily usage
Anti-inflammatory
Soothing
Reduces skin peeling
Cons
Price at the time of publication: $27.56
This fragrance-free after sun lotion treats your skin, especially during dry winters. With organic aloe vera and benefits of vitamins A and E, the after-sun tan lotion rich in moisture-building emollients, gently softens and smoothes your skin while protecting the skin's cells from drying or peeling. This unscented after-sun lotion is not tested on animals, is paraben and petroleum free and is perhaps one of the best hypoallergenic after-sun lotions. It has also proven to reverse the signs of anti-aging and offers skin reparative properties.
Pros
Unscented after-sun lotion
Soothing
Ideal for sensitive skin
Intensely hydrating
Restores damaged skin
Cons
Some may find it slightly sticky
Price at the time of publication: $13.49
Replenish your skin with this all-organic after-sun lotion made with a blend of green tea, tulsi, wakame seaweed, and olive leaf extracts. The paraben-free after-sun lotion is also infused with plant-based squalane, aloe vera, shea butter, and coconut oil that provides silky, soft, and well-moisturized skin without any residues This lotion is best advised for those who tend to have drier skin as it is a mineral-based sunscreen that combats any signs of dry, sun-damaged skin.
Pros
Paraben-free
SLS-free
Suitable for all skin types
Ideal for the face and body
Cons
Price at the time of publication: $14.95
Summertime is the time to excessively pay heed to your skincare routine diligently as prolonged exposure to the sun could translate to poor skin conditions. Using a moisturizing after-sun lotion is advised as sun stressed skin could lead to further drying and loss of moisture retention abilities if not taken care of. Read on to know more about how you can choose the best after -sun lotion.
How To Choose The Best After-Sun Lotion?
If you have dry or normal skin, look for products containing some of the commonly known moisturizing elements like shea butter, coconut oil, hyaluronic acid, glycerin, and cocoa butter among others. A hydrating after-sun lotion is a must as frequent or extended hours in the sun or daytime might lead to drying of the skin eventually causing some irrecoverable disease. Antioxidants help prevent aging, pigmentation, wrinkling, or fine lines. Oily skin people can also use gel or water-based hydrating lotions that are rich in vitamins to eliminate free radicals. Aloe vera, gotu kola, mountain arnica, and propolis are ideal for those with sensitive skin as these soothe the skin after a sunburn or a rash.
Opt for an after sun lotion that has a good longevity factor. The longer they last the longer the healing and soothing process stays effective.
A great way to correctly utilize an after-sun lotion is to opt for one that quickly absorbs into your skin. After cleaning up from a long day in the sun, apply the after sun cream on your skin and allow it to absorb into your skin. This way, it won't feel sticky or greasy post application.
Opt for water-based or gel after-sun lotions during the summers as they absorb quickly into the skin disallowing sweat to remove the residue. While after-sun lotions are recommended for the summers, it is important that you apply during winters as any exposure to sun rays can cause harm. Since your skin tends to turn dryer during the fall, it is best advised to use a creamy, thick after sun lotion to restore and lock in the moisture.
How To Use An After-Sun Lotion?
The best way to apply an after-sun lotion is to rub the product on your skin right after a bath or shower from a day out in the sun.
If you are sunburnt, apply the after-sun lotion or gel on your skin on a daily basis
An after-burn lotion helps rejuvenate the damaged parts of your skin which may require more care, thus keep yourself hydrated both internally and externally as sunburns tend to draw fluid towards the affected area leaving you with a lack of hydration.
Why Trust StyleCraze?
Keeping up with the latest trends in skincare and makeup is an obsession for author Vaishnavi Kothuri. After-sun lotions help her recover from the harsh sun damage that sunscreen can't prevent. In order to find the best products for her readers, she has sifted through all possible options. The buying guide will give you helpful tips on how to select the best one for your needs. After-sun lotions are designed as barriers to protect the skin from further sun damage by retaining moisture and slowing down the gradual loss of its elasticity.
Frequently Asked Questions
Does an after-sun lotion work?
Yes, after-sun lotions are a great addition to a post-sun-care regime as they bring moisture back into the skin.
Is an after-sun lotion good for acne?
Any after-sun lotion with alpha-hydroxy acids (AHAs), beta-hydroxy acids (BHAs), or salicylic acids are best for those with acne-prone skin since they have healing and skin replenishing properties.
How long does an after-sun lotion last?
Sunscreens or after-sun lotions last from anywhere between 12-18 months on an average.
In terms of longevity upon application, most usually last longer hours whereas some tend to last up to 24 hours.
Can you use an after-sun lotion as regular lotion?
Yes and no. While they are predominantly meant to be used at the end of the day when you're back from outdoor activities, using an after-sun lotion before heading out or as a regular lotion may be feasible due to its skin nourishing ingredients. Though, it is not quite advised to be replaced with a sunscreen lotion as none of them come with SPF.
Does an after-sun lotion help you tan?
As after-sun lotions are made to be used after sun exposure, these lotions help alter the UV rays in order to minimize skin damage while maintaining the durability of the tan.
Does a sun lotion help with sunburn?
Yes, an after-sun lotion helps with sunburns as they are meant to ease and restore sun-exposed skin. They help reduce sunburns, redness, any rashes etc.
Recommended Articles
Best After-Sun Skin Care Products
Best Lotions For Peeling And Sunburned Skin
Best Aloe Vera Lotions To Help Soothe Dry And Irritated Skin
Best Face Moisturizers With Zinc Oxide For Sun-Protected Skin
Best Aloe Vera Gels For A Clear And Healthy Skin