10 Best AHA Body Washes For Skin That's Healthy From Within
Do not worry about dry skin again and keep yourself moisturized throughout summer.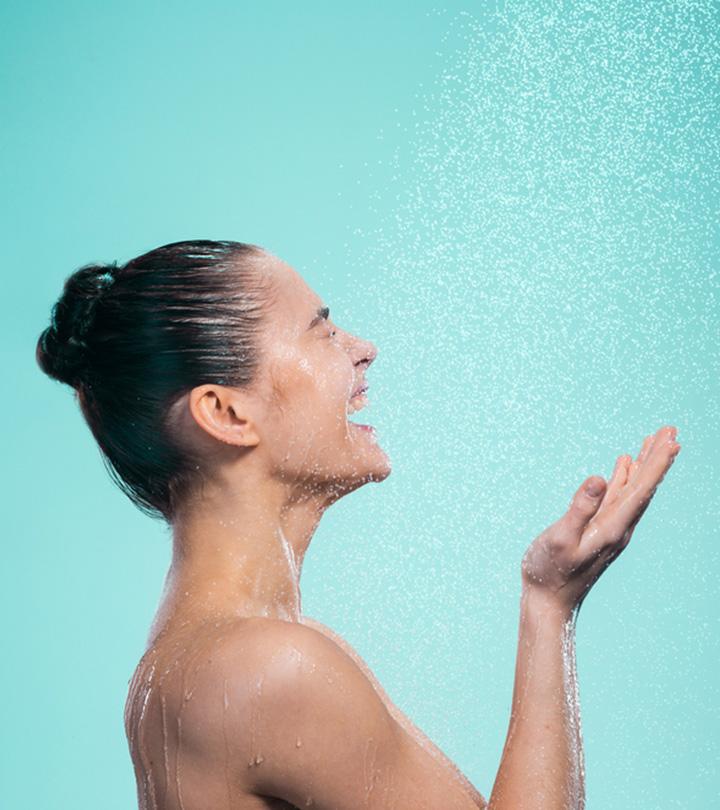 Skin conditions are not only meant to occur on your face, but they can affect any part of your body. As traditional soaps are not formulated to address those concerns, you need the best AHA body wash that can help soothe your skin if you are struggling with redness, dryness, flakiness, roughness, and acne-prone skin. Catie Wiggy, licensed esthetician, says, "AHA stands for alpha hydroxyl acid, which are water-soluble acids typically made from fruit sugars, and they are excellent at exfoliating and renewing the skin. AHAs should be a staple ingredient in your skin care and body care routine."
AHA body washes effectively address and relieve all skin conditions that might trouble you. They instantly feel therapeutic when you apply them to your body. What's more? They are suitable for all skin types, including sensitive skin.
Many natural and active acids like malic, glycolic, lactic, and mandelic acid fall under alpha-hydroxy acid. They have gentle exfoliating properties that penetrate your skin and help eliminate all the impurities and dead skin cells. This way, you can effectively get rid of acne, excess oil, blackheads, ingrown hairs, and rough patches. Besides all this, it can also help minimize skin conditions like keratosis pilaris.
If you have not used an AHA body wash before and are looking forward to including one in your shower routine, this is the article for you. We have compiled a list of the best AHA body washes. So, what are you waiting for? Scroll down and choose one now!
Treat Distressed Skin With The 10 Best AHA Body Washes
Pros
Suitable for dry and oily skin and uneven skin tone
Soothing for sensitive skin
Controls body acne and blemishes
Contains skin-friendly extracts
Gives a refreshing feel
Gently exfoliates skin to remove dead cells
Cons
Some may find it slightly watery
Price at the time of publication: $8.0
Pros
Effective exfoliation
Promotes cell renewal
Deep cleansing
Intense moisturization
Conceals aging signs
Maintains pH balance
Paraben-free
Phthalate-free
Sulfate-free
Gluten-free
Synthetic fragrance-free
Dye-free
GMO-free
Cruelty-free
Cons
None

Price at the time of publication: $34
Pros
Cruelty-free
Vegan
Non-comedogenic
Made with clean ingredients
Alcohol-free and paraben-free
Sulfate-free and phthalate-free
Cons
Price at the time of publication: $29.95
ReTone's glycolic acid exfoliating body wash cleanses away dead skin and rejuvenates it to make it healthy. It works to combat skin issues such as rough and bumpy skin, redness along with irritation and dryness by improving the texture and firmness of your skin barrier. One of the best body washes with glycolic acid, ReTone's cleanser fades wrinkles, body breakouts, dark spots and stretch marks for smooth and supple skin.
Pros
Free of parabens, retinoid, and phthalates
Strengthens skin barrier
Cruelty-free
Non-greasy
Pleasant smell
Reduces signs of aging
Cons
Price at the time of publication: $29.95
Pros
Offers gentle exfoliation
Natural ingredients
Brightens skin tone
Paraben-free
Sulfate-free
GMO-free
Cruelty-free
Phthalate-free
Silicone-free
EDTA-free
Cons
None
Price at the time of publication: $26
For relief from skin inflammation and keratosis pilaris symptoms like redness, dryness, rough and bumpy skin, Keratone's 10% glycolic acid deeply penetrates the skin to soothe skin over time. With a host of skin-nourishing organic ingredients like apricot, jojoba, almond, aloe, gotu kola along with vitamin E, your skin is going to feel refreshed amply. Formulated without any harsh chemicals, this Keratone organic AHA body wash will give your skin new life.
Pros
Paraben-free
Ideal for dry skin and keratosis pilaris
Made without petroleum, synthetic fragrances, glycols, and phthalates
Contains organic hydrating oils
Deep exfoliating properties
Cons
Price at the time of publication: $14.99
Pros
Non-drying
Clarifies oily and combination skin
Double the exfoliation with AHA and BHA
Moisturizes skin
Has a soothing effect
Gentle formula
Cons
May cause purging the first few uses
Price at the time of publication: $38
Pros
Contains anti-aging benefits
Non-comedogenic
Fragrance-free
Free from parabens, sulfates, GMOs, palm oil
Vegan
Cruelty-free
Cons
May have a watery consistency
Price at the time of publication: $25.99
Pros
Gently exfoliates skin
Suited to sensitive and dry skin
Lends a healthy glow
Contains botanical ingredients
Contains skin-soothing medicinal extracts
Non-irritating and non-drying
Cons
Price at the time of publication: $19.99
Pros
Contains AHA, BHA, PHA for deep cleansing
Controls oil and sebum to eliminate acne
Contains calming ingredients
Strengthens skin barrier
Free of alcohol, parabens, sulfates, silicone
Made without mineral oils, animal products, artificial colors or fragrances
Cons
May be a little too strong for some people
Price at the time of publication: $20.5
Now that we've looked at the best AHA body washes on the market, let's get into how you can pick the right one before you add it to your cart!
How To Choose The Right AHA Body Wash
AHAs are generally marketed as being suitable for all skin types, but you need to take precautions if you have extremely dry or sensitive skin. Dry skin which is typically rough, flaky, and irritated can use glycolic or lactic acid with concentrations ranging between 5-10%. This helps exfoliate the dry, dead skin on the skin surface to make your skin texture smoother, and make the barrier better able to absorb topical skincare products. Along with this, also look for supporting ingredients like shea and cocoa butters, and aloe vera which help moisturize and smooth down rough, dry skin.
While glycolic acid also gently helps exfoliate oily, acne-prone skin, mandelic acid is a better AHA for this skin type. It reduces oil and sebum production to clean congested pores and doesn't dry out the skin. If you have combination skin, you can use almost any AHA as they help clear out pores, and help with dry patches. Milder AHAs like lactic and mandelic acids can help care for sensitive skin types without causing irritation.
If aging skin is your concern, body washes formulated with malic, glycolic, or mandelic will suit mature skin better. All skin types, especially sensitive, should avoid products that contain fragrance as it can easily irritate and inflame skin. Other chemicals like sulfates, parabens, mineral oils, petrolatum, SLS, and GMOs must also be steered clear of.
How To Use An AHA Body Wash
Step 1: Wet a soft loofah or sponge, and make sure its surface is not harsh as this can irritate the skin surface.
Step 2: Pour some of your AHA body wash of choice and work up a lather.
Step 3: Lightly scrub all over the body, covering hard-to-reach areas like your back.
Step 4: Rinse off with warm water.
Step 5: Gently dry yourself off with a towel without rubbing too hard.
Step 6: Generously apply a thick moisturizer suited to your skin type.
When you're starting out with AHAs, incorporate them gradually into your routine by using them once a week. If your skin doesn't react harshly, build this up to 2 or 3 times a week.
Why Trust StyleCraze?
The author of this article, Kirtana Divakar, is a skin care enthusiast. She has curated the list of the best AHA body washes after reviewing user feedback on multiple online forums and brand websites. These products are formulated with active ingredients and have gentle exfoliating properties.
Frequently Asked Questions
What does AHA do for skin?
Alpha hydroxy acids are soluble in water and they exfoliate skin to get rid of surface dead cells, and allow newer skin to come through. They also help in fading hyperpigmentation and control acne.
Can I use AHA body wash everyday?
Some AHA body washes are gentle enough to be used everyday but if you're a beginner to actives, it's best to take it slow. Begin by using the product once a week and if your skin responds well, slowly build it up to a level that can be tolerated.
How often should I use AHA body wash?
AHAs are active acids that can cause a skin reaction like irritation if you're new to them, so use them once or twice a week in the beginning, and then increase the usage.
Do AHAs cause hyperpigmentation?
Even though AHAs target hyperpigmentation, they can cause some tears in the skin as they exfoliate it. This may lead to post-inflammatory hyperpigmentation. It is best to use AHA body washes sparingly, a few times a week for this reason.
What should you not use with AHA?
It is best to avoid products with vitamin C, retinol, or benzoyl peroxide after using AHA.
Recommended Articles