15 Best Products For Air-Drying Your Hair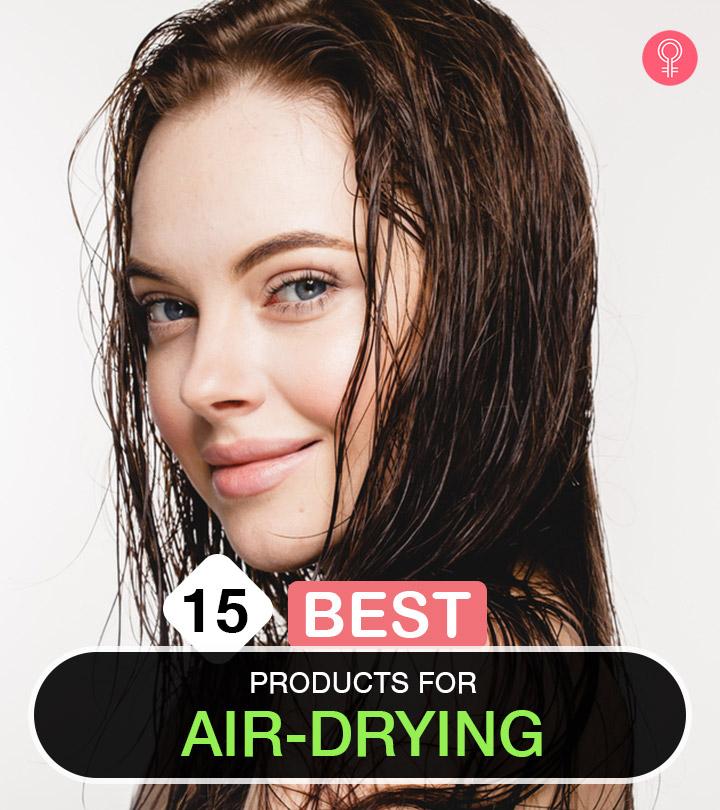 If you want to give your hair a break from heat styling tools and flaunt a natural look, try air-drying. Air-drying your hair is the best way to prevent long-term damage caused by blow dryers and other heat styling tools. It also saves time, allowing you to have a better appreciation of your natural hair texture.
But it is not as easy as it seems. Your hair will not dry to perfection, and it may end up look frizzy. Here is when you will need air-drying products. These post-shower styling products help prevent frizz, improve shine, and enhance texture and volume minus heat styling tools.
If you are ready to take the plunge, scroll down and check out our list of the 15 best products to air-dry your hair.
Which Hair Types Are Best Suited For Air-Drying?
You can air-dry your hair irrespective of the texture, length, and type. However,  air-drying is best for frizzy hair as styling tools can increase frizziness.
These products can help you say goodbye to frizz. Check them out now! 
15 Best Air-Dry Hair Products
The MOROCCANOIL Hydrating Styling Cream is a leave-in product formulated with argan oil that is rich in antioxidants and essential fatty acids to replenish the hair and make it silky smooth. It also contains behentrimonium chloride that provides anti-static control while conditioning the hair.  The cream provides frizz control, prevents flyaways, and hydrates the hair to make it healthy and smooth. It offers a light hold and prepares the hair for further styling.  It can also be used to refresh a day old hair.
Pros
Anti-static control
Light hold 
Cons
Contains dimethicone
Contains added fragrance and color
May make hair oily
The Color Wow Dream Coat For Curly Hair is a lightweight moisturizing spray that defines and hydrates curls. This spray provides frizz control to keep the hair smooth and silky and imparts a natural gloss. It contains a patent-pending Tri-Polymer Elastaflex that provides the combined benefits of cream, serum, and gel without making the hair stiff, clumpy, or limp.
Pros
Lightweight
Non-stiffening
Cons
Contains propylene glycol and ethanol
May not tame frizz
The Redken Curvaceous Ringlet Shape Perfecting Lotion enhances curl definition and structure while preventing frizz. It can be used as a base for other hair care and styling products. The lotion contains a Curl Memory Complex infused with sugar crystals, moringa oil, and UV filters to create long-lasting curls and prevent UV damage. It sets your curls in the desired shape when paired with other hair styling products and makes them healthy, soft, and smooth.
Pros
Contains UV filters
Defines curls
Pleasant fragrance 
Cons
Contains alcohol, SLS, and sodium chloride
Contains added fragrance
May weigh down some curl types
The OGX Strength And Length + Golden Turmeric Air Dry Cream prevents heat damage from styling tools and fortifies the hair strands. It is inspired by Ayurveda and is formulated with turmeric and amla extracts that make the hair healthier and stimulate hair growth. Golden turmeric smooths and conditions the hair while amla infused with coconut milk replenishes the hair to make it healthy. This cream provides frizz control, is safe for colored hair, and has a rich coconut milk fragrance.
Pros
Color-safe
Contains natural ingredients
Coconut milk fragrance 
Cons
Contains phenoxyethanol, sodium hydroxide, and starch
Contains added fragrance and color
May dry out some hair types
The Advanced Hairstyle Air Dry It Undone Style Cream by L'Oreal helps you style your hair naturally without heat styling tools. It provides 24-hour flexible hold for medium to coarse hair type without making it crunchy. The product does not leave any residue or flakes and conditions the hair, making it smooth, soft, and shiny. It also provides frizz control without weighing the hair down. The styling cream provides medium hold so that the hair remains flexible and soft while set in a particular hairstyle.
Pros
24-hour flexible hold
No residue
Non-flaking
Lightweight 
Cons
Contains SLS and alcohol
Has added fragrance
May not tame frizz
The REDKEN No Blow Dry Just Right Cream makes it easy to manage and style medium length hair without a blow dryer. This product offers frizz control and reduces hair drying time. It has a lightweight formula that contains quick-dry polymers and flex polymers to improve hair drying time and keep the hair flexible. It is ideal for straight-wavy hair.
Pros
Lightweight formula
Reduces drying time 
Cons
Contains alcohol, paraffin, and SLS
Contains added fragrance
The Schwarzkopf got2b Be Twisted Air Dry Curl Foam provides flexible hold for curly and wavy hair. It lets the hair air-dry without any frizz and provides 96-hour frizz control. The foam sets the hair without heat styling tools and enhances curl and wave definition without any residue and stickiness. It is safe for color-treated hair.
Pros
Paraben-free
Sulfate-free
Color-safe
Flexible hold
96-hour frizz control
Non-sticky 
Cons
Contains alcohol
Contains added fragrance
The Bed Head Beach Me Wave Defining Gel Mist by TIGI is formulated with marine algae extract. It provides a buildable hold for hairstyling, adds shine to hair, and controls frizz. The mist also boosts curl and wavy definition without any flyaways.
Pros
Buildable hold
Prevents flyaways
Contains marine algae extract 
Cons
Contains SLS, alcohol, and EDTA
Contains phenoxyethanol and added fragrance
May not work for some hair types
The fave4 Hair Up For Air is formulated with quinoa, flax, abyssinian oil, and heliogenol. These ingredients make the hair smooth and provide a light, flexible hold for comfortable styling. They also prevent the hair from becoming frizzy. The product is ideal for textured and wavy hair as it enhances its structure.
Pros
Sulfate-free
Paraben-free
Artificial color- free
Phthalate-free
Gluten-free
Cruelty-free
Ideal for textured and wavy hair 
Cons
Contains alcohol and added fragrance
May not tame frizz completely
The SexyHair Fresh Hair mousse is a lightweight, non-aerosol styling product that accentuates the natural hair texture without heat styling tools. It is formulated with mimosa flower extract and moonstones that improve hair manageability and prevent frizz. This dry mousse protects the hair from humidity, keeps it from lying flat, and gives it a natural tousled look. It provides flexible hold and volumizes the hair to make it appear thicker and fuller.
Pros
Lightweight
Non-aerosol
Volumizes the hair 
Cons
Contains added fragrance and sodium
Leaves residue
The Ouai Haircare Air Dry Foam is a lightweight styling foam that air-dries hair into waves without styling tools, braids, clips, or other accessories. It is formulated with kale and carrot protein extracts that condition and shield the hair to keep it soft and smooth while maintaining the style. It prevents frizz, makes your hair shiny, and gives you smooth waves. Apply the foam and scrunch hair to get beachy waves.
Pros
Paraben-free
Sodium chloride-free
Cruelty-free
Lightweight
Contains protein extracts 
Cons
Contains added fragrance and cocamidopropyl betaine
Not suitable for fine hair
The Joico Zero Heat Air Dry Styling Creme accentuates the natural hair texture while boosting shine and combating frizz. It allows the hair to be styled within seconds and provides lasting hold. Once the creme is applied, simply scrunch and twist the hair to form waves and enhance hair texture and leave it to air-dry. The styling crème is suitable for fine and medium hair.
Pros
Reduces breakage
Color-safe 
Cons
Contains alcohol and added fragrance
Does not reduce drying time
The Sahag Air Power Mystifying Hairspray is a revolutionary product that adds volume to the roots. The spray is formulated with rich vitamins that nourish and condition your hair, making them smooth and healthy. It also contains UV absorbers that protect the hair from thermal and environmental damage. This product is great for quick touch-ups and brush-outs and does not leave any residue. The spray also speeds up hair drying time and provides flexible hold for hairstyles.
Pros
Volumizes the roots
UV filters
No product residue 
Cons
The Virtue Moisture-Defining Whip is a moisture-boosting mousse. The lightweight formula combines Virtue's patented alpha keratin with nourishing oils to moisturize the hair and enhance its structure. It does not dry out the hair and is suitable for all hair types. The patented alpha keratin contains nourishing ingredients like gotu kola to boost hair strength and shine, baobab seed oil for deep moisturization, and panthenol to make the hair softer and shinier.
Pros
Paraben-free
Sulfate-free
Gluten-free
Cruelty-free
No synthetic dyes and colors
Phthalate-free
Lightweight 
Cons
Contains alcohol and sodium hydroxide
May make some hair types rigid
The Blossom Pure Hair Care Jojoba Air Dry Lotion is a hair smoothing lotion formulated to provide frizz control and enhance hair softness. It is made of shea butter and jojoba oil that improve hair appearance, natural shine, smoothness, and softness. Jojoba oil is a natural wax ester that moisturizes the hair and scalp, and shea butter keeps the hair hydrated. This product is suitable for all hair types and is ideal for women and men who have dry scalps or hair.
Pros
Vegan
Sulfate-free
Silicone-free
Phthalate-free
Paraben-free
Petrolatum-free
Mineral oil-free
Artificial dye-free
Unisex
Suitable for dry scalp and hair 
Cons
Contains alcohol and added fragrance
Air-drying is an essential step in any hair care regimen as it prevents heat damage. These products not only protect your hair from heat damage but also contain ingredients that nourish your tresses and help you rock a more natural look. Go ahead and grab one from the list today!
Recommended Articles