11 Best Air Fryer Toaster Ovens In 2020 – A Buying Guide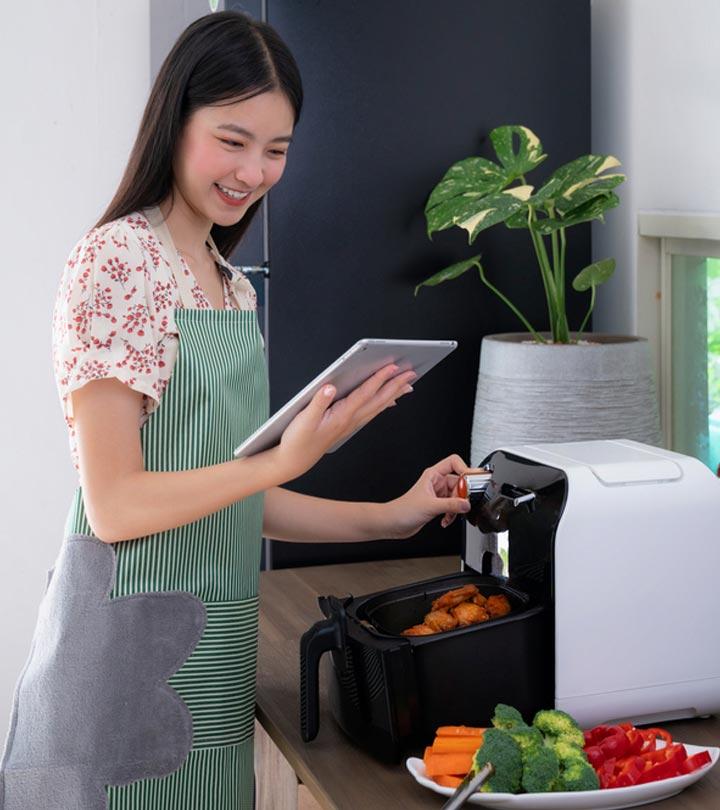 Who doesn't love a new kitchen appliance that can make your life and health better with its innovative functions? The air fryer was introduced a few years ago and it really made waves among home chefs and amateur cooks. What was forgotten was that the kitchen is always invariably filled with multiple appliances that demand a space of their own. Soon, brands recognized this issue and combined toaster ovens with air fryers and it was the best decision ever!
This combination has revamped modern cooking and lets you not only air fry food, but even toast, bake, dehydrate and broil your favorite dishes. If you are a sucker for cooking food with all flavors intact minus any radiation or unhealthy oil, this list of the 11 best air fryer toaster ovens is a gold mine for you! Read on to know more.
11 Best Air Fryer Toaster Ovens In 2020
The GoWISE USA 3.7-Quart Programmable Air Fryer With 8 Cook Presets in black helps you cook food with very little oil or no oil at all. This toaster oven fryer has a total of 8 presets – fries/chips, warm, chicken, shrimp, steak, pork, fish and cake. All you have to do is press one button and you are done. There is also a digital screen that lets you set the preferred temperature and cooking time that can range from 1-30 minutes. This is a good air fryer because it lets you fry, roast, grill and even bake your own dishes. The cooking pan is removable and dishwasher-safe and features a handgrip which is cool to touch. The frying basket is also detachable so you can get it away from the air fryer as soon as the food is ready. Safety features are included in this combination air fryer toaster oven that let it be on automatic standby mode or on automatically switch off mode.
Pros
Includes PFOA-free non-stick coated basket
Suitable for a couple or a small family of 3 people.
ETL-certified, all standards of electromagnetic field are complied with.
Includes 100 recipes for free along with unlimited access to the GoWISE USA app
Features a temperature range from 170°- 400°F so that you can air fry or toast to perfection.
A timer lets you know when food is cooked by beeping 5 times, and when food is ready the fan stops within 20 seconds.
Cons
The basket paint may start peeling off in a few uses.
The Instant Pot Vortex Plus 7-In-1 Air Fryer lets you enjoy tasty versions of all the unhealthy deep fried foods you like with very little oil or no oil at all. One of the best air fryers on the market, it features 7 built-in smart programs that include roast, bake, toast, dehydrate, broil and rotisserie. The trademarked one-step EvenCrisp Technology makes sure the food is crispy on the outside and soft and well done on the inside. Food is cooked evenly and moisture is locked in with minimal grease used, which means the required cleaning is also minimal. The air fryer preheats very quickly and two trays can be fit into the 10 quart capacity air fryers at the same time so that your time is not wasted. This all in one air fryer also features overheat protection that does not let food burn, and when the machine is on standby mode, the display turns off so that you can have peace of mind. This air fryer rotisserie oven and dehydrator also remembers the settings you like and your favorite meals can be prepared with a single touch of a button.
Pros
Features a modern and sleek bright-touch screen that offers 14 touch controls. It also displays cooking settings, smart programs and cooking cues.
Includes an air fry baskets, 2 air fry trays as well as rotisserie spit and forks.
All accessories that are used inside the air fryer are dishwasher-safe.
Saves time by letting you bake, air fry and roast 3 meals at the same time.
The sleek surface of the air fryer can simply be wiped clean.
Features a dehydrator so you can make homemade kale chips, fruit strips and jerky.
Cons
The fryer may release a strong smell when used for the first time/
The Emeril Lagasse Power Air Fryer is here to replace your traditional countertop oven with its 5 commercial quality all-over heating elements that offer you perfect and even cooking. This powerful air fryer has 12 pre-set cooking functions that let you customize how you want to cook your food. The 360° quick cook technology ensures your meal is crispy on the outside and filled with delicious flavors on the inside. Oil, fat and grease are not required at all, and yet you get restaurant quality food which is cooked at 40% faster speed than traditional ovens. The LCD display is versatile and clearly shows all the cooking functions— bake, air fry, rotisserie, toast, dehydrate, reheat, broil and roast, bagel, slow cook, pizza and warm/reheat. This toaster oven fryer features an extra large capacity of 930 cubic inch and comes with a rotisserie spit, crisper tray, baking pan, pizza rack, dip tray and a recipe book written by Emeril! Enjoy golden fried texture and taste with almost 70% less calories thanks to this large capacity air fryer. A built in dehydrator lets you dehydrate fruits, fresh meat and vegetables easily at home with no added sugar. The inner dimensions of the air fryer are 19 x 15 x 9.5 inches and it uses 1500 watts for cooking.
Pros
Features an in-built pro-grade rotisserie.
The air fryer lets you slow cook for up to 10 hours.
Brushed stainless steel body of the air fryer gives a modern and sleek look.
Features a custom toasting option from light to dark, that fits up to 6 slices of bread
Includes a memory feature that remembers the last pre-set cooking, temperature and time you used.
Cons
The outside of the fryer may get heated quickly.
The Ninja Foodi Digital fry Convection Oven Toaster is the ultimate machine to make healthy meals with 75% less fat than regular frying methods. The 8-in-1 functionality include air roast, air fry, air broil, bagel, bake, toast, keep warm and dehydrate all in this powerful 1800 watt air fryer. This space-saving air fryer takes almost 50% less storage space when you flip it and keep it upright against the backsplash. With a 45% larger cooking area, the air fryer also cooks almost 60% faster than regular ovens. The oven preheats within 60 seconds and full meals can be prepared in just 20 minutes. Talk about saving time! Baking is almost 40% more even and uniform than most air fryers. This Ninja toaster oven also features a digital crisp technology that lets you control temperature, heat source as well as air flow precisely so that you can enjoy optimum cooking.
Pros
Bagels and toast can be toasted to perfection with darkness of your liking.
Includes a mesh tray, non-stick tray, a slide in tray for the non-stick tray and a crumb tray.
The air fryer can fit 9 slices of toast, or a 13-inch pizza, or 6 chicken breast pieces, or 9 cookies.
Crumb tray and back panel can be removed for easy access to the interior to facilitate deep cleaning.
Cons
The air fryer may not have enough height to support tall dishes.
If you are looking for an air fryer oven that looks as good as the food it cooks, the Dash Compact Air Fryer is the best air fryer oven for you. Oozing with vintage charm yet infused with the best of modern AirCrisp technology this compact air fryer lets you enjoy fried food with almost less than 70-80% less fat. You get the taste of deep fried meals without any fried smell looming in the house. The 1.2 qt capacity fryer basket just needs to be loaded and the temperature and times must be set so that you can kick back and relax while your crispy food is prepared. Pre-heating the oven takes less than a minute making it energy-efficient. The air fryer oven also features a cool touch handle so your kids are also safe when using it. This compact air fryer weighs almost half of what other air fryers weigh and is the perfect housewarming present for someone's first apartment, tiny house, college dorm or RV.
Pros
Ideal for a couple or an individual.
Can cook half a bag of fries or 6 pieces of chicken wings.
The non-stick fryer basket can be washed in the dishwasher.
Includes a recipe book for quick meals and to get you started with the air fryer.
Features an auto shut-off function that does not let the food get overcooked.
The outer body of the air fryer toaster oven does not get heated up when cooking.
Cons
The basket tray finish may start peeling off after using for a few months.
The Innsky Air Fryer is an all-in-one air fryer that includes a rotisserie, pizza grill, dehydrator and oven toaster with a capacity of 10.6 qt and 2 rack levels. The inner size of this large air fryer is 10.9 x 9.06 x 6.97 inches that lets you cook family size meals in no time. The air fryer is easy to operate with a single touch icon to choose the cooking mode instead of a dial that needs to be kept turning around.10 presets let you cook food that is extra crispy and nicely done without too much trouble, even if you are a novice cook. All materials used in the air fryer are food-grade offering you a safe appliance to cook for your family. There is also an automatic shut-off system so you do not have to worry about overcooking or overheating. This countertop convection oven comes with 6 additional accessories— 8 skewers, 2 mesh racks, 1 dip tray to catch oil and fat, a single rotisserie basket and a rotisserie jab as well plus a removal tool, this air fryer oven can do almost everything! This convection oven air fryer has interiors made of non-stick material which can be easily thrown into the dishwasher for hassle-free cleaning and drying.
Pros
Can be cleaned by simply wiping the interior of the air fryer
Can be cleaned by simply wiping the interior of the air fryer
Unique brushed stainless steel design that goes with modern kitchen decor
Includes a rotisserie shaft so you can cook restaurant-style chicken at home
All plastic accessories and parts of the air fryer are BPA-free and non-toxic materials are released during cooking.
Features a glass window that lets you see the entire cooking process and helps avoid food from being overcooked
Has a wide temperature range from 150°F-400°F for cooking and 90°F-170°F for dehydrating
Cons
The air fryer may have a plastic smell emitted from it during the first use.
The Black + Decker Extra Wide Crisp 'N Bake Air Fry Toaster Oven in silver is  a stainless steel all in one air fryer that offers countertop baking, reheating, frying and toasting without a massive oven occupying permanent space in your kitchen. This non-stick air fryer lets you even bake, brown or crisp your food without excess oil being used. It also includes accessories like an air fry basket, pan and a bake/broil rack so that you do not need to worry about finding pans at home that fit. One of the best large capacity air fryers, it also features a durable glass door so you can monitor your food while it is being cooked. If you wish to use your own pans this oven offers space for 9×13-inch pans with handles which makes cooking for a large family very easy. The overall dimension of this combination air fryer toaster oven is 22 x 14 x 5 x 11.5 inches and can fit a standard-size cooking counter easily.
Pros
Ideal for reheating leftovers
Features a timer up to 60 minutes
Includes 5 cooking functions— broil, bake, keep warm, toast and air fry
Capacity of the oven is large and can fit 8 slices of bread or a 12-inch pizza or a 9 x 13-inch pan with handles
Includes an external tray for crumbs that makes removing food particles and crumbs easy so that they do not burn at the bottom of the oven.
Cons
The air frying process in this fryer may take a little more time than other fryers.
The Gourmia 12-In-1 Multi-Function Digital Air Fryer Oven brings to you golden fried food from the outside which is well done and moist from the inside. With 12 different cooking presets this all in one air fryer lets you eat healthy without compromising on taste and flavor. With a patented precision engineered air-flow duct a powerful cyclonic heat flow is created that directly blows air on heating elements and on the food to give you the perfectly fried crispy texture without excess consumption of oil. The 12 presets included in the air fryer are toast and roast, air fry, seafood, bagel and bacon, broil and fries, wings, keep warm and finally dehydrate and bake. Calling this air fryer a multi-function appliance would be an understatement. A complimentary recipe book is also included with the air fryer so that you can get started on a hassle-free and healthy cooking experience with confidence.
Pros
Can easily fit 6 slices of bread or a 12-inch pizza
Certified by ETL for safety, efficiency and high quality.
All internal accessories and trays are dishwasher-safe.
Include an oven rack, baking try, fry basket and crumb tray.
Cons
The rack does not have stops at the back which may make it move around when transported.
If you know someone who loves to cook, the COSORI Convection Rotisserie & Dehydrator in silver would be the perfect present for them. The industrial steel design can complement most kitchens today and includes accessories like a crumb tray, food tray wire rack, and rotisserie handle and forks. This all-in-one fryer can easily fit a 12-inch pizza and 6 slices of bread which is a good size for a family of four. The powerful convection fan of the air fryer lets you cook food faster using 4 heating elements and 1500 W of power. The LED display and control knobs are easy to read and use making it user-friendly and suitable for all ages. The size of the air fryer is 18.5 x 11.4 x 16.5 inches and is designed keeping in mind American and Canadian kitchens. One of the best rotisserie toaster ovens, it also features 3 different rack positions that let you cook for a large family at the same time. An oven light also lights up when cooking so you can keep a close eye on your food and cook it the way you want.
Pros
Features a time range from 0 to 24 hours.
Includes a temperature range from 85° to 450°F.
The air fryer has a capacity of 25 liters on the inside.
Non-stick interiors of the air fryer make it easy to clean.
Includes a complimentary 32 recipe book created by a chef.
Extra insulation is provided by the double layered glass door that does not let the heat escape outside.
Features 11 types of versatile presets to choose exactly how you want to cook your food— bagel, toast, bake, broil, warm, roast, cookies, rotisserie, pizza, dehydrate and ferment.
Cons
This oven takes longer to preheat than other ovens.
With a large cooking capacity of 12.7 quarts the CalmDo Air Fryer Oven Combo Large Size in black is perfect for Thanksgiving meals and family get-togethers. There are 3 levels of air flow racks that let you cook multiple dishes at the same time. The outside of this multifunctional air fryer is made of ABS and PC while the inner body is in stainless steel and uses 1500 W of power. 18 pre set functions can be selected by a single touch and food can be cooked in a healthy way with negligible oil usage. The inner chamber of the oven is reflective that makes sure uniform temperature is maintained throughout the cooking process. The door is detachable so you can clean the air fryer effortlessly and it is also transparent so that the food is visible from the outside. This all in one air fryer is also very safe and when someone opens the thermal protected door the cooking cycle pauses and resumes again when the door is shut.
Pros
ETL and FDA-approved and certified.
Features skewer racks that automatically rotate 360° cooking your food completely.
A special splatter guard is installed near the heating element so that cleaning is easy once food is cooked.
Includes a return to previous selection feature with a back and forward function so you can quickly undo a wrong selection.
Includes 10 accessories – rotisserie tong, rotisserie stand, rotisserie rod, drip tray, oven rack, rotisserie cage, shallow mesh basket, skewer rotisserie and two mesh trays
Cons
The outer body of the oven may get heated from the outside.
The Cuisinart Convection Toaster Oven Air Fryer in light black is an 1800 W air fryer with 7 functions— air fry, convection broil, convection bake, broil, bake, toast and warm. The combination air fryer toaster oven also includes a 6 x 6 inches deco gear microfiber cloth for cleaning along with an oven rack, air frying basket and baking pan. This unique kitchen appliance is like a regular-sized toaster with an air fryer built into it. The interior of the toaster oven is 0.6 cubic foot and can fit up to 4 pounds of chicken, 6 slices of bread and a 12-inch pizza. A 60-minute timer lets you decide how long the food should be cooked for and the auto shutoff makes sure you don't have to be manning the appliance at all times. It also lets you select the shade of toast you would like to achieve making it a delight for bread lovers.
Pros
Can fit a pan as large as 9 x 9 inches
The air fryer basket dimensions are 11.5 x 10 x 2 inches
The maximum temperature the oven can heat to is 450°F
Adjustable thermostat
Cooks food silently so you can enjoy a peaceful time in the kitchen.
The bottom tray can be pulled out for cleaning making winding up very easy.
The box also includes an oven rack, air fryer basket, baking pan and an instruction and recipe booklet.
Cons
It may toast bread unevenly.
Here is a buying guide that will make the choosing process for the best air fryer toaster oven easier.
Buying Guide

Before you commit yourself to an air fryer, you might want to know a little more about features that must never be overlooked, find the answers to all the possible questions that may be in your head and know if an air fryer is the right choice for you or not!
What Is An Air Fryer Oven?
Air fryer ovens are a type of oven that cook food by circulating hot air within the oven at a very high speed while using convection fans. As a result of this, food is cooked faster and has a crispier fried layer, including even-browning with the use of very little to no oil when compared to regular deep frying. .
What Is An Air Fryer Good For?
Air fryers are really good when it comes to cooking frozen foods so that they taste just like they would if they were deep fried like French fries, mozzarella sticks or even chicken wings. Air fryers also work very well for cooking similar items that you make from scratch at home. The best part about air fryers is that they bake as well!
How Does An Air Fryer Work?
Air fryers work by circulating air that is heated to very high temperatures so that food is cooked instead of having to submerge it in oil. Heat is radiated in the cooking chamber of the air fryer from an element close to the food, hence cooking it efficiently. A special fan is used for circulating the hot air in the fryer.
Are Any Precautions Needed To Be Taken While Using An Air Fryer?
Yes one definitely needs to take a few precautions while using an air fryer so that accidents and mishaps can be avoided. They are listed below:
Even before you use the air fryer, assess the required voltage for the particular appliance. Once you know what it is, make sure the fittings in your kitchen are compatible with it.
Keep the power cord of the air fryer at a safe distance from hot surfaces. Too much heat can cause damage in the cords.
Go through the manual of the appliance carefully so you know how the air fryer works. Do not try to do anything with the appliance that is not mentioned as a function in the manual.
Never leave the air fryer unattended as kids and pets may get into danger if they touch the appliance when it is functioning.
No item should be placed on top of the air fryer when it is being used.
Do not operate the air fryer when your hands are wet.
If the air fryer needs to be repaired, hire only authorized personnel or take the air fryer to a company service centre.
Place the air fryer on a stable or even surface so that there is no chance of a fall or a leak.
Be careful when removing the cooking pan from the air fryer as hot steam may be emitted from the appliance at the same time.
Use the air fryer indoors only.
Clean and maintain the air fryer on a regular basis. A clean machine has a longer lifespan.
Do not use water to wash or clean the internal component as the quality of the air fryer may be diminished and may lead to failure due to short circuit or rust.
Difference Between Air Fryer And Convection Oven?
While a fan is used in both, an air fryer as well as a traditional convection oven, the hot air in the air fryer is circulated at a much faster speed in a smaller chamber, increasing the speed of the cooking process. Air fryers also use baskets so that the hot air is circulated evenly around the food from all sides.
What To Consider When Buying An Air Fryer?
Just like all purchases you make, it is necessary to know what options or combination of features are available out there so that you can make the right choice about air fryer toaster ovens.
When it comes to functions, most air fryers are the same as the technology is uniform across the brands. However options may vary because of the following features:
Size: Make sure your kitchen counter top has enough space to keep the air fryer when you are cooking in it.
Wattage: A standard air fryer uses 800-1400 W, make sure your kitchen has a compatible power outlet.
Capacity: If you are going to be using the air fryer for everyday cooking like fries and drumsticks then a standard size air fryer with a capacity to cook up to 2.5 pounds of food will suffice. However, if you need to be cooking for a large family or a gathering of friends on a regular basis, or even a whole turkey or chicken, you will have to look for an air fryer with a larger capacity.
Settings: Settings on an air fryer are an important aspect you must focus on before purchasing one. Air fryers can typically reach 360 degrees and include timers, however some brands may sell air fryers that may not get hot enough for the food you want to cook.
The best toaster oven air fryer may vary for different people based on their different eating habits and family size. However, it is safe to say that having any toaster oven with air fryer in your kitchen is a blessing and should be celebrated. If you are just learning to cook, once you start making a few dishes in the air cooker fryer you may never want to use a frying pan again. Air fryers have changed the way meals are prepared at home and have contributed considerably in the improvement of health among families that have adopted this change. With very little oil used for cooking, not only do you gain health benefits but the air fryer also makes sure you don't have to stand in front of your hob with smoke hitting your face and ruining your good mood.
The following two tabs change content below.

Latest posts by Atulya Satishkumar (see all)

Atulya Satishkumar
'Techie by day, writer by night' is how she described herself before embarking on the journey of writing. Her strong belief in the magic of the written word, coupled with a very keen eye for detail, helps her guide her team to create quality content. When she is not editing beauty, fashion, and lifestyle-related content, she writes prose and poetry, plays her ukulele (and/or guitar), and pets floofs.