13 Best Air Mattresses of 2020 with Buying Guide!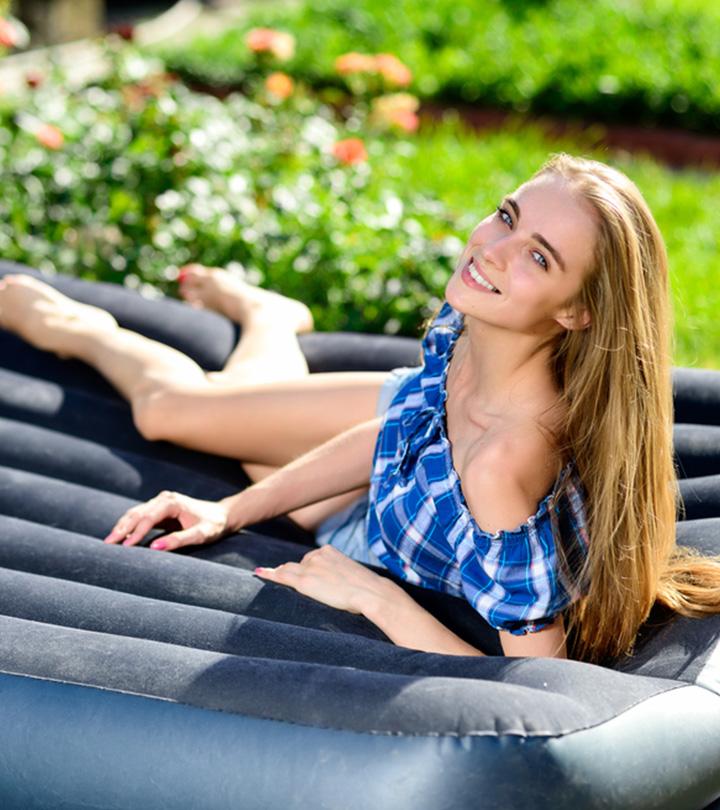 Planning to have guests over? You certainly cannot tell them to sleep on the couch. Or is that camping trip finally taking off? We bet you don't want to end up sleeping on the cold ground! Hence, why air mattresses are essential. They make all those stayovers, PJ-parties, and camping trips feel home-like and cozy. Finally, a goodnight's sleep is not restricted to the bedroom anymore! So, if you are looking for the best air mattress of 2020 or planning to upgrade your old one to new, we have some classy options lined up for you. But beware, these air beds are super cozy, and might make you yawn!
Though there are umpteen choices and brands available in the market, we took the liberty to filter out the 13 best air mattresses of 2020 for you!
Read on to know more!
13 Best Air Mattresses of 2020 with Buying Guide!
Enjoy the comforts of a traditional mattress with the convenience of a modern one! This queen-sized mattress by Sound Asleep Dream Series is designed with a comfort coil technology that ensures an ultra-comforting and cozy experience for years. Constructed with 40 individual air coils that promise a firm, thick, and waterproof bedding, it's spacious enough to accommodate two people easily. Also, no need to fill-in air manually! This high-quality air mattress has a built-in one-click internal pump that inflates and deflates within 4 minutes!
Pros:
Made of PVC eco-friendly material
Anti-slip with a sure-grip bottom
Puncture-resistant, durable, and stable
Compact and portable
Easy-to-store carry bag included
It has built-in storage for the power cord.
Cons:
Inflation may not last long
It may require frequent air refills.
Make your guests feel at home, away from home with this super-strong yet lightweight queen air mattress. Designed with one-of-a-kind patented Fiber-tech interior construction, it ensures long-lasting durability and comfort to the user. Also, it has a pillow-top air system and velvety surface for extra coziness. And about the built-in air pump — it's high-powered, hassle-free and quicker than most of the air mattresses in the market!
Pros:
Deflates and inflates in 3 minutes
Flock sides are puncture and abrasion-resistant
Edge lock construction ensures stability
Indented sides prevent sheets from slipping
Compact and portable on deflation
It's travel-friendly and comes with a carry bag.
The support beam is made of polyester fibers.
Cons:
May require frequent refills
It may wobble while using.
Believe it or not, but King Koil Luxury Air Mattress can inflate faster than you can make your own bed! Ensuring full capacity inflation within 2 minutes, this super-cozy and full-flocked air mattress has a built-in pillow too for a premium experience. Also, it is user-friendly and lets you adjust the comfort or firmness level as per your needs, through the internal air pump. And the construction? It is designed with an enhanced coil technology that guarantees firmness, stability, and spine-support with every use. Do you want to know something cozier? It has a velvety soft material on top and sides too!
Pros:
Made of durable PVC and soft flocking
Waterproof, durable, and robust airbed
Ideal to use at home, camping, or treks
Endorsed by the International Chiropractors Association
The flocked top is high-quality and puncture-resistant.
It has a high-speed air pump integrated.
Cons:
It may slide or wobble.
Inflation may not last for very long.
Insta-Bed Air Mattress stands out for its never flat pump technology. This airbed comes with not 1 but 2 pumps that ensure you get a good night's sleep, whether at home, in a tent, or under a tree! While the first pump allows you to control the inflation and deflation with 3 firmness levels. The second pump monitors the air pressure and eliminates the discomfort if any. And as far as bed-top is concerned, it is super-soft, comforting, and sleep-inducing; all thanks to the high-quality welded coil construction. Also, this inflatable air mattress is travel-friendly too!
Pros:
High-quality suede top
Anti-slip and anti-skid airbed
Sturdy, stable, and lightweight
Ensures easy get-on and get-off experience due to raised height
Inflation and deflation has an auto-shutoff feature
Welded construction doubles up as an airtight seal.
Cons:
The pump may be slightly noisy.
It may not be durable.
Super-strong, super-comfy, and super-stylish — with this bed in your collection, you'll sleep like a royal. Decked up with a hypoallergenic bamboo cover that adds a "bedroomy" vibe, the brand ensures a no-stretch or no-sag experience. And not for once let all the fanciness make you think it won't deliver comfort or stability. Claiming to be one of the firmest airbeds in the market, it guarantees to have your back all night (literally!), making it ideal for mature users or users with back problems.
Pros:
Firmer than traditional mattresses
Pinch valve allows quick air release
Easy-to-use, store, and travel-friendly
It can support weight up to 600lbs.
The surface is nylon and vinyl-laminated.
It has a built-in air pump for inflation.
Cons:
The air pump might make noise.
No matter how much your little guest twists or turns, this air mattress will keep him in bed all night! How? It has a 4-inch raised surround-safety cushion wall that prevents the child from rolling out. Made of heavy-duty and durable PVC material that guarantees high durability, the brand also claims to be ultra-comforting with its horizontal channel construction. But more than comfort and durability, we bet the moon and star mattress cover will make the kids want to sleep on it right away!
Pros:
Built-in AC pump inflates within a minute
Supports weight up to 300lbs
Long-lasting, sturdy, and reliable airbed
Ideal for children of age 4 years and above.
The mattress cover is thick and washable.
It deflates within 15 seconds.
Cons:
The plastic bottom might make the bed squeak.
This airbed will not only comfort you all night but let you control the comfort too with an LED remote control! With 7 firmness levels giving you the liberty to choose comfort as per your needs, you'll never want to go back to your bed again. Plus, it's designed with comfort coil technology, which means the weight on the airbed is evenly distributed between 40 air coils, thus leaving no room for discomfort. Want more? It has a dual-chamber design, and it guarantees to stay inflated all night! Now that's something worth a trial, right?
Pros:
Heavy-duty, durable, and puncture-resistant
Portable and travel-friendly (travel bag included)
Long-lasting, anti-skip, and sturdy
The airbed inflates within 4 minutes.
The electric pump has an auto-shutoff.
Ideal for camping, in-house, and outdoor events.
The top is extra-thick and waterproof.
Cons:
The air pump is noisy.
It may require frequent air-fills. 
Is your air bed going flat in the middle of the night? Don't look for leaks, buy a durable and trust able air mattress instead. Like Coleman Air Mattress, for instance, guarantees a leak-free experience with a dual-sealed double-lock valve. Keeping your airbed firm through all the stay overs and trips, you no longer have to worry about midnight refills again. Also, the extra elevated height makes you feel like you are in your own bed! The "getting in and rolling out" experience is that comfortable and convenient.
Pros:
Sturdy coil construction for added comfort
Velvet-soft top surface for a cozy experience
Highly-stable with reinforced construction
Portable and travel-friendly airbed
Ideal for in-house and outdoor purposes.
The quilt top is removable and washable.
The air-tight system is factory-tested.
Cons:
It does not have a built-in air pump.
No dips, no bulge, only head-to-toe comfort all night! With 21 air-coils construction distributing the weight evenly, Active Era claims to give you the comfort of your bed, anywhere anytime. Plus, the 18-inch raised height and the 3-inch raised pillow only adds to its premium experience. So, if you are, or someone you know is suffering from spinal issues or back problems, this mattress will ensure safety and comfort all night.
Pros:
Thick, durable, and waterproof flocked top
15-gauge PVC puncture-resistant material
User-friendly, easy-to-store, and travel-friendly
It can support weight up to 265lbs.
The electric pump inflates the mattress within 3 minutes.
Cons:
If a premium experience is what you are looking for, then this luxurious full-fledged microfiber air mattress is a great option for you. Ultra-soft, ultra-comforting, and with a thermo-regulating feature, it claims to prevent freezing or overheating in the night. But what really makes this brand one of the best in the market is its stable design. With a reinforced coil beam construction, this lightweight air mattress claims to last longer than other mattresses and is convenient for daily use too. And the best takeaway — it guarantees to inflate in 90 seconds! Now that's something worth experiencing.
Pros:
Puncture-resistant, abrasion-resistant, and high tensile strength
Anti-flip and will not deform
Portable and travel-friendly airbed
Ideal for camping, in-house, and outdoor purposes.
The only microfiber airbed in the market.
It has a built-in high-performance pump.
It comes with a 5-year warranty.
Cons:
It might make a squeaky sound on movement. 
What is special about this air mattress? It never leaks! Made of high-quality PVC material and with a coil beam construction, it also holds in the air for a long time. And if that's not convinced you already, it is built-in with the fastest pump in the market! Also, this airbed has a royal-quilt flocking on the top, which ensures the softest, coziest, and most luxurious experience for all. Now, that's a combo worth flaunting when your squad comes over, right?
Pros:
Maximum comfort and waterproof airbed
Highly stable, anti-skip, and puncture-resistant
Easy to get in and roll-out experience
Portable and travel-friendly (travel tote bag included)
Ideal for indoor and outdoor purposes.
The high-performance pump inflates the mattress in 2 minutes.
Cons:
Heavy
The air pump noise might be bothersome.
No more neck cramps while sleeping on-the-go! Quit pulling an all-nighter on those uncomfortable seats, when you have this super-cozy sleeping pad available in the market. Whether you are camping, traveling, attending a festival, or on a solo adventure, this car air mattress with an add-on pillow will ensure a good night's sleep — anywhere, anytime! Easy-to-use, convenient, and a great option for frequent travelers, you can surely say goodbye to painful cramps forever!
Pros:
High-quality and comfortable material
Easy to inflate and widen
Portable and compact
Included air pump inflates within a minute
Built-in air cushion for extra protection while traveling.
Cons:
The air pump may not last long.
Camping is all about making good memories, so naturally, you wouldn't want a low-quality airbed ruining the trip. Etekcity Camping Air Mattress designed with fourth-generation technology has a wave beam support construction that ensures uniform distribution of weight and stability. What about quality? Be rest assured for the top flock is as firm as the traditional ones and made of 20% durable PVC. But what really makes this air mattress, a camping-specialist is the rechargeable wireless pump! Inflating to full capacity in 90 seconds, anyone can enjoy the trip with this one — hassle-free!
Pros:
US CA-certified non-toxic and waterproof material
Puncture-resistant, non-skip, and safe
Ensures no leaking or sinking
2-in-1 valve inflates and controls the firmness
Portable and travel-friendly
It can support weight up to 650lbs.
Cons:
Expensive
May require frequent air refills
There you go! Those are the 13 best air mattresses of 2020 for you to choose from. Are you still unsure about how to pick the best air mattress? Check out our Buying Guide below!
Buying Guide – Best Air Mattress
How To Choose The Best Air Mattress?
Here's are features you must look out for:
Size: Airbeds are available in different size options from Twin, Queen, Full to King size. So, before you move on to other features, pick a bed-size that suits your needs as per the room or camping tent, so you don't end up with a wrong fit.
Construction: Firmness, stability, and weight distribution are all key factors while choosing an airbed. Designed with different technology, it's ideal you pick an airbed with either comfortcoil, coil beam, or wave beam construction for they are the safest and the most comfortable for all.
Built-in or Handheld Pump: Whether you want to go traditional and choose a hand pump or opt for a hassle-free option with a built-in pump, the choice is yours. But, if you are to pick a built-in pump, you must check out if the control valve is dual-sealed and leak-free.
Elevation: Many users end up overlooking this feature when it actually adds up to the overall comfort experience. Airbeds are designed with different height levels to help with "getting in or rolling out" easily.
Comfort: The top flocked layer ideally should be made of durable, waterproof, and puncture-resistant PVC material. Also, there are air mattresses with multi-layer flocks available too.
Lightweight: Though most of the airbeds are portable, compact, and travel-friendly, they should be lightweight too. Otherwise, it negates the whole purpose of being travel-friendly. So lookout for a lightweight airbed for a more user-friendly experience.
Expert's Answers for Readers Questions
How To Increase Comfort/Softness In An Airbed?
Since releasing the air from the mattress might ruin the stability, the ideal option would be to add a cushioned mattress pad or topper to make the air bed more comfortable.
How To Determine If The Air Is Too Much In An Airbed?
When the airbed gets bouncy, it's a sign of over-inflation. To determine whether the airbed is rightly-inflated, lie down on the mattress and check if it feels firm but not tight. This should help you figure out if there is excess air or not.
Is It Bad To Sleep On An Air Mattress Every Night?
It depends on the quality of the mattress. Given the stiffness and inadequate support to the spine, using an air mattress daily might lead to back pain. So, it's advisable to use an airbed once in a while, rather than daily or pick a good quality air mattress.
Why Are Air Beds So Uncomfortable?
Airbeds tend to deflate after a few hours unless they are of the highest quality. Plus, unlike the standard beds, they may turn cold or overheat faster, thus resulting in discomfort in the middle of the night.
How Long Should An Air Mattress Stay Inflated?
You can keep them inflated as long as you like. However, since airbeds are prone to leakage or damage, it's advisable to deflate them when not in use.
Why Does My Air Bed Deflate Overnight?
There are several reasons why your air mattress may have deflated overnight. Since no airbed is airtight, it loses air due to pressure, design, or temperature. For example: On a cold night, the air inside the airbed might condense, thus resulting in deflation.
How Do Air Mattresses Get Holes?
Air mattresses are prone to accidents, damages, or leak holes despite their puncture-resistant material. Though leak holes are repairable, seam or valve leakage may require professional attendance.
Can Air Mattresses Explode?
Air mattresses are not airtight but are designed to release some air to create a comfortable firmness for the user. Though over-inflation can rupture the design and lead to leaks, an explosion is unlikely or rare.
Now, what are you waiting for? Bring on the snooze fest with the best air mattress in tow! Don't compromise on sleep, pick a super-cozy and sturdy air mattress instead. Ideal for impressing your guests, or for turning those camping nights into memorable experiences, let your nights be cozy, comfortable, and dream-filled with one of the best mattresses of 2020.