10 Best ALASTIN Skincare Products To Try In 2022
Well-researched products that depend on advanced technology to care for your skin.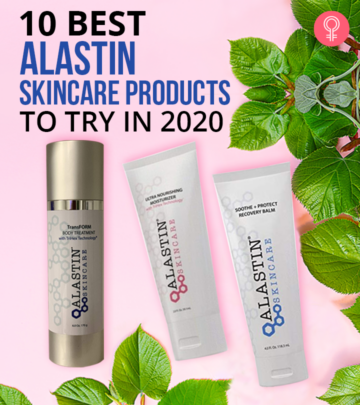 Youthful, glowing, healthy skin is just a step away with ALASTIN. Here, we have listed the 10 best ALASTIN skincare products that can create a huge difference in your skin health. You should also opt for this brand to avoid products with harmful chemicals.
The products from this line rejuvenate the look of your skin. They do not use chemicals like gluten, paraben which harm the skin. In addition, they are cruelty-free. ALASTIN skin care products use well-researched ingredients and advanced technology, which provide a youthful look to your skin. So, what are you waiting for? Let's take a look.
Top 10 ALASTIN Skincare Products In 2022
The ALASTIN Skincare HydraTint Pro Mineral Broad Spectrum Sunscreen contains zinc oxide and titanium dioxide that protect the skin from UVA and UVB rays. It also has phytoene and phytofluene, powerful antioxidants that prevent damage to the skin. The Thermus thermophilus ferment scavenges IR-generated free radicals, while the Asteriscus graveolens extract helps combat oxidative stress due to air pollution.
This tinted sunscreen gives an instant glow, making your skin look even and natural. The lightweight formulation goes well under makeup. The product is water-resistant up to 40 minutes and reef-friendly.
Key Ingredients: Titanium dioxide, Zinc oxide, Phytoene, Phytofluene, Thermus thermophilus ferment, and Asteriscus graveolens extract
How To Use: Apply this sunscreen 15 minutes before going outdoors. If you go swimming, reapply after 40 mins.
Pros
Broad-spectrum SPF 36
Oil-free
No white residue
Fragrance-free
Water-resistant
Lightweight
Reef-friendly
Can be used as a makeup primer
Cons
May not suit certain skin tones
The ALASTIN Skincare Ultra Nourishing Moisturizer is formulated with TriHex Technology®, a blend of active peptides and ingredients that stimulate the skin to clear out damaged collagen and elastin and produce healthy collagen and elastin. It also contains oat kernel extract to calm your skin.
Linoleic acid and phospholipids reinforce the skin barrier, and caprylic/capric triglyceride hydrates the skin. This moisturizer hydrates and soothes the skin and protects it against environmental damage. The oil-free, non-comedogenic formulation does not contain any fragrance.
Key Ingredients: TriHex Technology®, Oat kernel extract, Phospholipids, Linoleic acid, and Caprylic/capric triglyceride
How To Use: Apply one pump to your face twice a day.
Pros
Lightweight
Oil-free
Fragrance-free
Non-comedogenic
Improves skin tone and texture
Cons
None
The ALASTIN Skincare Gentle Cleanser gets rid of makeup, dirt, and impurities without upsetting the skin's moisture balance or irritating it. It contains D-panthenol that deeply hydrates and softens your skin. Bisabolol, oat beta-glucan, and oat kernel extract calm the skin and soothe irritation. This gentle, self-foaming cleanser does not contain sulfates and is suitable for sensitive skin.
Key Ingredients: D-Panthenol, Oat beta-glucan, Oat kernel Extract, and Bisabolol
How To Use: Cleanse your face twice and rinse it thoroughly with water.
Pros
Non-comedogenic
Gentle
Self-foaming
Non-drying
Sulfate-free
Suitable for sensitive skin
A little goes a long way
Cons
None
The Restorative Eye Treatment from ALASTIN Skincare reduces fine lines, wrinkles, and puffiness around the eyes. It contains green tea and oak leaf tea extracts that minimize the appearance of dark circles and mimosa tree extract that firms the under-eye area. Niacinamide and tripeptide-30 even out the skin tone, while the cross-polymer provides light-diffusing benefits, making the under-eye area appear brighter. TriHex Technology® ensures to stimulate elastin and collagen production to make the skin firm and youthful.
Key Ingredients: TriHex Technology®, Daturoside, Mimosa tree extract, Green tea extract, Oak leaf tree extract, Tetrapeptide-30, Niacinamide, and Cross-polymer
How To Use: Apply a thin layer of the product around the eyes every morning and evening.
Pros
Reduces puffiness and dark circles
Improves the appearance of fine lines and wrinkles
Oil-free
Brightens the under-eye area
Cons
The Restorative Skin Complex from ALASTIN Skincare is the brand's flagship product of the Restore and Renew line. This skin treatment rejuvenates your skin and imparts a vibrant and youthful appearance. In addition to the patented TriHex Technology®, the rich formulation also contains phosphatidylserine, palmitoyl dipeptide-5, acetyl hexapeptide-38, niacinamide, phytoene, phytofluene, and l-ornithine that volumize and lift the skin and combat the signs of aging.
These ingredients support the skin in producing collagen and elastin to enhance its elasticity and improve the appearance of fine lines and wrinkles. They also restore volume to thinning skin and even out the skin tone. The potent antioxidants protect the skin from free radical damage.
Key Ingredients: TriHex Technology®, Phosphatidylserine, Acetyl hexapeptide-38, Palmitoyl dipeptide-5, Niacinamide, Phytoene, Phytofluoene, and L-ornithine
How To Use: Apply 1-2 pumps of the complex on your face, avoiding the eye area.
Pros
Gentle
Evens out the skin tone
Smooths fine lines and wrinkles
Makes the skin soft and supple
Cons
Less quantity for the price
The ALASTIN Skincare Regenerating Skin Nectar is specially developed to heal your skin after skin treatment procedures like laser, microneedling, resurfacing, or chemical peels. It calms the skin and reduces recovery and downtime. This product is powered with TriHex Technology® that supports the skin in clearing out damaged elastin and collagen and stimulates the production of new elastin and collagen.
The skin nectar also contains Arnica montana extract, naringenin, and panthenyl triacetate that calm the skin and reduce redness and irritation after procedures. Phytoene and phytofluene are powerful antioxidants that lighten pigmentation and protect the skin from environmental aggressors.
Key Ingredients: TriHex Technology®, Arnica montana extract, Naringenin, Panthenyl triacetate, Phytoene, and Phytofluene
How To Use: Use as directed by your physician.
Pros
Preservative-free
Water-free
Oil-free
Non-comedogenic
Suitable for rosacea-prone skin
Cons
None
The ALASTIN Skincare Soothe + Protect Recovery Balm is used following skin-rejuvenating procedures to soothe, soften, moisturize, and strengthen the skin. This balm contains Physalis angulata and chamomile extracts that calm the skin and shea butter triterpenes that improve the skin barrier function.
Key Ingredients: Physalis angulata extract, Chamomile extract, and Shea butter triterpenes
How To Use: Apply this balm after cleansing your face. Use as directed by your physician for post-procedure care.
Pros
Reduces dryness
Anti-irritant
Prevents flakiness
Cons
Contains petroleum
Feels sticky
The ALASTIN Skincare Renewal Retinol is formulated with .5% retinol encapsulated in a solid lipid for improved delivery to the skin. It reduces the appearance of aging signs, like fine lines and wrinkles, making your skin look bright and healthy. The formula also contains coenzyme Q10 that protects retinol activity and oat extract to calm the skin. Other ingredients like silver mushroom and hydroxymethoxyphenyl decanone are potent hydrators that prevent skin dehydration.
Key ingredients: Retinol, Oat extract, Coenzyme Q10, Silver Mushroom, and Hydroxymethoxyphenyl decanone
How To Use: Apply a pump of the product on your face every evening, 2-3 times per week. Avoid contact with the eyes.
Pros
Non-irritating
Non-comedogenic
Reduces acne and scars
Minimizes fine lines and wrinkles
Improves skin tone and texture
Cons
None
The TransFORM Body Treatment from ALASTIN Skincare is developed to be used after body-sculpting procedures. The unique formulation helps speed up the body's natural elimination of fat cells for visible results after a skin-tightening procedure.
This product has TriHex Technology® that improves skin texture and makes it firmer and smoother. Hexapeptide 11 stimulates the body's natural detoxification and repair process, while acetyl tetrapeptide-2 and dill extract improve skin texture by enhancing elastin production. Silver mushroom, linseed extract, and plantain leaf increase hyaluronic acid production to hydrate the skin and reduce crepiness.
Key Ingredients: TriHex Technology®, Hexapeptide-11, Acetyl tetrapeptide-2, Dill extract, Silver mushroom, Linseed extract, and Plantain leaf
How To Use: Apply 2 to 3 pumps on the treated or desired areas of your body.
Pros
Improves skin firmness
Reduces crepiness
Enhances skin texture
Enhances body-sculpting results
Cons
May take time to show results
The ALASTIN Skincare Post-Injection Serum is specially formulated to be paired with injectables to reduce swelling, irritation, or bruising post-injection. ChromaFade Technology expedites the recovery process and reduces downtime, while TriHex Technology® supports the skin's natural production of collagen and elastin.
This serum contains Arnica montana extract and ledum to calm the skin and reduce swelling and redness. Other ingredients like silver mushroom, sodium hyaluronate, hexapeptide-38, and hydroxymethoxyphenyl decanone support the skin's natural hyaluronic acid levels that improve hydration and plumpness. This non-comedogenic serum comes with a cooling applicator tip that provides a soothing effect during application.
Key Ingredients: TriHex Technology®, ChromaFADE Technology, Arnica montana extract, Sodium hyaluronate, Silver mushroom, Hexapeptide-38, and Hydroxymethoxyphenyl Decanone
How To Use: Squeeze a small amount of the serum on the applicator tip and apply it on and around the treated area.
Pros
Non-comedogenic
Makes the skin plump
Reduces bruising after injection
Comes with a cooling applicator tip
Cons
None
ALASTIN Skincare aims to heal rather than conceal and give you the best results compared to most other brands. So, what are you waiting for? Pick your favorite product from the above list for soft, smooth, and radiant skin.
Why Trust StyleCraze?
The author, Shiboli Chakraborti, is a certified skin care coach and passionate about trying out cruelty-free skincare brands. She curated this list of the best ALASTIN skin care products after reviewing hundreds of user testimonials on trusted online forums and researching the ingredients. These products are formulated with advanced technology, are free from chemicals, and offer a youthful look to the skin.
Frequently Asked Questions
Is ALASTIN cruelty-free?
Yes, ALASTIN products are not tested on animals and are completely cruelty-free.
What does ALASTIN Skin Nectar do?
ALASTIN Skin Nectar heals your skin after skin treatment procedures like microneedling, chemical peels, resurfacing, or laser treatments.
Is ALASTIN Skincare medical-grade?
Yes, ALASTIN Skincare is certified by physicians and suitable for pre- and post-procedure skin care.
Recommended Articles