6 Best Alcohol-Free Hair Conditioners of 2021 To Banish The Dryness! Are you dealing with dry, brittle, or lifeless hair even after plush conditioning? Alcohol could be the reason! Yes, rather than leaving your hair soft, manageable, and healthy, the alcohol in your conditioner is probably reversing the process and leaving your dry scalp and hair even drier! Hence, you must switch to an alcohol-free conditioner ASAP to fight dryness and retain the natural pH level of your hair. To learn more about alcohol-free conditioners, read along!
What Are Alcohol-free Conditioners?
First thing first, the alcohol used in conditioners and for disinfecting wounds are not the same. The one in conditioners contains fatty acids that help retain the natural moisture of your scalp and hair. However, they are ideal for healthy or oily scalps only. Using these alcohol-based conditioners on dry scalp or hair may worsen the dryness considering there is no moisture to retain. Hence, people with dryness or damaged hair problems are advised to use alcohol-free conditioners.
Now, are you ready to add one to your hair wash routine? Check out our list of the 6 best alcohol-free conditioners of 2021 for you below!
Read on to know more!
Top 6 Best Alcohol-Free Conditioners For Healthy And Beautiful Hair (with Reviews)
The Shea Moisture Strengthen & Restore Conditioner combats frizz and softens and detangles your hair. It is formulated with Jamaican black castor oil, peppermint, and shea butter that nourish and moisturize your hair. This conditioner helps detangle the hair without weighing it down. It is safe for color-treated hair and perfect for those who style their hair regularly.
Pros
Suitable for all hair types
Cruelty-free
Paraben-free
Phthalate-free
Silicone-free
Mineral oil-free
Petrolatum-free
Cons
None
Rich, moisturizing, and ultra-nourishing, pure emu oil has been making women fall in love with their hair for decades! And now, you can enjoy the enriching power of emu oil along with plant extracts and essentials oils in this alcohol-free conditioner. Like food for your hair, it rejuvenates the strands to make them look healthier, volumized, and shinier than before. So, if you are looking for an oil-based conditioner to bring back your natural gorgeousness, this Emu Oil Conditioner could be a great pick.
Pros:
Lightweight and non-greasy formula
Intensely hydrating and nourishing
Leaves hair manageable and soft
Infused rosemary fragrance delivers a subtle after-scent
Paraben-free, SLS-free, and synthetic fragrance-free
Cons:
Expensive
It's not cruelty-free.
Is frizzy hair driving you crazy? You need this intense keratin treatment and leave-in conditioner to seal and smoothen instantly! Why keep your hair tied in a bun when you can flip and flaunt like a stunner with this frizz-control conditioner? Claiming to tame the curls, add a bounce and make them look healthier and shinier, you can bid goodbye to all your hair ties forever. Also, it contains vitamin B5 that works intensely to strengthen the hair cuticle and retain the natural moisture too. Try it to witness the difference!
Pros:
Ensures healthy hair growth
Prevents color from fading
Protects from sun or UV damage
Ideal to use with heat to intensify shine
Paraben-free, sodium chloride-free, and cruelty-free
Safe and suitable for curly, straight, dry, and colored hair
Cons:
Small size
It has a strong fragrance.
More like a rejuvenating spa for your damaged, chemically-treated, and dry hair, this leave-in conditioner is a must-try for all. From intensely moisturizing your scalp, it melts like butter on hair, thus leaving it ultra-soft and manageable instantly. Also, are you dealing with an itchy scalp? If yes, then this formula has argan oil, vitamin E, jojoba oil, tea tree oil, and keratin to not only nourish the scalp intensely but also promote healthy hair growth. Do not miss it!
Pros:
Infused with organic ingredients
Gentle and strengthening formula
Restores natural moisture
Protects hair during heat styling
Reduces hair loss and breakage
Prevents drying and cuticle damage
Improves hair texture and elasticity
Paraben-free, sulfate-free, and SLS-free product
Cons:
Don't have time to use a conditioner after hair wash? Here's a cleanser with conditioner to make your task easier and hair healthier with every use! Formulated with green tea and lime, it hydrates, moisturizes, and cleanses without stripping the natural oils of your hair. And that's not all— it claims to add volume, shine and deliver fuller-looking hair with its enriching blend too. Give it a try if you haven't already!
Pros:
Suitable for all hair types
Pampers hair while cleansing
Gentle cleanser and conditioner
Infused with natural oils and herbs
Sulfate-free and phthalate-free product
Cons:
If you like styling your hair often, then this conditioning gel will awaken the expert in you! Go on, style as much as you want, as this conditioner ensures to keep your hair and scalp hydrated and nourished all the time. Super easy to use and also giving excellent control over your tresses instantly, get ready to sport a new hairdo without worrying about frizz or damaging your scalp.
Pros:
High-quality gel conditioner
Adds a healthy shine and softness
Prevents build-up or flaking
Sulfate-free and paraben-free product
It has easy-to-use dispenser packaging.
Cons:
Not recommended for very dry and damaged hair
Goodbye dryness, hello gorgeous hair! There you go, those were the 6 best alcohol-free conditioners that you must try this 2021. Still, need assistance with buying the right alcohol-free conditioner for your hair? Read our buying guide below.
Buying Guide
How To Choose The Right Alcohol-Free Conditioner?
Look out for the following features to buy the right alcohol-free conditioner:
Hair Type: If you think any conditioner can work on your hair type, then you are highly mistaken. Conditioners are formulated as per the hair type as well. So, if you have curly hair, a straight hair conditioner might not deliver favorable results.
Ingredients: Even if the conditioner is alcohol-free, you must inspect the other ingredients too. The idea is to not only keep the alcohol out but to swap it with intensely conditioning ingredients that can help tackle dryness and damaged hair.
Chemical-free: The conditioner should be chemical-free, mild, and gentle enough to treat damaged and dry hair. So, check if the conditioner has paraben, sulfate, phthalate, or other chemicals that can worsen your hair condition.
Scalp Treatment: Along with your hair, you must pick a conditioner that'll nourish your scalp too. Basically, if your scalp is healthy, it will automatically help your tresses heal and promote healthy hair growth.
That's all folks! Let's banish the dryness with the best alcohol-free conditioner of 2021. With these 6 alcohol-free conditioners guaranteeing to rejuvenate your hair and make them look healthier, it is time to let go of your old conditioner right away. Now, what are you waiting for? Go, pick yours and bring back the good hair days, the alcohol-free way!
Expert's Answers for Readers Questions
Do All Conditioners Have Alcohol?
Yes, most of the conditioners have alcohol as it helps retain the natural moisture. So, if you have dry or damaged hair, you must opt for alcohol-free conditioners only.
Is Alcohol in Conditioner Bad for Your Hair?
It depends on your hair type. If you have normal or oily hair, then alcohol will strip away the excess oil and retain the natural moisture. However, the process may reverse if you have damaged or dry hair as it will end up drying or damaging even more.
Why is Isopropyl Alcohol in Conditioner?
Isopropyl Alcohol is primarily used in shampoos, conditioners, and other cosmetics for its drying effect. Hence, it is not advisable for those with dry, damaged, or brittle hair.
Recommended Articles
The following two tabs change content below.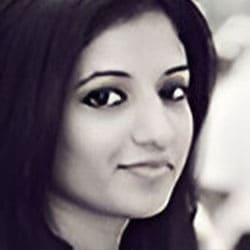 Chaitra Krishnan
Chaitra is an extremely passionate writer and storyteller. She has a triple main Bachelor's degree in Journalism, Communicative English, and Economics and a Master's degree in Journalism and Mass Communication. She has more than three years of experience in content writing and editing and specializes in beauty, fashion, and lifestyle genres. Her background in journalism helps her guide her team in churning out fine content for the readers. When she's not editing or juggling tasks at work, she likes to daydream and stalk doggos on Instagram.