15 Best Alcohol-Free Hair Spray Of 2022
These hair sprays can save you from bad hair days without drying your locks.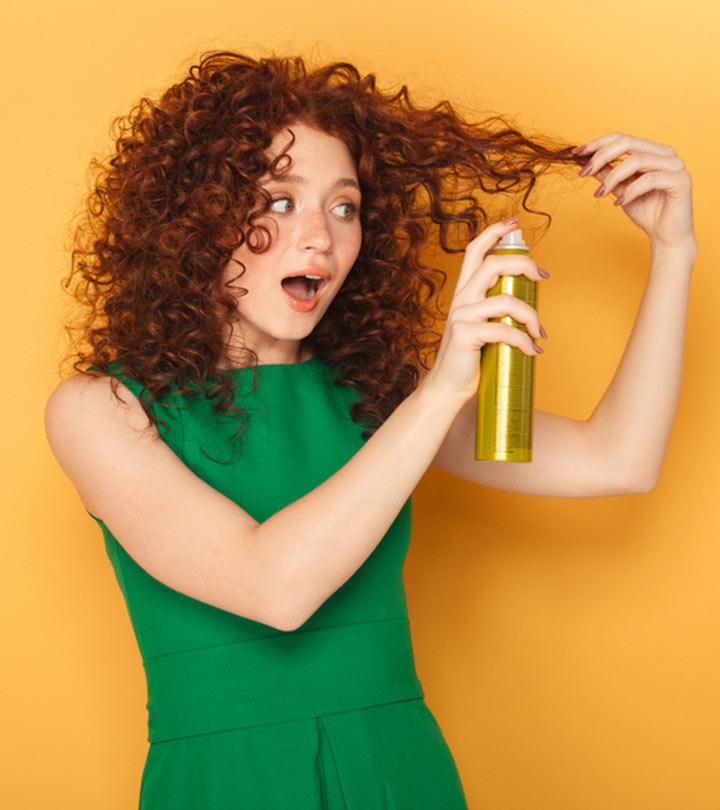 Hairspray is a godsend to anyone who wants to ensure their hairdo stays in place all day and all night long. However, many products in the market are loaded with chemicals like alcohol that strip your hair from its natural oils. To save our tresses from damage, adding the best alcohol-free hairspray to our hair care essentials seems like the only next step. Alcohol-free hairsprays give you the stronghold your hair desires without messing with the pH balance of your scalp. They also prevent your locks from turning dry and brittle. To learn more about the best alcohol-free hairsprays, scroll on!
Alcohol Free Hair Spray vs Alcohol Hair Spray
Are you sick of trying to tame dry, dead, brittle, and frizzy hair? In 2022, we have come to realize that alcohol-based products do more harm to your hair than help fix it. It depletes your hair of the nutrients while making it look nothing but dead. Alcohol hair spray keeps your hair wet for a longer period of time and also takes time to dry it out. Alcohol-free hair spray supplies tons of nutrients while imparting a natural shine and a voluminous look in no time. You won't ever have to worry about delayed salon appointments to help you with a bad hair day. Opting for an alcohol-free hair spray will surely be a great choice when compared to using hair spray that contains alcohol.
How Do I Choose The Best Alcohol-Free Hair Spray 
Here are some tips for picking out an alcohol-free hair spray that would best suit your hair.
Know your hair type. Whether it's oily, or you suffer from hair fall or thinning, be well informed of what your hair is like so you can pick the right alcohol-free hairspray.
Identify the ingredients that work for you and those that don't.
Always read the description to cross-check if the hair spray is suitable for your hair-type.
If you have a particular look in mind, look for hair sprays that would help you achieve it.
Look for something that would fit your budget as well as protect your hair.
15 Best Alcohol-Free Hairsprays
The Honeybee Gardens Hair Spray is one-of-a-kind. If you are looking for something that keeps your hair styled all day long, this hair spray is just perfect. It is alcohol-free and imparts a shine to your hair while also preventing dryness. Your hair will feel super soft, smell great, and exude a salon-finished look in no time. It may be a tad bit expensive, but each spray is worth every penny! This hair spray is made for all hair types and won't damage your hair.
Pros
Natural ingredients
Gluten-free
Keeps your hair set for long hours
Cons
From Herbal Essences comes this alcohol-free hair spray that has every girl going gaga. A fantastic blend of natural ingredients such as aloe and bamboo, this spray creates a look that is healthy, natural, and glamorous. It works on all hair types and renews your hair texture within 21 days. This hair spray is gluten-free, with 0% parabens and colorants. It can also be used as a conditioner that has frizz-control properties.
Pros
Frizz-control properties
Contains herbal ingredients
Cons
Does not last for more than 5 hours
Pantene is a brand that most women swear by. And rightly so. It is easy on your hair, lightweight, and adds a shine that you can't resist! The alcohol-free formula has zero ethanol, which adds healthy elements to your hair. Pantene's Pro-V alcohol-free spray adds tons of moisture to your hair, making it look lustrous for hours. Before you head out to a party, spray this over your hair to achieve that fun, bouncy look. Click this video to learn more about the product.
Pros
Lightweight on your hair
Zero ethanol
Pocket-friendly
Cons
This hair spray could cause hairful when overused.
Kenra Shaping Spray is a professional hair spray that many hairstylists swear by. Its alcohol-free formula adds nourishment and shine to your hair without making it look dry and dull. Not only does it make your hair look alive, but it also keeps it in place for long hours. Kenra's hairs pray works best when your hair is partially wet. It keeps your hair in place when styled for events or a party. You won't have to worry about loose hair strands falling out of your bun as this hair spray would have taken good care of that.
Pros
Does not make your hair look brittle or dry
Keeps your hair set for long hours
Cons 
Can only work best when your hair is partially wet
This alcohol-free hair spray is quite the charm. Its best feature is that it is so lightweight that it feels like there is absolutely no product in your hair. Since it is alcohol-free, you can use it often without having to worry about it damaging your hair. If you are stepping out for a party, gala, or any other occasion, you could use this hair spray and be on your way. No bad hair days when you have the AG Hair Volume Spray! Just be sure to use this when your hair is damp or partially wet.
Pros
Dries instantly without making your hair looking damp
Provides a soft hold
Cons
Can be used only when your hair is damp
Slightly expensive
This finishing hair spray from Ion is completely alcohol-free. It tames your hair while also providing a shine that makes your hair look well-nourished. It is lightweight and is infused with an enticing musky scent. Another exciting feature of this product is that it is 100% vegan and also paraben-free. Its frizz control treatment stays intact for eight hours without making your hair look dull or unruly.
Pros
Vegan
Paraben-free
Lightweight and keeps your hair nourished
Cons
Overuse of this product could cause hair fall
DermOrganic Flex Hold Sculpting Spray is your one-stop destination to fix your unruly hair anytime. This versatile hairspray sculpts and molds your hair for any hairdo and has the texture of a nourishing cream. This formula has natural ingredients like pomegranate, aloe vera, grape seed extracts, orange peel, and argan oil to hydrate and heal your hair, protect its tone, and strengthen the shaft for overall hair health. It allows you to have varied looks ranging from a sleek design to naturally tousled waves or retro curls.
Pros
Organic ingredients
Long-lasting
Thermal protection
Color-safe
Alcohol-free
Paraben-free
Sulfate-free
Phthalate-free
Cruelty-free
Vegan
Cons
Lange Spray Laminate will have your hair hooked. The nourishing blend of botanical oils hydrates your hair, making it smooth and lustrous.  It controls flyaways, adds a glorious shine, and offers a defining hold to any hairstyle. The lightweight formula doesn't weigh hair down, provides UV protection while imparting a polished texture to your hair. It is color-safe and suitable for all hair types.
Pros
Lightweight
Alcohol-free
UV protection
Works on extensions
Color-safe
Cons
BIOLAGE is a product that is a favorite among many women. Known for its natural and ingredients, this hair spray is alcohol-free. With little to no water used in its formulation, this hair spray keeps your hair set for long hours. It avoids making your hair look brittle and sturdy. BIOLAGE hair spray also works in humid conditions, and this makes it a great purchase for all your styling needs!
Pros
Works in humid conditions
Comprises of natural hair protective ingredients
Cons
Slightly on the expensive side
Can be used only when hair is partially wet or damp
Straight Silk Spray Infused with Argan Oil is formulated to get a salon-like hairstyle. It is an effective hair detangler and protects your hair from excessive heat exposure, especially when styling the hair with flat irons and blow dryers. This unscented spray prevents frizz, revitalizes shine, and eliminates kink. Moroccan Argan oil infused in the hair spray acts as an excellent moisturizer that contains antioxidants, vitamin E, and fatty acids. This video gives you more information about the product.
Pros
Non-flammable formula
Fragrance-free formula
No-alcohol
No harsh chemicals
Non-greasy formula
Sulfate-free
Cons
The COLOR WOW Speed Dry Blow-Dry Spray instantly adds a natural shine to your hair. It protects your hair from damage caused by excessive heat. You can count on this alcohol-free hair spray to create an uber glamorous look on a night out with your special one!
Pros
Cons
Lasts for only about 3-4 hours
Expensive
This hair spray is the one for you if your hair is frizzy beyond control. It protects your hair from intense heat while styling it. If you're out in the sun for long hours, this hair spray protects your hair from turning oily. Sun Bum Protecting Anti-Frizz Oil Mist can be used on all hair types and is quite pocket-friendly. Learn more about the product in this video.
Pros
Protects your hair heat damage
Oil-control
Cons
Lasts for only 3-4 hours
Overuse could cause hair fall
If you're someone who has really thick or wavy hair, KICK Sea Salt Spray is what you are looking for. With ingredients like sea salt that give your hair a full volume look, this spray tames the frizz and helps you create the perfect beach-wave look. How exciting does that sound? Grab one of these today!
Pros
Provides volume
All-natural ingredients
Cons
This all-natural, alcohol-free styling spray is great to use for everyday or occasional styling. It adds volume and shine for gorgeous hair that's easily manageable and silky. You can create new styles on wet hair or spray on dry hair for long-lasting hold. For achieving a natural look, spray it on your hands and run your fingers through your hair.
Pros
Plant-based
Suitable for all hair types
Fragrance-free
Soy-free
Non-GMO
Gluten-free
Cons
None
This hair spray is free from chemicals and alcohol and is vegan. Style your hair and use this hair spray to set that dreamy Hollywood-esque updo. It has been dermatologically tested and is suitable for all hair types. Free & Clear Firm Hold Hairspray is also easy on the pocket.
Pros
Cons
Lasts for about 3-4 hours
Why Trust StyleCraze?
Vaishnavi Kothuri, the author of this article, is a hair care enthusiast who is passionate about providing research-backed articles to her readers. She went through multiple online reviews, analyzed various product specifications of hair sprays, and read hundreds of reviews to provide her readers with the best alcohol-free hairsprays list. These products control hair frizz, add moisture to your hair, and make your hair voluminous.
Frequently Asked Questions
Is alcohol-free hair spray good for your hair?
Yes, alcohol-free hair spray prevents your hair from getting dry, brittle, and rough.
Are alcohol-free hair sprays expensive?
There are many brands out there in the market that have launched alcohol-free hair sprays at a reasonable price. You can pick one out that suits your budget.
Do all hair sprays have alcohol?
No, every hair spray does not have alcohol. Several hair sprays contain natural ingredients like aloe and bamboo that can work as an alternative to alcohol.
Why is there alcohol in hair spray?
Some hair sprays contain alcohol, which is used as a solvent to keep the styling polymers soluble. But hair sprays with alcohol can be damaging for your tresses.
Will hair spray cause hair loss?
While hair sprays can cause hair fall, they cannot lead to permanent hair loss or balding. However, it is recommended to use gentle amounts of hair spray to keep your hair healthier.
Does alcohol-free hairspray cause gray hair?
No, alcohol-free hair sprays do not make your hair look gray. But a whitish layer might get formed on your tresses if you use too much on your hair. However, you can remove it by washing your hair thoroughly.
Recommended Articles