7 Best Alcohol-Free Shampoos Of 2021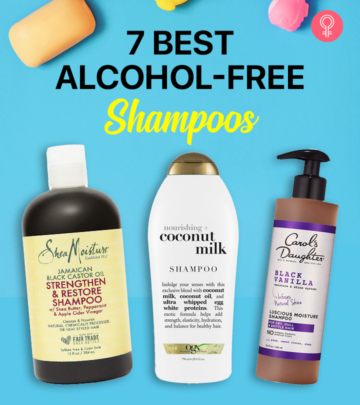 Alcohol is one of the most common ingredients that has made its way to a lot of beauty products. There are natural and non-toxic ingredients that are actually beneficial to you, while synthetic alcohols can damage your hair and strip off its natural nutrients and moisture! But worry no more. There are plenty of good-quality, alcohol-free shampoos that provide effective cleansing without causing any damage to your hair. To make your search easy, we have curated a list of the 7 best alcohol-free shampoos. Read on and take your pick!
7 Best Alcohol-Free Shampoos
This kit by Hask includes a conditioner as well as a shampoo that restores damaged and dry hair. It is fortified with the goodness of argan oil that intensely moisturizes your hair by penetrating deep into the hair shafts. The shampoo gently cleanses your scalp while repairing breakage, taming frizz, and inducing a silky shine. The formula is rich in omega fatty acids and natural antioxidants that improves hair manageability and repairs split ends. The vitamin E in this formula protects your hair from free radical damage.
Key Ingredients: Argan oil, Soybean protein, and Panthenol,
Pros
Sulfate-free
Paraben-free
Gluten-free
Phthalate-free
Cruelty-free
Silicone-free
No artificial colors
Lathers well
Cons
The Jamaican Black Castor Oil Strengthen & Restore Shampoo by Shea Moisture is ideal for natural and styled hair. This super clarifying shampoo helps remove build-up and nourishes your hair without stripping off your hair's natural moisture. The aloe vera juice and panthenol in the formula are rich in antioxidants. They soothe your scalp and protect your hair from free radical damage. The natural oils and shea butter in the shampoo help strengthen chemically treated and heat-damaged hair. It also contains black castor oil that is rich in vitamin E and provides your hair with essential vitamins and minerals. The peppermint extract is invigorating and gives a refreshing feeling with every wash.
Key Ingredients: Shea butter, Peppermint, and Jamaican castor oil
Pros
Sulphate-free
Color-safe
No mineral oils
Petrolatum-free
Paraben-free
Silicone-free
Phthalate-free
Cruelty-free
Value for money
Cons
Might leave an oily residue
Indulge in the goodness of creamy coconut milk with the OGX Nourishing + Coconut Milk Shampoo. The luscious blend of coconut oil, coconut milk, and egg white protein strengthens and hydrates your hair to make it look lustrous. This formula is suitable for all hair textures and types. It has a delicious tropical scent of shea butter, white peach, and coconut that lingers on your hair for a long time.
Key Ingredients: Coconut oil, Coconut milk, and Egg white protein
Pros
Paraben-free
Sulfate-free
Lightweight
Softens hair
Creamy texture
Induces sheerness
Value for money
Pleasant scent
Cons
If your hair feels coarse and dull, then the Carol's Daughter Black Vanilla Luscious Moisture Shampoo is the best choice for you! This shampoo transforms your unmanageable hair into a super healthy and soft mane from the very first wash. It soothes dry hair and deeply hydrates it. Aloe vera leaf juice makes your hair soft and manageable, while rose extracts and sweet clover makes your hair three times shinier.
Key Ingredients: Aloe vera juice, Rosa extract, Calendula flower, and Sweet clover
Pros
No artificial colors
Sulfate-free
Paraben-free
No petroleum
No mineral oils
Great scent
Value for money
Induces sheerness
Cons
Might cause allergic reactions
The Free & Clear Vanicream shampoo is especially formulated for sensitive skin and scalp. It controls flaking and scaling by removing excess sebum and rejuvenating your scalp. The formula also removes build-up from hair sprays, serums, conditioners, and other hair products. With regular use, your hair will become soft and manageable.
Key Ingredients: Glycerin, Panthenol
Pros
Gluten-free
Sulfate-free
No dyes
Betaine-free
Fragrance-free
No formaldehyde
Lanolin-free
Preservative-free
Protein-free
Phosphate-free
pH-balanced
Dermatologist-tested
Cons
None
Repairing your damaged hair is the very first step to inducing new hair growth, and the DermaChange shampoo and conditioner set does just that! The formula effectively reverses hair damages and rejuvenates damaged hair. It replenishes the lost nutrition and promotes stronger and healthier hair growth. The formula is enriched with cassava root extract that nourishes your hair from root to the tips by clarifying your scalp and protecting your strands. Argan oil, coconut oil and aloe vera in this formula deeply hydrate your hair to prevent dry scalp and dandruff. The amino acids and proteins repairs hair fibres and treat split ends. The shampoo and conditioner are pH balanced and gentle on your hair.
Key Ingredients: Aloe vera juice, Coconut oil, and Tapioca starch
Pros
Sulfate-free
Paraben-free
Dye-free
Cruelty-free
Fragrance-free
Vegan
pH-balanced
Cons
The all-natural Mokita Naturals Regenerate Volumizing Shampoo is formulated with seven botanical extracts, biotin, and provitamins B5 and & that deeply nourish your hair from the root to the tip. It is the ultimate shampoo for inducing volume, preventing hair breakage, and reducing hair fall. The formula neutralises the effects of heavy styling products to make dull hair look voluminous and bouncy. The brand also offers a 90-day money back guarantee in case you're not satisfied with the product.
Key Ingredients: Cucumber fruit extract, Green tea, Panthenol, Aloe vera juice, Chamomilla recutita, and Rosemary leaf extract
Pros
Vegan
Sulfate-free
Phosphate-free
Paraben-free
Cruelty-free
Color-safe
Cons
Things To Consider Before Buying A Non-Alcohol Shampoo
Ingredients To Avoid
There are a lot of ingredients that can cause allergic reactions, irritate, or even damage your scalp and hair. While choosing an alcohol-free shampoo, make sure to stay away from other harmful ingredients like parabens, sodium laureth sulfate, and ammonium lauryl sulfate. If you have a very sensitive scalp, it is also best to stay away from some natural ingredients like witch hazel that can cause an allergic reaction.
Consider Your Hair Type
Choose a shampoo that suits your hair type the best. Most products are made specifically for certain hair types – this helps the shampoo to deliver more effective results.
If your hair is color-treated, choose a shampoo that is color-safe. Harsh chemicals or ingredients can make your color fade or trigger hair loss.
If you have an oily scalp, avoid shampoos that are loaded with essential oils. They may make your hair heavy and greasy.
If you have thin or fine hair, do not buy shampoos that weigh your hair down. In such cases go for lightweight and volumizing shampoos.
If you have dry hair, choose a shampoo with conditioning ingredients and essential oils. These can help revive your dry and frizzy hair.
Choose a pH-Balanced Formula
Choosing a shampoo with very high or very low pH can cause damage to your hair cuticles. A pH balanced shampoo is gentle on the scalp, and it will moisturize and nourish your hair without causing any damage to it.
Look For Moisturizing Ingredients
In order to get maximum benefits from your shampoo, look for shampoos with moisturizing ingredients like milk proteins, silk proteins, aloe vera, coconut milk, argan oil, keratin, jojoba oil, tea tree oil, and shea butter. These ingredients deeply hydrate your hair and protect it from further damage.
Alcohols are used to add a weightless inclination to hair care products but if used in excess, they can damage your hair. It strips your scalp's natural oils may irritate it. The shampoos that are completely alcohol-free do a better job of nourishing and moisturizing your hair. Go ahead and take your pick from our list of the 7 best alcohol-free shampoos.
Frequently Asked Questions
What are the harmful alcohols in shampoos?
The most common harmful alcohols which can be found in shampoos are ethanol or ethyl alcohol, denatured alcohol, methanol, SD alcohol, isopropyl alcohol, and benzyl alcohol.
Recommended Articles
The following two tabs change content below.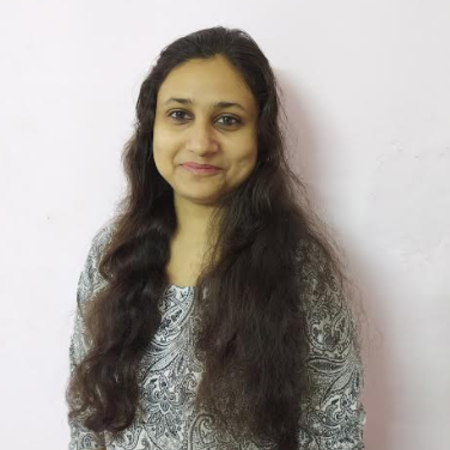 Shiboli has a Master's degree in English Literature and is proficient in French. She believes that words have a healing power and considers poetry her lifeline. Her writing background and editorial dexterity help her guide her team members to create crisp and authentic content. Shiboli is also a trained Bharatnatyam dancer and has a fascination for traveling. She is passionate about cooking and dreams of opening a restaurant of her own.