7 Best Alcohol-Free Shampoos Of 2023
Seize the day with luscious hair offered by these harmless and gentle formulations.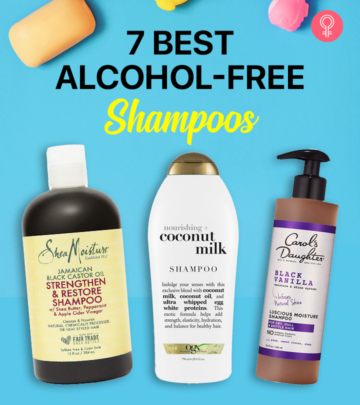 Once you know what synthetic alcohol does to your hair, you will indeed look for the best alcohol-free shampoo. Alcohol is one of the most common ingredients found in beauty products. And while natural sources of alcohol can help your hair shine, synthetic ones will only strip off natural oils from your hair and cause further damage. The good news is there are plenty of shampoos that are made alcohol-free to keep your hair healthy and strong even through regular shampooing. Go through our list of 7 shampoos that will only make your hair grow healthier.
7 Best Alcohol-Free Shampoos
Pros
Sulfate-free
Paraben-free
Gluten-free
Phthalate-free
Cruelty-free
Silicone-free
No artificial colors
Lathers well
Cons
Price at the time of publication: $14.95
Pros
Sulphate-free
Color-safe
No mineral oils
Petrolatum-free
Paraben-free
Silicone-free
Phthalate-free
Cruelty-free
Value for money
Cons
Might leave an oily residue
Price at the time of publication: $8.39
Pros
Paraben-free
Sulfate-free
Lightweight
Softens hair
Creamy texture
Induces sheerness
Value for money
Pleasant scent
Cons
Price at the time of publication: $9.83
Pros
No artificial colors
Sulfate-free
Paraben-free
No petroleum
No mineral oils
Great scent
Value for money
Induces sheerness
Cons
Might cause allergic reactions
Price at the time of publication: $10.99
The Free & Clear Vanicream shampoo is especially formulated for sensitive skin and scalp. It controls flaking and scaling by removing excess sebum and rejuvenating your scalp. The formula also removes build-up from hair sprays, serums, conditioners, and other hair products. With regular use, your hair will become soft and manageable.
Key Ingredients: Glycerin, Panthenol
Pros
Gluten-free
Sulfate-free
No dyes
Betaine-free
Fragrance-free
No formaldehyde
Lanolin-free
Preservative-free
Protein-free
Phosphate-free
pH-balanced
Dermatologist-tested
Cons
None

Price at the time of publication: $10.99
Repairing your damaged hair is the very first step to inducing new hair growth, and the DermaChange shampoo and conditioner set does just that! The formula effectively reverses hair damages and rejuvenates damaged hair. It replenishes the lost nutrition and promotes stronger and healthier hair growth. The formula is enriched with cassava root extract that nourishes your hair from root to the tips by clarifying your scalp and protecting your strands. Argan oil, coconut oil and aloe vera in this formula deeply hydrate your hair to prevent dry scalp and dandruff. The amino acids and proteins repairs hair fibres and treat split ends. The shampoo and conditioner are pH balanced and gentle on your hair. For a thorough review of the product, have a look at this YouTuber's video.
Key Ingredients: Aloe vera juice, Coconut oil, and Tapioca starch
Pros
Sulfate-free
Paraben-free
Dye-free
Cruelty-free
Fragrance-free
Vegan
pH-balanced
Cons
Price at the time of publication: $39.98
The all-natural Mokita Naturals Regenerate Volumizing Shampoo is formulated with seven botanical extracts, biotin, and provitamins B5 and & that deeply nourish your hair from the root to the tip. It is the ultimate shampoo for inducing volume, preventing hair breakage, and reducing hair fall. The formula neutralises the effects of heavy styling products to make dull hair look voluminous and bouncy. The brand also offers a 90-day money back guarantee in case you're not satisfied with the product.
Key Ingredients: Cucumber fruit extract, Green tea, Panthenol, Aloe vera juice, Chamomilla recutita, and Rosemary leaf extract
Pros
Vegan
Sulfate-free
Phosphate-free
Paraben-free
Cruelty-free
Color-safe
Cons
Price at the time of publication: $19.95
Things To Consider Before Buying A Non-Alcohol Shampoo
There are a lot of ingredients that can cause allergic reactions, irritate, or even damage your scalp and hair. While choosing an alcohol-free shampoo, make sure to stay away from other harmful ingredients like parabens, sodium laureth sulfate, and ammonium lauryl sulfate. If you have a very sensitive scalp, it is also best to stay away from some natural ingredients like witch hazel that can cause an allergic reaction.
Choose a shampoo that suits your hair type the best. Most products are made specifically for certain hair types – this helps the shampoo to deliver more effective results.
If your hair is color-treated, choose a shampoo that is color-safe. Harsh chemicals or ingredients can make your color fade or trigger hair loss.
If you have an oily scalp, avoid shampoos that are loaded with essential oils. They may make your hair heavy and greasy.
If you have thin or fine hair, do not buy shampoos that weigh your hair down. In such cases go for lightweight and volumizing shampoos.
If you have dry hair, choose a shampoo with conditioning ingredients and essential oils. These can help revive your dry and frizzy hair.
Choosing a shampoo with very high or very low pH can cause damage to your hair cuticles. A pH balanced shampoo is gentle on the scalp, and it will moisturize and nourish your hair without causing any damage to it.
In order to get maximum benefits from your shampoo, look for shampoos with moisturizing ingredients like milk proteins, silk proteins, aloe vera, coconut milk, argan oil, keratin, jojoba oil, tea tree oil, and shea butter. These ingredients deeply hydrate your hair and protect it from further damage.
Why Trust Stylecraze
Shiboli Chakraborti is a certified skincare coach with a keen interest in the skin and hair care segments. She spends hours researching and analyzing hundreds of products online based on durability, quality, affordability, and other vital factors. In this article, she focuses on the best alcohol-free shampoos that can help your hair retain its natural shine while protecting you against damage. These options have also been endorsed by users across various e-commerce sites.
Frequently Asked Questions
What are the harmful alcohols in shampoos?
The most common harmful alcohols which can be found in shampoos are ethanol or ethyl alcohol, denatured alcohol, methanol, SD alcohol, isopropyl alcohol, and benzyl alcohol.
Should you avoid alcohol in shampoo?
Yes, you must avoid alcohol in your shampoo formulation. Alcohol strips the natural oil and sebum of your hair and scalp and causes dryness and frizz.
Why do they put alcohol in shampoo?
Alcohol helps to mix the oil and water content in the formulation and stabilize the product for longer shelf life.
Should you avoid alcohol in hair products?
Yes, you should avoid alcohol in all hair products to prevent dryness, dullness, and frizz of the strands and scalp.
Does Pantene shampoo have alcohol in it?
Yes, Pantene shampoo has a form of alcohol in its formulation.
Do most shampoos contain alcohol?
Yes, most shampoos contain alcohol in their formulation.