11 Best Alcohol-Free Toners Worth Buying In 2021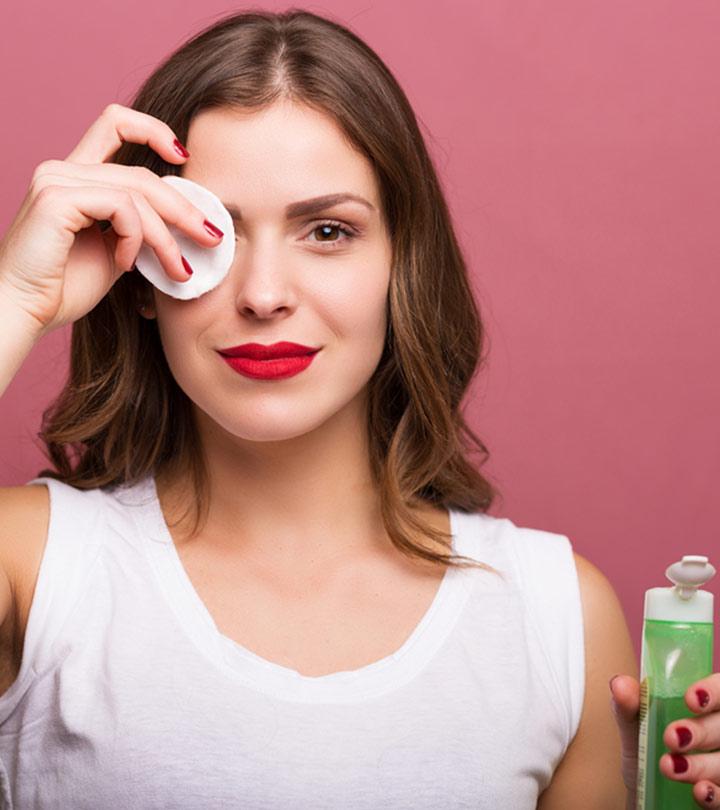 We all agree that we are under stress at work, school, and life in general. In all this chaos, you put your skin through a lot too, makeup, harsh chemicals, stress, dust, and pollution, to name a few. Just like you too might have occasional emotional outbursts, pimples, suntans, fine lines are your skin's cry for help. Just face washes or soaps aren't going to cut it anymore. Your skin needs deep-cleansing, something that reaches beneath the surface. Yes, you guessed it right, facial toners are the way to go!
Gone are the days when only teenagers suffering from acne used toners. Makeup artists, celebrities, and models all over the world swear by it, and it's time you start using it too. That's why we have compiled for you the 11 best alcohol-free toners of 2021, so you can take the first step towards making your skin a whole lot happier!
Top 11 Alcohol-Free Toners of 2021
The Simple Sensitive Skin Expert Soothing Facial Toner is a gentle chemical-free toner, that promises to be 'kind' to your skin. Its unique alcohol-free formula maintains your skin's pH level and smooths your skin by reducing pores. Infused with vitamin B, this toner moisturizes skin and diminishes age spots. Containing witch nut and allantoin, this toner doesn't just work on the surface but deeply cleanses your pores to give you a cleaner and fresher look.
Pros
Maintains pH level of your skin
Vitamin B moisturizes skin 
Cons
Similar Products:
If you are one among those women who have acne-prone skin, then we have good news for you! The Pixi Skintreats Glow Tonic is so delicate on your skin that it retains the natural oils and doesn't cause breakouts. This toner has a non-greasy liquid texture that enhances the elasticity of your skin. The aloe vera extracts gently work on your skin without causing burning or irritation and leaves your skin with a natural scent.
Pros
Does not cause breakouts
Enhances skin elasticity
Has a pleasant natural scent
Cons
Similar Products:
[ Read – Pixi Skintreats Glow Tonic Reviews ]
Just using a makeup remover isn't enough, as residual makeup or impurities can clog your pores. The Eau Thermale Avene GentleToning Lotion completes your cleaning routine by penetrating deep into your skin and removing all dirt, be it makeup or grime. The signature Eau Thermale spring water smoothes skin and leaves it supple, making it the right choice for acne-prone skin. This product is also hypoallergenic, alcohol-free, and contains no other harsh chemicals.
Pros
Balances natural pH levels
Hypoallergenic
Suitable for adult acne
Cons
Similar Products:
Keep your skin hydrated and safe with the L'Oreal Paris HydraFresh Toner. It is formulated with BHA, that helps remove dead skin gently, and pro-vitamin B5, that protects moisture loss, reveals a brighter complexion, and softens the skin. It effectively revitalizes tired skin to make it clean, supple, and refreshed. This gentle and non-drying formula soothes your skin and is suitable for your AM/PM routine.
Pros
 Dermatologist-tested
 Lightweight formula
Cons
Similar Products:
 Plum Green Tea Alcohol-free Toner fits perfectly in your skin care regimen, irrespective of your skin type. This 100% alcohol-free toner is a crowd-favorite for its natural astringent, antioxidant, antibacterial, and anti-inflammatory properties. It contains green tea extracts that help reduce pore size, clear acne, and control blemishes. It also contains glycolic acid (an alpha hydroxy acid), which is a natural exfoliant that helps in skin cell renewal. It gets rid of all the dirt, excess oil, and dead skin cells on your skin. It also unclogs pores and improves skin complexion.
Glycerin, a natural moisturizer, hydrates the skin and keeps it from becoming dull and dry. This product is 100% vegan, cruelty-free, and safe as it does not contain parabens, phthalates, silicones, sulfates, or polypropylene alcohol.
 Pros
100% alcohol-free
Protects and brightens the skin
Renews and exfoliates the skin
Prevents the skin from drying out
 Cons
None
Similar Products:
With over two centuries of trust to its name, the Thayers Natural Remedies Facial Toner Witch Hazel with Aloe Vera is one of the best natural toners. With the goodness of rose water, aloe vera, and witch hazel extract, this toner cleanses and moisturizes your skin, leaving it feeling fresh and relaxed. The rose petal extracts lock in moisture and increase the production of oils in your skin. This toner also replenishes the lost vitamin C in your skin, which helps fade scars and repair skin cells.
Pros
Cleanses and moisturizes skin
Enriches skin with vitamin C
Cons
Not suitable for acne and rosacea-prone skin
From one of the world's largest skincare companies comes the Neutrogena Alcohol-Free Toner. Its alcohol-free formula prevents your skin from dryness, and its purifiers enrich your skin with vitamin C. Being oil-free and hypoallergenic, this toner is suitable for acne-prone skin. With just one swipe, it removes impurities, makeup residue, and oil that clogs pores, leaving your skin squeaky clean.
Pros
Pleasant rose scent
Suitable for acne-prone skin
Oil-free and hypoallergenic
Cons
Skin needs to be washed with face wash before using, for best results
[ Read – Neutrogena Alcohol Free Toner Review ]
With 98% distilled witch hazel, you already know that this toner means business! It is composed of hyaluronic acid that gently moisturizes your skin and aloe vera that guards your skin against the loss of natural oils. This toner also brings you the luxurious properties of Barbadensis leaves, which is an excellent source of vitamin E, that deep cleanses pores.
Pros
100% organic
Vitamin E offers a deep cleansing experience
Cons
May cause tingling on sensitive skin 
The Dear Klairs Supple Preparation Facial Toner is one product that every woman must have in her makeup pouch, and here's why! It maintains the pH balance of your skin, while delicately cleaning pores. Its fast-absorbing organic blend hydrates skin and keeps it smooth the entire day. Unlike other toners, this one comes in a serum texture that is easy to apply. This toner is FSC certified and comes in an eco-friendly package and is animal cruelty-free.
Pros
Maintains pH balance
Organic blend moisturizes skin
Serum-like texture
Cons
May cause breakouts in acne-prone skin
Invented by Dr. Howard Murad, a practicing dermatologist in the USA, this toner is made by understanding the 'the science of water.' With its patented Environmental Shield Essential-C formula, it fights against all signs of skin damage, including pigmentation and dryness. It is composed of coneflower and licorice that enhances skin tone and smoothen out fine lines. This product is ethically made, with no animal testing and free from alcohol, parabens, sulfates, and phthalates.
Pros
Brightens skin tone
Free of parabens, sulfates, and phthalates
Cons
The Skin & Co Roma Truffle Therapy Face Toner not only comes in a picture-perfect chic bottle, but its formulation is highly effective on all skin types. It contains antiseptic properties that exfoliate your skin by removing dead cells and dirt. For best results, following the toner with the serum and therapy cream is advised. Composed of calendula, this toner soothes and heals irritated skin, while glycerin increases your skin's ability to reserve water.
Pros
Designed for all skin types
Contains antiseptic properties
Cons
Incorporating a good alcohol-free toner in your beauty regime is a must if you want picture-perfect flawless skin. The cleansing process, in your beauty routine, is the most important as it is the foundation for the steps that follow. Only a gentle and effective toner can go deep into your skin and can give the care it so badly needs. So take your pick from these 10 best alcohol-free toners, and we are sure you won't regret it.
We'd love to hear from you, so if you have any questions or suggestions be sure to leave us a comment below!
Frequently Asked Questions
Is alcohol-free toner better?
Yes, alcohol-free toners are way better than tones that contain alcohol. Unlike their counterparts, alcohol-free toners are gentle on the skin and do not damage it by stripping it off its natural oils. Most of them contain plant-based ingredients like aloe vera, which moisturizes your skin, keeping it soft and supple.
Which toner does not contain alcohol?
Now that women understand the harmful effects of alcohol in toners, there is a rise in the demand for alcohol-free toners. The 10 products listed above are the best alcohol-free options that you can get your hands on.
Do all toners have alcohol?
No, not all toners contain alcohol. Some toners contain milder chemicals like hyaluronic acid, while many others are entirely organic.
Recommended Articles: