The 10 Best Alkaline Water Filters And Buying Guide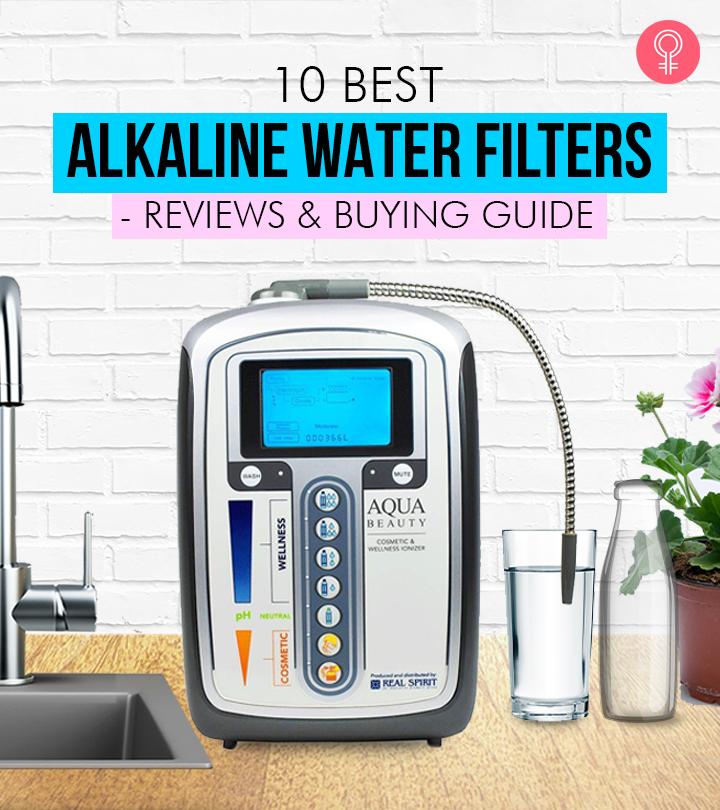 The plain tap water that you drink is highly acidic and one of the reasons for digestive issues. It needs to be neutralized to make it fit for drinking. An alkaline water filter can do that. Alkaline water filters neutralize the pH of water and remove contaminants to make it healthier. These water filters use the electrolysis process to improve the water's mineral content and its taste. These are affordable and easy to install. If you want one for your kitchen, scroll down and check this list of 11 best alkaline water filters.
10 Best Alkaline Water Filters
EHM's Ultra Premium Alkaline Water Pitcher has a high-capacity 3.8 liters pitcher with 2 liters of filtration capacity. It has a 6-stage layout that eliminates chlorine, fluoride, and other contaminants from drinking water. This filter increases the mineral and pH levels of the water. It has a sturdy body that easily fits in the refrigerator. The brand also has an app that will give timely reminders to replace the filter. Take a step towards protecting your health!
Specifications
Capacity: 3.8 L
Material: PMMA plastic
Dimensions: 12 x 6 x 11 inches
Weight: 2.27 lbs
Pros
Easy to assemble
Easy to clean
BPA-free
Activated carbon filter
Cons
Short filter life
Lid doesn't sit securely
This alkaline water filter pouch by Invigorated Water can be carried around anywhere. This portable water filtration system comes in a thick, waterproof foil that you can drop in a glass or bottle. It takes 10 minutes to alter the water pH. Each filter pouch can be used for 300 cups (72 liters) of water. It removes the free radicals, heavy metals, chlorides, and fluorides from the water and improves its taste.
Specifications
Capacity: 72 L per pouch
Material: Non-woven fabric
Dimensions: 6 x 4 x 0.1 inches
Weight: 0.28 lbs
Pros
Easy to use
Long-lasting
Travel-friendly
Cons
The total capacity of this water filter pitcher is 3.5 L pitcher with 2 L filtration capacity. It has two filters and an LED timer to track their life. It gives reminders for filter replacements. The 7-layer filtration of this pitcher increases the water pH by 0.5 or 2. It is made of eco-friendly, food-grade, and BPA-free plastic. The filter has an ergonomic design and is easy to store. You will get an 18-month warranty and a 30-day no questions asked money-back guarantee with the product.
Specifications
Capacity: 3.5 L
Material: AS food-grade plastic
Dimensions: 4.3 x 2.3 x 3.2 inches
Weight: 2.75 lbs
Pros
Lightweight
Eco-friendly
Sleek
Compact
Cons
The Apex Countertop Drinking Water Filter has a 5-stage filtration system to clear sediments, chlorine, radon, and other contaminants commonly found in tap water. It also removes mercury and pesticides from the water and infuses it with minerals. The filtration system comes with a built-in chrome faucet and two faucet adaptors for connecting it to kitchen faucet. This product is NSF and FDA certified. It comes with a 1-year limited warranty and is affordable.
Specifications
Capacity: 2839 L (total)
Material: BPA-free plastic
Dimensions: 6 x 6 x 14 inches
Weight: 5 lbs
Pros
Easy to install
Available in various colors
BPA-free
Lead-free
Cons
Tough to clean
Difficult filter replacement process
Express Water's Alkaline Water Filtration System claims to clear 99.9% of the water's contaminants and impurities. It has a 10-stage purification system and an Active Mineral Technology that enhances the water taste by adding minerals to it. The emergency leak stop detector stops water flow immediately whenever it detects moisture. The filter automatically refills and can produce up to 189 liters of water daily. It has a 15-liter storage tank with 12 liters of filter capacity and a tank stand. This filtration system is the best for residential and industrial use. It has a 1-year warranty and comes with lifetime customer support.
Specifications
Capacity: 189 L
Material: Brass, Plastic, Steel
Dimensions: 15 x 14 x 5 inches
Weight: 29.5 lbs
Pros
Easy to install
Sturdy
Long-lasting
Cons
The Home Master Jr. F2 Water Filtration System has an advanced multi-stage granular filter that claims to remove up to 93% of impurities. This is an easy to install sink top filter with channel blockers that ensure even filtration. It has a 3-stage filter that can remove fluoride, chlorine, and other chemicals. It is compact, sleek, easy to put together, and portable. You will also get a 3-year limited warranty on the parts. It is available in two colors – black and white.
Specifications:
Capacity: 1892 L
Dimensions: 12.3 x 9.4 x 7.6 inches
Weight: 4.25 lbs
Pros
Easy to install
Smooth water flow
Cons
May leak
Not NSF certified
The Seychelle pH2O Alkaline Water Filter works on Ionic Adsorption Micro Filtration (IAMF) technology that removes harmful chemicals, contaminants, and enhances water pH to 9.5. The alkalinity in the water stays for about 30 days. This water filter has a super-sleek body. It holds 1.89 liters of water, and each filter gives 378 liters of water. This filter pitcher has an ergonomic design and is compact. It is manufactured in ISO certified facility.
Specifications
Capacity: 1.89 L
Material: BPA-free plastic
Dimensions: 11 x 5.5 x 10.5 inches
Weight: 1.7 lbs
Pros
Lightweight
Compact
Easy to use
Quick fill lid
BPA-free
Cons
The Aqua-Ionizer Pro Deluxe Water Ionizer produces pure, alkaline, antioxidant-rich water within minutes of installation. It has an Advanced Electroplate Technology and platinum-coated plates for purifying water. The built-in carbon filter can be easily replaced. It has a self-cleaning feature, and the unit maintains cleanliness by reversing the polarity. Even the plates are cleaned automatically. This product comes with a 5-year no hassle warranty.
Specifications
Capacity: 4000 L
Material: FDA approved plastics
Dimensions: 6 x 9 x 12 inches
Weight: 11.35 lbs
Pros
Quick installation
Attached standard faucet
Easy to operate
Cons
The Gofiltr's Alkaline Water Filter is a super portable cylindrical device that starts working immediately. You can put it in a bottle and keep refilling. The filter alters the pH of the water in just 15 minutes. Its all-natural SioFuse X formula infuses water with essential minerals and electrolytes and increases the dissolved O2 levels. A mobile app lets you track the filter's usage, refills, and water intake. It gives you a total of 750 refills.
Specifications
Capacity: NA
Material: Stainless steel, glass, copper
Dimensions: 1.1 x 1.1 x 3.6 inches
Weight: 0.3 lbs
Pros
Portable
BPA-free
Eco-friendly packaging
Cons
pH not always up to the mark
Plastic aftertaste
The EHM Alkaline pH Water Filter Stick is portable and easy to use. This hydrogenated stick needs just 10 minutes to filter harmful chemicals from the water. It infuses the water with 13 essential minerals, including calcium, magnesium, and potassium. This portable filter stick can fit into your carry bag, purse, or even a large pocket. The brand also offers a 90-day money-back guarantee.
Specifications
Capacity: 90 L
Material: Steel
Dimensions: 5 x 0.66 inches
Weight: 0.2 lbs
Pros
Affordable
Portable
Easy to use
Cons
These are the best alkaline water filtration systems that you can buy online. If you are wondering whether you need a water filtration system or not, here's the answer.
What Is Alkaline Water? Who Needs An Alkaline Water Filter?
Alkaline water refers to the pH levels of the water. A pH level higher than 7 indicates alkalinity in the water. Alkaline water is said to neutralize acids in your body and prevent acid reflux. An alkaline water filter helps to eliminate contaminants and infuse the water with essential minerals. If you think you need alkaline water to improve your digestion and body metabolism, you can get an alkaline water filter. There are several things to keep in mind when choosing an alkaline water filter.
How To Choose Alkaline Water Filters
Filter Type: Some units may have single or double filtration systems. The latter is preferred for better sieving of contaminants.
pH Range: The purpose of a water filter is to increase the pH levels and make it safe for drinking. Any filter that claims to raise it above 7.5 should be good.
Material Of The Plates: The plates are coated with a combination of metals. Platinum coated-titanium plates are commonly used and are popular.
Flow Rate: This depends on the size of the family. Go for a filter that has a flow rate of at least 15 GPM. It may go up to 40 GPM.
Maintenance: You may need to change the filters every three months. Choose one depending on your usage. Also, check if the filters are readily available.
Family Size: The water filter size depends on how big your family is. A 2.5 L alkaline water filter is perfect for a small family, whereas a large family will need a 3-4 L filter.
Storage Space: A unit that can be stored in the refrigerator is perfect, as room temperature water will see a reduction in pH. If you are buying an alkaline water filtration system, check if it fits under the sink.
Filter Life Span: An average filter lasts for 2-3 months. However, a few filters may last even for six months. Check the lifespan before purchasing.
Quality: A good alkaline water filter is made of either glass or BPA-free plastic. Pitchers are usually made of glass and plastic. In contrast, filtration systems may contain a mix of plastic and metal. Both are durable.
Lifestyle And Household: You may buy a water filter pitcher, pouches, or filtration system. Pitchers and pouches are handy and best for traveling. A water filtration system is best for household use. Pick your product depending on how you will use it.
Alkaline water filter ensures the quality of drinking water. It does not purify the water but separates it into alkaline and acidic water through a chemical process. If you stay in an area where the water acidity level is high, you should immediately get one. Go ahead and buy one from the list.
Frequently Asked Questions
What are the types of alkaline water filters?
You will get pitchers, beaded pouches, and sink top filtration systems. The first two are portable and can be carried along. The latter is for household use.
How does an alkaline water filter work?
The filter separates the water into acidic and alkaline water through electrolysis. The filtration system's carbon filters further help catch any sediments and chemicals from the water to make it drinkable. Many water filters have additional stages that clean up other elements like lead, arsenic, etc.
How to install an alkaline water filter?
Most water filtration system comes with an installation manual. Follow the instructions in the manual for easy assembly.
Is it safe to drink alkaline water daily?
Yes, it is safe. Alkaline water is enriched with minerals and pH-balanced to keep your digestive system healthy. It may also help in preventing water-related health issues.
Which is better alkaline or RO water?
Alkaline water is beneficial for the body. It helps regulate acidity and is infused with minerals. The RO filtration system reduces toxins and contaminants in the water. However, in the process, it may remove minerals.
Are alkaline water pitchers safe?
Yes, they are made of food-grade material and safe to use.
How to maintain and clean the alkaline water filter?
You will get a detailed instruction manual for maintenance and cleaning. Check and follow those directions.
Do alkaline filters remove fluoride?
Not necessarily. Not all alkaline ionizers have adequate filtration capacity. The drinking water may still contain contaminants.
Is filtered water alkaline or acidic?
The filtered water is alkaline, as the acidic water is reserved in the unit.
What are the advantages and disadvantages of using an alkaline water filter?
With an alkaline water filter, you will get pH-balanced, contaminant-free, and mineral-infused water. The only disadvantage is the recurring cost of filter replacements.
Recommended Articles
The following two tabs change content below.

Latest posts by Harini Natarajan (see all)

Harini Natarajan
As Chief Editor, Harini sets the tone and editorial direction for StyleCraze to deliver engaging, interesting, and authentic content revolving around women's health, wellness, and beauty. She has over 14 years of experience in content writing and editing for online media. She specializes in the areas of Beauty, Lifestyle, and Health & Wellness and is proficient in Medical Sciences (Biology, Human Anatomy and Physiology, and Biochemistry). Her background in Biomedical Engineering helps her decode and interpret the finer nuances of scientific research for her team. Harini is a certified bibliophile and a closet poet. She also loves dancing and traveling to offbeat destinations.