10 Best All-Purpose Cleaners – Reviews And Buying Guide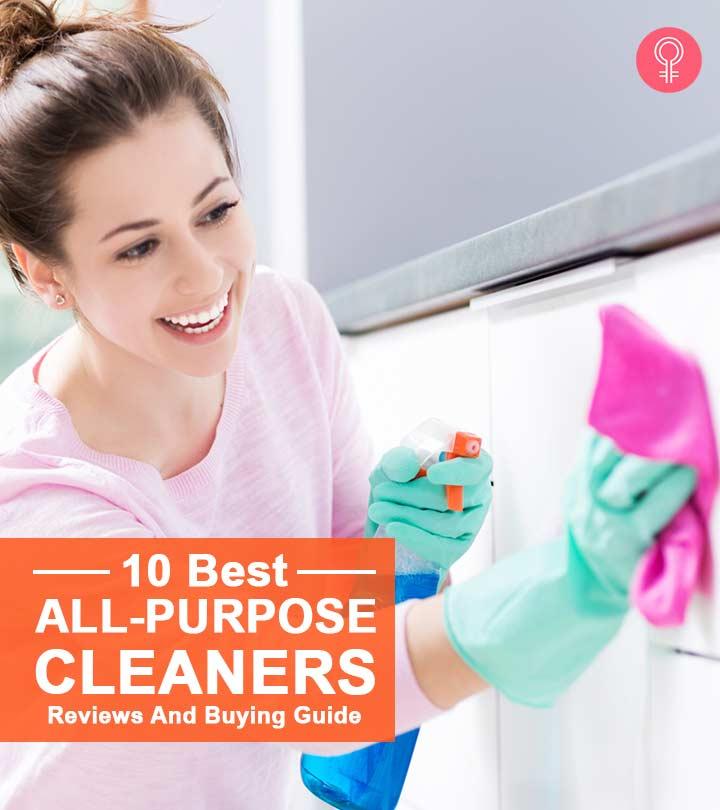 We all like to keep our household and workspace clean and hygienic. But, it is not always feasible to spend a lot on various cleaners that are specifically made for certain surfaces. This is where an all-purpose cleaner steps in to work its magic. These cleaners are a perfect choice to include in your cleaning essentials as they work on multiple surfaces — from wood, glass, ceramic, and stainless steel to upholstery and laundry. All-purpose cleaners are effective in removing stubborn stains and grease while disinfecting and deodorizing the space. They are best suited for quick cleaning as well as deep cleaning of kitchen and bathroom surfaces. So, we have put together a list of the 10 best all-purpose cleaners based on various factors such as their ability to be used on various surfaces, if they deodorize or disinfect, or leave any residue behind, and much more. Check them out!
10 Best All-Purpose Cleaners Available Right Now
Clorox Disinfectant Clean-up All-Purpose Cleaner is an all-in-one cleaning and disinfecting solution that removes tough stains and grease while eliminating the unpleasant odor that is caused by mold, bacteria, or mildew. This all-purpose cleaner smells fresh and has the ability to clean every surface without leaving any stains or pigments behind. With one swift motion, you can easily get rid of grease, dirt, or soap scum, germs, and other stains.
Key Features
Surfaces: Various surfaces including kitchen or bathroom hardware, stainless steel, and other surfaces
Suitable to be used in commercial facilities, schools, restaurants, offices, daycare centers, etc.
Eliminates odor and pungent smell
Can be used with a spray nozzle
Disinfectant + stain remover
FDA-approved
Specifications
Item Weight: 9 pounds
Item Volume: 128 fl. oz.
Item Form: Liquid + Spray
Fragrance: Pungent bleach
Ingredients:84% sodium hypochlorite, 1.75% chlorine, and 98.16% other ingredients
Pros
Deodorizes pungent smell
Cleans various surfaces
Removes tough stains
Contains bleach
Easy to use
Cons
Strong fragrance
No safety seal
Arm & Hammer Super Washing Soda is an ultra-powerful all-purpose cleaning powder that ensures your entire surrounding is spick and span without any stains or odor. Just mix this powder in water to clean every surface thoroughly and remove every stubborn stain. From greasy stains on surfaces to tough stains on clothes, this all-purpose cleaner is sure to work its magic to give you clean surroundings.
Key Features
Surfaces: Silverware, copper, brass, outdoor furniture, upholstery, refrigerators, microwaves, tiles, grouts, toilets, sinks, stainless steel surfaces, bathtubs, garage floors, and more
100% fragrance- and phosphate-free
High cleaning power
Cleans and cuts through greasy soils and stains
Made with all-natural ingredients
Specifications
Item Weight: 3 pounds
Item Volume: 55 oz.
Item Form: Powder
Fragrance: No fragrance
Ingredients: Sodium carbonate
Pros
Fragrance-free
Phosphate-free.
All-natural product
Deodorizes the pungent smell
Cleans a wide range of surfaces
Removes tough and stubborn greasy stains
Cons
Mrs. Meyer's Clean Day Liquid Dish Soap is made especially to remove stubborn grease stains while imparting a refreshing fragrance all over the house. The ultra-refreshing basil scent will help in deodorizing the surroundings. This biodegradable all-purpose cleaner is powerful on the surfaces and cuts through grease stains easily, but is also equally gentle on the skin and can be used even as a hand wash. It contains plant-derived cleaning agents that keep dishes clean and sparkling. It is also available in various other fragrances.
Key Features
Surfaces: Dishes, pots, cookware, pans, and hands
Biodegradable all-purpose cleaner
Cuts through grease and keeps dishes clean and sparkling
Post-consumer recycled material
Biodegradable
Made without parabens, phthalates, or other harmful chemicals
Comes in a pack of 3
Specifications
Item Weight: 1 pound
Item Volume: 16 fl. oz.
Item Form: Liquid
Fragrance: Basil
Ingredients: Plant-based extracts
Pros
Paraben-free
Phthalate-free
Cruelty-free
Cuts grease
Contains plant-derived cleaning ingredients
Gentle on the skin
Cons
Murphy's Oil Soap Wood Cleaner And Polish is formulated to clean both wooden as well as non-wooden surfaces to maintain their shine and newness. This all-purpose cleaner enables us to bring out the natural shine of the surface with quick and easy cleaning sessions. Simply dilute this cleaner in warm water and clean your wooden or non-wooden surface with ease and without having to put in lots of effort.
Key Features
Surfaces: Wood tables, cabinets, doors, finished and sealed hardwood floors, painted surfaces, ceramic tiles, linoleum, kitchen floors, bathroom floors, finished furniture, wood paneling, and more
Contains 98% naturally-derived ingredients
Pleasant fragrance
Free of ammonia and phosphate
Comes in a pack of 3 bottles
Specifications
Item Weight:1 pounds
Item Volume: 32 fl. oz.
Item Form: Liquid
Fragrance: Mild coconut
Ingredients: Water, sodium tallate, fragrance, trisodium MGDA, lauramidopropyl dimethylamine
Pros
Does not contain bleach
Biodegradable
Adds sheen on wooden surfaces
Suitable to clean metal and glass
Trusted and reliable brand
Cons
Does not remove grease stains
Soft Scrub All Purpose Surface Cleanser has an amazing formula that enables you to clean any surface faster and easier. It is suitable for many surfaces and removes stains thoroughly without struggle or extra pressure. Also, it leaves behind a mild and refreshing citrus fragrance to cover up any odor. This all-purpose cleaner can be used to remove various types of stains like hard water stains, lime scale, soap scum, grease, food stains, and grime from various surfaces. It is also available in 3 scents – Alpine Fresh with Bleach, Sapphire Waters, and Lemon.
Key Features
Surfaces: Sinks, showers, toilet, bathroom and kitchen surfaces, stainless steel, chrome, granite, porcelain, ceramic, plastic laminate, and glass top stoves
Mild lemon scent
Orthodox Union-certified kosher
Cleans various types of stains from multiple surfaces
Specifications
Item Weight:5 pounds
Item Volume: 24 fl. oz.
Item Form: Liquid
Fragrance: Lemon
Ingredients: Water, sodium dodecylbenzenesulfonate, calcium carbonate, sodium citrate, lauramine oxide, preservative, and fragrance
Pros
Requires little effort
Cleans various types of stains
Suitable for various surfaces
Fresh and lingering fragrance
Affordable
Cons
OdoBan Concentrate Disinfectant Laundry And Air Freshener is an all-purpose cleaner that can be used to clean any surface. It can also be sprayed in the desired area to use as an air freshener. It easily eliminates odor, cleans surfaces, disinfects, sanitizes, as well as deodorizes any non-porous surface. It can be used to eliminate odor from pet beddings, upholstery, beddings, carpets, showers, walls, and even floors and leaving it refreshed. This all-purpose cleaner aims to kill 99.99% of viruses and germs in 60 seconds. This 3-in-1 all-purpose cleaner, disinfectant, and sanitizer also helps in flood and fire restoration and water damage.
Key Features
Surfaces: Wooden floors, basements, bathroom, kitchen floors, beddings, car interiors, carpets, closets, upholstery, pet beddings, shoes, and many more
Spray it in various areas to use it as an air freshener
Fabric and laundry refresher
Aims to kill 99.99% germs and virus in 60 seconds
Comes in a pack of 2 gallons
Specifications
Item Weight: 18 pounds
Item Volume: 128 fl. oz.
Item Form: Liquid
Fragrance: Eucalyptus
Ingredients: Alkyl and dimethyl benzyl ammonium chloride
Pros
Cleans and disinfects
Controls the growth of mold and mildew
Can be used as an air freshener
Works on all surfaces
Leaves no residue
Cons
Fragrance does not last long
The Windex Disinfectant Multi-Surface All-Purpose Cleaner is the ultimate combination that gives you disinfected as well as shiny and squeaky clean surfaces. It is formulated to clean and make any surface shiny without leaving behind any residue. This high-quality all-purpose cleaning agent aims to kill 99.9% of germs, viruses, and bacteria on hard and non-porous surfaces, thus leaving the space clean and safe. The cleaner is safe and easy to use at home, office, or any other commercial space.
Key Features
Surfaces: Kitchen and bathroom surfaces, countertops, sealed granite, sealed marble, glass, chrome, plastic, vinyl, porcelain, ceramic tile, plexiglas, formica, and many more hard surfaces
Contains disinfecting properties
Cleans and imparts a shine to various surfaces
Aims to kills 99.9% of germs, viruses, and bacteria
Specifications
Item Weight: 88 pounds
Item Volume: 128 fl. oz.
Item Form: Liquid + spray
Fragrance: Citrus
Ingredients: Lactic acid and inert ingredients
Pros
Ammonia-free.
No residue
Cleans various surfaces
Mild lingering fragrance
Safe to use
Kills germs
Cons
Tub O Towels Heavy-Duty Multi-Surface Cleaning Wipes is a quick and convenient option for cleaning any surface without having to bother much. It is a large-sized wet paper towel wipe that does not require any external cleaning solution as it is pre-soaked in an all-purpose cleaner solution. Use it to easily clean any surface without hassle. Ink, tar, grease, paint, permanent marker, wax, stains, scuffs, lipstick, nail polish, food or drinks, pet stains, and so much more – this heavy-duty wipe can clean it all.
Key Features
Surfaces: Automobile interiors, office, home, and kitchen surfaces, countertops, fabric and carpet, leather, vinyl, metal, walls, for cleaning appliances, cabinets, tiles, toilets, and tubs.
100% soaked in all-purpose cleaner
Wide paper towel wipe
Strong cleaning agent
Vapor-lock lid
Specifications
Item Weight:23 ounces
Size Of Wipes: 7 inches x 8 inches
Item Form: Soaked wipes
Number Of Wipes: 40 wipes
Fragrance: Orange citrus
Ingredients: Lanolin, aloe vera, and vitamin E
Pros
Safe on hands
Easy to use
Stronger and better cleaning experience
Cleans all types of surfaces easily
Cons
Does not disinfect or sanitize
Better Life Natural All-Purpose Cleaner is a 100% plant-based all-purpose cleaner that is absolutely safe to use and great at cleaning various surfaces. Despite having no chemicals or toxins, it is powerful enough to even cut through grease and grime. It removes stains and soap scum, hard water marks, and other types of dirt from various surfaces. Simply use this high-quality all-purpose cleaning spray and watch as it tackles every type of stain or dirt. It has a refreshing citrus fragrance that lingers, making the room odorless and renewed.
Key Features
Surfaces: Marble, floors, bathroom, toilets, kitchen countertops, appliances, baseboards, walls, furniture, automobiles, upholstery, sporting equipment, and even toys
Completely plant-derived ingredients
Cruelty-free
No alcohol, petroleum solvents, or chemicals
Comes with a spraying nozzle for quick spray cleaning
Comes in a pack of 2 bottles
Specifications
Item Weight: 4 pounds
Item Volume: 32 fl. oz.
Item Form: Liquid + spray
Fragrance: Clary Sage and Citrus
Ingredients: Purified water, vegetable-based surfactant, coconut and corn surfactant, pure essential oils of lemon, and clary sage
Pros
Cruelty-free
No additional fragrances or dyes
Paraben-free
SLS/SLES-free
Petroleum-free
Safe to use
Purely plant-based
Kills bacteria and germs
Cons
Biokleen All- Purpose Cleaner is an amazing eco-friendly alternative to all those toxin-filled cleaners that have a harsh effect on the surfaces as well as your skin. Experience the powerful cleaning ability of citrus and grapefruit seed extracts with this all-purpose cleaner. It thoroughly degreases dirt and grime in and around your home, work area, and commercial spaces. It leaves no harsh residues or fumes behind and is very gentle on most surfaces. This all-purpose cleaner has a mild and refreshing citrus fragrance derived from plants. It is 3 times more concentrated than other cleaners. All you have to do is simply dilute it in water and clean.
Key Features
Surfaces: Floors, kitchen and bathroom surfaces, laundry, RVs, boats, garages, walls, stainless steel, granite, painted surfaces, carpet, upholstery, clothes, and more
No artificial preservatives, fragrances, or colors
Grapefruit seed and orange extracts
Highly concentrated
Safe for use on surfaces and areas around kids and pets
Specifications
Item Weight:01 pounds
Item Volume: 64 fl. oz.
Item Form: Liquid
Fragrance: Citrus
Ingredients: Water, various plant-based surfactant, glycerin, sodium chloride, orange peel extract and oil, grapefruit seed extract, C10-16 alcohols (plant-based)
Pros
High cleaning power
Refreshing fragrance
Leaves no harsh residues or fumes behind.
Gentle enough for most surfaces
Toxin-free
Eco-friendly and plant-based
Cons
Does not disinfect or sanitize
If you are planning to buy an all-purpose cleaner for your house or office, check out a few things that you should consider before buying one.
Things To Consider Before Buying An All-Purpose Cleaner
Ingredients: Make sure that the all-purpose cleaner is non-toxic and not loaded with chemicals. All the ingredients in it should be safe enough to be used around you, your children, and your pets. Picking a non-chemical, paraben-free, or a plant-based all-purpose cleaner is the best choice.
Surfaces: Having an all-purpose cleaner essentially means that it should be capable of cleaning almost all the surfaces in your household or office space – kitchen to bathroom surfaces, stainless steel, glass, wood, brass, ceramic, porcelain, appliances, copper, tile, and fabrics.
Cleaning Ability: As important as it is to have a cleaner that is suitable for all surfaces, it is equally important that it has a strong cleaning ability. From removing stubborn stains, dirt, and grime to removing grease from all surfaces, the cleaner should have a strong and powerful cleaning capacity. Also, make sure that it does not leave any residue behind that is harmful to your pets or children.
Safety: An all-purpose cleaner that states it is natural does not necessarily mean that it is safe. Make sure you check if its ingredients are safe even to be around. Some chemicals release toxic gases once they come in touch with any surfaces. So, ensure that the all-purpose cleaner is safe enough to be around and to touch the surface after it has been cleaned with it.
Fragrance: One might wonder how and why fragrance is such an important factor for an all-purpose cleaner. But you need to understand that once any surface is cleaned, the only thing that is left behind lingering is the cleaner's fragrance. Thus, it is important to check that the fragrance is not too strong, bleach-smelling, or toxic.
Sanitization: Cleaning simply does not mean cleaning the surface – the all-purpose cleaner should have sanitizing and disinfecting abilities too. Pick an all-purpose cleaner that can not only clean the surface thoroughly by removing the stains but also kills bacteria, viruses, and germs. This ensures that you and your family are residing in a thoroughly clean, hygienic, and sanitized environment.
Those are the 10 best all-purpose cleaners available right now along with a quick buying guide and helpful tips to pick the right one. There is no denying that having a good all-purpose cleaner will help you in reducing the extra expense of having multiple cleaners for various surfaces. Compare the best ones and buy the one that suits all your needs!
Frequently Asked Questions
What is the difference between an all-purpose cleaner and a multi-purpose cleaner?
While they may sound the same, all-purpose cleaners can actually be used on all surfaces – be it upholstery, laundry, floor, or furniture. You can use a multi-purpose cleanser only on certain surfaces.
Do all-purpose cleaners disinfect?
Multi-purpose cleaners do disinfect, but only temporarily. Once you touch the surface, bacteria begin to grow on it immediately.
Do all-purpose cleaners kill germs?
All-purpose cleaners are capable of removing the dirt, grime, and grease from surfaces, but only a few of them kill the germs that can cause diseases and illnesses. Check the label to ensure it kills germs.
Recommended Articles