18 Of The Best Face Creams For Women In India Have you ever felt completely overwhelmed by the endless choices you face while picking a moisturizer? If your answer is yes, you've come to the right place. Your skin is your largest organ, and proper skincare plays a significant role in maintaining its health and youthfulness. If you are not a fan of dullness, acne, or wrinkles, moisturizing is one step you can't afford to skip.
While you may think all moisturizers are the same, that is actually a myth. Typically, moisturizers come in cream, lotion, and oil forms. They are made using different ingredients that target different issues. Choosing a formula for your skin type with the right cocktail of ingredients is the best way to maximize the benefits of moisturizing your face. To help you choose, we've rounded up 18 best face creams for different skin types and various skin problems – because your skin deserves only the best. Read on to find out more.
18 Best Face Creams For Women
Review
Neutrogena's Hydro Boost Water Gel is a must-try for anyone with dehydrated skin. This oil-free moisturizer quenches dry skin instantly and keeps it looking supple, smooth, and hydrated. The hyaluronic acid in this formula draws water to the skin and helps prevent moisture loss. You can wear this moisturizer alone or under your makeup as a primer.
Pros
Non-comedogenic
100% alcohol-free
Gets absorbed quickly
Hydrates well
Suitable for all skin types
Cons
None
Review
If you prefer natural ingredients on your skin, this Biotique moisturizer is one of the best Ayurvedic moisturizers out there. This formula is blended with pure honey and seaweed and sinks into your skin to replace the natural oils and replenish the lost moisture for a noticeably fresher complexion. It is suitable for all skin types.
Pros
Gets absorbed quickly
Lightweight
Pleasant fragrance
Affordable
Made of 100% organic and preservative-free ingredients
Cons
None
If you are looking for a moisturizer that hydrates your skin for long hours, Dot & Key's 72 Hr Hydrating Gel + Probiotics is your one-stop solution. It is formulated with a combination of low and high molecular weight hyaluronic acid, kombucha, fermented rice water, and probiotics. As the name suggests, this gel-based moisturizer provides 72 hours of long-lasting hydration. It strengthens the moisture barrier of the skin while targeting environmental aggressors like UV rays and pollutants to give you plump, dewy, and glowing skin.
Pros
For all skin types
Lightweight
Smells floral and fruity
Can be used under makeup
Cruelty-free
Cons
None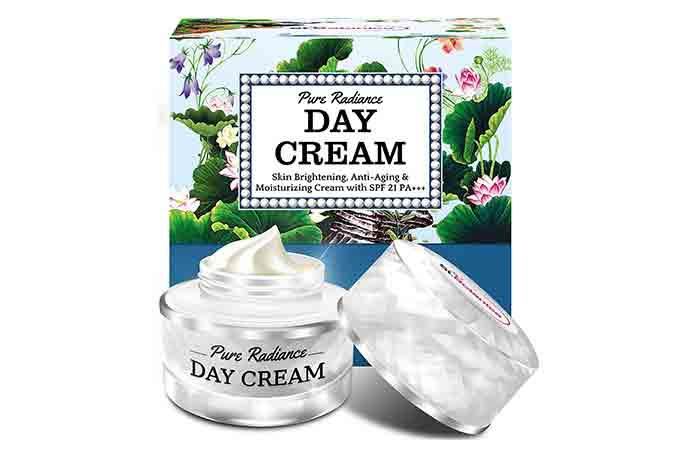 St. Botanica Pure Radiance Day Cream is a luxurious cream that is enriched with vitamins (A, C, E, B3, and B5) and zinc oxide that add radiance to the skin. It contains anti-aging, antioxidant, and hydrating ingredients with SPF 21 PA+++. This versatile cream contains retinol that helps in skin cell renewal and repair by promoting collagen production. Hydrolyzed collagen and L-arginine restore skin elasticity and hydration. Botanical hyaluronic acid makes your skin look plumper. This cream also reduces flaking and dryness. The vitamin C in it brightens the skin, defends it from free radicals, lightens dark spots and hyperpigmentation, and evens the skin tone. It also contains other natural ingredients like shea butter, beeswax, glycerine, and pure organic oils that revitalize and soften the skin to make it look younger. Potent antioxidants like green tea, tamarind, pomegranate, and butcher's broom protect the skin from photoaging, premature aging, and hyperpigmentation. This cream reduces the appearance of fine lines and wrinkles.
Pros
Brightens the skin
Anti-aging formula
SPF 21 PA+++
Natural ingredients
Promotes skin renewal and repair
Prevents free radical damage
Maintains skin elasticity and firmness
Moistures the skin
Cons
May cause breakouts and pimples
Price at the time of publication: ₹73.7
Review
When your skin feels dry and itchy, especially in the cold winter months, Cetaphil's Moisturizing Cream is one formula you can completely rely on. It contains extra-strength emollients and humectants that are clinically proven to bind water to the skin and prevent moisture loss. It is also great for anyone with sensitive and acne-prone skin.
Pros
Intense, long-lasting moisture
Gets absorbed quickly
Non-greasy
Fragrance-free
Affordable
Cons
None
Review
This refreshing gel-cream from Clinique provides an instant moisture boost to your skin. Its Advanced Hydrator with Auto-Replenishing Technology helps your skin create its own internal water source to rehydrate itself continually. If you are tired of your skin looking dull and lifeless, you can count on this formula to achieve an endlessly plump, dewy, and healthy glow from within.
Pros
Just a little product required per usage
Gets absorbed quickly
Lightweight
Non-greasy
Soothes skin
Suitable for sensitive, acne-prone, and oily skin types
Cons
Review
Plum Chamomile And White Tea Sheer Matte Day Cream has SPF 50 that helps protect the skin from the harmful ultraviolet rays. The microemulsion formula spreads evenly on the skin to give a smooth, sheer matte finish that lasts up to 6 hours. This non-greasy cream gets absorbed easily into the skin and does not leave behind a white cast. It contains extracts of white tea, chamomile, and ginkgo that are rich in antioxidants and anti-inflammatory compounds. They soothe, calm, and hydrate irritated or stressed skin. These anti-aging ingredients also nourish and repair sun-damaged skin.
Pros
Matte finish
Lasts up to 6 hours
SPF 50
Soothes irritated skin
Vegan
Paraben-free
Phthalate-free
Cons
Review
If you want to get rid of pigmentation and blemishes, Mamaearth Bye Bye Blemishes Face Cream can be an ideal choice. This face cream is enriched with vitamin C and extracts of daisy flower, licorice, and mulberry that help to even out your skin tone for radiant, healthy, glowing skin. The cream also reduces dark spots, age spots, and soothes redness or inflammations. In addition, vitamin C brightens up your tone and promotes collagen production to firm up your sagging skin, while shea butter offers intense moisturization.
 Pros
Non-greasy
Dermatologist-tested
Paraben-free
Toxin-free
Mineral oil-free
No artificial colors
No artificial fragrance
Cons
Might be unsuitable for sensitive skin
Review
If you are on the hunt for an intensive hydrating lotion, there is nothing better than this formula from Aveeno. It is formulated with colloidal oatmeal and rich emollients to prevent and protect dry skin all day long. It is gentle enough for daily use and leaves your skin feeling soft, smooth, and naturally healthy.
Pros
Non-greasy
Gets absorbed quickly
Non-comedogenic
Ideal for dry to dehydrated skin
Cons
None
Review
This moisturizer from Nivea is one of the best budget-friendly face creams to exist. This quick-absorbing formula is perfect for giving you soft and refreshed skin instantly. It is formulated with vitamin E and jojoba oil for gentle moisturization and is suitable for all skin types.
Pros
Non-greasy
Lightweight
Dermatologist-tested
Value for money
Cons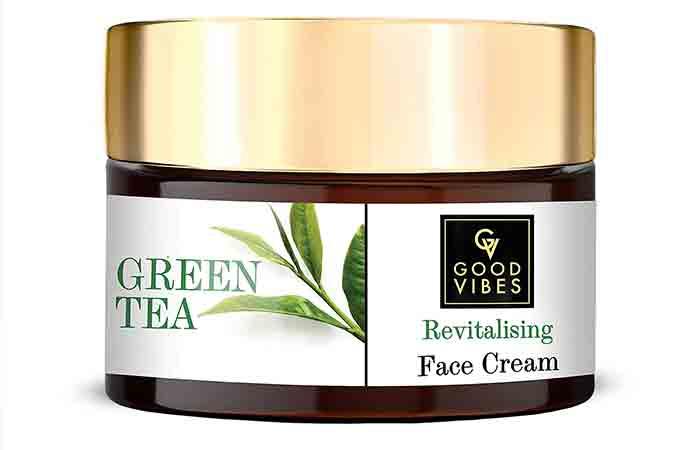 Review
The Good Vibes Green Tea Revitalising Face Cream nourishes and moisturizes your skin. The gentle formula keeps your skin soft and supple. This face cream contains green tea, green tea oil, mineral oil that provide a cooling sensation and refresh and revitalize your skin. Green tea controls excess sebum production, prevents acne, and soothes the skin. This cream shrinks enlarged pores and imparts radiance to your skin, making it soft and supple.
Pros
Suitable for all skin types
Sulfate-free
Paraben-free
Mineral oil-free
Pleasant scent
Not tested on animals
Cons
None
Review
This cream is formulated with the breakthrough Gineplex Youth Compound. It contains potent natural ingredients and is clinically proven to accelerate lifting and firming while creating a protective barrier on your skin. It is also enriched with SPF 25 PA+++ for protection against sun damage.
Pros
Gets absorbed quickly
Contains SPF 25
Non-greasy
Ideal for dry and mature skin
Cons
Complete list of ingredients not listed anywhere
Review
Nourish your skin with the Lakme Peach Milk Soft Creme, which is enriched with the goodness of peaches and milk. Peach milk extract moisturizes and soothes the skin, while vitamin E enhances skin elasticity and protects the skin cells. The sunflower oil in the formula protects your skin against sun damage, dryness, and inflammations. In addition, this cream effectively locks the moisture for 24 hours to provide your glowing and healthy skin.
Pros
Lightweight
Gets absorbed easily
Non-sticky
Soothing fragrance
Con
None
Review
This cream moisturizer from Olay keeps your skin soft and moisturized through the day. Its Amino-Peptide Complex delivers moisture about ten layers deeper into the skin's surface. Its exfoliating properties aid in skin cell turnover and help regenerate the surface of your skin. It is a must-try for anyone with dry and aging skin.
Pros
Non-greasy
Hydrates well
Gets absorbed quickly
Softens the appearance of fine lines and wrinkles
Cons
None
Review
If you need an everyday solution to target different signs of aging, such as fine lines, dryness, and wrinkles, you need to try Garnier Wrinkle Lift Anti-Ageing cream. It contains a combination of wholesome ingredients like ginger, cherries, and bilberry extract that help firm your skin.
Pros
Improves skin elasticity
Lightweight
Boosts skin cell regeneration
Budget-friendly
Cons
None
Review
This moisturizer from Simple is made with skin-loving ingredients like vitamin E and pro-vitamin B5. It provides adequate hydration with a weightless feel. It will make your skin look and feel soft, smooth, and perfectly hydrated for up to 12 hours. It is ideal for sensitive skin.
Pros
No added dyes or colors
Fragrance-free
Hypoallergenic
Non-comedogenic
Cons
None
Price at the time of publication: ₹9.8
Price at the time of publication: ₹19.99
Review
La Roche-Posay's oil-free face moisturizer works in two ways: it restores your skin's natural protective barrier and replenishes moisture. It applies beautifully – light and clean, yet hydrating. The toleriane in this formula works well to get rid of discoloration and even out your skin tone. It is great for all skin types.
Pros
Lightweight
Non-greasy
Hydrates well
Improves skin's appearance with use over time
Cons
Review
Give your skin an instant burst of long-lasting hydration with this vastly underrated moisture bomb from Garnier. It is formulated with ingredients like hyaluronic acid, goji berry, vitamins C and E, and pomegranate. It not only moisturizes your skin but also strengthens its moisture barrier.
Pros
Infused with antioxidants
Lightweight
Non-greasy
Budget-friendly
Cons
None
Price at the time of publication: ₹24.15
The above-mentioned face creams moisturize and nourish the skin. But before investing in any of them, let us consider the following points.
Things To Know Before Buying A Face Cream
Skin type is the first thing to consider before buying any face cream. Each face cream is meant for a different skin type. If your skin is dry, go for a face cream meant for dry skin, and if your skin is oily, opt for a cream meant for oily skin. The effect of a face cream meant for dry skin will not be the same on oily skin.
Always focus on the ingredient list when buying a face cream. Natural or organic ingredients are safe to use, while chemicals or artificial ingredients may damage the skin and increase the risk of irritation and skin sensitivity. Creams that contain paraffin wax, petroleum, or mineral oils should be avoided as they do not allow the moisture to get absorbed into the skin. Opt for creams that contain natural ingredients like shea butter or cocoa butter that hydrate, soften, and nourish the skin.
If you are dealing with a skin issue, choose a face cream accordingly. If your concern is aging or sagging skin, go for face creams curated for anti-aging and firming purposes. If you are dealing with acne or blemishes, opt for a cream that helps treat it.
Creams with a long shelf life are usually fused with harmful chemicals and preservatives. On the other hand, natural creams have a shorter lifespan as they do not contain harmful additives and preservatives. Choose one according to your preference.
Facial creams come in two types of packaging – tube and jar. Tube packaging is better as it is convenient to use and also limits contamination through your fingers.
The cost of a facial cream depends on the quality of ingredients and the brand's market reputation. It is not necessary that the most highly-priced cream is the best.  A mid-priced cream can also work wonders on the skin. Check the user reviews to get a clear picture of the effectiveness and side effects of the product.

Recommended Articles