Best Almay Products For Sensitive Skin And Clean Beauty
Get glowing, healthy skin with these plant-based and fragrance-free products.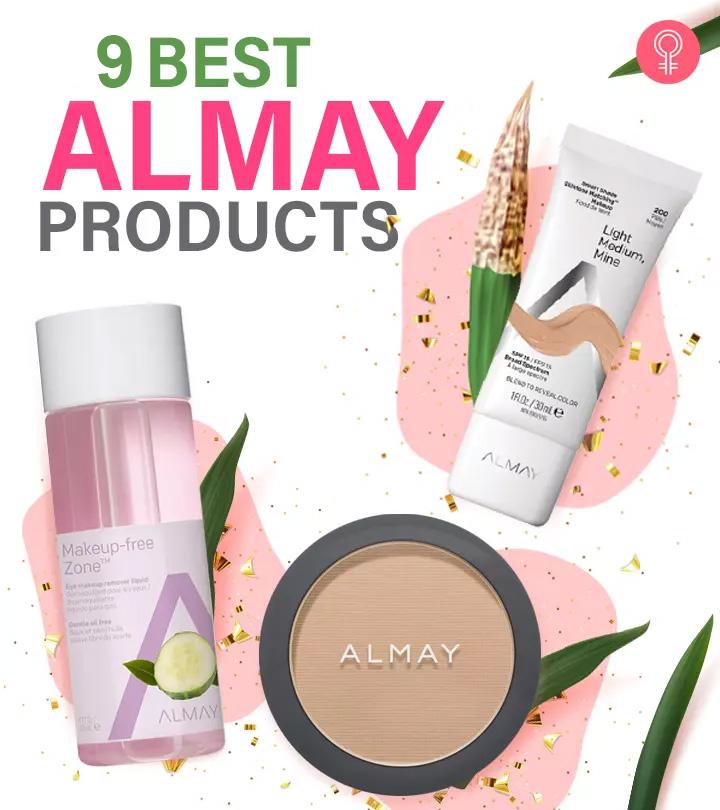 Take a look at the best Almay products right here! Almay is a cruelty-free cosmetics brand that offers fragrance-free and allergen-free products. These products focus exclusively on people with sensitive skin. Their formulations are light and fresh, and when applied regularly, they produce excellent effects. For your convenience, we have compiled a list of the top 10 Almay makeup and skin care products. Scroll down to find out more about them!
Best-selling Almay Products You Should Check Out In 2023
The Almay Eye Makeup Remover Pads are oil-free and gentle on the skin. These soft, circular pads whisk away makeup cleanly while soothing the sensitive area around your eyes. Unlike soaps and cleansers, they do not leave a greasy, oily residue on your face while cleansing effectively. They are made with a botanical blend of aloe, cucumber, and green tea extracts that also improves skin texture. These pads do not pull or tug your skin while removing eye makeup and are suitable for all skin types. They are also ophthalmologist-tested, dermatologist-tested, and fragrance-free. Also, the reviewers have expressed positive responses after testing this product for its gentleness on the skin.
Pros
Soothe the eyes
Oil-free
Gentle formula
Allergen-free
Cruelty-free
Fragrance-free
Dermatologist-tested
Ophthalmologist-tested
Suitable for all skin types
Non-comedogenic
Suitable for contact lens wearers
Cons
Price at the time of publication: $6.14
The Almay Makeup Remover Cleansing Towelette wipes are 100% biodegradable and non-comedogenic with the properties of micellar water in plant-based fibers. You can even use it to remove mild to moderate makeup from your eyes as well. The gentle goodness of these dermatologically-tested wipes do not need excessive rubbing and offers a soothing exfoliating experience. It makes you feel refreshed and moisturized after removing all kinds of makeup.
Pros
Dermatologist- and ophthalmologist-tested
Fragrance-free
Hypoallergenic
Suitable for all skin types
Paraben-free
Phthalate-free
Non-comedogenic
Plant-based fibers
Exfoliation
Non-irritating
Cons
None
Price at the time of publication: $5.32
The Almay Eyeliner Pencil is oil-free, water-resistant, and smudge-proof. It is enriched with vitamin E to nourish and protect the delicate eye area. This eye pencil glides smoothly without breaking or dragging. It lasts for 16 hours and has a built-in sharpener that sharpens and maintains itself to draw precise lines. This precision pencil is hypoallergenic, fragrance-free, and dermatologically-tested to suit all skin types. Moreover, numerous reviews have expressed positive responses for its long-lasting performance after trying and testing the product.
Pros
Long-wearing
Available in 6 shades
Suitable for all skin types
Hypoallergenic
Fragrance-free
Dermatologically-tested
Ophthalmologist-tested
Oil-free
Water-resistant
Smudge-proof
Cruelty-free
Cons
Price at the time of publication: $12.63
The Almay Smart Shade Skintone Matching Makeup transforms from a white cream to your even skin tone instantly as you blend it in. The proprietary ToneMimic technology uses tiny spheres with intense pigmentation. The shade-sensing beads get activated by pressure and break open to release the pigments. This dermatologically-tested liquid formula is breathable and builds with a radiant glow. It is hypoallergenic and contains broad-spectrum SPF15. Watch this video for more information about the product.
Pros
Lightweight
Buildable
Dermatologically-tested
Long-lasting
Contains SPF 15
Hypoallergenic
Cruelty-free
Oil-free
Fragrance-free
Streak-free
Provides medium coverage
Available in 6 shades
Cons
Price at the time of publication: $5.35
The Almay Loose Finishing Powder sets makeup in place and preps you for a long day. Its ultra-fine granules mattify oily areas and make your skin radiant. This dermatologist-tested powder blends seamlessly and blurs the blemishes and lines to create an airbrushed finish. It adds a subtle yet healthy glow and minimizes the appearance of pores without being cakey or chalky. Try this clean and weightless finishing powder for medium coverage, especially if your skin is sensitive or treated. This video helps you know more about the product.
Pros
Allergen-free
Lightweight
Available in 3 shades
Affordable
Flake-proof
Provides light to medium coverage
Dermatologist-tested
Fragrance-free
Cruelty-free
Suitable for sensitive skin
Adds glow
Matte finish
Cons
None
Price at the time of publication: $7.92
This transfer-resistant, clinically-tested, cruelty-free thickening mascara from Almay helps you build thick lashes without clumps or flakes. It is infused with aloe extracts and vitamin B5 to condition and nourish your lashes. The specially designed brush coats each lash evenly with the mascara, resulting in a lush, bumped-up eye look and giving a volumizing effect to your lashes. It is also easy to remove and does not leave residue on your face or around your eyes.
Pros
Long-lasting
Clinically-tested
Fragrance-free
Clump-free
Smudge-proof
Easy to remove
Hypoallergenic
Cruelty-free
Ophthalmologist-tested
Suitable for contact lens wearers
Cons
Price at the time of publication: $5.99
The Almay Pressed Powder provides light to medium coverage with a soft matte, flawless natural-looking finish. It gets almost undetectable instantly and absorbs oil and grease residue from your skin. This oil-free, dermatologist-tested pressed powder covers the pores, blemishes, and fine lines perfectly without being cakey. It comes with a brush and mirror and is ideal for on-the-go application. Also, from the reviewer's experience, the product has been shown to yield visible results.
Pros
Lightweight
Provides light to medium coverage
Matte finish
Cruelty-free
Long-lasting
Hypoallergenic
Dermatologist-tested
Available in 6 shades
Cons
None

Price at the time of publication: $10.98
The Almay Lip Vibes is a silky smooth lipstick formulated with vitamins E and C and shea butter. This nourishing, fade-resistant formula is super-comfortable on the lips, giving a non-sticky, non-drying color impact in a single sweep. Its bullet shape ensures easy application. This lipstick is available in 24 shades featuring a unique mantra – 12 creams, 10 mattes, and 2 toppers. Layer the cream or matte shades with the toppers for shimmery evenings or party night looks.
Pros
Non-sticky
Non-drying
Hypoallergenic
Cruelty-free
Fragrance-free
Long-lasting
Easy to remove
Easy to apply
Available in 24 shades
Cons
Price at the time of publication: $5.45
This gentle, oil-free liquid eye makeup remover liquid is formulated with aloe, cucumber, and green tea extracts. It cools and soothes your eyes while removing light and heavy eye makeup. This product has non-irritating formula which is ophthalmologist-tested, dermatologically-tested, and allergen-free. It is suitable for daily use and particularly ideal for sensitive and aging skin.
Pros
Gentle formula
Oil-free
Fragrance-free
Cruelty-free
Non-irritating
Leaves no residue
Allergen-free
Ophthalmologist-tested
Dermatologically-tested
Suitable for all skin types
Suitable for contact lens wearers
Cons
None
Price at the time of publication: $6.47
Why Trust Stylecraze
The author, Oyendrila Kanjilal, is a certified skin care coach who deeply enjoys reviewing great products that can improve different aspects of our skin and hair. In this article, she talks about the best Almay products for sensitive skin that come with light, fresh, and beautiful formulations. Her review process included comparing hundreds of products and determining which ones were worth trying. Her recommendations are also based on aggregated user reviews across various online forums.
Frequently Asked Questions
Is Almay hypoallergenic?
Almay commits to be as clean as possible with the formulas. Out of 10,000 possible ingredients, they use only 500 (fewer than 5%). By limiting the number of potential skin-irritating ingredients, Almay makes allergen-free alternatives for mainstream beauty products. However, certain products may contain carmine – a color additive widely used in makeup. Carmine may cause sensitivity in few individuals.
Does Almay have parabens?
All Almay products claim to be paraben-free.
Is Almay good for sensitive skin?
Almay's makeup does not harm any skin type. Their products are also tested and approved by dermatologists and ophthalmologists.
Is Almay vegan?
Almay products are cruelty-free. They may not be vegan and contain animal-derived ingredients.
Is Almay made in China?
No, Almay is an American brand owned by Revlon. The products are made in the USA.
Is Almay talc-free?
No, some Almay products contain talc in their formulations.
Recommended Articles