10 Best Almond Oils For The Hair Available In India
Nourish your hair and make your locks shiny with lightweight champi oil.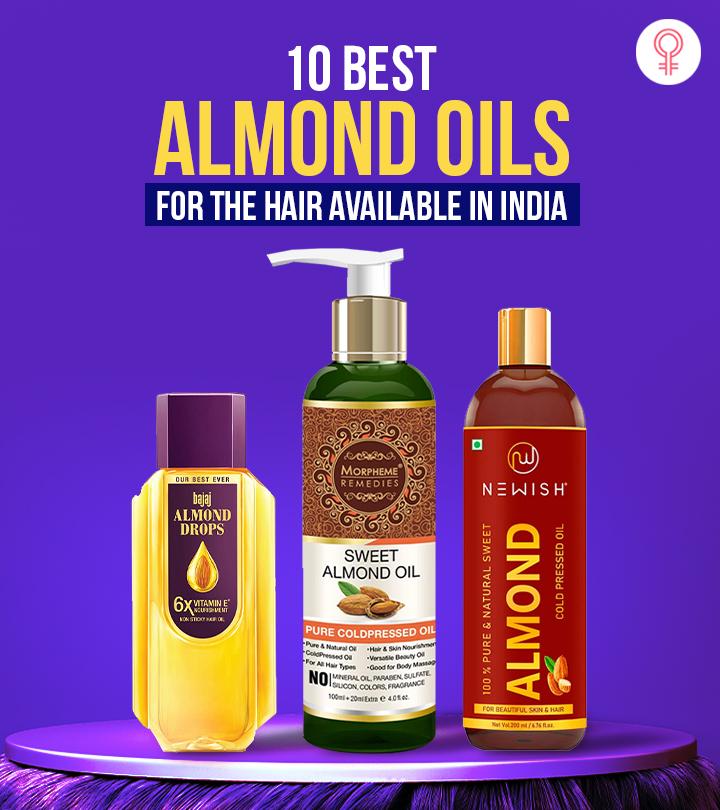 Almond is a wonder food that has excellent benefits for the hair, skin, and health. Almond oil is rich in vitamin E, potassium, zinc, and other fatty acids, but it is often overshadowed by fancier oils in the market like jojoba oil and argan oil. This antioxidant-rich oil is the go-to product for healthy and lustrous locks. Almond oil fights frizz, soothes the scalp, prevents inflammation, and promotes hair growth. It contains oleic and linoleic acids that gently lubricate and repair damaged hair. If these benefits have convinced you to try one, scroll down to check out our list of the 10 best almond oils for the hair available in India.
10 Best Almond Oils For The Hair Available In India
The Dabur Almond Hair Oil is enriched with twice the amount of vitamin E than most hair oils. This is one of the best almond oil brands for hair growth. It nourishes your hair from root to tip to prevent frizz and strengthen the hair. The lightweight oil contains almond that nourishes the scalp and promotes hair growth. It also contains soya protein that balances the hair's protein content and repairs damaged hair. The vitamin E in the formula nourishes and protects the scalp and hair. This almond oil for hair works well during winters when the hair tends to become dry and frizzy.
Pros
Lightweight
Non-sticky
Long-lasting
Cons
Strong scent
Contains mineral oil
Urban Botanics' cold-pressed formula retains antioxidants and nutrients of the almonds. This 100% natural hair oil is suitable for all hair types and is free of any chemical substances. It promotes hair growth and moisturizes frizzy hair. What's more, it also works its wonder on the skin to make it soft and supple!
Pros
Lightweight
Non-sticky
Travel-friendly packaging
Cruelty-free
Chemical-free
Can be used on the skin
Affordable
Cons
The Morpheme Remedies almond oil is cold-pressed and made from the extracts of high quality raw almonds. This mild and 100% natural oil can also be used as a hair serum. If left overnight, it acts as a nourishing hair mask that leaves your hair softer and shinier after shampooing. Regular use on the hair will result in improved shine and texture.
Pros
Non-sticky
Paraben-free
Sulfate-free
Mineral oil-free
Silicone-free
Color-free
Fragrance-free
Cruelty-free
Vegan
Cons
None
This almond oil is undiluted and enriched with vitamin E that nourishes the scalp and facilitates the growth of new hair. It is also an excellent carrier oil and can be used with peppermint and lavender oils. Rub the oil on your palms and massage the oil into the scalp to improve blood circulation, prevent dandruff, and get nourished hair. The oil comes with a free comb applicator to ensure it deeply penetrates the scalp.
Pros
Natural
Undiluted
Hexane-free
No added preservatives
No added fragrance
Comes with an inbuilt comb
Cons
Might not suit all skin types
The Hair & Care Dry Fruit Oil is enriched with almonds and walnuts. Walnuts improve scalp health with their omega-3 fatty acids and biotin content. Almond and walnuts also add vitamins E and B5 to the oil to promote healthy and shiny hair. The oil has a non-greasy and lightweight formula that nourishes the hair without weighing it down.
Pros
Lightweight
Non-greasy
Suitable for all hair types
Cons
The almond oil from Patanjali is absorbed easily into the hair and scalp. It treats all kinds of hair damage caused due to harsh environmental factors. The oil forms a protective layer on the hair, locks in moisture, and reduces hair loss. It can also be used as a hair mask for complete nourishment for your tresses.
Pros
Natural ingredients
Suitable for all hair types
Hexane-free
Cons
This almond oil from Indus Valley is sourced directly from organic farms and cold-pressed to maintain its nutrients. It contains antioxidants, omega-3 fatty acids, proteins, and vitamins A, B, D, and E for all round nourishment of the hair. The sweet almond oil nourishes hair, locks in moisture, prevents frizz, and fights itchiness in dry scalps.
Pros
Lightweight
Mild fragrance
Paraben-free
Hexane-free
Cons
The Bajaj Almond Drops Hair Oil nourishes the hair and reduces breakage by 70% to make it healthy and strong. It works its magic even during cold, dry seasons when the strands tend to get rough and lose moisture. Its light, non-sticky texture leaves the hair feeling lustrous and healthy.
Pros
Non-sticky
Lightweight
Good fragrance
Cons
None
The Anveya Sweet Almond Oil is rich in omega-3 fatty acids, vitamin E, and magnesium that nourish and strengthen the hair. Since the oil is cold-pressed, all-natural minerals and emollients in the formula are preserved in their natural state. The natural ingredients, vitamins, and proteins come together to offer complete nourishment to the hair and skin.
Pros
Organic
Smells good
Lightweight
Non-sticky
Preservative-free
Chemical-free
Cruelty-free
Cons
This is a 100% pure and natural, virgin, raw, and unrefined sweet almond oil. It is derived from the ripe seeds and kernels of almond fruits by cold-pressing, which preserves the nutrients by protecting it from heat. This oil is ideal for all ages and can be used on the scalp and eyelashes.
Pros
Non-sticky
Mild scent
100% vegan
Chemical-free
Cons
None
Now that you know what the best almond oils are, take a look at the types available on the market.
What Are The Types Of Almond Oils Available?
There are mainly two types of almond oils – bitter and sweet.
Bitter oils are extracted from the almonds that are bitter and shorter and broader. The odor is slightly stronger, and they are usually used on the skin. Some medicines might contain bitter almond oils since they have antibacterial, anesthetic, and medicinal properties.
Sweet almond oils benefit the hair, skin, and nails. These oils are widely used in cosmetics since they are rich in vitamin E and omega-3 fatty acids. They strengthen and nourish the hair and scalp, prevent inflammation of the joints, heal acne-prone skin, and boost the growth of healthy nails.
Listed below are the points to keep in mind while looking for an almond oil for the hair.
How To Choose The Best Almond Oil For The Hair
Cold-Pressed: Go for an almond oil that is cold-pressed to ensure that its nutritional content is preserved.
Hair Type: Check if the oil suits your hair type. Almond oil is generally non-greasy and might not be sufficient on its own for dry hair. In such cases, you can mix it with other oils or essential oils for maximum benefits
Pure Or Blended With Other Ingredients: Some oils may contain just 100% pure almond oil, while others may be blended with olive oil or vitamin E. If you intend to use it as a carrier oil, go for an unscented option.
Ingredients: Check the label to ensure the oil is free of harmful chemicals, preservatives, parabens, phthalates, sulfates, etc. Go for products that are vegan and organic to ensure greater efficacy.
Cost: Almond oil is a common household essential since it has multiple uses for the hair, skin, and nails. Invest in an oil that is of a good quality and also affordable for frequent purchases.
The nourishing almond oil could just be the magic potion that your dull hair needs. The products listed in this article nourish and moisturize your hair and scalp without feeling heavy or greasy. So, take your pick from the above list and say hello to shiny and soft hair.
Frequently Asked Questions
Can I use almond oil on the hair every day?
Yes, almond oil can be highly beneficial for split ends and dry hair. A few drops of the oil is enough for daily use.
How long should I keep almond oil on my hair?
If you have dry hair and want to use the almond oil as a mask for intensive treatment, it is best to massage the oil into the scalp and tips and leave it in overnight. However, lighter almond oils can also be used as a few drops in the form of serum and can be applied to the hair after a wash and left in.
Can almond oil regrow hair?
Almond oil is naturally rich in vitamin E. This increases blood circulation and facilitates hair growth.
Can we use almond oil as a leave-in conditioner?
Yes, after a wash once the hair is dry, almond oil can be used as a leave-in conditioner. All you have to do is apply a few drops of the oil to the strands.
Recommended Articles