Top 10 Aloe Vera Gels For Treating Burns of 2023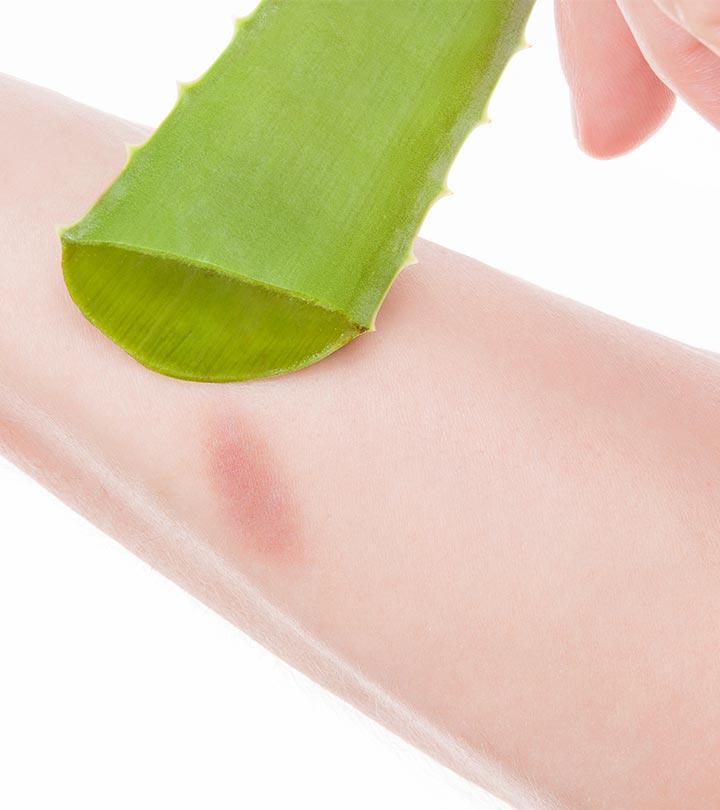 Aloe vera has been used to treat burns since the first-century A.D. It is high time that you include this plant of immortality in your first aid kit. Aloe vera gel is filled with 99% of water and soothes mild burns, blisters and prevents infections. Check out this list of the 10 best aloe vera gels for burns available in the market.
Top 10 Aloe Vera Gels For Treating Burns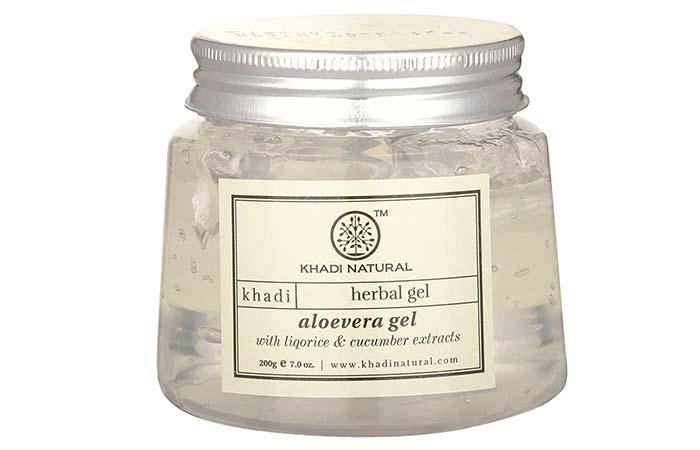 Khadi Natural Aloevera Gel is antiseptic in nature and treats burns and sunburns effectively. It reduces acne and spots as well. It is soothing and moisturizing on the skin.
The aloe vera gel contains lemon peel extracts and glycerine that soften skin and protect it from pollutants and dust.
Pros
Long lasting
Good consistency
Cons
Unhygienic packaging
Strong smell
Patanjali Aloe Vera Gel treats burns, cuts, and insect bites. It is a quick fix for soothing the pain caused due to burns.
The aloe vera gel treats spots and dark circles. It also reduces skin pigmentation and tanning. It contains Vitamin E, which repairs skin.
Pros
Suits all skin types
Non sticky
Cons
Contains artificial color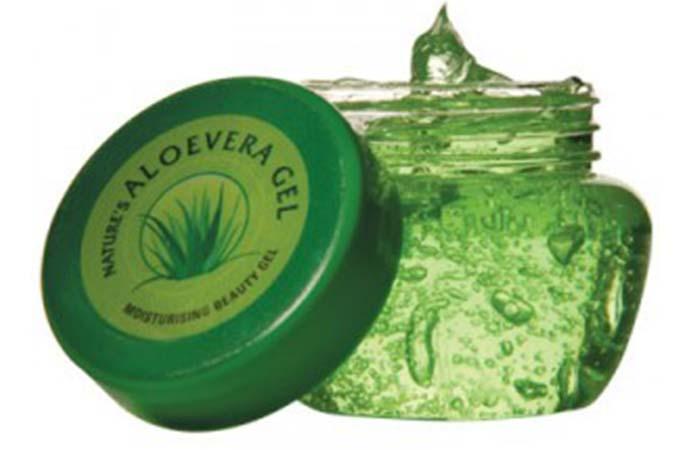 Nature's Essence Aloe Vera Gel shields the skin from sun damage and treats sunburns. It adds lost moisture to the skin.
The aloe vera gel contains peppermint oil and mineralized water that help in treating skin ailments. The gel soothes dry and flaky skin.
Pros
Contains Vitamin E
Heals cuts
Cons
Overpowering smell
Contains parabens
Bio Care Aloe Vera Gel heals burns and injuries. It also treats pigmented spots and adds a natural glow to the skin.
The gel contains pure aloe vera extracts that seep deep into the skin and prevent sagging. It makes the skin firm and healthy.
Pros
Long-lasting moisturization
Anti-aging
Cons
Note: If you have sensitive skin, do a patch test before you use this product.
Fabindia Aloe Vera Gel repairs skin and soothes burns and wounds. It is hydrating and relaxes irritated and dry skin.
The gel contains purified water and aloe vera powder that treats acne and redness. It adds a glow to the skin.
Pros
Hygienic packaging
Convenient to use
Suits all skin types
Cons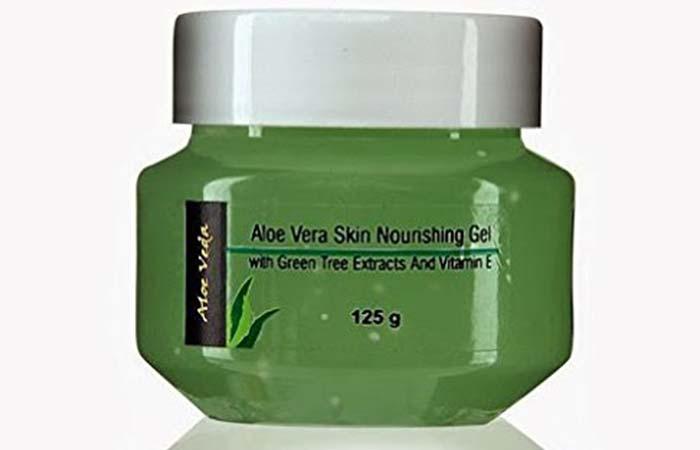 Aloe Veda Aloe Vera Skin Gel soothes, hydrates, and moisturizes the skin. It makes the skin healthy and treats burns effectively.
The aloe vera gel contains green tree extracts and Vitamin E that prevent the skin from sagging and make it taut.
Pros
Cons
Feels heavy on skin
Unhygienic packaging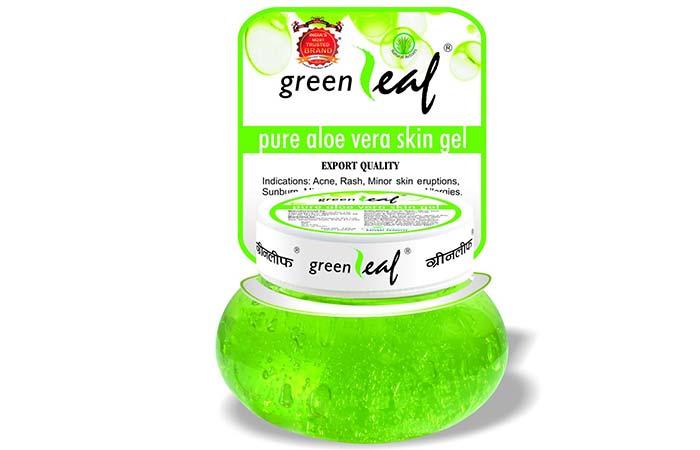 Brihans Green Leaf Aloe Vera Skin Gel facilitates cell renewal and tissue regeneration. It treats cuts, wounds, and rashes effectively.
The aloe vera gel contains naturally active aloe vera extract that improves the skin's texture and has a soothing effect on it.
Pros
Cons
Does not work well in winters
Auravedic Pure Aloe Vera Gel has natural healing properties that calm the skin and reduces inflammation. It penetrates deep into the skin and locks moisture.
The aloe vera gel contains botanical extracts that energize the skin. It contains green tree extracts, grapeseed oil, and jojoba seeds that deeply nourish the skin.
Pros
Treats acne
A small quantity of product gives excellent coverage
Cons
Aroma Treasures Aloe Vera Gel heals burns, wounds, and cuts and reduces the appearance of stretch marks. It protects the skin from allergies.
The aloe vera gel contains castor and lavender oils that treat dry skin and help reduce muscle cramps.
Pros
Anti-aging
Gets absorbed quickly
Cons
Does not moisturize dry skin well
Inconvenient to use
10. Spafin Aloe Vera Skin Gel
Spafin Aloe Vera Skin Gel rejuvenates and nourishes the skin. It is therapeutic and treats skin issues such as burns and hyperpigmentation effectively.
The aloe vera gel contains herbal extracts that refresh the skin and control the production of excess oil.
Pros
Antifungal
Heals cracked feet
Cons
Strong smell
Not long-lasting
*Prices May Vary
*Subject to Availability
Consider these points before investing in an aloe vera gel to pick the most suitable one.
Things To Consider When Buying Aloe Vera Gel
Ensure that the aloe vera gel is free of harmful additives like fragrances and alcohol. These ingredients dehydrate the skin by stripping away its natural oils. Look for a gel that contains only pure aloe vera to get maximum benefits.
The purest form of aloe gel aloe vera gel is a bit lumpy and does not get fully absorbed into the skin. Therefore, chemicals are used to increase its absorption. Thus, check the ingredients list of the aloe vera gel. Some harmless additives that might be present in aloe vera gel are:
Water
Citric acid
Vitamin C
Grapeseed oil
Xanthan gum
These ingredients enable the gel to spread and get absorbed into the skin easily.
Even minor burns cause immense pain. Heal the burns with aloe vera gel and watch your skin regain its smooth texture. Whether you use aloe vera gel as it is or combine it with another soothing agent, it works wonders. Make sure you pick an aloe vera gel and choose a remedy that suits you best in times of trouble.
Frequently Asked Questions
How often should I apply aloe vera gels for treating burns?
Apply aloe vera to the skin 2-3 times a day to soothe and treat the burns.
Is pure aloe vera extract better or a store-bought aloe vera gel?
It is best to use pure aloe vera extract freshly plucked from a plant. When that is not possible, the next best option is a store-bought aloe vera gel, preferably with no/minimum chemicals.
Recommended Articles:
The following two tabs change content below.