10 Best Aloe Vera Face Washes Of 2019 Available in India
Do you want to get healthy and glowing skin? So, without waiting try Aloe Vera face wash. Here I am listing the top 10 Aloe Vera face washes. They are naturally made and without side effects.
The most important of Aloe Vera face wash benefits is that it makes the skin look and feel lighter and healthy together with a radiant glow. Wash away all tiredness and pollution from your face. I hope that this article will help you to choose the best face wash for yourself quite easily. Enjoy.
The Top 10 Aloe Vera Face Wash Products
1. Aroma Magic Aloe Vera Face Wash:
This face wash contains Aloe Vera extracts in it and comes with an affordable price tag. It easily rinses away makeup, impurities, leaving no residue of dirt behind. It leaves the skin fresh, cool and calm. It works as a good moisturizer which makes the skin smooth.


2. Himalaya Gentle Exfoliating Face Wash:
This is a gentle every day face wash, with the goodness of Aloe Vera and apricot. It reveals fresh glowing skin that everyone wishes for. It has a pleasant smell which refreshes the skin and reduces acne and pimples. It comes in an attractive packaging which is travel-friendly so that you can carry it with yourself.


[ Read: Vlcc Face Washes ]
3. Patanjali Saundarya Face wash:
This herbal face wash contains Aloe Vera, Neem and Tulsi. It is a good solution for oily and acne-prone skin. It removes excess oil and dirt from the skin. It is good for oily skin and makes the skin glow. The ingredients used in it are all herbal, so even sensitive skinned beauties can use it without worrying about allergies.


4. Lotus Herbals Berry Scrub Strawberry and Aloe Vera Face Wash:
This face wash from Lotus de-tans the skin to make it look fresh and glowing. The Aloe Vera extracts deep cleanse the skin and wash away impurities and dead cell layers from the skin. It helps in getting rid of blackheads and pigmentation. The fragrance of this face wash is very pleasing and refreshing.


5. Alna Vedic Neem Aloe Vera Face Wash:
This face wash is an herbal product which clarifies the pores of the skin and prevents pimples. It makes the skin infection-free as it works as a disinfectant. The skin gets refreshed when the purifying action of Neem mixes with Aloe Vera. If you have oily/combination skin then this is a must-have product.
[ Read: Ayurvedic Face Wash ]
6. Pukhraj Aloe Vera Face Wash:
This face wash is again from an herbal brand which effectively protects your skin from every sort of pollution or dust. It gives instant glowing skin; it makes your face look beautiful and radiantly blushing. It tones up the face. Try it and you will see the difference in just a few days after using it.


7. Mxofere Aloe Vera and Lemon Face Wash: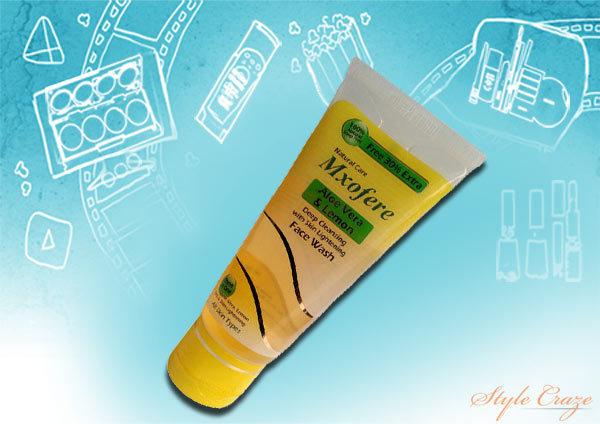 It is skin-friendly and may be used on every type of skin. A number of herbs and natural ingredients present in this product help in cleaning dirt and bacteria from the skin, providing a fresh glow to it.
8. Lilium Herbal Face Wash:
This helps in getting rid of all skin problems. It contains Neem extract, Aloe Vera extract, turmeric and tea tree oil. All these help in making the skin pollution free. It reduces excess oil, acne and pimples.
[ Read: Ever Youth Face Wash ]
9. Herbal Aloe Vera Face Wash:
Aloe Vera with orange is known to be an excellent skin cleanser. It is an excellent alternative to soap which reduces excess dust and grime without making the skin dry and rough. It makes the skin healthy and visibly radiant.


10. Oriflame Pure Nature Face Wash:
Oriflame makes amazing products and this is one such product from this brand. It contains the goodness of Arnica and Aloe Vera which soothes and moisturizes the skin. The face wash lathers well and spreads easily. It is gentle on the skin; it is skin-friendly and does not irritate.


*Subject to Availability
Have you tried any of these face washes? Let us know in the comments section below.

The following two tabs change content below.