13 Best Aloe Vera Gels For Moisturized And Healthy Skin
Bless yourself with the healthy properties of gentle ingredients and gain glowing skin!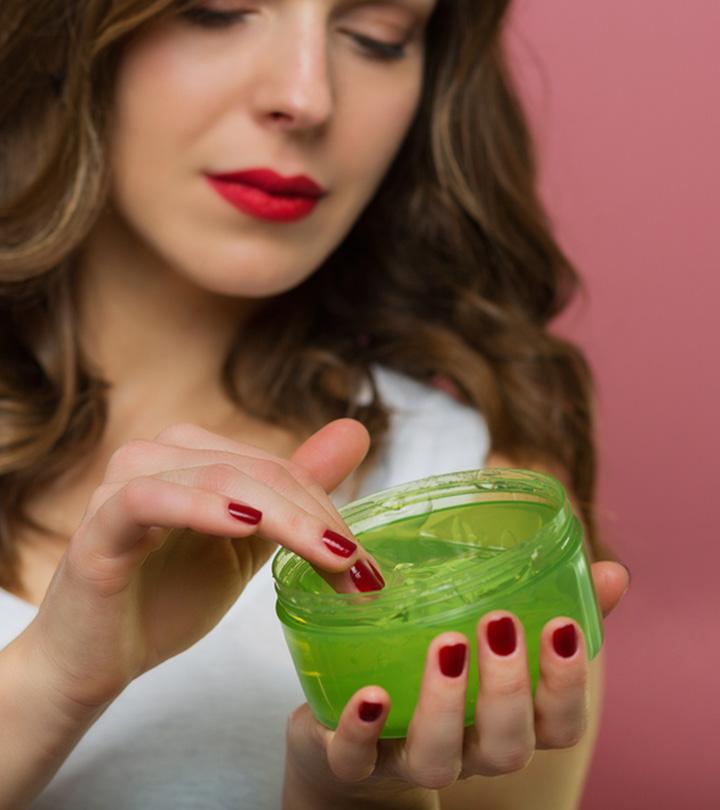 With the best aloe vera gel in place, you will definitely own hydrated and healthy skin and hair. When you look for the most effective hydrating products available in the market, aloe vera is the one ingredient that you will find in all of them. The reasons are many. It is a wonder plant that offers you countless benefits. Ruling the kingdom of skincare, this plant blesses your skin with its antioxidant and anti-inflammatory properties and is enriched with vitamins A and C and enzymes. When scooped out of the leaf, natural aloe vera can be slippery and watery, making it difficult to use. This is why you need aloe vera-based products. So, we have made a list of the 13 most amazing options that you must try right away. The market is already brimming with many options, so it might be a tad bit difficult to pick the right one. Allow this article to be your buying guide.
13 Best Aloe Vera Gels To Rid Your Skin Problems
This easy-to-apply gel gives you the aloe vera experience you are looking for. The Seven Minerals' Aloe Vera Gel replaces xanthan and carbomer with a 100% natural thickener— seaweed extract. The cold-pressed formula is prepared with citric acid to stabilize skin pH levels and vitamin C that helps it to get absorbed easily into the skin to give you soft and smooth skin. It also remediates cracks, skin irritation, itches, and soothes sunburns and blisters, reduces dandruff and frizz, treats cuts, and can also offer relief from psoriasis and eczema. This multipurpose gel can be one perfect solution to all your face, skin, and hair woes. Take a look at this video to learn more about the product.
Pros
Cold-pressed
100% natural
Repairs dry, cracked skin
Soothes skin irritation, itches, and rashes
Reduces wrinkles, blemishes and acne
Cons
Some may find the scent overpowering.
Price at the time of publication: $99.95
This organic aloe vera gel with a hint of lavender is so hydrating that your skin cells will drink it all up, and you will be amazed at how quickly it absorbs into your skin. Produced sustainably using renewable energy to provide superior solutions pertaining to beauty and skin care, this non-toxic and cruelty-free aloe vera gel for skin is extremely moisturizing and refreshing. Formulated with minerals and vitamins like A, B, C, and E, it prevents itching, dryness, flakes, irritation, and redness without leaving any sticky residue on your skin or hair. It can also rid your hair of frizz, making it manageable and healthier.
Pros
USDA certified
No artificial preservatives
Hypoallergenic
Offer relief from sunburn, bug bites
Treats rashes, cuts, and eczema
Suitable for skin, face, and hair
Cons
Contains synthetic fragrance.
Price at the time of publication: $38.99
Try once and this gel will become a staple in your skincare kit. What makes this aloe gel stand out is that the aloe used in this gel is cold-pressed and charcoal-filtered. Formulated with essential vitamins A, C, and E, minerals like magnesium and zinc, proteins, and enzymes, this 99.75% organic gel does not contain any harsh chemicals. Its buttery consistency allows easy application and the gel promotes rapid healing from sunburns, insect bites, rashes, eczema, and psoriasis. Its antibacterial and anti-inflammatory properties help reduce blemishes and acne scars. It can also lighten discoloration under your eyes with its antioxidants and provide a cooling and soothing effect to your skin. You can use it daily on your face and other body parts for intense moisturization.
Pros
Soothes burns
Reduces itching
Fights acne and aging signs
Reduces dark circles
Nourishes hair
Safe to use for children
Cons
May not be suitable for extremely sensitive skin
Price at the time of publication: $15.89
Your skin will instantly fall in love with this organic aloe vera gel as it soothes, moisturizes, and refreshes the skin. Specifically formulated with aloe vera enzymes, apple stem cells, cucumber fruit extract, and orange flower extract, it promotes the production of natural moisturizing oils to prevent dryness and itchiness. It also relieves sunburns and acne, and speeds up the process of skin renewal by promoting new cell growth, production of collagen, and elastin to give you radiant and younger-looking skin.
Pros
Non-sticky
Rejuvenates skin
Stimulates cell regeneration
Fights signs of aging
Soothes scalp irritation and sunburn
Cons
Price at the time of publication: $17.99
Pamper your skin with some extra love by including this gel in your skincare routine, and say yes to silky smooth skin. A good aloe vera gel for a face like this one moisturizes instantly as it gets absorbed quickly without leaving any residue behind. You can mix this gel with your choice of essential oils to make your own formula to use as an aftershave or post-waxing treatment. It can also be used as a hair styling gel or leave-in conditioner for shinier and healthier hair. As a bonus, this cold-pressed gel is also safe to treat dry patches on your dogs and cats. Watch this YouTuber's honest review to get a better idea about the product and its features.
Pros
Cruelty-free
Suitable for pets
Absorbs into skin real quick
Strengthens the hair
No artificial colors, fragrance or alcohol
Cons
Some may find its consistency thin.
Price at the time of publication: $17.95
Add this gel to your medicine cabinet or go-to bag and get ready to flaunt your flawless skin on any occasion that comes your way. This 100% pure aloe vera gel absorbs quickly into the skin and works best in combination with oils like argon, coconut, or hemp oil by forming a protective barrier on your skin. For the hair, it controls frizz without causing any irritation to your scalp and helps treat dry, irritated skin. Other benefits, including relief from sunburns, insect bites, and chaffing make it a worthwhile investment indeed.
Pros
Alcohol-free
Fragrance-free
No added color
Promotes healing of skin
Cons
May not be suitable for extremely oily skin
Price at the time of publication: $23.08
Eclat believes in providing the goodness of real and unrefined aloe vera gel to its consumers. Hand-harvested in Australia to provide utmost purity by retaining 99.8% of aloe's natural micronutrients, this gel nourishes skin by reducing irritation and soothing the skin. It has a cold-pressed formulation made with patented frost protect technology with 4 food-grade preservatives like vitamin C and potassium salt. These components significantly speed up the skin recovery process. It also helps in reducing inflammation and promoting the production of collagen. To add more to its long list of benefits, it penetrates deep into the skin, provides UV protection, and improves the health of skin and hair.
Pros
Reduces sunburn
Offers intense hydration
Paraben and alcohol-free
Cruelty-free
Cons
Price at the time of publication: $9.99
This 100% pure aloe vera gel infused with tea tree oil is known for its anti-inflammatory and antimicrobial properties and helps resolve several skin issues. This aloe vera gel moisturizer is suitable for dry, oily, or itchy skin, it is a fast absorbing leave-on gel that leaves behind no sticky residue. The vitamins and antioxidants present in the gel diminish the appearance of acne scars, sunburns, and blemishes and leave your skin feeling rejuvenated. It can also be used as an aftershave treatment, under-eye, hair, or body gel. This cruelty-free product not only treats bug bites, chafing, or itching on the skin but also promotes healthier hair.
Pros
Fights acne
Hydrates hair and scalp
Cruelty and paraben-free
Soothes and moisturizes skin
Suitable for face, skin, and hair
Can be used as an under-eye gel
Cons
Some may feel the scent too strong.
Price at the time of publication: $8.49
If you are not just looking for aloe vera gel for skin care but also to get creative and do some DIY projects, this is your best bet. One of the best multifunctional soothing gels, it is loaded with pure and organic aloe vera that nourishes both skin and hair. Mixed with jojoba oil, this aloe vera gel moisturizer suits all skin types and helps heal eczema and psoriasis. It works as a great conditioner as it can treat dry, brittle hair and relieve the scalp of itchiness. For best results, add this gel to your morning routine for hydrated, soft, and healthy skin.
Pros
Reduces the symptoms of psoriasis
Moisturizing
Treats acne
Reduces bald spots
Quick absorption
Cons
May have a watery consistency
Price at the time of publication: $7.99
This aloe vera gel for skin can be a lifesaver if you suffer from acne and skin rashes. Fresh cut from a family farm of aloe vera plants in the USA, it is cold-pressed and charcoal filtered to prepare pure and natural aloe vera gel. The combination of citric acid, ascorbic acid, and potassium sorbate with potent essential vitamins, minerals, proteins, and enzymes provides superior absorption and hydration to soothe your skin and help tackle hair issues. It can also treat sunburn, rashes, cuts, stings, itchy scalp, and dandruff. To add more to that, it is safe to use for pets.
Pros
Treats sunburn
Reduces rashes
Safe for pets
Doubles as an aftershave treatment
Cons
May not be suitable for extremely sensitive skin
Price at the time of publication: $32.99
If you're looking for a gel that has a lot more than just aloe, you should try this gel made with certified organic 99% aloe vera juice, vitamins A, C, and E that instantly cools and soothes your skin. After a busy day and prolonged exposure to sun or wind, the only skin therapy you need is this gel. This aloe vera gel for sunburn reduces skin damage by naturally replenishing the balance of the skin. What we absolutely love about this gel is that it offers deep moisturization, hydrating at least 3 epidermal layers.
Pros
Helps treat sunburn
Reduces skin damage
Cooling effect
Cruelty and paraben-free
Cons
Price at the time of publication: $15.83
Walk out of your house flaunting smooth and shiny skin like your favorite beauty influencer with this aloe product. This vegan gel comes with soothing and moisturizing effects, suitable even for extremely dry and sensitive skin. This aloe vera gel for sensitive skin can treat acne and can give you a clear face and skin. You can also mix the gel with rich and potent oils like argan or olive oils for double moisturization. This versatile product can be used as an effective hair treatment to repair split ends instantly and also along with a primer to give you that flawless and naturally glowing skin.
Pros
Vegan
Gentle
Balances skin's pH levels
Suitable for sensitive skin
Cons
May not be suitable for oily skin
Price at the time of publication: $20.26
The Allurials Aloe Vera Gel is made of 100% pure aloe extract that nourishes and treats dull, damaged skin. It is enriched with potent vitamins and minerals that offer instant relief and hydration and improves your skin's overall health. This aloe vera gel has antibacterial properties that can soothe itchy scalp and prevent dandruff.
Pros
Dermatologist-tested
Alcohol-free
Fragrance-free
Cruelty-free
No added colors
Cons
Price at the time of publication: $17.25
After glancing through this list of the best aloe vera gels for skin, you might be a little confused about how to choose the right one. Let us help you with that with a guide on several points you need to keep in mind when you pick an aloe vera gel.
How Do I Choose A Good Aloe Vera Gel For My Skin?
Choose the product which contains the highest percent of aloe vera gel and the lowest amount of added ingredients. You may consider 99.75% aloe vera gel as this is the closest you can get to the pure plant.
If the product contains water in it, it does require a preservative to give you longer shelf life. Ensure to choose products that have safe preservatives like TLC, potassium sorbate, or even ascorbic acid.
Watch the color of the gel you purchase. Natural aloe vera gel for skin varies in color from clear to slightly yellow/translucent gold depending on the season in which aloe vera was harvested. But if it looks green, chances are that it has artificial colors in it.
You must have now realized what are the factors you need to consider before buying an aloe vera gel. Now, let's look at how to use it.
How To Use Aloe Vera Gel
Step 1: Wash your hands before applying the gel.
Step 2: Use fingertips to apply a small amount of gel.
Step 3: Massage your face in a circular motion for around 1 to 2 minutes.
Step 4: Rinse with cool water.
Step 5: Gently pat dry.
If you're still not convinced about buying a good-quality aloe vera gel, there's a whole bunch of benefits of using aloe vera gel that will definitely convince you. Let us quickly run you through them again in brief.
Benefits Of Aloe Vera Gel
Aloe vera is a great moisturizer. As it is mostly water, it helps hydrate the skin without leaving any sticky residue on your skin. It locks in moisture, giving you soft and smooth skin upon regular use. If you have dry or cracked skin or calluses, aloe vera can do wonders for you.
Aloe vera can help treat sunburns. It moisturizes the skin, which helps prevent peeling of the skin in case you have been overexposed to the sun. It can also give you relief from pain or redness by reducing inflammation.
Aloe gel is proven to have antibacterial and anti-inflammatory properties which help treat several skin conditions like rashes, allergies, rosacea, eczema, psoriasis, or dermatitis.
Aloe vera is also an antiseptic. It has vitamins and minerals that help reduce pain, swelling, and itching due to bug bites and heal the bite faster. You can also make ice cubes using these aloe vera gels and apply them to the affected area for extra relief.
Why Trust StyleCraze?
The author of this article Kirtana Divakar, is a skin care enthusiast who loves discovering, researching, and sharing products that effectively answer skin concerns. One of the most trusted ingredients to attain healthy and radiant skin is aloe vera. So, she searched the internet, going through many reviews, to find the best aloe vera gels for facial skin. These gels were selected on their quality, skin-friendliness, and more.
Frequently Asked Questions
Is aloe vera gel good for the face?
Aloe vera moisturizes the skin without making it greasy which makes it a great moisturizer and conditioner for the face for almost all skin types. It comes with various skin benefits which make it a preferred choice.
Is aloe vera gel good for wrinkles?
Yes, it naturally increases the production of collagen which further helps in reducing ageing signs like fine lines and wrinkles.
Does aloe vera gel help with acne scars?
A compound in aloe vera called aloin reduces the overproduction of melanin that is responsible for making acne scars more visible. Hence, it helps reduce hyperpigmentation, acne scars, and lighten them.
Does aloe vera gel clog pores?
Aloe vera is non-comedogenic and hence, does not clog pores. However, if your aloe vera gel has other comedogenic ingredients, the gel could clog the pores.
Does aloe vera gel tighten skin?
As aloe vera increases collagen production, it does help in skin tightening and improving the elasticity of the skin.
Can we apply aloe vera on the face daily?
Yes. Using aloe vera on your face every day can help moisturize your skin and keep it healthy. Regular application also helps treat skin conditions like acne, eczema, and sunburn.
Does aloe vera gel remove dark circles?
Yes, it can help reduce dark circles. If it suits your skin type, you can apply it overnight under your eyes to reduce your dark circles.
Recommended Articles
Best Aloe Vera Lotions To Help Soothe Dry And Irritated Skin
Best Gel Moisturizers That Every Skin Can Enjoy
Best Products For Combination Skin For Better Results