Top 12 Aloe Vera Gels of 2023 Available in India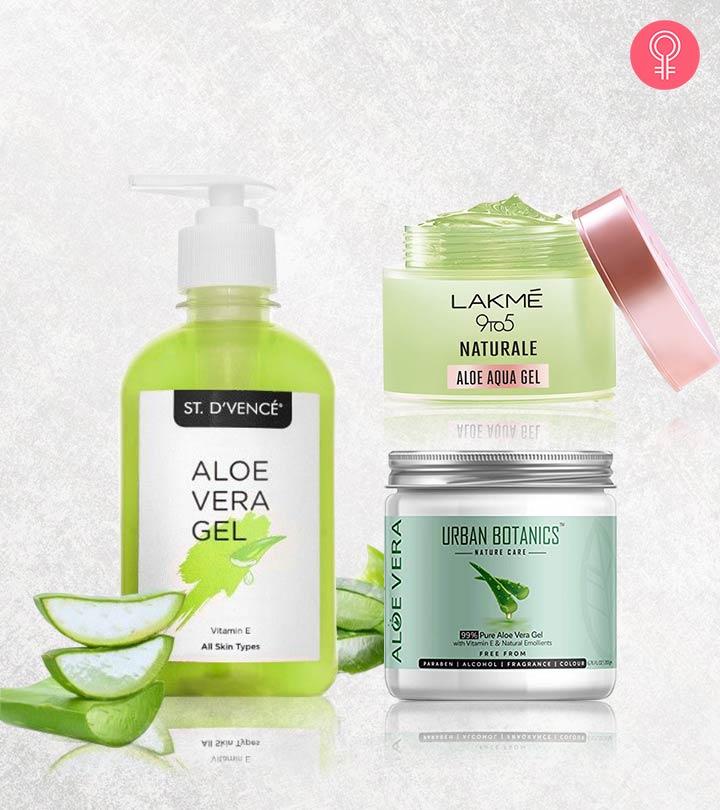 Aloe vera – a magical plant that needs no introduction. Its soothing medicinal qualities have made it a staple not only in households but also across the cosmetic industry. It is incredibly hydrating and is thus used in soaps, shampoos, conditioners, creams, and hair and face masks. It is hard to believe that a simple plant can be chock-full of amino acids, minerals, vitamins, and all good things. However, it can be annoying to extract it every time you need to use it on your skin or hair. Here's a list of the best aloe vera gels that come in a handy ready-to-use packaging for us lazy souls. Read on.
The 12 Best Aloe Vera Gels of 2023
Product Claims
Wow Aloe Vera Multipurpose Beauty Gel cares for your skin as well as your hair with its nourishing and moisturizing properties. It is loaded with nutrients such as vitamins A, C, E, B12, folic acid, and much more. The gel has been hygienically extracted from ripe, robust, and succulent aloe vera leaves and packaged with care to retain its natural healing and rejuvenating goodness.
Pros
Suitable for all skin types
Lightweight
Gets absorbed easily
No artificial fragrance
No synthetic colors
No mineral oils
Paraben-free
Silicone-free
Sulfate-free
Travel-friendly packaging
Cons
None
Product Claims
Indus Valley Bio Organic Aloe Vera Gel rejuvenates your skin by penetrating its deepest layers. This gives your face and skin a refreshing glow internally. Aloe vera gel is entirely pure and non-toxic. It is very effective in treating many skin and hair disorders.
Pros
Suitable for all skin types
Ideal for daily use
Lightweight
Non-greasy
Gets absorbed easily
Hydrates well
Travel-friendly packaging
No harmful ingredients
Affordable
Non-toxic
Cons
May irritate sensitive skin
Product Claims
Khadi Natural Herbal Aloe Vera Gel moisturizes your skin without making it greasy. This is especially helpful for those of us with oily skin. The lightweight gel is very effective at softening and protecting your skin against environmental pollutants. Aloe vera gel has long-lasting soothing, moisturizing, and emollient properties. It helps reduce acne, wrinkles, and blotchy skin.
Pros
Suitable for all skin types
Lightweight
Non-greasy
Dermatologically tested
Cruelty-free
Travel-friendly packaging
Affordable
Paraben-free
No harmful chemicals
Cons
Product Claims
Lakmé 9 to 5 Naturale Aloe Aquagel soothes and hydrates stressed skin by nourishing it with the goodness of natural aloe vera. This aloe vera gel protects you from the dusty city pollution that wreaks havoc on your delicate skin. It also acts as a soothing primer for your skin, creating a perfect canvas for daily skin care and makeup. Regular use makes sure that your skin stays protected and looks naturally bright.
Pros
Suitable for all skin types
Ideal for daily use
Gentle on sensitive skin
Moisturizes well
Works well as a base for makeup
Lightweight
Non-sticky
Gets absorbed easily
Travel-friendly packaging
Cons
Unhygienic jar packaging
Artificial fragrance
Product Claims
The Plum Hello Aloe Calm This Way Soothing Gel is specially formulated for sensitive skin. The gel helps reduce redness and irritation caused due to breakouts or hair-removal. The product has a cooling light-gel texture, which is organically sourced from aloe juice. This juice provides antioxidant protection. It also soothes the skin. The gel also contains skin-restructuring bio sugars and skin-relieving green tea extracts. Another essential component of this product is Gotu kola, which is a collagen-boosting herb. It helps the skin recover and maintains its elasticity and youthful glow. The product is vegan. The product is also free of parabens, phthalates, SLS, and other harmful chemicals.
 Pros
Reduces redness and irritation
Ideal for sensitive skin
Has a cooling light-gel texture
Helps the skin recover and maintain elasticity
Gives skin a youthful appearance
Vegan
Paraben-free
Phthalate-free
SLS-free
 Cons
None
Product Claims
Oriental Botanics 99% Aloe Vera Fresh Soothing Gel is a multipurpose product that can be used as a hair conditioner, skin moisturizer, primer, and after-shave gel. It is rich in vitamins, minerals, amino acids, and fatty acids. It provides intense hydration to the skin and hair. Its antioxidant and anti-inflammatory properties help in treating burns, acne, dryness, and other skin ailments. It is infused with citrus acid and xanthan gum that enhance its anti-aging, skin-brightening, and nourishing qualities. This hypoallergenic product is cruelty-free, paraben-free, sulfate-free, and does not contain any mineral oils. Thus, it is suitable for all skin and hair types.
Pros
Hydrates the skin
Gets absorbed quickly
Multipurpose
Soothes the skin
Non-greasy
Paraben-free
Sulfate-free
Hypoallergenic
Cruelty-free
Free from any additives
Suitable for all skin types
Cons
None
Product Claims
Urban Botanics Aloe Vera Gel is made from organic aloe vera plants and is guaranteed to be authentic, pure, and natural. It can help heal small cuts and relieve itching from bugs and insect bites. This aloe vera gel also provides instant cooling to rashes and redness on the face. This keeps your face moisturized and reduces blemishes, sunburns, acne, scars, and fine lines without leaving your skin dry.
Pros
Gets absorbed quickly
No greasy residue
Paraben-free
No synthetic fragrance
Alcohol-free
No artificial colors
100% vegan
Cruelty-free
Cons
Expensive
May irritate sensitive skin
Product Claims
St. D'Vence Aloe Vera Gel provides effective relief from sunburn, minor burns, skin irritations, insect bites, chafing, itching, and dry skin, leaving no sticky residue and promoting healthy and nourished skin overall. The formula is a soothing amalgamation of aloe vera and vitamin E, which forms a silky barrier on your skin to prevent excess moisture loss and protect against dryness.
Pros
Hypoallergenic
No harmful chemicals
Vegetarian
Paraben-free
Sulfate-free
Phthalate-free
Mineral oil-free
Cruelty-free
Cons
Not suitable for all skin types
Contains added color
Contains added fragrance
Product Claims
Green Leaf Pure Aloe Vera Skin Gel contains naturally active aloe vera that makes your skin supple and improves your skin texture. Regular use of this gel regenerates new tissues as it promotes healthy cell renewal. Aloe vera is known for its anti-inflammatory properties. It is also useful in treating acne, rash, sunburn, minor cuts, wounds, small skin eruptions, and skin allergies.
Pros
Suitable for all skin types
Lightweight
Gets absorbed easily
Can be used as a base for makeup
Affordable
Travel-friendly packaging
Non-sticky
Cons
Not hydrating enough for dry skin
Contains added colors
Contains added fragrance
10. Greenberry Organics Aloe Vera Hydro 3 In 1 Gel
Product Claims
Greenberry Organics Aloe Vera Hydro 3 In 1 Gel can be used on your face, body, and hair for intense moisturization. This gel hydrates and soothes dry, sensitive skin. The gel forms a protective barrier that helps retains moisture and promotes healing of the skin. It protects your skin from several monsoon-related fungal infections. It also treats hair by reducing dandruff and revitalizing dull hair.
Pros
Suitable for all skin types
Natural ingredients
Non-sticky
Non-oily
Cruelty-free
Paraben-free
Phthalate-free
Cons
Expensive
Contains added fragrance
May irritate sensitive skin
Product Claims
Aroma Treasures Aloe Vera Gel is naturally antibacterial, antiviral, and antifungal. This multipurpose gel can be used liberally on the face, body, hair, and beard. It provides excellent hydration and rejuvenation for your skin. Aloe naturally stimulates the production of collagen and elastin, making your skin softer and more supple at any age. It can be used as a primer, aftershave gel, and beard styling gel.
Pros
Suitable for all skin types
No harmful chemicals
Paraben-free
Gets absorbed easily
Non-sticky
Affordable
Cons
Unhygienic jar packaging
Contains added color
Strong fragrance
Product Claims
The Faceshop Jeju Aloe Fresh Soothing Gel is formulated with 9% aloe barbadensis leaf extract from Jeju Island, as well as nine ingredients extracted from natural plants, to soothe and moisturize your skin. This gel can be used for various purposes, including moisturizing, soothing, face pack, and after-sun care.
Pros
No greasy residue
Paraben-free
No artificial coloring
No mineral oil
No animal oil
Cons
May cause breakouts
Bulky packaging
Non-organic
Contains added fragrance
These are the top aloe vera gels to go for. However, do consider a few factors before making a purchase.
What To Consider Before Buying An Aloe Vera Gel
The purpose of an aloe vera gel is to repair and heal the skin. Hence, it must be free from harmful chemicals and additives. Chemical additives rob the gel's moisturizing properties and also cause skin irritation. Avoid gels containing additives, alcohol, and artificial fragrances.
Natural aloe vera gel does not get absorbed into the skin quickly. It also feels a little sticky. The gel you buy could have harmful additives if it gets absorbed quickly. Ensure you scan the ingredients list prior. A natural aloe gel that takes a little time to absorb is what you must go for.
Aloe gels have natural healing properties and suit most skin types. They are effective in moisturizing skin without causing irritation or allergies. They usually are reasonably priced. However, do not go for cheap products as they may contain low-quality ingredients.
You can judge the quality of an aloe gel by its color. It should be transparent and sticky, similar to what the actual leaf gel looks like. Aloe gel that is anything but transparent may contain additives.
These are the best aloe vera gels that you must check out. Which one do you want to try out? Let us know about your experience using the gel in the comments section below.

Recommended Articles
The following two tabs change content below.