2019's Best Aloe Vera Gels Available In India – Our Top 10 Picks
Aloe vera – a magical plant that needs no introduction. It is a staple not just in our households because of its soothing and medicinal properties, but in the cosmetic industry as well. It is extremely hydrating, and is thus used in soaps, shampoos, conditioners, creams, hair and face masks, etc. It is a great leave-in potion too. It is hard to believe that a simple plant can be chock-full of amino acids, minerals, vitamins, and all good things.
All said and done, it could be a little laborious to extract it from the stem every time you need to use it on your skin or hair. Thanks to a lot of brands that put it in a tube for us, it has become very handy. And so, today, we'll talk about some names that are the closest second to the original. Let's find out!
Top 10 Aloe Vera Gels In India
1. Auravedic Pure Natural Aloe Vera Gel
Auravedic Pure Natural Aloe Vera Gel is a complete skin relief gel that helps you with a lot of skin issues. It contains other ingredients like pure water, green tea, avocado, jojoba, pomegranate, grapeseed, and wheatgerm oils, apart from natural aloe vera extracts. It is an amazing skin conditioner that can be used on your face, body, burns or as an anti-inflammatory agent.

2. Forest Essentials Pure Aloe Vera Light Hydrating Gel
Forest Essentials is a quintessential cosmetic brand that makes products with natural and pure ingredients. And Pure Aloe Vera Light Hydrating Gel just like their other products – it is of excellent quality and a total value for money. It contains pure aloe extracts that not only soothes your skin but also helps with skin regeneration. It contains genhu (wheat) extract, which heals sunburns, protects from further damage, and combats skin issues like premature aging manifesting in the form of fine lines, freckles, and wrinkles.

3. Fab India Aloe Vera Soothing Gel
Fab India is a well-known name in the Indian market, and its products are known for their almost natural composition and spectacular results. This clothing brand, which also offers natural beauty care products, has products that are proven to be great for skin and hair. It is a great product, which when used regularly, shows immediate changes on your skin. It is a little expensive than most aloe vera gels available in the market, but the quality of the product justifies the price. This product is not just great for the skin, but is also one of the best aloe vera gels for hair!

4. Aloe Vera Nourishing Aloe Vera Gel
Aloe Veda is getting popular through word of mouth, owing to its great product, Aloe Vera Skin Nourishing Gel. This aloe vera-based gel is enriched with the goodness of green tea extracts and vitamin E. It works like a charm on dry skin.

5. Amara Organics Aloe Vera Gel From Organic Cold Pressed Aloe
Amara Organics is one of the very few brands that gives you paraben and chemical-free aloe gel that is extracted from organic aloe plants by the cold pressed method. It does contain some natural preservatives. That's why it's thin, runny, and absorbent – exactly how aloe vera is supposed to be. From cracked feet and itchy scalp to flaky skin, it can take care of everything.

6. Natural Republic Aloe Vera Gel
Aloe vera gel from Natural Republic contains nothing but pure and natural aloe extracts from organic plants. It is certified by 'California Certified Organic Farmers.' That just proves the goodness of this product.

7. Patanjali Aloe Vera Gel
Patanjali – a mantra in the Indian households and our go-to for every second thing. This is one of the best selling aloe vera gel. It is considered one of the most potent and purest forms of aloe vera available in the market. I just use this instead of my night cream some days, and I like how my face feels the next morning.
[ Read: Patanjali Aloe Vera Gel User Reviews ]

8. Forever Aloe Vera Gel
Did you know that aloe vera contains over 80 amino acids and eight essential ones that we humans need, apart from being an excellent source of vitamin B12? This aloe vera gel from Forever Natural is a juice certified by the International Aloe Science Council.
It is as pure as the plant extract, without any additives or artificial flavors, and comes in a big bottle. You can add a little of it to all your hair and face masks or just use it as a leave-in hair conditioner.
You can also drink it as it is, or mix it with any fresh juice of your choice. It improves your digestion and builds your immunity.

9. Rustic Art Organic Aloe Vera Papayya Gel
Rustic Art is known for its vegan and handmade products that are pure and free of chemicals and parabens. This brand has a range of aloe vera gels – with pure aloe extract as the base and other natural ingredients like papaya, lavender oil, avocado, strawberry, etc. This one is a combination of aloe and papaya. While aloe keeps you hydrated, papaya helps you with skin lightening and pigmentation. It can be used as a substitute for your moisturizer during the day or just as a night cream.

10. Aroma Treasures Aloe Vera Gel For Hair, Skin & Body
Here's another great option from Aroma Treasures that can be used for the hair, skin, and body. It is truly multipurpose because just one tub of this is all you need. From healing skin burns, blemishes, and tan to treating dandruff and conditioning your hair and moisturizing your body, this comes a long way. You can also add essential oils like lavender, tea tree, etc. and apply it to your face. Or add ylang ylang or frankincense and use it for your hair.

*Subject to Availability
I always carry a tube of aloe vera in my handbag to use it as a moisturizer or hand cream. It comes handy. Plus, I add a generous amount of aloe vera in all my DIY face masks hair masks. You should try that too. Let us know if you have any more questions on this by dropping in a text in the comment section below.
Recommended Articles

The following two tabs change content below.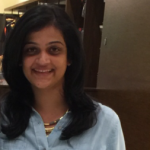 Latest posts by Pratima Ati (see all)