5 Best Alpyn Beauty Products Of 2023
Enhance your beauty in a gentle, sustainable way with Alpyn. Alpyn is for all!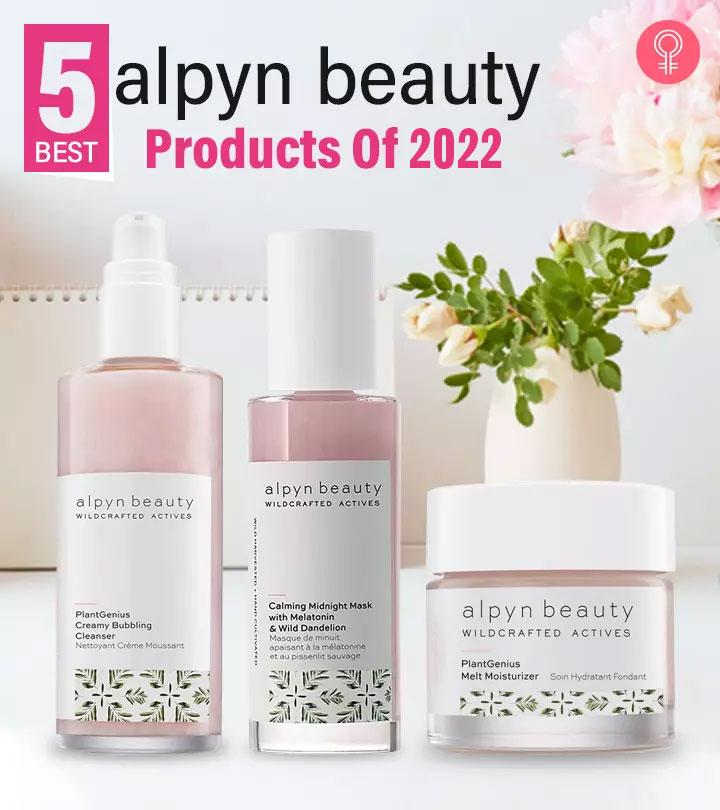 Alpyn Beauty is an indie brand that has pushed the limits trying to achieve the best in skin care. Their products are formulated with wildcrafted and sustainably sourced ingredients picked from the lush mountains of Jackson Hole, Wyoming. The best Alpyn Beauty products are famous for preserving, strengthening, and shielding the skin. This skin care line is popular because it produces cruelty-free and vegan-friendly products made with naturally sourced ingredients like wild chamomile, borage, calendula, wild arnica, and sage. The products do not contain harsh or irritating elements like soy, parabens, synthetic dyes, added fragrances, gluten, or phthalates. They have become a staple in every household because their products cater to all skin types and skin care needs.
If you are new to Alpyn Beauty and are unsure which one to pick first, we can help. Here are some of the best products you need to check out!
5 Best Alpyn Beauty Products That You Can Swear By
Alpyn Beauty PlantGenius Melt Moisturizer is a super-hydrating anti-aging moisturizer. Its whipped formula melts instantly on your skin to offer you a fresh, velvety feeling. It is enriched with ceramides and squalane that maintain your skin's natural moisture balance. Glycolic acid acts as a natural exfoliator. Vitamin C brightens up your skin and combats free radical damage. Bakuchiol (a non-irritating bioavailable retinol) and Tripeptide-29 efficiently diminish fine lines and wrinkles. This moisturizer also encourages collagen production and boosts the elasticity of your skin.
Pros
Softens the skin
Boosts skin elasticity
Maintains moisture balance
Prevents skin damage
Boosts collagen production
Reduces fine lines and wrinkles
Fragrance-free
Suitable for all skin types
Cons

Quick tip
If you want to make your liquid foundation ad little more sheer and want better coverage, add a little moisturizer to it.
Price at the time of publication: $60.0
Do you have puffy eyes that make you look tired even in the early hours of the day? There's a solution for that. Try out the Alpyn Beauty PlantGenius Line-Filling Eye Balm. It is a fast-absorbing, cushiony eye balm that instantly reduces the appearance of fine lines and gently de-puffs your under-eye area. Its key ingredients include vitamin C that diminishes dark circles, algae to tighten up your under-eye area, mica to blur out imperfections, caffeine to reduce puffiness, bakuchiol to boost collagen production, vitamin E to fight free radicals, hyaluronic acid, squalane, and ceramides to prevent the clogging of pores. Check out this review for a detailed understanding about the product.
Pros
Gets absorbed quickly
Reduces fine lines and wrinkles
Diminishes dark circles
Reduces under-eye puffiness
Prevents clogging of pores
Boosts collagen production
Suitable for all skin types
Cons
Price at the time of publication: $62.0
Let me introduce you to one of the best facial cleansers you'll fall in love with. Alpyn Beauty PlantGenius Creamy Bubbling Cleanser is an antioxidant-rich facial cleanser. It contains essential exfoliating ingredients like papaya extract, pomegranate extract, glycolic acid, and lactic acid that get rid of the dead skin cells to rejuvenate your tired skin. Natural hydrators like linoleic acid and ceramides leave your skin feeling soft and silky smooth.
Pros
Prevents skin damage
Gently exfoliates the skin
Softens and smoothens the skin
Fragrance-free
Cons
None


Pro Tip
Use the Alpyn Beauty PlantGenius Survival Serum after cleansing your face to get smooth and hydrated skin.
Price at the time of publication: $36.0
Alpyn Beauty PlantGenius is an all-in-one serum and an illuminating makeup primer. Its antioxidant-rich formula contains vitamin C, bearberry leaf, and licorice root extract that give you an even-toned complexion. This serum is infused with a trio of gentle exfoliants – azelaic acid, lactic acid, and glycolic acid – that exfoliate your skin delicately. Hyaluronic acid, olive fruit oil, linoleic acid, coconut oil, and squalane offer lightweight hydration.
Pros
Imparts and illuminating glow
Prevents skin damage
Evens out the skin tone
Gently exfoliates the skin
Hydrates the skin
Lightweight
Cons
Price at the time of publication: $59.0
The Alpyn Beauty – Natural Triple Vitamin C Illuminating Bounce Cream deeply moisturizes your skin and makes your skin soft and supple. This hydrating cream brings you the benefits of organic aloe vera that makes the cream rich in antioxidants along with wild chokecherry to stimulate skin elasticity and triple vitamin C complex to help you achieve even-toned skin. This lightweight cream is comfortable to wear and does not feel sticky. It is long-lasting and can retain skin moisture, which makes it an excellent choice for people with dry skin.
Pros
Sulfate-free
Paraben-free
No artificial color or fragrance
Talc-free
Petroleum-free
Can be used on the face and body
Vegan
Cruelty-free
Cons
May have an odd smell
Might cause breakouts in some
Price at the time of publication: $49
The natural ingredients used in Alpyn Beauty products make them effective and safe for your skin. Try them out now to start nourishing and pampering your skin!
Why Trust Stylecraze
The author of this article, Oyendrila Kanjilal, is a certified skin care coach. She carefully researched and browsed through online reviews to create this list of the best Alpyn Beauty products for her readers. Her selection comprises products that soften the skin and boost skin elasticity. These products help prevent skin damage and maintain moisture balance to reduce fine lines and wrinkles.
Frequently Asked Questions
Is Alpyn Beauty cruelty-free?
Yes, all Alpyn Beauty products are 100% vegan, cruelty-free, and free from synthetic fragrances.
Do Alpyn Beauty products cause breakouts?
No, Alpyn Beauty products do not cause breakouts. Rather, they are known for preserving, strengthening, and shielding the skin.
Are Alpyn Beauty products tested on animals?
No, Alpyn Beauty products are not tested on animals; they are entirely vegan and cruelty-free.
Can you use Alpyn Beauty products during pregnancy?
Alpyn Beauty products are all-natural and made without toxins. They are most like safe for use during pregnancy. However, before using any product during this sensitive time, consult your doctor.
Can you use Alpyn Beauty products every day?
Yes, you can use Alpyn Beauty products daily. They are free from all toxic ingredients. They keep the skin smooth, soft, and nourished.
How long do Alpyn Beauty products last?
An opened Alpyn Beauty product has a shelf life of 12 months. An unopened product has a shelf life of 2-3 years.
Recommended Articles
The following two tabs change content below.