11 Best Amla Hair Oils Available In India
Get rejuvenated, lustrous locks with the goodness of this natural ingredient in a bottle.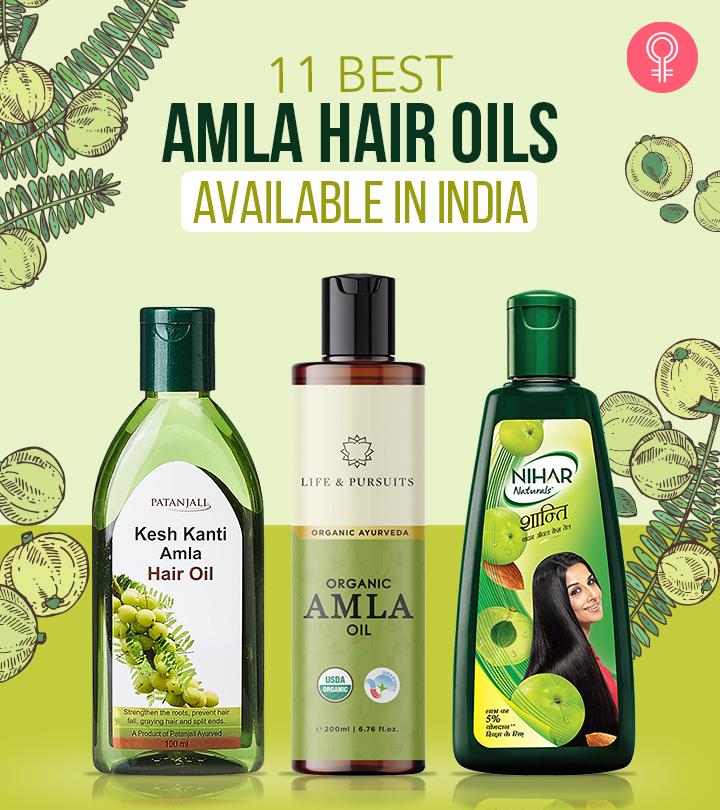 If there's one product that is the panacea for all hair issues, it is amla hair oil. Amla is an Ayurvedic staple that stimulates healthy hair growth and prevents premature graying. Its other benefits include improved hair texture, frizz prevention, dandruff control, and shine enhancement. The oil penetrates deep into the roots to repair damaged hair follicles and scalp. We have rounded up the 11 best amla hair oils to transform your dull hair into lustrous and flawless tresses. Scroll down to check them out!
11 Best Amla Hair Oils Available In India
The Dabur Amla Hair Oil is loaded with the goodness of amla that strengthens your hair by penetrating your hair follicles and conditioning them from the roots. It makes your hair lustrous, longer, and thicker while preventing it from premature graying. This hair oil also boosts blood circulation and enhances healthy hair growth.
Pros
Suitable for all hair types
Sulfate-free
Cons
Strong fragrance
Contains mineral oils and artificial colors
The VAADI HERBALS Amla Cool Oil is a perfect blend of potent herbs that softens and strengthens the hair, prevents premature graying, rejuvenates the scalp, and boosts natural shine while aiding hair regrowth. The badam oil has nourishing properties that prevent split ends and hair fall and smoothen your hair. The lavang oil relieves pain, and lavender oil has calming properties.
The brahmi extracts and rose oil reduce stress and induce relaxation, bhringraj nourishes the hair and prevents dandruff and scalp problems, and kapoor refreshes the mind and body. This vitamin-rich oil is suitable for all hair types, especially weakened or damaged hair.
Pros
Calming
Cruelty-free
Chemical-free
Paraben-free
GMP certified
Cons
Overpowering fragrance
Makes the hair brittle
The NIHAR Naturals Shanti Amla & Badam Hair Oil nourishes and protects your hair. The unique and potent blend of amla and badam is loaded with multiple nutritious benefits that make your hair three times stronger, smoother, and shinier. Amla prevents premature graying, and badam strengthens the hair to prevent hair fall. This amla hair oil keeps dandruff at bay and your scalp healthy and clean.
Pros
Non-greasy
Organic ingredients
Suitable for all hair types
Cons
Contains mineral oils and artificial colors
The PATANJALI Kesh Kanti Amla Hair Oil is enriched with the goodness of amla, olive oil, and sunflower oil. This powerful blend infuses life and vitality into your hair, transforms dull hair into silky and soft tresses, and prevents frizz, premature graying, and split ends. Regular use of this oil strengthens your hair and reduces breakage and brittleness as it deeply conditions your strands.
Pros
Ayurvedic formula
Suitable for all hair types
Value for money
Cons
Greasy
Unpleasant and strong fragrance
LIFE & PURSUITS Organic Amla Oil contains 95% organic ingredients like bhringraj, hibiscus, baheda, haritaki, organic sesame oil, and organic coconut oil. It restores and rejuvenates your hair to improve the overall scalp and hair health, increase hair growth, dissolve grease and dirt from the follicles, eliminate dry flakes from the scalp, and boost blood circulation.
The organic amla extract enhances hair growth and keeps the hair and scalp healthy. The organic bhringraj, baheda, and hibiscus extracts stimulate the hair follicles, promote hair growth, and prevent premature graying. The haritaki extract eliminates dandruff and prevents hair loss. This hair oil does not contain mineral oils or synthetic fragrances.
Pros
Sulfate-free
Paraben-free
Mineral oil-free
Silicone-free
Synthetic fragrance-free
Artificial color-free
Cons
The Khadi Amla Hair Oil ensures softer hair from root to tip and boosts healthy growth. Regular use of this hair oil reduces dandruff and makes the hair thick and voluminous. This hair oil is infused with natural extracts of amla, brahmi, henna, and neem. The potent blend nourishes and strengthens your hair shafts to prevent hair concerns, such as breakage and split ends.
Amla conditions the hair while brahmi strengthens the hair follicles, henna prevents hair damage, and neem reduces dandruff and soothes itchy scalps. This hair oil does not contain parabens, sulfates, or mineral oils and is suitable for all hair types.
Pros
Paraben-free
Sulfate-free
Mineral oil-free
Herbal
Suitable for all hair types
Cons
The bajaj Brahmi Amla Ayurvedic Hair Oil is an Ayurvedic blend of amla oil with brahmi leaves. It adds shine, reduces hair fall, strengthens the hair shafts, and has anti-inflammatory properties that keep your scalp clean and well-nourished. This amla hair oil promotes healthy hair growth, improves blood circulation, reduces premature graying, and prevents dandruff.
Pros
Gentle
Absorbed quickly
Non-greasy
Suitable for all hair types
Cons
The KHADI NATURAL Herbal Hair Oil Amla is a non-greasy formula that boosts healthy hair growth, strengthens the hair follicles, and cleanses your scalp thoroughly to prevent hair breakage and hair fall. The blend of amla, brahmi, methi, jatamansi, and sesame oil prevents premature graying, dandruff, hair breakage, and split ends. This unscented formula is suitable for all hair types.
Pros
Non-greasy
Fragrance-free
Paraben-free
Mineral oil-free
Suitable for all hair types
Cons
This amla hair oil from NATURE'S ABSOLUTES treats dry scalp instantly and keeps all scalp concerns at bay. The blend of amla oil and sesame oil improves hair quality and texture, strengthens the hair, and prevents hair fall. Regular use of this hair oil nourishes your hair and makes it soft and supple.
Pros
Suitable for everyday use
Works as a carrier oil
Cons
Greasy
Contains artificial color and fragrance
The Seer Secrets Scalp & Root Hair Oil is loaded with nutrients that deep condition and nourish your scalp and fortify the hair strands. This organic formula contains amla oil and camphor oil that aid hair regrowth, olive oil that moisturizes the scalp and makes it healthy, and sesame oil that improves blood circulation to the scalp.
Other ingredients like jatamansi and shikakai extract prevent graying of hair and cleanse the scalp, respectively. This hair oil penetrates your scalp to calm your senses, improve blood circulation, and boost healthy hair growth. Its antioxidant and antibacterial properties eliminate itchiness, dandruff, and scalp irritation.
Pros
Organic ingredients
Lightweight
Absorbed quickly
Silicone-free
Cons
Expensive
Dominating camphor fragrance
The MORPHEME REMEDIES Amla Oil replenishes your hair thoroughly with the goodness of amla extract. It stimulates healthy hair growth by boosting blood circulation and nourishing the hair follicles. This hair oil reduces flakes, greasiness, impurities, and dirt on the scalp. Regular use of this amla hair oil nourishes and strengthens the hair from the roots while optimizing the pH levels and oil production.
Pros
Mineral oil-free
Paraben-free
Silicone-free
Sulfate-free
Artificial color-free
Artificial fragrance-free
Cons
Here are a few things to keep a check on while picking the best amla hair oil.
How To Choose The Best Amla Hair Oil
Opt for a brand that has a good reputation in the market with good reviews. Check online customer reviews and the ingredients list for new brands. Pick hypoallergenic products that are clinically tested, cruelty-free, and have excellent customer ratings.
Ensure that the product does not have any harsh chemicals like parabens, sulfates, silicones, mineral oils, alcohol, etc. These ingredients may cause hair damage, brittleness, and strip away the essential moisture and oils. Make sure you pick the best amla hair oil formulated with either natural or organic ingredients like almond, hibiscus, bhringraj, or brahmi that boost the overall hair health.
Your hair type and texture should be considered. Pick an amla hair oil blended with olive oil or coconut oil for dry and frizzy hair, as they lock moisture in your hair follicles. If you have oily hair or scalp, opt for a hair oil with a non-greasy texture.
The amla hair oils listed above improve hair growth, prevent premature graying, and boost the overall hair and scalp health. Go through the points mentioned in the buying guide and pick the one you find best suits your hair type and budget.
Frequently Asked Questions
Are there any specific application techniques or tips for using Amla hair oil effectively?
There are several ways to make the best use of amla oil. You may apply it straight to your tresses and scalp. Cover your head with a hair cap, and leave it on for an hour. If your hair needs intense conditioning, you may leave it on overnight and wash it off in the morning.
How often should I use Amla hair oil?
If you plan on an overnight treatment, you may apply the amla oil once in a couple of weeks. If you leave it on for an hour only, you can apply it daily to help tame frizziness and reduce dullness.
How long does it take for Amla hair oil to work?
It may take up to 16 weeks for you to notice any changes to your hair after adding amla oil to your hair care routine.
What does Amla oil smell like?
Amla oil has a strong, musky odor. If there are other natural ingredients in the oil, it may have a herbal or floral scent.
Recommended Articles