11 Best Amla Powders Available In India – 2023
Embrace the natural goodness of this microfine powder for beautiful hair and skin.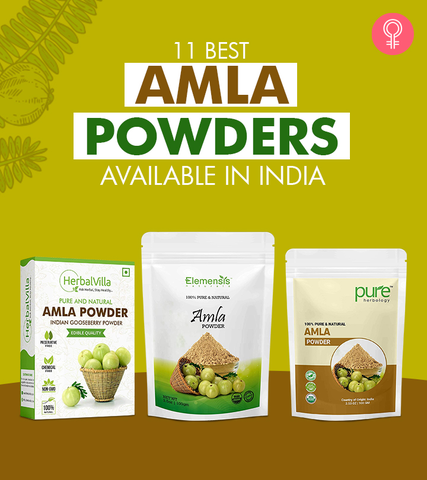 The medicinal and therapeutic properties of amla or Indian gooseberry are fast becoming popular around the world. It is packed with vitamin C, a potent antioxidant, and other nutrients that help maintain your skin, hair, and overall health. Amla powder is prepared by dehydrating the fruit and then grinding it to a microfine powder form that can be mixed with water or other herbal products.
To help you harness the goodness of amla powder, we have put together a list of the best amla powders in India that will offer you skin, hair, and health benefits.
11 Best Amla Powders Available In India
The FSSAI-certified Indus Valley Bio Organic Amla Fruit Powder is made by a triple-sifted process.  This power-packed powder is rich in vitamin C, offers anti-aging properties, and gives your skin a youthful appearance. It helps by combating fine lines and wrinkles while exfoliating dead skin cells and improving elasticity.  Vitamin C in this powder enhances hair health by controlling dandruff, preventing hair loss, strengthening hair follicles, and preventing premature graying. This powder contains hand-picked organic ingredients and is safe for consumption. It fights free radicals inside the body and brightens skin tone by removing tan, fading away dark spots or scars while adding a natural glow.
Pros
100% organic
Micro-fine powder
Cruelty-free
Vegan
Cons
None
Price at the time of publication: ₹229
The antioxidant-rich Elemensis Naturals Pure & Natural Amla Powder is a powerful scalp treatment. It helps control dandruff, relieve dry scalp issues, and strengthen follicles to promote healthy hair growth and reduce hair loss. This treatment straightens the hair and control frizz. It is made with pure ingredients that provide deep nourishment to your skin, reduce enlarged pores, and fade away dark spots or pigmentations. In addition, it also works as an exfoliator to slough away dead skin cells, leaving the skin refreshingly clean.
Pros
100% natural
Preservative-free
Chemical-free
Cruelty-free
Vegan
Additive-free
Cons
The 100% pure Herbalvilla Amla Powder is made from freshly dried amla fruit and is free from all chemicals and preservatives. Drinking this powder mixed in water offers several health benefits like improved digestion and immunity, healthier eyes, and enhanced collagen production. It is rich in iron and vitamin C, strengthens hair roots, and stimulates follicles to promote healthy and lustrous hair growth. Vitamin C in the powder brightens skin tone and gives your skin a smooth, youthful appearance. This powder can be mixed with curd and honey to exfoliate dead skin cells and cleanse the skin deeply.
Pros
100% natural
Edible
Non-GMO
Paraben-free
Sugar-free
Preservative-free
Cons
Price at the time of publication: ₹372
The GMP-certified Jain Amla Powder is 100% vegan and free of harmful parabens. This superfood is rich in vitamin C and other nutrients that have numerous health benefits. It has anti-inflammatory properties. This natural anti-aging powder enhances skin elasticity while nourishing your scalp to promote hair health and growth.
Pros
Edible
Blood purifier
100% natural
Cruelty-free
Vegan
Paraben-free
Cons
Price at the time of publication: ₹372
The Khadi Natural Organic Amla Powder is made from pure ingredients and offers a complete solution for all hair-related issues. This natural conditioner nourishes your hair from the roots to the tips, keeping it soft and silky. It cleanses your scalp deeply to control all scalp problems like dandruff and strengthens the follicles to promote healthy hair growth. It is also effective in combating premature graying by maintaining the natural color and hair shine.  This powder is a rich source of vitamin C that promotes overall hair health and effectively removes product build-up.
Pros
Cons
None
The 100% natural MR Ayurveda Amla Fruit Powder has an organic formula to promote hair health as it is packed with the goodness of vitamins and proteins. It provides nourishment to your hair from root to tip, leaving it soft and glossy. This natural hair conditioner smoothes hair texture to keep it frizz-free and manageable. It is a powerful solution for dandruff, itchiness, and hair loss. This organic powder detoxifies dull, tired skin to deliver brightening effects. It fades away dark spots, pigmentation, and scars while enhancing elasticity. This edible powder has numerous nutritional benefits and is effective in improving digestion and controlling blood sugar.
Pros
Cons
None
Price at the time of publication: ₹275
The nourishing Pure Herbology Amla Powder is packed with powerful antioxidants and vitamin C that resolve various skin and hair conditions and improves digestive health. This herbal powder is an effective solution to smoothen hair texture, control frizz, and prevent flyaways. This ayurvedic treatment brightens skin tone as it exfoliates dead skin cells and removes tan. When taken orally, it rejuvenates the digestive system by flushing out toxins and relieving constipation. The anti-inflammatory effects of this powder make it an optimal solution for various skin and hair concerns.
Pros
100% natural
Cruelty-free
Vegan
Cons
None
Price at the time of publication: ₹179
The revitalizing Natural Health Products Amla Powder promotes strong and healthy hair growth while soothing scalp conditions like dandruff and flakiness to prevent hair fall. It also conditions your hair and maintains its natural color. This preservative-free powder is packed with antioxidants and vitamin C to enhance skin complexion while increasing elasticity to keep your skin soft and supple. The antibacterial properties of this powder combat acne breakouts while reducing irritation and redness. This amla powder is an effective cleanser that gives a rich glossiness to hair and brightens skin tone.
Pros
Preservative-free
Artificial color-free
Cons
Price at the time of publication: ₹179
The high amounts of ascorbic acid in the Etheric Amla Powder make it rich in antioxidants to fight free radicals. It is made from 100% natural amla fruit, and it effectively stimulates the follicles to enhance hair health and prevent hair loss. It nourishes your scalp to control dandruff and inflammations, leaving lustrous hair. It can be combined with other herbal powders to achieve various therapeutic benefits like preventing premature greying and enhancing hair color and volume.
Pros
Cons
Price at the time of publication: ₹150
The iron and vitamin C-rich HA&F 29 Amla Powder is a powerful hair and skin treatment. It is effective in maintaining the natural color of the hair and enhancing hair pigmentation. This conditioning powder controls dandruff and also combats head lice. It strengthens the roots to help prevent hair loss and promote the growth of healthy hair. It works well with honey and rose water as a face mask to smoothen skin tone and reveal a radiant complexion.
Pros
Anti-frizz
Lilltle goes a long way
Value for money
Cons
The anti-aging properties of the Online Quality Store Amla Powder make it effective in repairing damaged skin and preventing the formation of wrinkles and fine lines. This vitamin-rich powder keeps the skin glowing and well-moisturized. It is packed with antioxidants and minerals that protect your hair from everyday damage and promote the growth of strong thick hair. This nourishing product controls dandruff and nourishes the scalp while improving pigmentation to retain your hair's natural color.
Pros
Preservatives-free
Ammonia-free
Pesticides-free
PPD-free
Cons
None
  Before going ahead to the benefits of Amla powders, let us tell you about the four different types of amla fruits found in India used to make the powders.
Types Of Amla Powders
Chakaiya: The chakaiya amla can be grown in different climates and has a high yield every alternate year. It has smaller and more fibrous fruits as compared to other varieties. It is widely used to make pickles, preserves, candies, juices, jams, and powders.
Banarsi: This variety matures earlier than the others and has a shorter shelf life. It is mostly used in powder form and not so much for culinary purposes.
Francis: The Francis or Hathijhool amla mostly gives high yields that are frequent, making it a good choice for manufacturers of all amla products.
Wild Himalayan: This strain yields a small-sized fruit and is only grown in cold climates like the Himalayan region. It has a low yield, and therefore, it is mostly used for making pickles and powders.
Amla is considered to be a superfood with multiple benefits for all parts of the body. Read the next section to learn its many benefits.
What Are The Benefits Of Using Amla Powder?
 The high vitamin C in amla makes an immunity and metabolism booster.
It has powerful antioxidant properties that fight free radicals and prevent cell damage.
Its anti-inflammatory properties fight infections of the respiratory tract.
The high fiber content in amla boosts digestion and alleviates constipation.
It improves overall hair health by controlling dandruff, preventing hair loss, slowing down premature greying, and stimulating blood circulation on the scalp.
Amla keeps your skin hydrated and healthy. It has anti-aging benefits and is used to prevent the appearance of fine lines and wrinkles.
Amla powder can be used in several ways, and the method of use depends on the purpose you are using it for. It is important to know how to use it to get the maximum benefit from amla powders. Follow the methods given below to harness its powers.
How To Use an Amla Powder
Health Supplement: To use it as a health supplement and promote general wellness, add half or one teaspoon to a glass of water or juice and stir vigorously. It is advisable to mix it with juice to camouflage the taste. It is usually recommended to consume amla in the morning on an empty stomach before breakfast or with a bowl of fruit.
Skin: To beautify the skin, mix amla with other herbal powders or fruits extracts. To add a glow to the skin and exfoliate dead cells, mix it with honey. When mixed with papaya, curd, and rose water, it brightens and tones the skin.
Hair: Hair health is greatly enhanced by using amla powder mixed with henna, coconut oil, or eggs. These mixtures may control dandruff, maintain hair pigments and nourish the scalp.
While choosing an amla powder, you need to pay attention to certain features that will help you harness the maximum benefits for your skin and hair while considering health concerns. Here are some factors to consider while choosing the best amla powders.
How To Choose The Best Amla Powder
Purity: Ensure the powder is not mixed with any additives, which may decrease its efficacy. It should be free of preservatives and chemicals.
Packaging: Packaging is important to keep the nutrients intact. This is especially important in hot and humid weather conditions. The powder can get lumpy if it absorbs moisture from the air.
Purpose of use: If you will use it as a health supplement, it is important to check if it is edible and for internal use. You can use amla powder as face and hair masks.
Other considerations: Ensure you follow the recommended dose mentioned on the package, as over-consumption can have adverse side effects. It should be stored in a cool, dry place and away from the reach of children and pets.
Our hectic lifestyles and the various environmental stressors take a toll on our health and our skin and hair. Including amla powder into your daily regimen as a health supplement or hair/skin care mask is the easiest and quickest way to reverse a lot of the daily damage. So, go ahead and choose from our list of best amla powders in India to revitalize your skin, hair, and body.
Frequently Asked Questions
Are there any unique or lesser-known uses of Amla powder outside of traditional medicine?
Along with the topical application on skin and hair, amla powder is also highly effective in boosting mental health, enhancing cognitive function, and promoting weight loss. It improves stamina and increases the body's ability to fight against infections and diseases.
Can you provide a comparison between Amla powder and other similar herbal powders?
Haritaki and bibhitaki are two herbal powders that are popularly used in conjunction with amla powder. Haritaki improves digestive health, bibhitaki aids in the formation of new blood cells, and amla acts as a potent antioxidant and a cleanser. This triphala (three fruits) powder is highly effective in improving health and treating hair and skin problems.
What are some lesser-known antioxidants or compounds found in Amla powder?
Amla is loaded with antioxidants such as ascorbic acid, gallic acid, and phenolic compounds that detoxify the body and support optimum health and immunity.
Recommended Articles