21 Angel Tattoo Designs That Everyone Should Try
Because nothing symbolizes devotion, hope, and guidance better than an angelic tattoo design.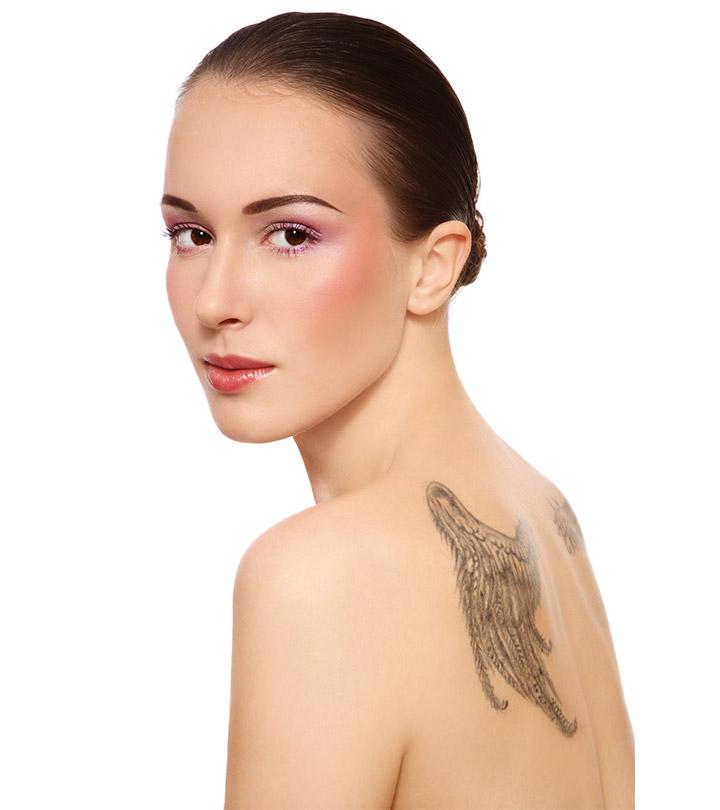 Angels are one of the most popular tattoo design options for many people, especially beginners. Angels are adorable heavenly beings, and we wouldn't be surprised if they become your top choice for getting your next tattoo!
According to most faiths and religions, angels are spiritual symbols of devotion, hope, trust, and love. An angel of death can represent sorrow, pain, and rebellion. The warrior angel can signify a source of strength to a human being or even act as an inspiration to overcome any obstacles in life. In most religions, especially Christianity, angels also symbolize a message from God, acting as protectors and guides in darkness. In Chinese angelology tradition, seraphim are among the highest order of the nine celestial hierarchies that symbolize light and purity.
Let us now look at a few angel tattoo designs that will inspire you to get inked.
Angel Tattoo Designs That Will Make You Want To Get Inked
1. Angel Wing Tattoos
There can be a plethora of meanings associated with angel wing tattoos, like protection, guidance, and even duality. Duality can mean that the wings can represent both the good and bad. Most of the time, people choose to get the angel wings tattooed below their nape or on their back.
2. Archangel Tattoo
The word "archangel" is made up of two words: arch, which means "big," and angel, which means "messenger." Michael, the Chief of Archangels, is a popular angel tattoo design because he symbolizes courage and protection. Archangel tattoos look aesthetically pleasing, and many people get them done for cosmetic purposes.
3. Cherub Tattoo
If you are looking for a cute angel tattoo, a cherub tattoo is the way to go. A cherub is a cute and chubby-looking baby angel with wings. This tattoo design is inspired by the ancient religions of the Levant (Judaism, Islam, and Christianity) and can also be associated with heavenly messages. But in more modern contexts, the cherub is also associated with the Roman God Cupid and his ability to spark romantic relationships. These tattoos are very common among beginners who aren't ready to commit to huge tattoos and just want to get a small design inked.
4. Fallen Angel Tattoo
Fallen angels represent rebels and outcasts. Fallen angel tattoos are usually drawn in a way that their faces are buried in the ground, and they look devastated and in pain. You can get a fallen angel tattoo done on your upper arm, forearm, and even your calves.
5. Angel Of Death Tattoo
This kind of tattoo is usually chosen by individuals who believe that all that is in the universe is going to get destroyed someday and all the material things are going to fade away. The angel of death tattoo is a symbol of strength. Most people prefer getting this tattoo design on the sleeve or the forearm.
6. Guardian Angel Tattoo
Guardian angel tattoos are a preferred choice among both men and women. Since these tattoos can be done in a variety of shapes and sizes, they can be worn on any part of the body, including the legs, arms, and back. The design is pretty complex and detailed and looks delicate.
7. Full Back Angel Wings Tattoo
One of the most common choices of angel tattoo designs is the angel wing tattoo. A very smart design like this one takes good advantage of the natural shape of the shoulder blades and makes it seem like the individual possesses wings. It makes for an absolutely enchanting large tattoo design that will definitely turn heads anywhere you go.


Trivia
Hearts and angels are among the most popular tattoos in the world.
8. Shoulder Angel Tattoo
This design is a wonderful customization of the usual angel tattoos. It is done in black ink and depicts the angel as a bird. It means the individual aims to fly high and scale great heights in life. This tattoo can also be sported on the lower back area.
9. Sketch Angel Tattoo
You cannot go wrong with a sketch tattoo because it adds an entirely different dimension to the design. The above tattoo is the sketch of an angel with blue and pink wings. The blue wings represent courage, faith, and protection, and the pink wings represent love and peace.
10. Wings Of An Angel Tattoo
There are a number of tattoo designs that do not show an actual angel but are just a mere indication of the same. Wings evidently are the best way to do so, while also being aesthetically pleasing. This tattoo here is small and easy to get on the arms, heels, wrists, and even fingers.
11. Water Color Angel Tattoo
A beautiful pattern made using delicate lines and filled with watercolor gives a new spin to the usual black-inked angel tattoo design. Watercolor angel tattoos seem the epitome of beauty, elegance, and feminity, making them a preferred choice of women.
12. Wrist Angel Tattoo
The best part about angel tattoos is how you can get playful with the designs, sizes, and shapes. Wrist tattoos – like this baby angel tattoo – are very cute and are best for people looking to get something small, discreet, and subtle.
13. Angel Of Justice Tattoo
Sometimes, angels can also symbolize a fight between good and evil. This tattoo of Lady Justice with a blindfold, a sword, and scales looks extremely powerful. The blindfold and the scales represent objectivity, and the sword represents the power of justice and reason.
14. Tribal Angel Tattoo
Take any tattoo design and add your own spin to it to make it remarkable. This tattoo is a perfect example of the amalgamation of tribal art with modern tattoo art. The result? This stunning masterpiece!
15. Halo Angel Tattoo
The halo above an angel's head symbolizes holiness, similar to that of saints. A halo is a ring of light around the moon and the sun and is represented by a circle upon the head of the holy body. This tattoo design is minimalistic and beautiful.
16. Colorful Angel Wings
Angel wings are already pretty popular. Adding a bit of color to the wings will only take the design up a notch. The colors make it seem full of life and create a stunning effect. In this tattoo, the colored wings are placed on the back, covering it entirely.
17. Finger Angel Wings
A lot of people prefer getting tiny finger tattoos done. This is a great design to get on the fingers and even the palms of the hands. You can get one done with the first letter of the name of a person who means a lot to you.
18. Angel Wings On The Forearm
A popular quote goes, "God could not be everywhere, so he created mothers." What better way to show your love for your mother than by getting this amazing forearm angel tattoo done? The best part about this design is that it is open to a lot of customization. You can add a word or a phrase along with the angel wings.
19. Baby Angel Tattoo
The innocence and purity of babies is often regarded on par with the purity of angels. In most religious art, angels are represented as babies, usually daydreaming or sleeping. This tattoo shows a baby angel holding a crossbow. It can be placed on the forearm, wrist, or palm.
20. Angel Wings On The Neck
If you don't want your tattoo to get a lot of attention, the back of your neck is a pretty decent choice. It is also good for getting tiny angel tattoos like this one.
21. Cross With Angel Wings
A cross with angel wings symbolizes free spirit, freedom, and faith in God or an eternal power. Adding a cross to the angel wings can show that you are comfortable with your religion and confident in your spirituality. This tattoo is usually worn as a memorial, remembering someone close to the individual.


Did You Know?
People often get an angel wing tattoo to honor the death of someone they loved.
Infographic: 7 Most Popular Angel Tattoo Design Ideas
Angel tattoos are becoming quite popular as they symbolize devotion, hope, trust, and love. As discussed in the article, you can find all sizes of tattoo designs in this theme, which are perfect for beginners. To know about the most popular and creative angel tattoo ideas, check out the infographic below.

An exciting way to express your style is to get a tattoo. Their creative and permanent nature serves as a reminder of the things and emotions that are important to us. These angel tattoo designs are popular as they can signify a range of meanings. You can get them as symbols of serenity, hope, joy, spirituality, pain, or rebellion. While tattoos are fun, remember to take good care of them before and after getting inked. Your skin is susceptible to infections after getting a tattoo. Thus, you'll be able to heal faster after getting a tattoo if you carefully follow those precautionary measures.
Frequently Asked Questions
What does female angel tattoo mean?
A female angel tattoo represents a feminine guardian angel or a memory of a female loved one.
Where is the best place for an angel tattoo?
You can get an angel tattoo on any body part, but usually the forearm is considered the best place for an angel tattoo as it provides better space and prominence.
Are angel number tattoos good?
Yes, angel number tattoos are good. These signify divine power, certain encouragement, or positive affirmation.
What are some factors to consider when choosing an angel tattoo design?
Some factors to consider when choosing an angel tattoo design include the meaning conveyed, the style of the tattoo, placement, and color combinations.
There is no dearth of beautiful angel tattoos for women. See the stunning designs in this video and learn how to get one for yourself.