9 Best Ankle Boots For Walking That Provide Support And Comfort
Bring comfort and style together with boots that go with all outfits seamlessly.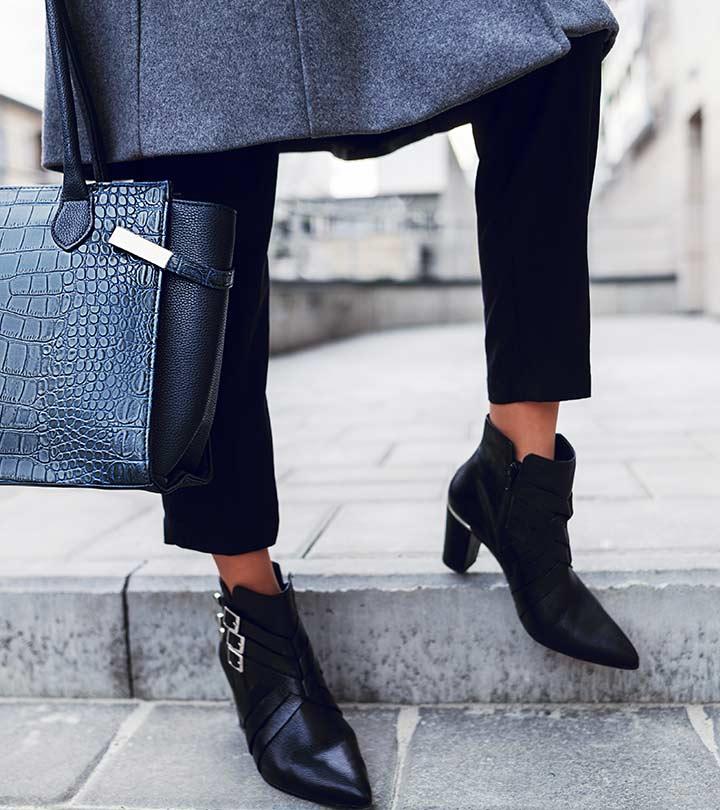 Whether you are someone who loves to walk around everywhere, have a job that demands you to stay on your feet all day long, or a person with sore feet, comfortable shoes are a must. But there might be times when you don't feel like wearing sneakers or flats; there is a perfect middle-ground for you— ankle boots for walking. The best ankle boots for walking should provide enough support, are made of durable material, have sturdy soles, and have cushioned footbeds.
Keeping all these factors in mind, we have rounded up the 9 best ankle boots perfect for walking that are stylish and functional. Let's have a look at the list!
9 Best Ankle Boots For Walking – 2023 Update
These Women's Combat Ankle Boots by STQ feature an ultra-soft padded collar that offers a comfortable fit around the ankle and protects your feet from icy winds. It has a thick rubber outsole, water-resistant PU upper, and a round toe design that offers flexibility. The combat boots also have a cushioned footbed for extra protection, and the non-slip bottom makes it perfect for damp and snowy weather. As the material is 100% vegan fabric, you can buy these sports without feeling guilty or making a dent in the environment.
Specifications
Material: 100% vegan PU and rubber
Color: Brown, Black, and Grey
Pros
Vegan
Maximum comfort
Water-resistant
Breathable insole
Durable material
Easy to put on and off
Cons
Zippers don't slide smoothly
Price at the time of publication: $60.99
These classic Ankle Boots by Lucky Brand are made with superior quality suede leather that adds a touch of vintage elegance to your look. They feature 1.5 inches heel, which is perfect for long walks, as it does not put a lot of stress on your knees or joints. The boot opening measures about 9.5 inches around, thus providing a snug and comfy fit. They are also equipped with a heel loop that allows you to wear them easily, while the metal zipper ensures easy to put on and take off.
Specifications
Material: 100% leather and rubber
Color: 40+ solid colors and Animal Prints
Pros
Snug fit
Comfortable to wear
Easy to put on
Cons
The Rate Ankle Boots by Dr. Scholl's is designed with comfort in mind, making it an ideal choice for long walks. They have a unique perforated design and deep chop-outs in the side for added breathability and seamless fit. The shaft of these boots is ankle-high, and the ankle features a pull-on loop for easy wearing. The sole of these boots is super lightweight and has a flexible construction, thus allowing consistent and pain-free movement. The boots also feature anatomical microfibre cushioning that provides added support and comfort.
Specifications
Material: Memory foam and suede
Color: Black, Dark Shadow Grey, Olive, Wood Brown, and Putty
Pros
Durable
Super flexible
Lightweight
Comfortable to wear
Breathable material
Does not cause blisters
Soft padding
Snug fit
Cons
None
If you are looking for a sophisticated and versatile pair of ankle boots, then take a look at this gorgeous piece by LifeStride! It features smooth linings, soft insoles, and easy flexing soles that ensure comfort even with prolonged wear. The unique buckle and threaded design of these Women's Ariadna Ankle Boots suit every occasion or attire and add a touch of class to your look.
Specifications
Material: 100% synthetic material
Color: Black, Brown, Mushroom, and Slate
Pros
Comfortable to wear
Good fit
Ideal for wide feet
Prevents straining
Breathable material
Durable
Pliable
Cons
None
The high-quality zippered ankle boots by Dr. Scholl's has comfy install technology equipped with anatomical cushioning and ample arch support for prolonged comfort. The boots are super flexible and lightweight, thus ensuring proper comfort during long walks. The upper material is also stretchy and offers a custom fit, while the metal zipper locks the boots in place. The 1-inch textured spray stacked heel prevents pressure or fatigue, and the energy technology insole provides ample shock absorption. This elegant pair of boots can be worn with casual and formal styles and suits every occasion.
Specifications
Material: 100% synthetic material
Color: Black, Chocolate Brown, Olives, Tan Black, and Oyster
Pros
Super flexible
Lightweight
Comfortable
Breathable material
Does not cause blisters
Soft padding
Good arch support
Snug fit
Durable
Cons
These 1 1/2-inch platform-heeled ankle boots by Sorel bring together comfort and style! These boots are shaped to perfection and deliver a seamless fit. They are made of premium quality EVA material, perfect for snowy and rainy conditions. The removable die-cut memory footbed provides ample cushioning and extra comfort. Unlike regular zipper boots, this design comes with elasticated sides that provide a snug fit and easy wear.
Specifications
Material: EVA material
Color: 10 colors ranging from Black, Brown, Beige, and more
Pros
Waterproof
Good cushioning
Lightweight
Seamless design
Solid grip
Extra ankle support
No leaks
Cons
Long walks, especially during travels, can be painful and tiring without the right set of shoes. These ankle boots by Skechers offer a relaxed and roomy fit and allow you to walk the extra mile comfortably. It comes with a zip pad closure air-cooled memory foam for added convenience. The padded collar prevents rubbing, while the textured rubber sole ensures optimal grip.
Specifications
Material: 100% suede
Color: Black, Chocolate, and Mushroom
Pros
Lightweight
Durable
Comfortable to wear
Good cushioning
Ideal for wide feet
Roomy
Does not cause irritation
Cons
Upgrade from your dull-looking footwear to these modern and elegant ankle boots by Skechers. They feature a unique faux fur ankle opening, which prevents chafing while keeping your feet warm and cozy during winters. The heel measures approximately 1.5 inches in size, and the platform measures 0.5 inches. The boots do not strain your joints and feet even with prolonged wear. The bio dry lining and the air-cooled memory foam provides ample cushioning and extra comfort.
Specifications
Material: 100% suede
Color: Black and Chocolate
Pros
Snug fit
Versatile
Durable
Flexible
Lightweight
Cons
None
The Cheyn Zoe Ankle Boots by Clarks is embellished with a shiny button and has a unique rippled design, which is elegant and chic. They feature inside zippers and low-cut toplines, ensuring a snug and secured fit. The moisture-wicking ortholite footbed reduces impact and prevents bad odor, while the durable rubber outsole ensures extra traction and grip. The boot opening measures approximately 9.5 inches in size, making it perfect for individuals with wide feet.
Specifications
Material: Premium leather and rubber
Color: Black, Burgundy, and Dark Brown
Pros
Flexible
Soft on skin
Prevents straining
Breathable material
Durable
Cons
None
These 9 boots offer great traction and good arch support so that you can enjoy comfortable long walks without worrying about pain. Now read the following buying guide to choose the suitable pair –
How To Choose The Best Ankle Boots For Walking?
The first feature to consider is the type of closure you need. Both zippered and pull-on closures have their benefits and flaws. For instance, pull-on ankle boots are much easier to take on and off but do not provide a snug fit, whereas ankle boots with zippered closure are hard to take on and off but give you a seamless fit.
Ideally, you should find boots that fit the anatomy of your feet perfectly. If they are too tight, they are likely to cause friction and blisters, and if it's too big, they can slip off easily.
Your boot's insole should be designed to provide optimal support and comfort. Make sure the footbed can protect, cradle, and support your heel all the time. It should also have antimicrobial properties to keep your feet feeling dry and odor-free.
Make sure your boots are made of high-quality materials. To date, leather remains one of the most popular choices, as they are more pliable and comfortable.
It is not a secret that jamming your toes into a tiny point can be uncomfortable after a while. That's why it is better to choose an ankle boot with a wide or rounded toe box, which allows your feet to breathe and move around easily without chafing.
It is not necessary, but if you are living in rainy or snowy conditions, it is ideal that you choose an ankle boot that is made of waterproof layers to ensure durability and comfort.
If you opt for a higher heel, your knees, back, hips, and forefoot become more stressed. So, if you are looking for boots that will offer comfort during long walks, choose a heel that is not more than 2 inches high.
Your boots must also be made of breathable material. It keeps your feet from sweating and prevents odor-causing bacteria as well.
Why Trust StyleCraze?
Baishali Bhattacharya, the author of this article, is a certified image consultant. She likes reading about different styles and keeps herself updated about every new fashion trend. She conducted an in-depth study about the best ankle boots available on the market. She has also browsed several online forums and user feedback to prepare this list. These ankle boots are durable, provide enough support, and feature cushioned footbeds and sturdy soles.
Frequently Asked Questions
Are ankle boots still in style?
Yes, ankle boots are always in style. When paired with skirts and blazers, they create a subtle yet distinct style statement.
What season are ankle boots for?
Ankle boots are for the spring and fall seasons.
Should walking ankle boots be tight or loose?
Walking ankle boots should not be too tight or too loose. Instead, they should fit snugly around your foot with enough room for your toes.
Are you supposed to wear socks with walking ankle boots?
Yes, wear socks with ankle boots to prevent blisters and chafing.
What kind of pants do you wear with ankle boots?
Cuffing jeans look best with ankle boots. Bootcut jeans also work great with ankle boots.
What kind of socks should I wear with ankle boots?
Mid-calf socks, ankle socks, or no-show socks work best with ankle boots.
Recommended Articles