15 Best Ankle Weights To Boost Athletic Performance – 2023
Keep your calves muscles in check by putting on this specially designed tool. The best ankle weights are a set of wearable weights that can amp up your fitness routine. These weights help in building muscle strength, endurance, and add that extra burn to your calves, and glutes. Its commonly used in pilates, strength training classes, mobility training, or even for general exercise sessions. Know what? These literally look like mini bags that can be attached to your ankle using a velcro belt. Well, other than in the fitness arena, it is used in the medical sector as well.
If you are planning to get one for exercise purposes, make sure to choose the right weight. Confused about choosing the best? Check our detailed list.
15 Best Ankle Weights
The Nordic Lifting Ankle Weights are among the best-rated that offer style, comfort, and effectiveness. These high-quality ankle weights boost athletic performance. They are available as 1 lb, 2 lb, 3 lb, and 5 lb weights. They are made of neatly stitched, sturdy, and fine-graded durable material and are enclosed with industrial-strength adjustable velcro closures to fit the ankles, wrists, legs, and hands with silver reflective trim for intensive workouts. The velcro and straps ensure that the exercise weights stay secured in place. These ankle weights help strengthen quadriceps, hamstrings, and calves and can be worn while walking or running. They also help build core strength, improve overall body performance, and fasten muscle rehabilitation. If you are still unsure, check out this honest review.
Pros
Durable
Breathable material
Handcrafted
Best quality neoprene exterior
Sturdy stitching
Large Velcro closure
Ergonomic design with comfort
Perfect fit
Suitable for both men and women
Come with a handy carry bag
Perfect gear for beginners
Reflective lining for a safe night run
Available in 4 weights
Come with an instruction manual
Cons
The heavyweight stitching may be prone to tears.
Bad chemical smell
Price at the time of publication: $35.95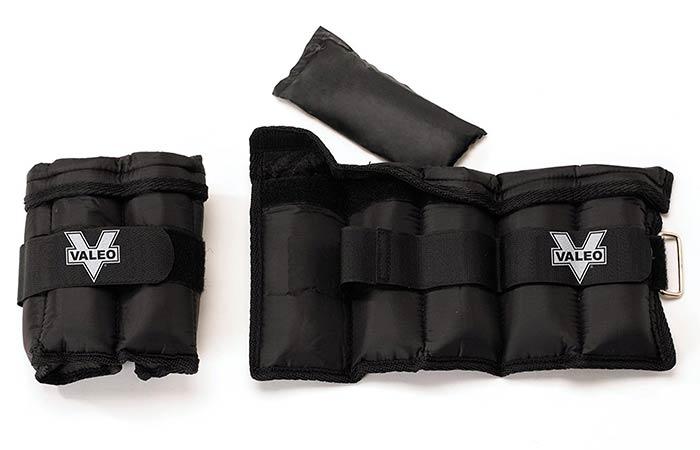 The Valeo Fit adjustable ankle weights are available as 2.5 lbs weights for each ankle. They are finely secured in five individual iron sand bags. You can easily adjust weights from 2 to 10 lbs to build more resistance and increase body fitness. The soft padding with comfortable fabric with an adjustable D-ring double strap Velcro closure make a perfect fit for both wrists and ankles. Click this video to learn more about the product.
Pros
Comfortable padded fabric
5 iron weight, sand-filled pouches
D-ring double strap closure
Adjustable weights
Adjustable straps to fit 3 sizes
Self-gripping Velcro straps
Easy to fit and remove
Durable
Sturdy material
Cons
Huge and bulky
Not for women
Poor quality design
Velcro stitching fails after multiple uses.
Price at the time of publication: $69.99
Take your workout to the next level with ProsourceFit Ankle/Wrist Weights. They are made of neoprene exteriors with nylon straps and filled with iron sand inside. Their soft material wraps easily around without being bulky or showing much and effectively targets the legs and glutes by adding extra resistance. Velcro straps make them adjustable and provide a comfortable, secure fit. These weights help strengthen the arm and leg muscles while rehabilitating injured muscles. They improve muscle tone, giving the limbs a fuller and tighter appearance. The weights range from 1 to 5 lbs, offering slightly slow progress without straining the muscles. The straps are lightweight and compact, and easy to carry anywhere. These versatile exercise tool are ideal for leg, and arm toning, plyometrics, and walking or light jogs.
Pros
Adjustable
Available in various resistance levels
Sweat-absorbing
Long lasting
Versatile
Cons
May not be suitable for wide ankles
Price at the time of publication: $14.5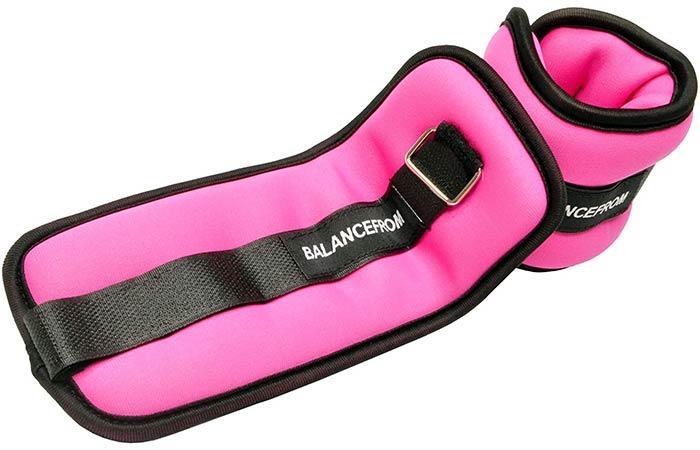 If you are looking for an intense lower body workout to tone and tighten your body, the BalanceFrom Go Fit Adjustable Ankle Weights can help. These are colorful, aesthetically designed, and ergonomically made. They are available from 2-10 lbs in pairs. The durable weights are made of premium anti-chafing neoprene fabric with durable stitching to withstand wear and tear. The moisture-absorbing material is soft, breathable, and comfortable from the inside. The oversized Velcro pads put the weights in place, and they are easy to be removed as well. The adjustable straps can fit any ankle size.
Pros
Durable neoprene exteriors
Soft and comfortable
Double stitching to prevent wear and tear
Moisture-absorbing material
Breathable fabric
Fits all ankle sizes
Adjustable Velcro straps
Fat burning gear
Available in colorful variants
Cons
Sandbags may leak with repeated use.
May smell of petroleum.
Bulky
Price at the time of publication: $8.9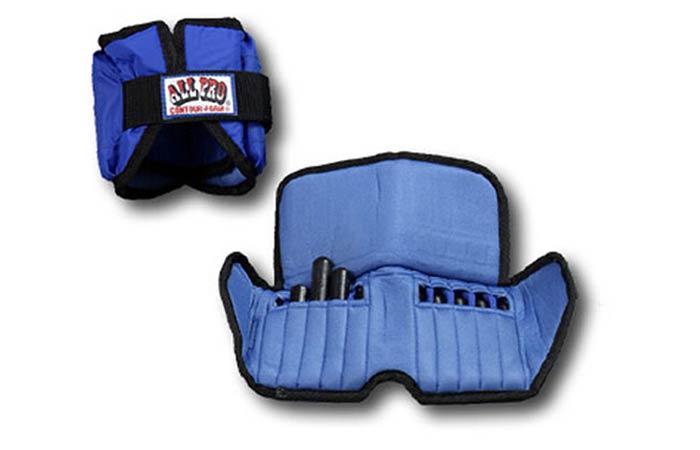 The All-Pro Adjustable Ankle Weights are made of cushioned flaps to protect the ankles from any injury. They can be adjusted up to 5 lbs weight increments. The tough fasteners with the adjustable straps keep the weight steady in position while you work out. You can easily put these weights on and remove them whenever you want.
Pros
Available in four weights
Adjustable straps
Fits all ankle sizes
Cushioned flap for extra support
Easy to wear and remove
Suitable for seniors
Individual pockets to adjust the weight
Cons
Need to be tied along with socks.
Slide away if worn on barefoot.
Unpleasant chemical smell.
Too big for small ankles.
Price at the time of publication: $25.9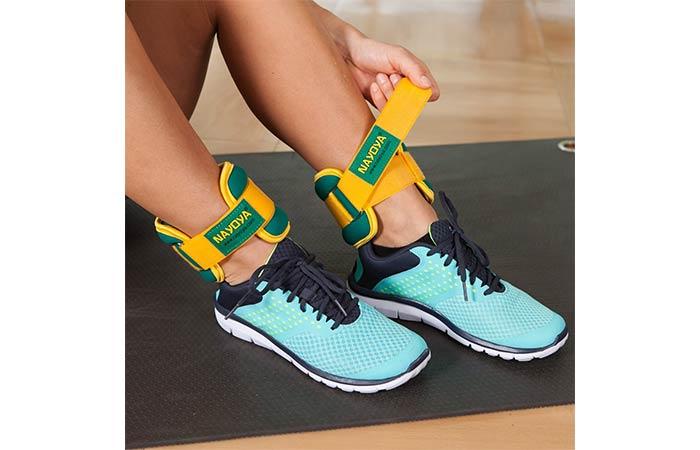 The Nayoya Adjustable Ankle Weights come with adjustable ring closure straps. They are built with premium quality soft material and embedded with neoprene padding for extra comfort and support. With the Velcro straps, you need a second to loosen or tighten the weight as per your convenience for ankle stability. The sleek design of the weights allows them to be carried easily.
Pros
Premium quality material
Fastens securely
Allows for a full range of motion
Carrying pouch for easy mobility
Moisture-absorbing fabric
Abrasion-resistant
Easy to tie around your ankles
Suitable for seniors, adults, and kids
Cons
Could be too light for an ankle weight.
Could be too small for ankles.
Price at the time of publication: $19.97
5BILLION Soft Walking Ankle Weights is made of high-density material. It is filled with high-quality iron sand. The nylon fabric is sweat absorbent and soft. These ankle weights burn calories from legs, ankles, calves, and thighs by muscle activation. The ergonomic design of the walking weight makes it comfortable to wear. This product comes with weight choices of 3 lb and 5 lb. It has adjustable velcro straps.
Pros
Breathable elastic fabric
Non-slide buckle
Adjustable velcro strap
Skin-friendly fabric
Germ-proof material
Cons
Price at the time of publication: $20.99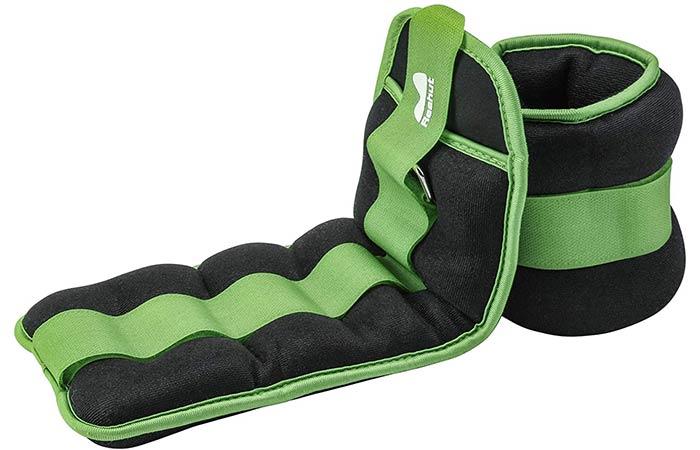 The Reehut Ankle Weights provide a variety of weight ranges suitable for all age groups. Their ergonomic design and adjustable features with vibrant colors make the weights quite appealing. These budget-friendly exercise accessories are available from 0.5 lbs to 5 lbs each. They are the best choice for beginners as well as fitness enthusiasts. They are made of breathable, moisture-wicking, soft, and comfortable cotton fabric with a D-ring and adjustable Velcro straps. The elongated design with smooth edges is super comfortable while performing physical therapy, home workouts, or gym activities.
Pros
Suitable for all ages
Come with a wide range of weight variations
Perfect for beginners and fitness enthusiasts
Made with breathable cotton fabric
Moisture-resistant
Soft and comfortable
Easy to use
Come with adjustable sizes
Abrasion-resistant
Can be used by seniors under doctor's guidance
Great for therapeutic use
Cons
Unpleasant smell
Not sturdy
The sand may leak.
Not wear- and tear-resistant.
Price at the time of publication: $16.99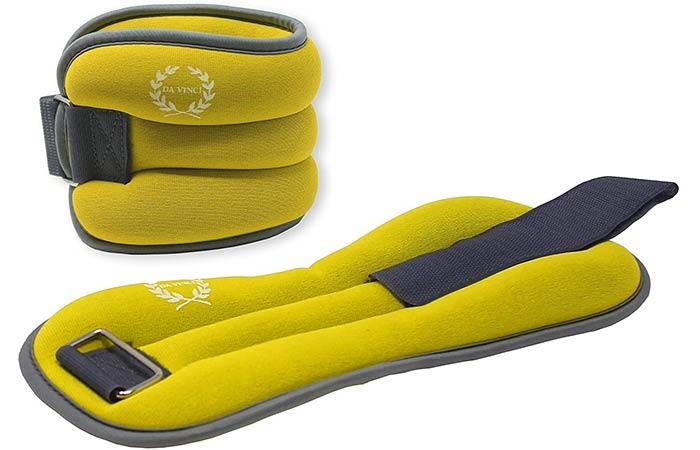 These are versatile, unisex, and adjustable ankle weights that are available in multiple colors and weight ranges (from 2-10 lbs a pair). The Da Vanci Adjustable Ankle Weights are made of a super-soft comfortable cotton cloth exterior. Their adjustable resistance bands with Velcro straps fit perfectly to any ankle size. The high-quality fabric is moisture-resistant and the stretchable band tightens the weights for a comfortable grip.
Pros
Available in different sizes
Made with super-soft material
Breathable
Adjustable and sturdy Velcro straps
Comfortable grip
Available in vibrant colors
Moisture-absorbant
Easy to dry
Easy to use
Cons
Not wear- and tear-resistant.
Unpleasant smell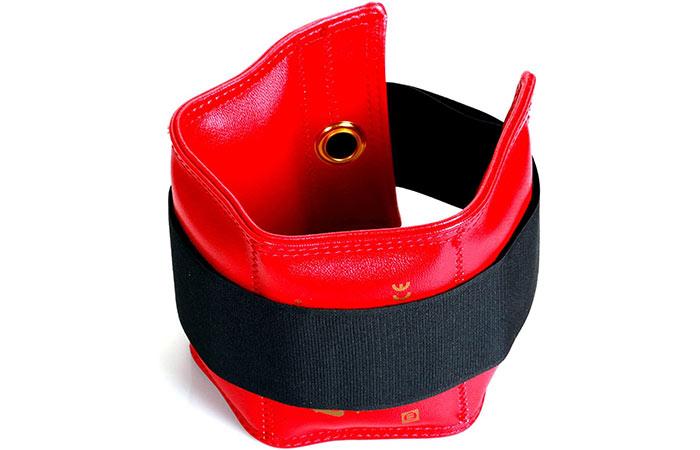 The Cuff Original Adjustable Ankle Weights are best for strengthening the ankle and the core, toning the muscles, and balancing the overall fitness. The portable design is available in 20 color variants, with the weights ranging from 0.25 lbs to 25 lbs. They are made of easy-to-clean vinyl material. The double stitching holds the weight perfectly and prevents wear and tear. The strong, sturdy, durable, industrial-quality hook and loop fasteners provide a comfortable and secured attachment to the ankles. These weights are easy to wash.
Pros
Adjustable weights
Durable
Sturdy
Easy to wash vinyl material
Double stitching
Industrial strength Velcro strap
Easy to wrap around your ankles
Compact design
Breathable material
Designed for beginners and professionals
Suitable for all ages
Available in different sizes
20 vibrant colors
Color-coded weight levels
Cons
Too short for large or swollen ankles.
Smell of plastic
Price at the time of publication: $10.4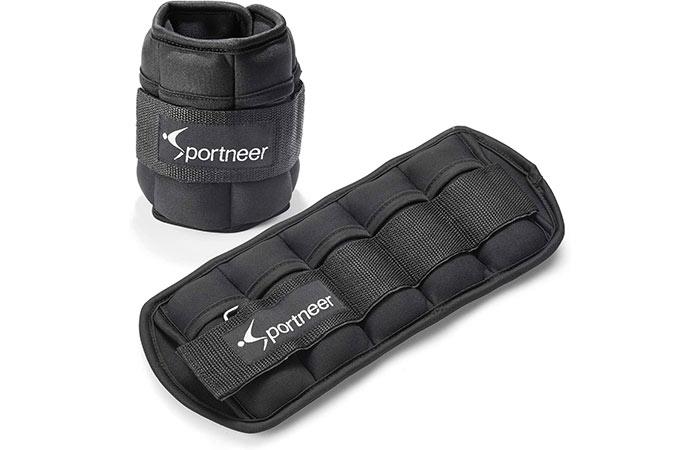 The Sportneer Ankle Weights are heavy-duty sandbags meant for stronger and toned muscles. Their appealing and ankle supporting ergonomic design with ultimate comfort makes them a perfect choice for increased calorie burn and to get a fitter body. You can easily upgrade your workout with adjustable weights ranging from 2 lbs to 10 lbs that come with five detachable pockets. The Sportneer Ankle Weights are made of neoprene breathable material to deter sweat. The breathable fabric circulates air and keeps you dry even during heavy workout sessions. The durable heavy-duty stitch with Velcro straps is wear- and tear-resistant. The D-ring loop helps wear and remove the weights easily. The adjustable Velcro straps with a sturdy attachment keep the weights in place.
Pros
Durable
Breathable neoprene padding
Moisture-wicking property
Heavy-duty stitch
Wear- and tear-resistant Velcro straps
D-ring loop for easy size adjustment
5 removable pockets
Stretchable
Super soft with easy grip
Easy to wear and remove
Cons
Could be too large for ankles of women.
Price at the time of publication: $29.99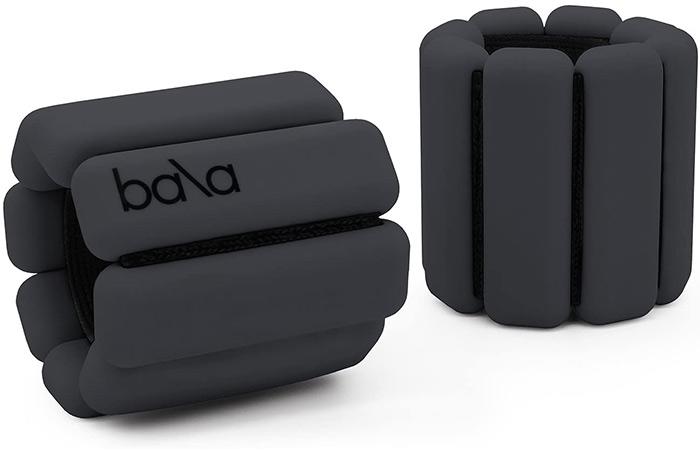 If you want sturdy and stylish gear, the Bala Bangles Ankle Weights could suit you the best. Each weight weighs around 1 pound. It can be used by kids and the elderly as well. The weights are made of high-quality material that also lasts long and gives 360-degree coverage for equal distribution of the weight around the ankles.
Pros
Smooth, soft Velcro straps
Easy to wear
Come with a storage bag for easy transportation
Suitable for all ages
Provide superior comfort
Stylish design
Available in vibrant colors
Cons
Price at the time of publication: $43.99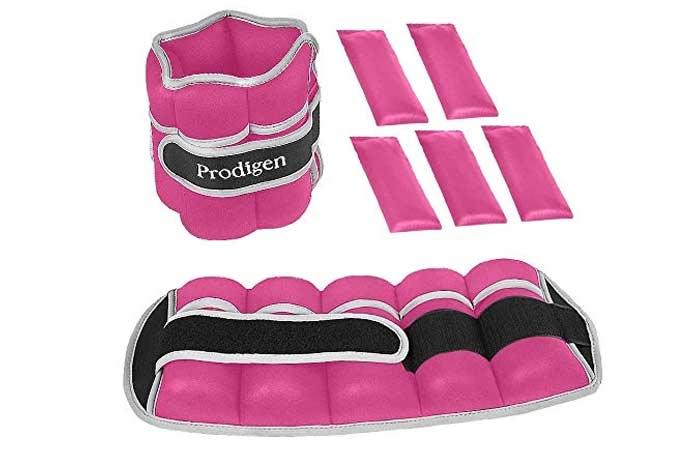 The Prodigen Adjustable Ankle Weights are the best deal for building muscle endurance. The adjustable weights weigh up to 3.5 lbs. You can easily adjust the weight by half a pound to build stamina and strength. The weights are a mix of sand and breathable cotton fabric. They have a moisture-wicking property and keep you comfortable during intense workouts. These fully adjustable straps come with a Velcro fit and can easily fit any size.
Pros
5 individual bags weighing 0.6 lbs
Breathable cotton fabric
Soft and comfortable
Durable Velcro straps
Easy to fit any size
Suitable for any age
Easy to adjust the weight to build stamina
Easy to wear and remove
Available in four different colors
Best customer support

 
Cons
Price at the time of publication: $19.54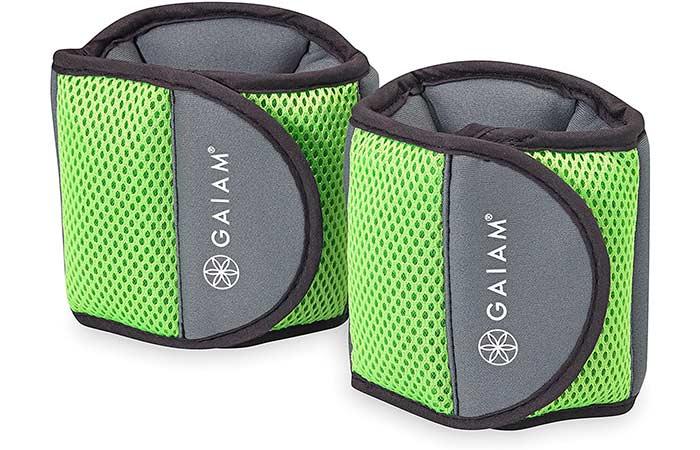 Gaiam is known for its athletic gear and has been serving people for over 25 years with best quality supply. Each of the ankle weights weighs about 5 lbs. They are made with high-quality breathable fabric with durable and sturdy Velcro straps. You can also adjust the size to ensure they comfortably fit your ankles perfectly. They also help prevent any injury during intense workouts.
Pros
Easy to carry
Breathable fabric
Fits any size
High-quality Velcro straps
Durable quality stitching
Comfort-fit fabric
Easily wrap around ankles
Cons
Leakage of iron dust.
Not suitable for smaller wrists.
Price at the time of publication: $24.99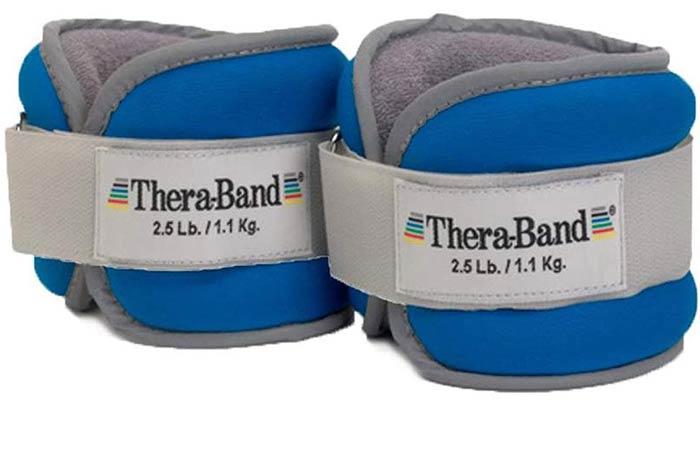 The TheraBand Ankle Weights are made of sleek neoprene fabric from the outside and soft non-abrasive terrycloth fabric from the inside. These absorb sweat and moisture. The weights weigh 2.5 lbs each and can easily be wrapped around your ankles with a durable buckle closure with a Velcro strap. The hook and loop structure pulls the weight perfectly to fit as per your ankle diameter. This ergonomic design helps strengthen muscles, builds strength in the lower and upper body, and improves body balance and stability.
Pros
Fits any ankle size
Wear- and tear-resistant exterior
Soft and comfortable interior design
Non-abrasive
Soft edges
Cons
Poor quality Velcro straps.
Price at the time of publication: $23.71
These are the top-quality ankle weights that help in leg toning, increase core strength, and build endurance and stamina. In the following section, we will discuss the benefits of ankle weights.
Benefits Of Ankle Weights
Adding a progressive overload to your workout using ankle weights burns more calories and offers better weight loss results.
Depending on the exercise you are doing, adding extra weight to your ankles helps tone muscles by shedding the stubborn fat.
The weights add a perfect resistance to your lower extremity workout and prepare you for extra challenges.
Training with ankle weights can help you gain the extra edge by boosting endurance levels and improving joint stability.
Adding weight to your ankles strengthens the breathing muscles.
They develop muscle mass and help boost metabolism.
Practising crunches and knee-to-chest rehabilitation exercises by adding weights to your ankles can help reduce tummy fat.
Hannah Shine, personal trainer, says, "Trust me, incorporating ankle weights into your workout routine is a total game-changer. Not only will they help tone and sculpt your legs, but they'll also take your workouts to the next level by providing an extra boost of resistance."
Before you purchase a set of ankle weights, check for the following factors.
How To Choose The Best Ankle Weights
Be wary of the weight – 1-3 lbs is best for beginners who want to start with cardiovascular exercise or aerobics, 4-5 lbs are apt for jogging, leg squats, leg curls, and leg extensions, 6-20 lbs is specifically designed for professional athletes.
Ensure the fabric of the ankle weight is comfortable, soft, sturdy, and durable. Check for neoprene padding that is easy to breathe.
The Velcro straps should be long enough to perfectly fit your ankles.
The Bottom Line
Ankle weights are extremely important for strength and endurance training in an intense workout session. The Nordic Lifting Ankle Weights are suitable for various exercises and workouts, while the Valeo Fit Adjustable Ankle Weights are a good option for both beginners and advanced users. The ProSourceFit Ankle/Wrist Weights provide excellent value for your money. These weights can help you elevate your athletic performance while making you sturdier and stronger. There are many ankle weights available for beginners as well. It is important to choose ankle weights that are made with breathable material and wouldn't suffocate your body parts. However, it is also recommended to avoid ankle weights that are more prone to tears due to heavyweight stitching.
Why Trust StyleCraze?
The author, Aditi Naskar, has a diploma in health and wellness and writes research-based reviews for fitness products. For this article, she has extensively studied a wide range of products to come up with the above list of the best wearable ankle weights. These products are also endorsed by users through their reviews on different online platforms. These ankle weights help tone your muscles, boost endurance, develop muscle mass, and improve metabolism.
Frequently Asked Questions
Do ankle weights slim your legs?
Yes, ading ankle weights to other leg exercises offers well-toned, slimmer legs.
How long should you wear ankle weights?
Wear ankle weights thrice a week for at least 20 minutes every session.
Is it okay to wear ankle weights every day?
No, wearing ankle weights every day increases your chances of sprains and strains.
Are ankle weights good for abs?
Yes. Adding ankle weights help you target your lower abs and oblique muscles when performing ab workouts and make your core work harder.
What muscles do ankle weights affect?
Ankle weights affect calves, quads, hamstrings, and glute muscles.
Do ankle weights increase your running speed?
Running with ankle weight is not recommended because it negatively impacts your running style and speed and may lead to injury.
Recommended Articles
The following two tabs change content below.