28 Best Anti-Acne And Anti-Pimple Creams Available In India – 2022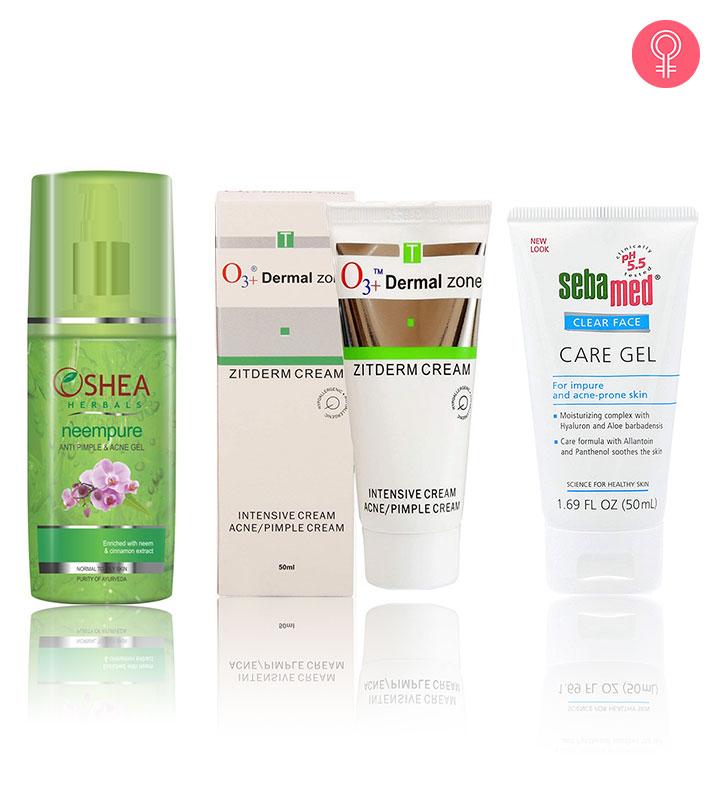 Acne is annoying. It tends to appear right before the worst possible moments – when you have to go for an appointment or meet your friends for brunch, or just before your big date night. But the good news is, you can banish this unwelcome guest easily. To help you with that, I have made a list of the top rated anti-acne and anti-pimple creams that are available in India. Check it out.
28 Best Anti-Acne And Anti-Pimple Creams
Product Claims
This cream works on reducing excessive oil production and keeping your skin pores clean. It prevents acne and pimples caused by excessive oil production. It also refines and tightens your skin pores and gives you healthy and younger looking skin..
Pros
Contains naturally extracted vitamin D
Contains hydrators
Cruelty-free
No parabens
Suitable for normal and oily skin
Cons
None
Product claims
Treat existing acne and pimples and prevent future break out with the Greencure Acnesilk Herbal Anti Acne Cream. It is specially formulated for acne-prone skin. The non-greasy formula blends well on your skin and prevents excess oil. It also enhances the skin texture and reduces the appearance of enlarged pores.
Pros
No side effects
Paraben-free
No added flavor
Steroid-free
Mineral oil-free
Metal toxins-free
Allergens-free
Cons
May experience a slight odd smell

Product Claims
Try out The Pink Foundry Overnight Acne Spot Corrector if you are looking for an overnight solution to treat your acne concerns. It works as a quick spot treatment that clarifies your skin and clears existing breakouts by removing blackheads and whiteheads. The formula contains sulfur, salicylic acid, glycerin, zinc oxide, and calamine that work on your skin without irritating it. While sulfur reduces acne-causing bacteria, gets rid of excess oil, and draws out impurities from the skin, salicylic acid dissolves dead skin cells and prevents pore clogging and breakouts. Glycerin locks in moisture and strengthens the skin's moisture barrier, while zinc oxide and calamine soothe inflammation and absorb excess sebum. This product works overnight on your skin and improves its texture.
Pros
Visible results
Works on blackheads and whiteheads
Non-comedogenic
Hypoallergenic
Paraben-free
Dermatologist-tested
Vegan
Cruelty-free
Pillow-proof
Cons
A mild tingling sensation when applied
Product Claims
This medicated acne spot treatment cream contains 2.5% benzoyl peroxide, which is clinically proven to reduce acne and blemishes. This cream is extremely lightweight and seeps into your skin quickly. It does not overdry your skin.
Pros
Non-comedogenic
Oil-free
No parabens
No harmful chemicals
Mild
Suitable for all skin types (even sensitive skin)
Cons
May not work on adult acne
Product Claims
This product has a moisturizing formula that reduces the proliferation of bacteria, inflammation, and spots. It controls excess sebum production. It reduces blemishes and blackheads and improves your skin texture.
Pros
Hypoallergenic
Non-comedogenic
No parabens
Soap-free
Soy-free
Gluten-free
Oil-free
Cons
May not suit sensitive skin
The Plum Green Tea Clear Spot-Light Gel focuses on reducing acne and acne scars with the help of seventeen botanical actives. It is a quick-absorbing clear gel formula that can combat acne at any stage. This gel is suitable for acne-prone skin. The gel contains green tea, glycolic acid, salicylic acid, neem, tea tree oil, aloe juice, betaine, licorice, and other natural actives that together help reduce acne and acne scars. However, this product is only meant for spot application. Hence, avoid using it all over the face.
Pros
Reduces acne and acne scars
Quick-absorbing
Moisturizing
Vegan
Cons
If you are struggling with acne, you can give this face gel moisturizer a try. This herbal anti-acne face gel crème is a rich blend of skin healing ingredients like neem, tulsi, jojoba, and aloe vera that heal acne and provide oil-free hydration. The gel helps reduce acne-causing bacteria, prevents pigmentation and blemishes caused by acne, and stops future breakouts. It also helps reduce excess sebum production and boosts cell renewal process. It is suitable for all skin types.
Note: A patch test is recommended to avoid ingredient-allergic reactions.
Pros
Contains natural ingredients
Paraben-free
Mineral oil-free
Lightens acne scars
Suitable for all skin types (best for oil/acne-prone skin)
Cons
Might feel a bit sticky on the skin.
Product Claims
This cream reduces and improves the appearance of blemishes and acne scars. It fights acne-causing bacteria, controls sebum production, preventing breakouts, blackheads, and whiteheads. The blend of manuka and kanuka essential oil and other active compounds have antibacterial and anti-inflammatory properties that soothe the skin. This nourishing cream prompts healing of acne-prone skin, photo-aging, and fights radical damage for a smoother and clearer skin appearance. It also lightens pigmentation and prevents further skin discoloration.
Pros
Vegan
pH-balanced
Paraben-free
Cruelty-free
Free from artificial colors
Cons
Thick consistency
Makes face oily
Product accumulates bacteria/fungus if not stored the right way
Product Claims
Vicco Turmeric Skin Cream is a multipurpose Ayurvedic cream that is extremely gentle on your skin. It contains turmeric that has antiseptic and antibacterial properties. This cream clears wounds, rashes, acne, pimples, and any other skin issue(s) that you might have. It also reduces blemishes and scars to give you a visibly bright skin tone.
Pros
Natural extracts
No side effects
Suitable for all skin types
Effective on acne and pimples
Brightens skin tone
No harmful chemicals
Cons
Might make the skin oily during summers
Product Claims
The product claims to be a result of extensive research and relies on naturopathy to treat acne and pimples. It has a unique formula that contains long pepper, neem, red sandalwood, and other herbal extracts that not only reduce acne but also prevent future breakouts. It helps in clearing acne spots and gives you clear skin.
Pros
Clears acne
A little goes a long way
Contains natural extracts
Suitable for oily and acne-prone skin
Cons
Takes time to show results
Product Claims
This cream is enriched with aloe vera extract. It keeps your skin hydrated, soft, and supple and reduces irritation caused by acne. This cream is specially formulated for acne-prone and oily skin. It does not clog your pores, gets easily absorbed, and prevents excessive oiliness.
Pros
Developed by dermatologists
Non-comedogenic
Non-greasy
Perfume-free
Clinically tested
Cons
Doesn't reduce acne spots
Product Claims
The Sri Sri tattva Anti Acne Gel is fortified with neem, tulsi, and ginger. This gel effectively treats acne, pimples, dark spots and reduces scars and dark spots. Neem, being a great antibacterial agent, prevents acne formation and offers a cooling effect. Tulsi has excellent anti-inflammatory and antioxidant properties that aid in minimizing acne, while ginger has antiseptic properties to keep your skin free from infections. You can use it twice a day but do not leave it overnight as it can dry out your skin.
Pros
Cruelty-free
Cooling effect
Reduces acne and acne scars
Safe to use
Travel-friendly
Cons
None
This is an intensely nourishing cream that even tones the skin by removing dark spots, fading acne spots, scars, and hyperpigmentation. The potential blend of lemon, niacinamide, licorice root, and mulberry repair damaged skin, improve skin elasticity, and reduce fine lines and wrinkle appearance, making your skin look youthful and fresh. It is enriched with natural botanicals that smooth and radiate the skin. It is suitable for everyday use for all skin types.
Pros
Suitable for all skin types
Paraben-free
Sulphate-free
Cruelty-free
100% Vegan
Cons
Results may vary depending on skin types
[ Read: Top 10 Medicines To Treat Your Pimples ]
Product Claims
Treat acne without drying them with the Re'equil Acne Clarifying Gel. The gel has a potent combination of AHAs and BHAs along with rice extract and boswellia plant extracts. Glycolic acid exfoliates dead skin cells, hydrates, fights acne, while salicylic acid regulates sebum production, prevents acne breakout, and breaks down pimples for a smooth skin tone. Apart from treating acne, the gel destroys acne-causing bacteria, reduces the appearance of old acne, and soothes skin inflammation. However, the gel does not remove the acne scars.
Pros
Lightweight
Non-comedogenic
Paraben-free
SLS-free
Dermatologically-safe
Suitable for all skin types
Travel-friendly
Cons
Oily skin may notice the effect slowly
Product Claims
This cream by Himalaya promises to fight acne and pimple breakouts while keeping your skin soft and smooth. It has a cooling effect and astringent qualities, which are derived from natural ingredients such as Barbados aloe, silk cotton tree, five-leaved chaste tree, and alum.
Pros
Has antiseptic properties
Reduces inflammation
Hydrating
No parabens
Works on pimples
Cons
Takes a lot of time to blend properly
The skin may feel a bit stretchy after application.
Product Claims
This cream has an innovative formula that combines clove oil with neem and orange extracts. It claims to reduce acne by killing acne-causing bacteria. It has astringent properties that control excess oil production and prevent pore clogging.
Pros
Contains natural extracts
Reduces inflammation
Fast absorbingQuick results
Suitable for all skin types
Blends well
Cons
May not work for everyone (results might differ)
Product Claims
The PhytoRx Clarifying Cream from Lotus contains plant extracts. Other ingredients include thyme, sage, tea tree, and clove. All these have excellent antibacterial and acne-fighting properties. This cream clears pimples and acne, soothes your skin, and prevents further breakouts.
Pros
Contains herbal extracts
Prevents scarring
Works in 4-5 days
Travel-friendly packaging
A little goes a long way
Cons
Product Claims
This is an antibacterial moisturizer that contains chlorophyll, sea algae, aloe vera, seaweed extracts, and gum arabic. These ingredients tighten your skin pores, reduce acne and pimples, and clear blemishes. It claims to give results within a few days of application.
Pros
Contains natural ingredients
No harmful chemicals
No parabens
Mild fragrance
Cons
May not work on everyone (results may differ)
May cause mild irritation
[ Read: Home Remedies To Prevent Pimples And Acne ]
Product Claims
This calming gel from Indus Valley effectively removes dark spots, reduces acne, soothes the skin, and keeps your skin hydrated. The unique blend of powerful ingredients such as seaweed and tea tree minimizes excess oil and opens the clogged pores to remove impurities for glowing and blemish-free skin. Additionally, this gel offers you a supple skin tone and can prevent acne formation with regular usage.
Pros
Lightweight
Non-greasy
Absorbed quickly
Safe for lactating and pregnant women
Cruelty-free
Chemical-free
Suitable for all skin types
Artificial fragrance-free
Cons
Product Claims
Khadi is well known for its all-natural products that are extremely gentle on the skin. This anti-acne and pimple cream promises to clear your acne and blemishes and give you healthy and glowing skin. However, you have to be diligent while using this cream, else you may not get the desired results.
Pros
Contains natural extracts
No harmful chemicals
Spot reduction
Travel-friendly packaging
Cons
Might cause a mild burning effect
Might turn your skin a bit oily
Product Claims
This anti-acne cream reduces inflammation. It claims to reduce the appearance of acne scars and eliminate fine lines, wrinkles, and dark spots on your skin. It helps with sagging skin and keeps your skin toned, radiant, and youthful.
Pros
Wrinkle defense system
Cruelty-free
100% vegetarian
No parabens
Cons
Overpowering smell
May not work on all skin types
Product Claims
This is a herbal product that contains aloe vera, neem, and Rubia extracts. It has anti-inflammatory properties that soothe irritation and the burning sensation caused by acne. It claims to not only reduce inflammation but also clear acne marks. This cream is ideal for oily and acne-prone skin.
Pros
No parabens
Contains 100% natural ingredients
No preservatives
No steroids
No synthetic colors
Cons
May turn your skin a bit greasy
Not lightweight
Product Claims
Nourish your skin with the Organic Harvest Vitamin B Organic Day Cream. The cream is specially formulated with niacinamide and spinach to reduce acne and pimples. It also controls excess oil production and effectively purifies skin pores to prevent skin breakouts. Moreover, niacinamide also helps reduce wrinkles and fine lines, redness, targets hyperpigmentation, and increases the firmness of your skin.
Pros
Non-sticky
Reduce skin breakouts
Organic ingredients
Moisturizing
Anti-aging benefits
Suitable for oily and combination skin
Cons
None
[ Read: The Acne Diet: How To Eat Your Way To Clear Skin ]
Product Claims
If you do not want to put chemicals on your skin, you can try products by Biotique. These contain natural and herbal extracts that won't harm your skin. This cream by Biotique is for spot treatment. It reduces inflammation as well as acne spots.
Pros
Contains herbal extracts
Has a soothing effect on the skin
Reduces redness
Prevents recurrence
Cons
Messy tub packaging
May not fade your marks completely
Product Claims
This is an oil-free gel that prevents acne and pimples by regulating the oil-producing glands in your skin. It contains neem extract that has antifungal and antimicrobial properties. It also contains cinnamon and turmeric extracts that prevent and reduce acne and lighten acne spots and blemishes.
Pros
Reduces excessive oiliness
Lightweight
Non-sticky
Suitable for oily and acne-prone skin
Budget-friendly
Cons
Contains parabens
Contains SLS
May make your skin dry
Product Claims
This cream helps reduce painful acne and inflammation. It contains Myrtacine and other active ingredients that reduce spots and blemishes caused by acne and pimples. It also soothes skin irritation caused by acne and reduces excessive sebum production.
Pros
Clears acne, blackheads, and whiteheads
Cons
Results may take time
May not suit all skin types
Tingling sensation after application
Product Claims
Mamaearth Tea Tree Spot Gel is specially formulated with tea tree, licorice extract, and salicylic acid. Tea-tree has excellent anti-bacterial, anti-inflammatory properties that kill acne-causing bacteria and minimize the appearance of pimple scars. Salicylic acid cleans the clogged pores, reduces blemishes, and dissolves excess sebum, while licorice evens out the skin tone and calms any irritation. Moreover, the gel is free from harmful chemicals and is suitable for all skin types.
Pros
Silicone-free
Paraben-free
Petrolatum-free
Dermatologist-tested
Reduces acne scars
Free from artificial color and fragrance
Cruelty-free
Cons
None
[ Read: 11 Best Acne Face Washes ]
Product Claims
Shahnaz Husain is a renowned name in the world of beauty and skin care. This unique herbal formula is specially formulated for acne and pimple-prone skin. It has healing properties that purify and soothe your irritated skin. It reduces inflammation, unclogs pores, and makes your skin smooth and clear.
Pros
Contains herbal extracts
Suitable for oily, sensitive, and pimple-prone skin
Cons
May not suit all skin types
May irritate your skin (especially if you are allergic to clove oil)
The creams mentioned above work best on acne or pimple-prone skin. But before you buy any of them, consider checking out a few of the essential points listed in the next section.
Things To Consider When Buying An Anti-Acne/Pimple Cream
Ingredients are the most important thing to check before buying an anti-acne cream. Look for a cream that contains non-comedogenic ingredients like tea tree oil, mint, or green tea as they help in balancing the oil on your skin while reducing the chances of pore-clogging to prevent acne and pimples. Additionally, these additives prevent that sticky feeling without causing harm to the natural oils of your skin.
The addition of mild exfoliants like salicylic acid and alpha hydroxy acid work best on acne-prone skin. These ingredients kill the acne-causing bacteria that cause breakouts on oily skin. You can also opt for creams with natural exfoliants that are gentle and harmless to the skin. Lastly, avoid buying creams that have artificial fragrances as they can irritate the skin.
Go for a cream that offers sun protection to prevent the damage caused by harmful UV rays. Acne-prone skin poses the risk of developing photosensitivity due to excessive or continuous sun exposure. Therefore, consider buying a cream with SPF 30 or above. Another advantage of purchasing an acne-prone cream with sunscreen is that it eliminates the need to apply sunscreen separately.
It is necessary to check the quality of the product you are buying for your skin. An ideal acne-prone cream is one that is clinically approved or dermatologically tested as such creams are safe to use and do not cause skin sensitivity.
Cost is another vital factor to take into consideration when buying an anti-acne cream. These anti-pimple creams come in different price ranges and can easily fit into any budget. However, it is suggested to not opt for cheap products as they can damage your skin.
You can't treat acne overnight. It requires consistency and a lot of experimentation. It is tough to tell which product will work for you and which will not. But, before you jump right in, check if the ingredients suit your skin. Do not trust what others say – because everyone's skin works and heals differently. Go ahead and pick one of these anti-acne and anti-pimple creams that comes the closest to meeting your skin care needs. Don't forget to leave your comments,
Recommended Articles