The 15 Best Anti-Aging Eye Creams For Women In Their 50s
Bid adieu to saggy and wrinkly under-eye skin and look as ageless as you truly feel!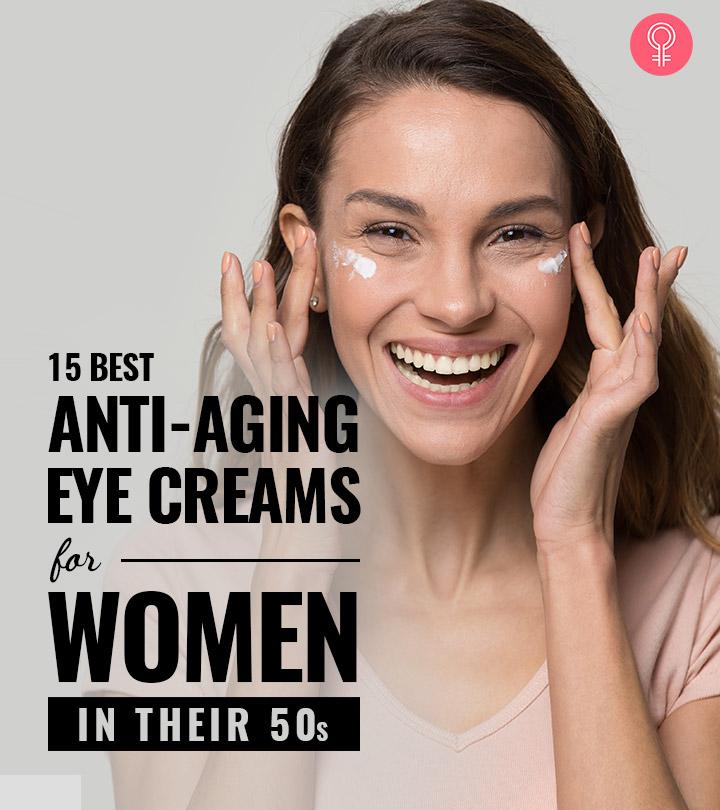 Are you looking for the best scientifically formulated anti-aging eye cream for the 50s? We have just what you need. As your skin ages, the fine lines and wrinkles first appear near your eyes as they are the most sensitive skin on your face. The crepe skin, pigmentation, and droopy eyelids are early signs that you need to supplement your skin with more than what was already provided. Anti-aging solutions do the job of uplifting your skin and plumping it so that your eyes are no longer sagging, crumpled, and dry. Here is a list of 15 creams that make your skin and eyes look ageless.
The 15 Best Anti-Aging Eye Creams For Women In Their 50s
This result-driven eye cream by Olay is enriched by essential vitamins. This formula is enriched with a VitaNiacin Complex that includes vitamins B and E for boosting radiance. This eye cream nourishes and hydrates the delicate skin around your eyes. It gets absorbed really fast and replenishes moisture. It addresses the appearance of wrinkles, helps fade fine lines, reduces dark circles and puffiness, and brightens the skin around your eyes by evening out the tone. Go through this video to check out the detailed review of the Olay Total Effects Anti-Aging Eye Cream.
Pros
Contains green tea antioxidants
Contains vitamins A and C
Oil-free
Non-greasy
Lightweight
Moisturizing
Soft beige tint (helps to conceal the dark circles)
Reduces puffiness
Cons
Contains PEG
The tint might bother some users.
This is a tested targeted gel-cream. It claims to instantly replenish the skin and lock in moisture. This keeps the delicate eye area feeling refreshed, soft, and hydrated. It contains hyaluronic acid, which is a moisturizing agent and can retain up to 1000 times its weight in water. It also contains a Pro-Vitamin Complex and licorice extracts that brightens the skin. Check out the tester's experience in this detailed review of the Cetaphil Hydrating Eye Gel-Cream right here.
Pros
Deeply hydrating
Hypoallergenic
Non-irritating
Gets absorbed quickly
Dermatologist-tested
Sensitive skin approved
Lightweight
Doesn't clog the skin pores
Dermatologist recommended brand
Ophthalmologist-tested
Cons
May not reduce puffiness.
This eye cream is an advanced botanical formula with nourishing ingredients that works on delicate skin, reduces the appearance of fine lines and wrinkles, restores moisture, and lifts the skin for a firmer look. It also softens the look of dark circles and flattens puffiness, making your eyes look fresh and rejuvenated. The vegan formula with natural and organic ingredients is safe for all skin types, including reactive and sensitive skin. To find out more about this product, check out this review video and learn whether the formula offers visible results.
Pros
Vegan
Natural ingredients
Suitable for all skin types
Non-greasy
Lightweight
Gets quickly absorbed
Cons
Might cause a burning sensation in the eyes
This eye cream claims to show a visible reduction in wrinkles and crow's feet within 4 to 12 weeks. It is clinically proven to reduce and repair the signs of aging around the eyes. This retinol eye cream helps rejuvenate the complete eye area and keep it plump so that the eyes look bright and youthful. It is scientifically formulated with a milder strength of retinol. This clinically backed skincare product also contains hyaluronic acid that helps to bind moisture in your skin. It is endorsed by medical professionals for reducing wrinkles, puffiness, and dark circles.
Dr. Schwarzburg, a leading authority in the field of minimally invasive cosmetic and laser medicine in New York City, says, "Keep in mind that there is no cream that will eliminate wrinkles, though creams can reduce their appearance by hydrating the skin and making wrinkles less obvious."
Pros
Contains pure RoC Retinol and exclusive mineral complex
Suitable for all skin types
Clinically proven formula
Non-greasy
Hypoallergenic
Non-comedogenic
Lightweight
Gets absorbed quickly
Dermatologists-recommended
Cons
Might cause a burning sensation in the eyes.
If you are suffering from tired looking eyes and sagging skin around the eyes, Kleem Organics Anti-aging Eye Cream is all you need. This clinically proven eye cream targets wrinkles, dark circles, puffiness, crow's feet, eye bags, and loose skin around the eyes. It is enriched with dermatologist-recommended key ingredients such as argan oil, vitamin E, and hyaluronic acid to nourish and tighten the skin. This advanced firming eye cream is formulated with four potent dermatological ingredients, collagen, matrixyl 3000, caffeine, and plant stem cells to repair age damage and strengthen the skin. As a result, the skin looks brighter and appears naturally smooth.
Pros
Strengthens the skin
Vegan
Cruelty-free
Gluten-free
Paraben-free
Phthalate-free
SLS/SLES-free
Petroleum-free
Purely organic
Cons
This needle-free solution helps get rid of puffy eyes. This eye cream is specially developed for de-puffing your eyes and is inspired by a second-skin technology developed at MIT. It claims to minimize under-eye bags and reduce puffiness and dark circles. It contains caffeine and botanical extracts like Centella Asiatica, birch bark, and green and white teas that help in de-puffing and reducing dark circles. Dr. Schwarzburg, a leading authority in the field of minimally invasive cosmetic and laser medicine in New York City, says, "Fragrance free products are great, especially if you have sensitive skin. Many fragrances contain ingredients that irritate the skin, which is why it is best to do a patch test beforehand to make sure that you don't have a negative response."
Pros
Contains algae and plant extracts
Contains peptides for improving elasticity
Suitable for all skin types
Dermatologist-tested
Ophthalmologist-tested
Hypoallergenic
Safe for those who wear contact lenses
Fragrance-free
Cons
Contains PEG
A bit difficult to squeeze the product out of the tube (due to its consistency).
Once out, the product dries quickly.
The Supergoop! Bright-Eyed 100% Mineral Eye Cream is a 2-in-1 innovative formula that treats skin concerns and protects your eyes at the same time. The blend of pomegranate, caffeine, and probiotics in this mineral-rich eye cream helps brighten the under eyes, target dark circles, and reduce puffiness. In addition, the South African resurrection plant extract provides long-lasting hydration, improving elasticity and skin texture.
Additionally, because exposure to UV rays is largely responsible for signs of premature aging, this 100% zinc oxide sunscreen comes with an SPF of 40 to provide high sun protection. It also contains wild butterfly ginger flower to provide blue light protection and antioxidant-rich green tea extract to prevent free radical damage.
Pros
High SPF protection
Easy to blend
Fragrance-free
Gluten-free
Cruelty-free
Cons
This repairing eye cream helps reduce the appearance of lines and wrinkles. It also depuffs your eye area and keeps it calm and refreshed. You can use it in the morning and at night and apply on both under eye area and the lids. It claims to plump the skin and refine and moisturize the eye area, leaving your eyes looking younger and brighter.
Pros
Paraben-free
Phthalate-free
Allergy-tested
Ophthalmologist-tested
Fragrance-free
SLS-free
Alcohol-free
Mineral oil-free
Non-greasy
Cons
Contains PEG
The consistency might feel too thick for some users.
This eye cream literally wakes your eyes up! This eye cream contains special pigments that brighten your eye area and color-correct it. In addition, this professional-grade cream targets fine lines and wrinkles. The eye cream helps with production of collagen and contains vitamin C to deeply hydrate the skin, make it firm, and illuminate it.
Dr. Schwarzburg, a leading authority in the field of minimally invasive cosmetic and laser medicine in New York City, says, "When it comes to dark circles under the eyes, keep in mind that sometimes the darkness is due to volume loss, and not discoloration, in which case a cream may not be effective."
Pros
Suitable for all skin types
Clinically tested
Sulfate-free
Paraben-free
Formaldehyde-free
No formaldehyde-releasing agents
Phthalate-free
Mineral oil-free
No animal-derived ingredients
Cons
This is a multivitamin eye cream. It contains eight types of peptides, five forms of vitamin C, and cucumber extract. These powerful ingredients have a restorative effect on the skin around your eye area and keep it firm and smooth. It is rich in potent antioxidants, replenishing ceramides, and plant oils that refresh and restore the radiance of the skin around your eyes.
Pros
100% free of essential oils
Silicone-free
Fragrance-free
Clinically studied and tested (independent study)
Paraben-free
Phthalate-free
Formaldehyde-free
No formaldehyde-releasing agents
No harmful chemicals
Cruelty-free
100% vegan
Lightweight
Cons
None
The iS CLINICAL Youth Eye Complex is an excellent eye lotion that fights aging around the delicate eye area. Its main active components include hyaluronic acid, peptides, and copper tripeptides, which increase firmness, elasticity, and hydration in the under-eye area. The eye cream is also infused with strong antioxidants that shield the skin from external stresses and free radical damage. Regular application of the eye cream makes the skin around the eyes look brighter, smoother, and more youthful. All skin types can use this lightweight, quickly absorbing solution.
Pros
Targets early signs of aging
Hydrates the skin
Contains potent antioxidants
Protects the under-eye area
Relaxes skin muscles
Suitable for various skin types
Cons
This anti-wrinkle eye cream claims to visibly smoothen the eye area and prevent fine lines and crow's feet. This is a nutrient-rich moisturizing eye treatment and contains vitamin E and green tea antioxidants to protect the skin from free radical damage. This clinically backed skincare product also contains avocado, sesame, and sunflower oils that deeply moisturize and recondition the skin.
Pros
GMO-free
Cruelty-free
100% vegan
Gluten-free
Soy-free
Recyclable
Fragrance-free
SLS-free
Petrolatum-free
Mineral oil-free
No artificial color
Dermatologist-recommended
Cons
Takes time to show results.
This is a supercharged eye treatment. It contains 10X Concentrated Repair Technology that helps repair the visible impact of aging, such as dull and tired skin around the eyes, UV damage, pollution, and damage caused by blue light. It helps brighten up the eye area, keeps it hydrated, and revives tired eyes. It also works on reducing the appearance of the key signs of eye aging, including fine lines, puffiness, and dryness, brightens dark circles, and offers visible results in just three weeks.
Pros
24 hours hydration
Lightweight gel texture
Contains algae extracts
Visible results
Works on puffiness and wrinkles
Easy to apply
Moisturizing
Cons
Designed to provide relief from dry under eyes, the CeraVe Skin Renewing Eye Cream is an ultra-hydrating eye cream enriched with ceramides and hyaluronic acid. It's MVE Delivery Technology provides a controlled release for long-lasting hydration. The blend of niacinamide and caffeine brightens the under-eye and reduces puffiness. In addition, the proprietary peptide complex plumps the skin to reduce the appearance of fine lines, crow's feet, and wrinkles.
Pros
Lightweight
Delicate
Opthamologist tested
Fragrance-free
Paraben-free
Suitable for contact lens wearer
Dermatologist-recommended
Cons
None
This product contains a Black Tea Complex, which is a blend of kombucha, black tea extract, blackberry leaf extract, and lychee seed extract. These ingredients can help inhibit the damage-causing free radicals and improve the skin elasticity. It also contains noni fruit juice, which is known to retain and increase moisture and hydration levels, thus improving the appearance of fine lines and the skin.
Pros
Sulfate-free
Paraben-free
Phthalate-free
Fast-absorbing
Clinically tested (in vivo)
Visible results
Cons
*The prices provided in this article are based on the latest available information. However, they may vary due to changes in pricing by the seller and/or promotional offers.
Purchasing an eye cream is a matter of personal choice. If you are happy with your current eye cream, there is no need to change. However, if you are using an eye cream without any results, it is time to reconsider your decision. It is not that the product is bad, but it is simply not for you. Here are some tips for picking the best eye cream for your needs.
How To Choose The Best Eye Cream For Wrinkles And Fine Lines
It's all in the ingredients.
Different ingredients have different results. You need to pick the right ingredients for your skin. Look for these ingredients in your cream.
The top ingredients you should be looking for in an eye cream include:
Retinol: It is a type of vitamin A that promotes collagen production and development. It is best for mature skin.
Hyaluronic Acid And Ceramides: These ingredients keep your skin moisturized and supple and help plump up wrinkles.
Antioxidants: Antioxidants like vitamins C and E protect the skin cells and prevent any damage caused by environmental stress.
Peptides: If you have under-eye bags and your eyes look droopy, look for peptides. These boost collagen and elastin development and can firm the skin and lift it up.
Niacinamide: It can help brighten the skin and lighten the dark circles (won't work if your dark circles are hereditary).
You can consult a health professional or a dermatologist and ask about other ingredients like vitamin B3 and sodium hyaluronate to know what works best for you and your concern.
Why Trust StyleCraze?
Shiboli Chakraborti, the author, is a certified skin care coach who loves to review different skin care products. She went through numerous reviews and feedback on multiple forums and websites to curate the list of the best anti-aging eye creams for women in their 50s. These anti-aging eye creams hydrate and lift the skin around your eyes, and plump it so that it is no longer sagging, crumpled, and dry.
Frequently Asked Questions
When should I start using eye creams?
You can start using it in your early 20s. It is best to start before your first wrinkles appear.
What is the best way to apply eye cream?
Apply the eye cream in dots under the eye and over the eyelid and use your ring finger to gently massage in a circular motion around the eyes.
What anti-aging creams actually work?
Anti-aging creams with potent ingredients like peptides, ceramides, retinol, hyaluronic acid, etc. give the best anti-aging effects.
What eye cream should I use in my 50s?
Use an eye cream that is enriched with active ingredients like retinol, peptides, and more, for the best results. Also look for formulations that have restorative effects and can diminish the appearance of fine lines, wrinkles, and puffiness.
Is there any eye cream that actually works?
Yes, there are many such potent eye creams that actually work. Some examples are the Clinique Repair Wear Laser Focus, Olay Total Effects 7-in-One Anti-Aging Transforming Eye Cream, Cetaphil Hydrating Eye Gel Cream, etc.
Do dermatologists recommend eye creams for people over 50?
Yes, dermatologists do recommend eye creams over people over 50. In fact, eye creams are recommended for women from their late 20s and early 30s.
Why you should not put eye creams on eyelids?
Most creams have chemicals that may affect the eye negatively and cause discomfort and irritation if they accidentally get inside the eye.
Recommended Articles