The 15 Best Anti-Aging Eye Creams For Women In Their 50s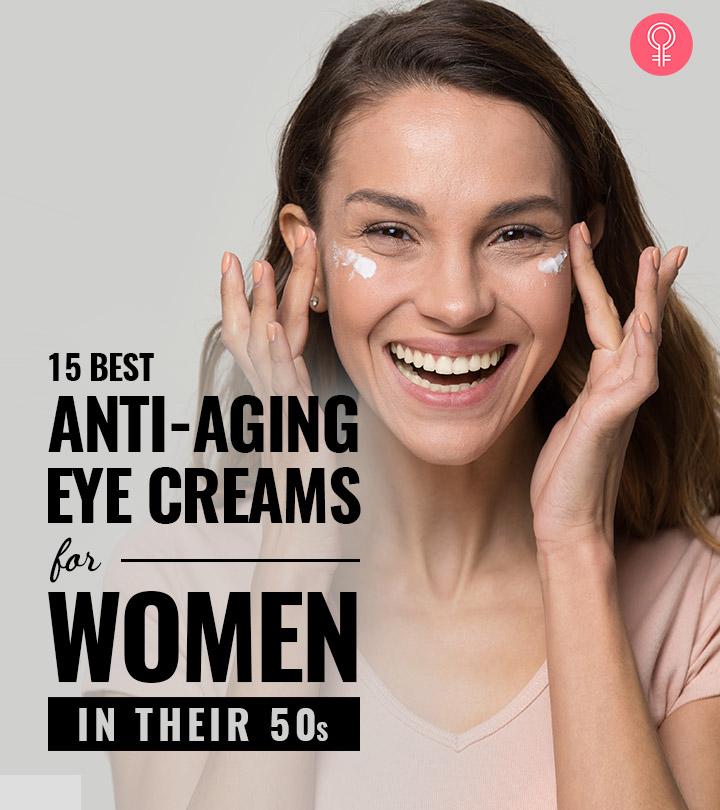 As you age, you will observe some changes in your eye area. You will notice fine lines, deep wrinkles, spots, pigmentation, crepe skin, and drooping eyelids. In your 50s, these become more prominent. This is because the skin around your eye area is extremely delicate, and it loses its integrity fast unless taken care of. That is why you need anti-aging eye creams.
The best anti-aging eye creams have skin-plumping, lifting, and firming effects as they are formulated with eye-opening (pun intended!) ingredients. Here's a list of best anti-aging eye creams. Scroll down and take a look.
The 15 Best Anti-Aging Eye Creams For Women In Their 50s
This eye cream by Olay is enriched by essential vitamins. This formula is enriched with a VitaNiacin Complex that includes vitamins B and E for boosting radiance. This eye cream nourishes and hydrates the delicate skin around your eyes. It gets absorbed really fast and replenishes moisture. It also helps to smooth fine lines and wrinkles, reduces dark circles and puffiness, and brightens the skin around your eyes by evening out the tone.
Pros
Contains green tea antioxidants
Contains vitamins A and C
Oil-free
Non-greasy
Lightweight
Moisturizing
Soft beige tint (helps to conceal the dark circles)
Reduces puffiness
Cons
Contains PEG
The tint might bother some users.
Similar Products
This is a targeted gel-cream. It claims to instantly replenish the skin and locks in moisture. This keeps the delicate eye area feeling refreshed, soft, and hydrated. It contains hyaluronic acid, which is a moisturizing agent and can retain up to 1000 times its weight in water. It also contains a Pro-Vitamin Complex and licorice extracts that brightens the skin.
Pros
Deeply hydrating
Hypoallergenic
Non-irritating
Gets absorbed quickly
Dermatologist-tested
Sensitive skin approved
Lightweight
Doesn't clog the skin pores
Dermatologist recommended brand
Ophthalmologist-tested
Cons
May not reduce puffiness.
Similar Products
This eye cream has a unique formula containing peptide complexes, vitamins E and K, avocado, sunflower, and grape seed oils, along with allantoin. Together, these ingredients help restore the youthfulness of your eye area and reduce dark circles, puffiness, fine lines, and wrinkles. This eye cream keeps the skin hydrated and is suitable for all types of skin.
Pros
Paraben-free
Sulfate-free
Cruelty-free
Gluten-free
No harmful chemicals
Formaldehyde-free
Dermatologist-tested
Hormone-free
Alcohol-free
Lightweight
Get absorbed easily
Cons
Faulty pump (dispenses more product than needed).
Similar Products
This eye cream claims to show a visible reduction in wrinkles and crow's feet within 4 to 12 weeks. It is clinically proven to reduce the signs of aging around the eyes. It helps rejuvenate the delicate eye area, brighten it, and keep it plump so that the eyes look fresh and youthful. It is formulated with a milder strength of retinol. It also contains hyaluronic acid that helps to bind moisture in your skin. It reduces wrinkles, puffiness, and dark circles.
Pros
Contains pure RoC Retinol and exclusive mineral complex
Suitable for all skin types
Clinically proven formula
Non-greasy
Hypoallergenic
Non-comedogenic
Lightweight
Gets absorbed quickly
Cons
Might cause a burning sensation in the eyes.
Similar Products
The D·E·J eye cream is an eye treatment inspired by the Dermal-Epidermal Junction (DEJ). The eye cream is developed using the Pathway Technology and Prebiotic Innovation that aims to rejuvenate the complete eye area, including the eyelids. It helps to visibly reduce skin sagging, hooding around the eyelids, fine lines, and wrinkles. It also guards the skin against environmental stress that might cause premature aging.
Pros
Contains Amino Acid Copper Complex
Contains goji fruit extract, sunflower seed oil, and vitamin C
Suitable for all skin types (including sensitive skin)
Clinically proven
Visible results
Cons
None
Similar Products
This needle-free solution helps get rid of puffy eyes. This eye cream is specially developed for de-puffing your eyes and is inspired by a second-skin technology developed at MIT. It claims to minimize under-eye bags and reduce puffiness and dark circles. It contains caffeine and botanical extracts like Centella Asiatica, birch bark, and green and white teas that help in de-puffing and reducing dark circles.
Pros
Contains algae and plant extracts
Contains peptides for improving elasticity
Suitable for all skin types
Dermatologist-tested
Ophthalmologist-tested
Hypoallergenic
Safe for those who wear contact lenses
Fragrance-free
Cons
Contains PEG
A bit difficult to squeeze the product out of the tube (due to its consistency).
Once out, the product dries quickly.
This eye cream contains SPF that protects the eye area from the harmful effect of UV rays. UV exposure is one of the main causes of aging eyes. This eye cream prevents it and also helps prevent any further damage to the delicate skin. This is a mineral-rich eye cream that prevents photoaging. It is clinically proven to keep the skin hydrated, firm, and reduce the appearance of lines and wrinkles within four weeks.
Pros
SPF 37
Ophthalmologist-tested
Safe for contact lens wearers
Contains oat peptides
Contains natural extracts
Allergy-free
Non-comedogenic
Non-irritating
Cruelty-free
Cons
Contains mica
Leaves a white cast
This eye cream helps reduce the appearance of fine lines and wrinkles. It also depuffs your eye area and keeps it calm and refreshed. You can use it in the morning and at night and apply on both under eye area and the lids. It claims to plump the skin and refine and moisturize the eye area, leaving your eyes looking younger and brighter.
Pros
Paraben-free
Phthalate-free
Allergy-tested
Ophthalmologist-tested
Fragrance-free
SLS-free
Alcohol-free
Mineral oil-free
Non-greasy
Cons
Contains PEG
The consistency might feel too thick for some users.
This eye cream literally wakes your eyes up! This product is inspired by the must-have products for all makeup artists – the banana powder (it is a setting powder). This eye cream contains special pigments that brighten your eye area and color-correct it. This cream targets fine lines and wrinkles. It is a collagen-boosted eye cream and contains vitamin C to deeply hydrate the skin, make it firm, and illuminate it.
Pros
Suitable for all skin types
Clinically tested
Sulfate-free
Paraben-free
Formaldehyde-free
No formaldehyde-releasing agents
Phthalate-free
Mineral oil-free
No animal-derived ingredients
Cons
This is a multivitamin eye cream. It contains eight types of peptides, five forms of vitamin C, and cucumber extract. All these ingredients have a restorative effect on the skin around your eye area and keep it firm and smooth. It is rich in potent antioxidants, replenishing ceramides, and plant oils that refresh and restore the radiance of the skin around your eyes.
Pros
100% free of essential oils
Silicone-free
Fragrance-free
Clinically studied and tested (independent study)
Paraben-free
Phthalate-free
Formaldehyde-free
No formaldehyde-releasing agents
No harmful chemicals
Cruelty-free
100% vegan
Lightweight
Cons
None
This is an advanced eye firming cream that helps repair the signs of aging and fade wrinkles and fine lines around the eyes. The formula of this cream is great for eliminating puffiness and eye bags. It contains powerful ingredients, such as chenopodium quinoa seed extract, caffeine, and butcher's broom extract, which improve the appearance of the eye area, making it look awake, vibrant, firm, smooth, and radiant.
Pros
Dermatologist-developed
Cruelty-free
30-day money-back guarantee
Paraben-free
Phthalate-free
Sulfate-free
Cons
May take time to show results.
This anti-wrinkle eye cream claims to visibly smoothen the eye area and prevent fine lines and crow's feet. This is a nutrient-rich moisturizing eye treatment and contains vitamin E and green tea antioxidants to protect the skin from free radical damage. It also contains avocado, sesame, and sunflower oils that deeply moisturize and recondition the skin.
Pros
GMO-free
Cruelty-free
100% vegan
Gluten-free
Soy-free
Recyclable
Fragrance-free
SLS-free
Petrolatum-free
Mineral oil-free
No artificial color
Cons
Takes time to show results.
This is a supercharged eye treatment. It contains 10X Concentrated Repair Technology that helps repair the visible impact of aging, such as dull and tired eyes, UV damage, pollution, and damage caused by blue light. It helps brighten up the eye area, keeps it hydrated, and revives tired eyes. It also works on reducing the appearance of the key signs of eye aging, including fine lines, puffiness, and dryness, and brightens dark circles in just three weeks.
Pros
24 hours hydration
Lightweight gel texture
Contains algae extracts
Visible results
Works on puffiness and wrinkles
Easy to apply
Moisturizing
Cons
This is an innovative hemp-based night cream. This contains only the best natural and organic ingredients. A blend of these natural extracts works together to keep the delicate area of your face bright and youthful. It contains hemp oil that provides omega-3 and omega-6 fatty acids and is a potent anti-aging solution for dull and tired skin.
Pros
100% organic ingredients (ECOCERT certified)
Cruelty-free
Paraben-free
Sulfate-free
Contains hyaluronic acid and vitamin E
Non-greasy
Gets absorbed quickly
Cons
May cause an allergic reaction.
This product contains a Black Tea Complex, which is a blend of kombucha, black tea extract, blackberry leaf extract, and lychee seed extract. These ingredients can help inhibit the damage-causing free radicals and improve the skin elasticity. It also contains noni fruit juice, which is known to retain and increase moisture and hydration levels, thus improving the appearance of fine lines and the skin.
Pros
Sulfate-free
Paraben-free
Phthalate-free
Fast-absorbing
Clinically tested (in vivo)
Visible results
Cons
[ Also Try – CeraVe Eye Repair Cream ]
Purchasing an eye cream is a matter of personal choice. If you are happy with your current eye cream, there is no need to change. However, if you are using an eye cream without any results, it is time to reconsider your decision. It is not that the product is bad, but it is simply not for you. Here are some tips for picking the best eye cream for your needs.
How To Choose The Best Eye Cream For Wrinkles And Fine Lines
It's all in the ingredients.
Different ingredients have different results. You need to pick the right ingredients for your skin. Look for these ingredients in your cream.
The top ingredients you should be looking for in an eye cream include:
Retinol: It is a type of vitamin A that promotes collagen development. It is best for mature skin.
Hyaluronic Acid And Ceramides: These ingredients keep your skin moisturized and supple and help plump up wrinkles.
Antioxidants: Antioxidants like vitamins C and E protect the skin cells and prevent any damage caused by environmental stress.
Peptides: If you have under-eye bags and your eyes look droopy, look for peptides. These boost collagen and elastin development and can firm the skin and lift it up.
Niacinamide: It can help brighten the skin and lighten the dark circles (won't work if your dark circles are hereditary).
Your skin, including the skin around your eye area, can look youthful even in your 50s and 60s. It's all about how you take care of it. The skin around the eye area is very delicate and needs some extra nourishment. Sleep well, keep yourself nourished, do not stress your eyes, and use any of the 15 best anti-aging eye creams listed in the article. This will help to build the skin's resilience against aging.
Expert's Answers For Readers' Questions
When should I start using eye creams?
You can start using it in your early 20s. It is best to start before your first wrinkles appear.
What is the best way to apply eye cream?
Apply the eye cream in dots under the eye and over the eyelid and use your ring finger to gently massage in a circular motion around the eyes.
Recommended Articles