15 Best Anti-aging Eye Creams For Your 40s In 2021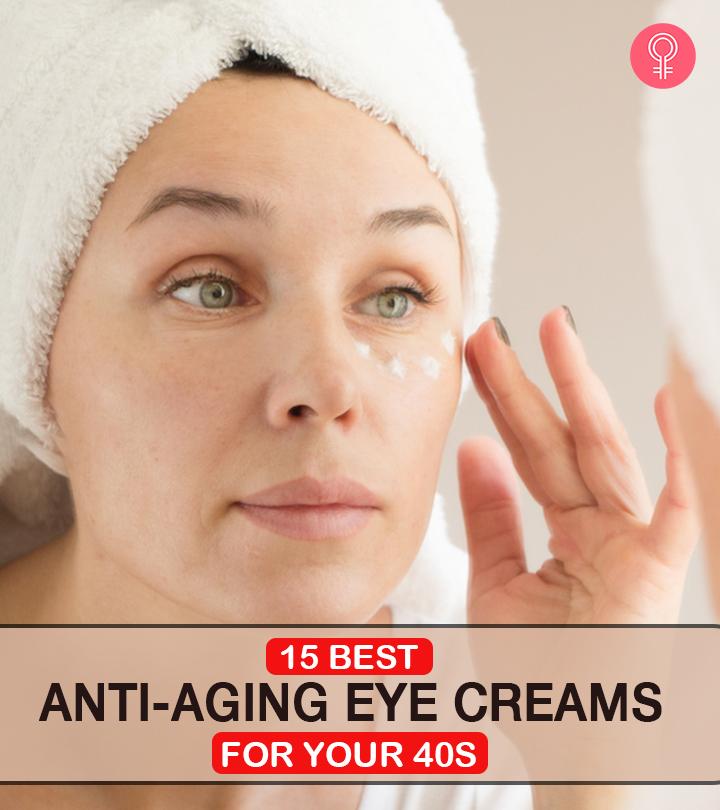 Did you know that the under-eye skin is 40% thinner than the skin on the rest of your face? It also ages faster than the skin on your body. That is why it is important to invest in an eye cream that is specially designed for the delicate skin around the eyes. Factors like sun exposure, stress, and makeup affect the under-eye skin and make it look dull and saggy.If you are in your 40s, invest in a good anti-aging eye cream. Here is a list of the 15 best anti-aging eye creams for women in their 40s. Scroll down to check them out!
Top 15 Anti-aging Eye Creams
The Dr. Brandt Skincare Needles No More Baggage is made of algae and plant extracts. This cream is formulated with Filmatrix Technology, wherein it forms an invisible second-skin film that lightens dark circles and reduces puffiness.It tightens the appearance of eye contours within minutes for a visually smooth look. This anti-aging eye cream contains Centellaasiatica, birch bark, green tea, and white tea that reduce puffiness and decrease the intensity of dark circles. The peptides brighten the under-eye area and restore skin elasticity.
Pros
Fragrance-free
Dermatologist-tested
Ophthalmologist-tested
Hypoallergenic
Suitable for all skin types
Lightweight
Cons
The Kleem Organics Firming Eye Cream targets five visible signs of aging around the eyes –  sagging skin, dark circles, puffiness, wrinkles, and crow's feet. Its natural and organic ingredients,such as plant stem cells, hyaluronic acid, caffeine, green tea, matrixil 3000, and amino acids, smoothen your under-eye skin. The Matrixyl 3000 Technology strengthens the delicate skin around your eyes. It provides 24-hour nourishment with a concentrated infusion of hyaluronic acid.This eye cream hydrates and plumps dry lines, renewing the skin and making it look vibrant.
Pros
Non-toxic
Made of plant-based ingredients
Includes an eye care e-book
Absorbed quickly
Cruelty-free
Non-comedogenic
Paraben-free
Alcohol-free
Non-greasy
Lightweight
24-hour hydration
Suitable for sensitive skin
Cons
The NEOCUTIS LumiereBio-Restorative Eye Cream improves the signs of aging for younger-looking eyes. It contains PSP, glycerin, sodium hyaluronate, glycyrrhetinic acid, vitamin C, bisabolol, and caffeine. PSP has anti-aging properties,and caffeine helps reduce puffiness. Sodium hyaluronatehydrates the skin around your eyes and prevents it from drying out. This line-smoothing eye cream uses growth factors to target the delicate eye area and reduce the appearance of fine lines and wrinkles, crow's feet, puffiness, and under-eye darkness.
Pros
No added colors
Dermatologist-tested
Non-comedogenic
Suitable for all skin types
Cruelty-free
No added fragrances
Cons
This is a 2-in-1 makeup and eye treatment formula that illuminates your under-eye area. It contains light-refracting pearl pigments and Akoya Pearl extract that add radiance and treat thinning skin, blue undertones, and pigmentation.This cream addresses the basics issues of aging skin – wrinkles, dark circles, crow's feet, fine lines, and puffiness. The key ingredient Hadasei-3 along with hyaluronic acid, moisturizes the under-eye skin and makes it youthful.
Pros
Non-comedogenic
Non-irritating
Non-sensitizing
Dermatologist-tested
Mineral oil-free
No synthetic fragrances
Sulfate-free
Paraben-free
Phthalate-free
Urea-free
DEA-free
Cons
Get rid of dark circles and puffy eyes with this luxurious moisturizing under-eye treatment. It contains crushed pearl that brightens the eye area instantly. This lightweight moisturizer reduces wrinkles, expression lines, crow's feet, dark circles, and puffiness with regular use.
Pros
Treats under-eye circles
Reduces puffiness
Relaxes fine lines
Reduces crow's feet
Lightweight
Cons
The Youth To The People Superfood Peptide Eye Cream contains peptides and restorative vitamins, which increase collagen production. It also contains a super food blend of kale, spinach, green tea, alfalfa, and vitamins C, E, and K.This nourishing cream can also be used as a primer with your concealer. The cold-pressed plant extracts contain antioxidants and phytonutrients that elevate your under-eye skin quality.
Pros
Vegan
Cruelty-free
Absorbed quickly
Suitable for all skin types
Paraben-free
Phthalate-free
Sulfate-free
Dimethicone-free
Mineral oil-free
Cons
This a serum-in-a-gel product that contains a combo of 5% pure vitamin C(I-ascorbic acid), 1% phloretin,0.5% ferulic acid, and other skin treating ingredients like potent botanicals. It shields the area around your eyes from infrared radiation, UV rays, and ozone. This eye creamfights the signs of aging, photoaging, and fatigue. It protects the eye contour from oxidative stress, reducing the appearance of dark circles and puffiness. This product diminishes the appearance of eye bags, wrinkles,fine lines, and crow's feet.  
Pros
Paraben-free
Fragrance-free
Alcohol-free
Dye-free
Suitable for all skin types
Cons
None
The SK-II R.N.A Power Eye Cream makes your under-eye area firm and plump. It contains RNArchitect Complex, chlollera extract, alfalfa extract and PITERA that renew and revitalize the area around your eyes. The RNArchitect complex is a blend of PITERA, yeast, and hydrolyzed soy extracts that enhance skin firmness and radiance. Chlorella extract conditions the skin and reduces the appearance of fine lines and wrinkles.
Alfalfa extract is rich in minerals and vitamins that nourish the skin. PITERA is derived from yeast fermentation and contains over 50 micronutrients – like amino acids, organic acids, minerals, and vitamins – that nourish and condition the skin. This anti-aging eye cream makes the skin supple and improves the skin texture by smoothing the appearance of pores and surface roughness.
Pros
Improves skin texture
Smoothens fine lines
Reduces the appearance of pores
Cons
The L'Occitane Immortelle Divine Eye Cream smoothens the eye contour area and reduces puffiness and dark circles.This creamy eye gel gets rid of fine lines, evens out skin tone, nourishes the eye area, and is ideal for crow's feet. It contains organic Immortelle essential oil, organic onager oil, camelina seeds oil, and organic spring honey.
The organic Immortelle essential oil has anti-aging and antioxidant properties that restore the firmness and elasticity of the skin and protects it from environmental aggressors. Organic on ager oil contains omega-6 that nourish the skin and make it supple. Camelina seeds oil is rich in vitamin E and omega-3 and has antioxidant properties. Organic spring honey soothes and nourishes the skin and makes it soft. This anti-aging eye cream helps enhance the beauty of your eyes.
Pros
Evens out skin tone
Ideal for crow's feet
Reduces puffiness
Smoothens the eye contour area
Cons
None
The REN Clean Skincare eye cream contains hexapeptide-11, rosehip oil, and carthame. Hexapeptide-11 is derived from yeast fermentation, and it helps enhance skin firmness. Rosehip oil is rich in vitamin A that rejuvenates the skin. Carthame helps nourish the skin and strengthen and repair the skin barrier. These powerful ingredients help minimize expression lines, crow's feet, and deep wrinkles. It also containsalpha-linoleic acid, which brightens the skin and boosts its moisture level. This eye cream also smoothens, tightens, and revitalizes the eye contour area. The skin looks lifted, firmer, and brighter with regular use.
Pros
Minimizes expression lines
Treats crow's feet
Eliminates deep wrinkles
Suitable for all skin types
Cons
Might cause allergic reactions
The LA MER Eye Concentrate minimizes dark circles and fine lines. It contains hematite, a highly effective magnetically charged mineral that reduces skin discoloration. It also minimizes wrinkles and reveals aluminous complexion.
Pros
Minimizes discoloration
Imparts radiance
Minimizes wrinkles
Reduces dark circles
Cons
The Caudalie Premier Cru Anti Aging Eye cream has ahigh absorption rate without any visible residues. It provides instant brightening and firms up the under-eye skin. The anti-aging eye cream contains resveratrol that firms and lifts the skin, viniferine that brightens the skin and evens out the skin tone, and soft focus powder that smoothens the skin and delivers instant glow. It light ens dark circles and smoothens wrinkles. This hydrating eye cream is suitable for sensitive eyes, and it targets puffiness and fine lines to brighten the eye area.
Pros
Paraben-free
Vegan
Mineral oil-free
SLS-free
Phthalate-free
Phenoxyethanol-free
Cons
The BiossanceSqualane+ Peptide Eye Gel is an all-rounder under eye cream. It not only works as an anti-aging potion, but also great for de-puffing, hydrating, and lightening dark circles. Squalane contains Swiss apple stem cell extract with anti-aging benefits that reduces puffiness, sagginess, and creepiness. The phytonutrients and protein in Swiss apple plump the look of fine lines.This cream also contains peptide, which acts as a structural component of cells, tissues, hormones, and enzymes.
Pros
EWG-verified
Provides intense hydration
Cruelty-free
Non-toxic
No synthetic fragrances
Paraben-free
Phthalate-free
Mineral oil-free
Cons
The FAB Skin LabRetinol Eye Cream contains micro encapsulated retinol, which stimulates cellular and collagen production. It reduces the appearance of crow's feet, wrinkles,fine lines, and other signs of aging. It also contains hyaluronic acid that helps trap moisture in multiple layers beneath your external skin and protects it from damage. Caffeine reduces puffiness, while the micro-pearls blur imperfections and impart glow to the skin. This rejuvenating eye cream features the FAB Skin Saver Complex, a signature blend of allantoin, aloe, ceramides, colloidal oatmeal, and vitamins C and E, which calms, nourishes, and soothes the skin.
Pros
Allergy-tested
Fragrance-free
Gentle formula
Nut-free
Oil-free
Soy-free
Nano-free
Suitable for sensitive skin
Cons
None
The Kiehl's Midnight Recovery Eye is super lightweight and gets rid of puffiness, dark circles, and tired skin. This restorative eye cream containsessential oils and botanicals that improve the appearance of the skin around your eyes and make it youthful.It contains squalane, lavender essential oil, evening primrose oil, and butcher's broom. Squalane is a healing botanical lipid that restores and replenishes the skin instantly.Lavender essential oil soothes the skin while evening primrose oil enhances skin elasticity and boosts radiance.Butcher's broom improves micro circulation, reduces inflammation, and soothesthe delicate eye skin. This night treatment also strengthens and replenishes the under-eye skin.
Pros
Paraben-free
Fragrance-free
Mineral oil-free
Silicone-free
Cons
Understanding Anti-Aging: How Your Skin Changes Tone And Texture After 40s
As you age, dead cells start piling up on your skin's surface and form mounds. These mounds create the tone and texture of your skin, making you look older. The signs of aging are due to the havoc wreaked by these dead skin cells on your skin. The solution is exfoliation.
Try physical and chemical exfoliation, depending on your skin type.  Physical exfoliation works like sandpaper by removing the dead skin cells by rubbing. Chemical exfoliation dissolves the glue gently,holding the cells so that they fall off. When the mounds of cells fall off, they reveal smoother and younger-looking skin.
Here's a guide to help you choose the best anti-aging eye cream for the 40s.
How To Choose The Best Anti-Aging Eye Cream For The 40s
An anti-aging cream should contain the following key ingredients:
Hyaluronic Acid: It is found naturally in the skin. Hyaluronic acid draws in water, which hydrates and plumps up the skin.
Peptides: Copper peptides, oligopeptides, and polypeptides penetrate the skin and build collagen and hyaluronic acid. These structural proteins help to hold the cells and tissues together, like glue, diminishing wrinkles and fine lines.
Retinol: This derivative of vitamin A facilitates collagen production and increases cell turnover. This, in turn, helps reduce the signs of aging. Since the under-eye skin is sensitive, dermatologists recommend products with lower retinol concentrations than regular anti-aging creams.
Sunscreen: Without sun protection, UV rays can break down the collagen in your skin and age it.
Antioxidants: Vitamins C and E, berry extracts, and ferulic acid help reduce oxidative stress caused due to UV rays or pollutants. These antioxidants also diminish the appearance of wrinkles and fine lines.
Things You Need To Know About Eye Creams And Why They Need To Be A Part Of Your Skin Care Regimen
Your face moisturizer and eye cream are different.
There are different types of eye creams – find the one that suits your skin type.
Store your eye cream in the refrigerator to reduce puffy eyes.
Choose a fragrance-free eye cream as the under-eye area is very sensitive.
Try a gel formula instead of cream if you have oily under-eye skin.
For best results, use an under-eye cream both in the day and at night.
Apply your eye cream with your ring finger. This prevents unnecessary tugging on your sensitive under-eye area.
Wrinkles, sunken eyes, fine lines, dark circles, and puffiness are some signs of aging that start appearing as soon as we step into 40s. However, getting older does not mean you have to look haggard.Purchase an anti-aging eye cream as per your skin type and apply it religiously. Order your favorite product from our list and say hello to brighter, radiant, and youthful eyes!
Expert's Answers for Readers Questions
Do I really need eye cream in my 40s?
The signs of aging start appearing when you step in your 40s. Hence, it is important to start caring for your skin to combat this. Investing in a good under-eye cream will take you a long way in maintaining its firmness and youthfulness.
What's the best way to apply eye cream?
Cleanse the area thoroughly, either with a cleanser or cleaning wipes. Apply a coin-sized amount of the eye cream around your eyes and massage it. Repeat this daily before going to bed and wake up to beautiful, youthful skin.
Does anti-aging eye cream work after 40s?
It depends on the state of your skin. If you have well-cared skin, anti-aging skin creams will take it a notch higher and keep it looking beautiful even after 40s.
How can I make my eyes look younger?
Drink plenty of water, eat healthy, sleep for at least eight hours, and apply an eye cream religiously before going to bed. With discipline and lots of TLC, your eyes will look fresher and younger. Also, avoid drinking alcoholic beverages as they dehydrate your skin,making it look fatigued and tired.
Recommended Articles
The following two tabs change content below.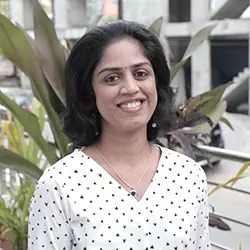 Harini Natarajan
As Chief Editor, Harini sets the tone and editorial direction for StyleCraze to deliver engaging, interesting, and authentic content revolving around women's health, wellness, and beauty. She has over 14 years of experience in content writing and editing for online media. She specializes in the areas of Beauty, Lifestyle, and Health & Wellness and is proficient in Medical Sciences (Biology, Human Anatomy and Physiology, and Biochemistry). Her background in Biomedical Engineering helps her decode and interpret the finer nuances of scientific research for her team. Harini is a certified bibliophile and a closet poet. She also loves dancing and traveling to offbeat destinations.