12 Best Anti-Aging Face Masks To Revitalize Your Skin – 2023
Prevent your skin from aging and revive it in the comfort of your home for youthful skin.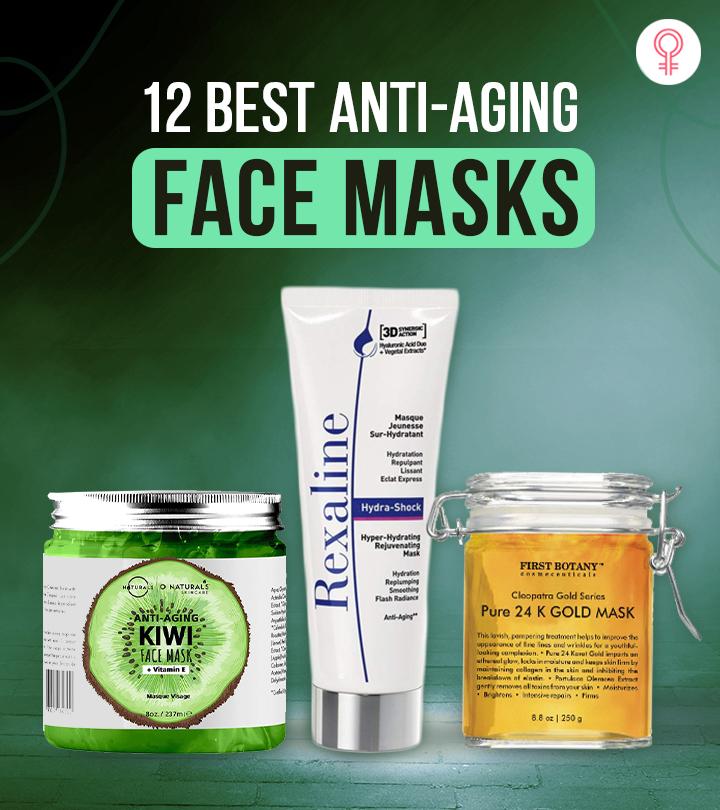 Everyone wishes to have flawless-looking skin, especially when you start aging and your skin needs reinforcements for replenishment. To give your skin the best possible treatment, you should opt for the best anti-aging face mask. Besides offering anti-aging benefits, it offers at-home spa-like treatment and nutrition to your skin. In addition, it helps to target specific concerns like loose and sagging skin. Read further to check out our list of the 12 best anti-aging face masks to incorporate in your skin care routine for a youthful and radiant complexion. Scroll down!
Why Should You Use An Anti-Aging Face Mask?
As you age, your skin loses its elasticity. The collagen production wears off and leads to other issues like dark spots, blemishes, hyperpigmentation, fine lines, wrinkles, and sagging. Hence, you need to invest in products meant for mature skin, such as an anti-aging face mask that aids in elasticity enhancement.
Face masks come in various options from peel-off gels to scrub off creams and serum-infused sheet masks to offer targeted benefits for aging skin. They contain essential anti-aging ingredients like vitamin C, vitamin E, niacinamide, and retinol that not only nourish and hydrate your skin but also help resolve specific issues like fine lines, wrinkles, and blemishes.
Let's take a look at the best anti-aging face masks below.
12 Best Anti-Aging Face Masks
This Dead Sea Mud Mask from Fresh Skin Naturals is rich in minerals and vitamins, which play an essential role in reversing aging signs. It stimulates blood microcirculation, facilitates wrinkle reduction, evens out the skin tone, and clears patches in your skin.
This restorative face mask contains Dead Sea mud and clay that exfoliate dead skin cells and remove excess oil, toxins, and dirt to improve your skin's overall clarity and treat acne. Plant-based ingredients like sunflower seed oil, jojoba oil, aloe vera, vitamin A, and chamomile extracts deeply hydrate the skin and protect it from free radical damage. This mask improves your skin's elasticity, minimizes the appearance of enlarged pores, and diminishes fine lines and wrinkles. According to multiple satisfied reviewers, it delivers visible results on acne-prone skin from the first use.
Key Ingredients: Dead Sea mud, Aloevera, Sunflower seed oil, Jojoba oil, Chamomile extract, and Vitamin A
Pros
Smooth texture
Pleasant smell
Easy to apply and remove
A little goes a long way
Cons
Dr. Schwarzburg, a leading cosmetic dermatologist in New York suggests, "If you have sensitive skin, you should consult with your dermatologist before trying a new product to avoid irritation or discomfort. It also helps to do a small patch test to see how you respond to it."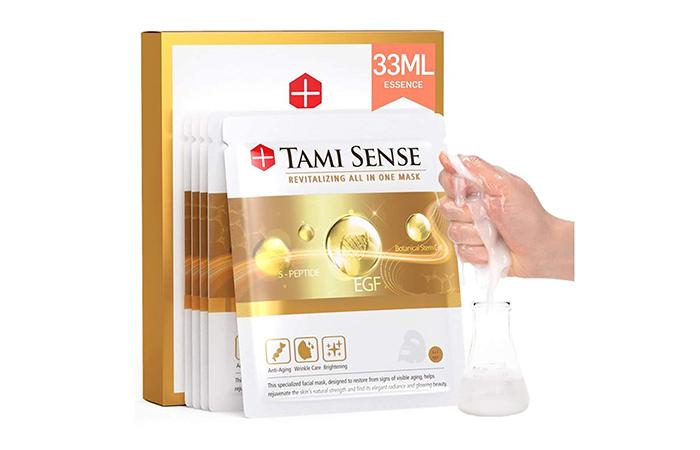 This is a set of five individual masks, each formulated with 33ml of essence. It contains EGF, which is naturally present in our skin but wears off due to aging and UV exposure. This age-defying mask replenishes the EGF content in your skin while reducing and reversing the formation of age spots, freckles, and wrinkles.
It also contains fermented rice extracts, rich in linoleic acid, vitamin B2, and lactobacillus, that clear your skin, boost hydration, and impart shine. The botanical stem cells soothe your skin and accumulate melanin, leaving your skin radiant and moisturized. Each mask is made of environment-friendly and 100% decomposableTencel sheets formulated with eucalyptus concentrations. The brand does not test on animals and is a good choice for those looking for cruelty-free options.
Key Ingredients: EGF, Botanical stem cells, Peptides, Collagen, Rice extract, Lactobacillus, Vitamin B, and Chamomilla flower extract
Pros
Wide sheets
Long-lasting
Eco-friendly
Value for money
Cons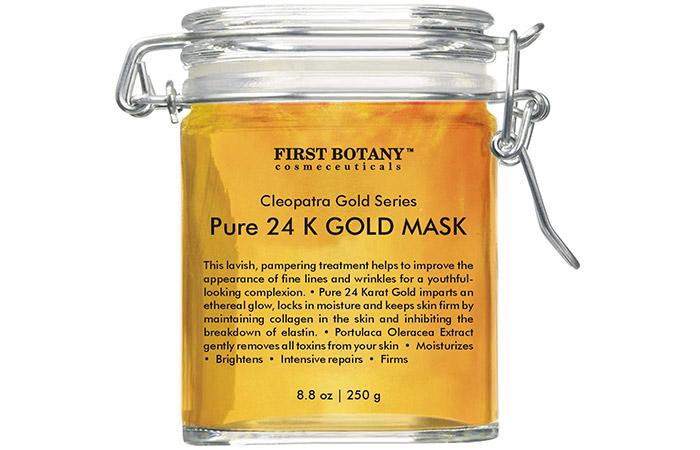 This skin-regenerating 24K Gold Mask by First Botany Cosmeceuticals leaves your skin bright and improves its radiance. It firms your skin while reducing the appearance of wrinkles and fine lines. This intensely moisturizing and luxurious treatment is ideal for mature and acne-prone skin due to its oil-free formula. You can also use it on sensitive skin.
It contains the antioxidant-rich portulaca oleracea extract that removes toxins while reversing skin damage. Trehalose and ceramides deeply moisturize your skin and improve cell regeneration. Vitamin E protects your skin from UV and free radical damage. These ingredients also prevent sagging and help speed up skin barrier repair.
Key Ingredients: 24K gold, Portulaca Oleracea extract, Trehalose, Vitamin E, Hydrolyzed collagen, Sodium hyaluronate, and Allantoin
Pros
Spreads easily
Suitable for sensitive skin
Alcohol-free
Oil-free
Cruelty-free
Value for money
Cons
The gold glitter does not wash away easily.
The White Naturals 24K Gold Facial Mask is an effective anti-aging mask suitable for all skin types, especially dry skin. It increases collagen production in the skin and diminishes wrinkles and fine lines, thus smoothing and firming the skin.
It also has anti-inflammatory properties that treat acne scars, clean clogged pores, and reduce blemishes to reveal cleaner, brighter-looking skin. The antioxidant properties remove toxins from the skin and maintain the skin's health, restoring its elasticity.
Key Ingredients:
Pros
Suitable for all skin types
Clears skin
Gentle
Reveals glowing skin
Non-drying
Cons
May take time to show results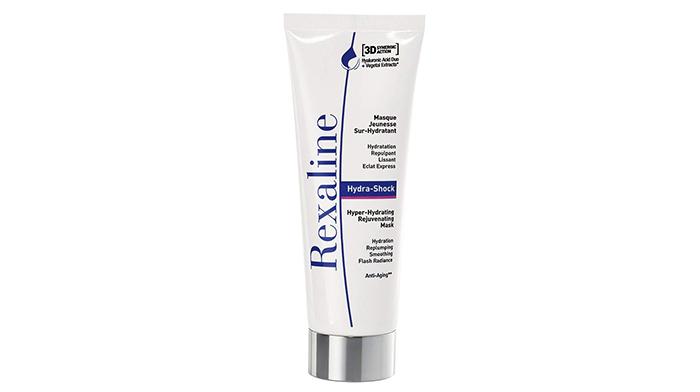 The Hydra Shock Hyper-Hydrating Rejuvenating Mask by Rexaline is a soothing gel creme mask. It is formulated with the goodness of hyaluronic acid and glycerin that replenish lost moisture in your skin, leaving it hydrated and plump all day. This anti-aging face mask for the 30s smoothens wrinkles and fine lines and revitalizes the skin. The super nourishing formula improves the skin's uneven texture and gives a natural glow. It also contains chamomile extracts that relieve redness, itching, and discomfort.
Key Ingredients: Hyaluronic acid, Glycerin, and Chamomile extracts
Pros
Smells good
Long-lasting
Lightweight
Cons
May cause breakouts in people with acne prone skin.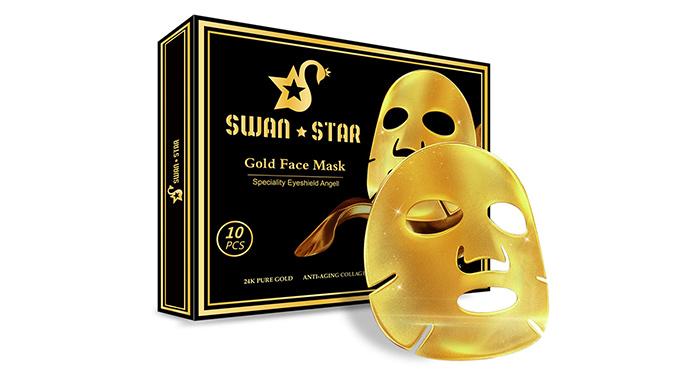 The SWAN STAR Gold Face Mask is infused with brightening, antioxidant-rich 24K nano-active gold that hydrates and detoxes the skin, increases blood circulation, and improves cellular metabolism. It helps reduce fine lines, wrinkles, and crow's feet. The collagen regenerates and stimulates superficial skin cells. This detox mask provides deep hydration, fights free radical damage, firms the skin, and combats aging signs. The set includes10 individual masks for instant rejuvenation.
Key Ingredients:24K gold, Sodium hyaluronate, Centellaasiatica extract, Green tea leaf extract, Chamomile flower extract, and Rosemary leaf extract
Pros
Smells good
Easy to use
Non-sensitive formula
Value for money
Cons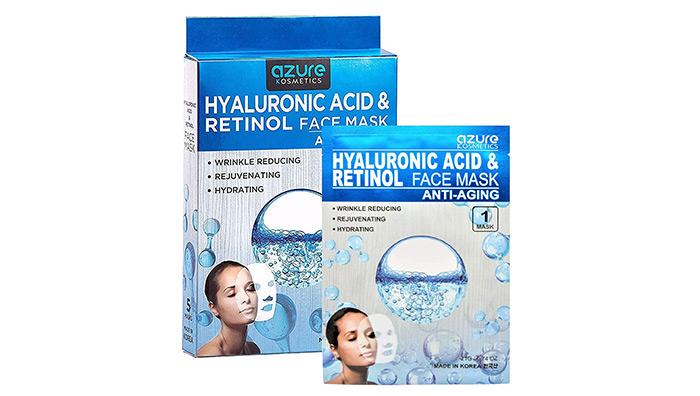 The Hyaluronic Acid & Retinol Face Mask by Azure Kosmetics is infused with hyaluronic acid, collagen, retinol, vitamin E, sunflower oil, vitamin B5, and macadamia oil. Retinol improves elastin and collagen production, reducing the appearance of age spots and wrinkles. Hyaluronic acid replenishes water loss and locks in moisture, leaving your skin plumped. Sunflower oil and vitamin E protect your skin against environmental aggressors and increase blood circulation. Macadamia oil, rich in fatty acids, deeply conditions and nourishes your skin. This set includes five healthy anti-aging face masks that have not been tested on any animals.
Key Ingredients: Hyaluronic acid, Retinol, Collagen, Macadamia seed oil, Sunflower seed oil, Vitamin E, and Vitamin B5
Pros
Hypoallergenic
Gentle
Paraben-free
Cruelty-free
Phthalate-free
Dye-free
Eco-friendly
Vegan
Cons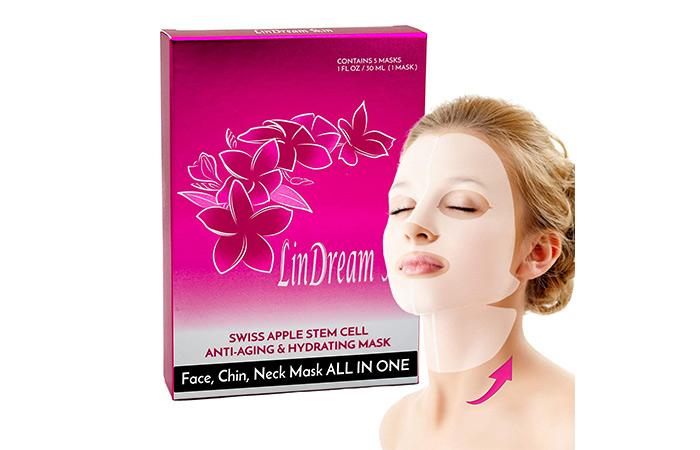 The Anti-Aging & Hydrating Mask by LinDream Skin is a 3D vegan mask for your face, chin, and neck. It is larger than a regular sheet mask and comes as a set of five.
The Asian cosmetic formula enriched with hyaluronic acid and essential vitamins improves collagen production and helps fight wrinkles. The Japanese rose water extracts tone and helps rejuvenate your skin, while the Swiss apple stem cells soothe your skin and leave it radiant and moisturized. This skin-plumping mask tightens your skin, improves elasticity, brightens dark spots, and leaves your skin younger-looking with regular use. It is free of animal testing and is a good option for ethically conscious users.
Key Ingredients: Rose water, Sodium Hyaluronate, Swiss apple stem cells, Provitamin B5, Sakura leaf extract, Mallow extract, and Peppermint leaf extract
Pros
Smells good
Paraben-free
Gluten-free
Synthetic fragrance-free
Formaldehyde-free
Cruelty-free
Cons
None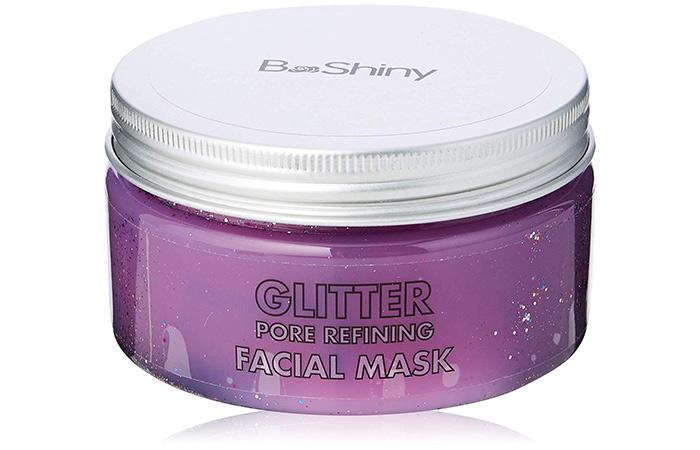 This peel-off glitter mask from BeShiny is formulated with polypeptide collagen. This anti-aging face mask is suitable for oily skin as well as combination skin as it absorbs excess oil and sebum, diminishes wrinkles, fights acne, and minimizes enlarged pores. It strengthens your skin's barrier while detoxifying your clogged pores, absorbing dirt, and purifying your skin. The peel-off mask is super-soothing and moisturizing. It decreases breakouts and gives your face a natural glow. The natural botanical ingredients even-tone and clarify your skin and balance oil production with regular use.
Key Ingredients: Witch hazel extract and Betaine
Pros
Gentle
Easy to remove
Value for money
Cons
The purlisse Watermelon Energizing Sheet Mask is packed with vitamins and minerals. Watermelon, rich in antioxidants, rejuvenates your skin and imparts a youthful glow. Aloe vera and cucumber extracts refine the pores, deeply hydrate the skin, and protect it from free radical damage and prolonged sun exposure. This all-natural Korean sheet mask improves your skin's elasticity, minimizes enlarged pores, and diminishes fine lines. Multiple satisfied reviewers state that this mask offers deep hydration, a dewy glow, and delivers visible results right from the first use.
Key Ingredients: Watermelon, Aloe vera, and Cucumber
Pros
Hypoallergenic
Gentle
Paraben-free
Phthalate-free
Dye-free
Cruelty-free
Cons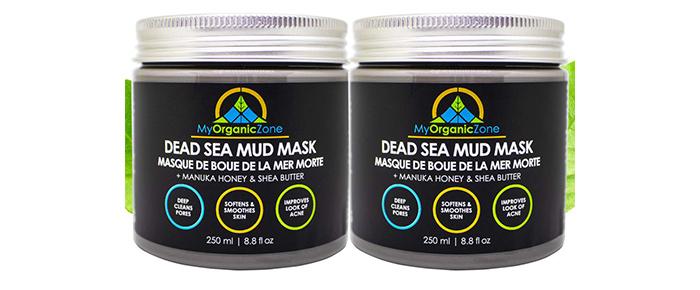 This anti-aging face mask stimulates blood circulation, reduces wrinkles, evens out the skin tone, and softens your skin. It contains Dead Sea mud that absorbs excess oil, toxins, and dirt to clarify your skin and treat acne. The anti-aging mask also contains manuka honey and shea butter that deeply hydrate, condition, and lock moisture in your skin. This pore-refining face mask is gentle and imparts a youthful glow to the skin.
Key Ingredients: Dead Sea mud, Kaolin clay, Organic green tea, Aloe vera juice, Honey, Shea butter, Coconut oil, and Vegetable glycerin
Pros
Gentle
All-natural ingredients
Smells good
Easy to apply and remove
Value for money
Cons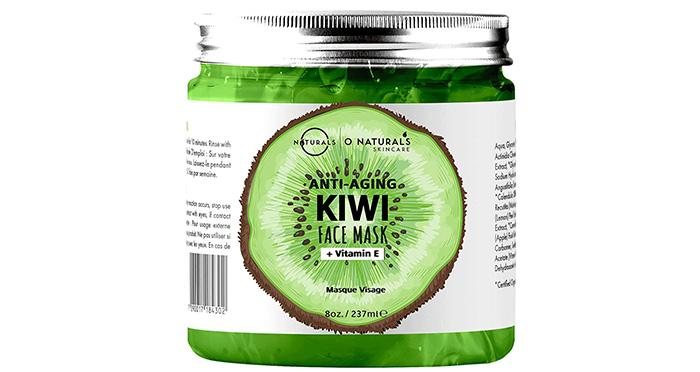 The O NATURALS Anti-Aging Kiwi Mask is enriched with organic ingredients like neem, cucumber, green tea, spirulina, chamomile, kiwi, and lavender. Green tea, chamomile, and cucumber soothe your skin while reversing and preventing acne, irritation, and redness. Kiwi and neem possess antibacterial and moisturizing properties, and they promote collagen production and control excess sebum production. The antioxidant-rich calendula and apple extracts enhance cell regeneration, smoothen skin texture, even out the skin tone, and offer a youthful appearance. Vitamin E brightens your skin and combats dark spots, blemishes, and hyperpigmentation. It protects your skin from environmental and free radical damage. This refreshing, skin-tightening mask also contains hyaluronic acid, which locks in hydration and leaves your skin soft and supple. It has not been tested on animals
Key Ingredients: Hyaluronic acid, Kiwi fruit extract, Apple extract, Neem oil extract, Green tea, Calendula, and Chamomile
Pros
Long-lasting
Relieves irritated skin
Vegan
Petroleum-free
Paraben-free
Cruelty-free
Cons
*The prices provided in this article are based on the latest available information. However, they may vary due to changes in pricing by the seller and/or promotional offers.
Mature skin comes with a variety of skin issues like fine lines, puffiness, inflammation, wrinkles, enlarged pores, and excessive dryness. Each skin concern calls for specific ingredients to address it. The next section lists the ingredients to look for and avoid while choosing an anti-aging face mask for mature skin with different skin concerns.
What Ingredients To Look For And Avoid In An Anti-Aging Face Mask
Look Out For
If you have dry skin, go for masks containing:
Essential oils
Urea
Aloe vera
Lactic acid
Hyaluronic acid
Glycolic acid
Ceramides
Shea butter
If your skin is prone to redness, inflammation, and breakouts, look for ingredients like:
Aloe vera
Vitamin E
Chamomile
Green tea extract
Niacinamide
Cucumber
Centella asiatica
Peppermint extract
If you have fine lines or wrinkles, opt for masks containing:
Collagen
Retinol
Vitamin C
Lactic acid
Hyaluronic acid
Vitamin E
Alpha Lipoic Acid
Niacinamide
If used on withered and damaged skin, a few ingredients can worsen your symptoms instead of treating them. Here are a few common additives in skincare products to avoid.
Avoid
Alcohol: Alcohol removes excess oil from your skin, but it may irritate your skin, strip off its natural moisture, and leave it prone to redness.
Mineral Oil: Mineral oils are comedogenic and irritate your skin. They can worsen inflammation and breakouts, especially if you have sensitive skin.
Silicones: Silicone anti-aging face masks can clog your pores, aggravate acne, and leave your skin looking dull.
Parabens And Sulfates: They can trigger breakouts and cause painful irritation. They strip away the natural oils from your face, making it dry and withered.
Why Trust StyleCraze?
Shiboli Chakraborti, the wordsmith behind this article, is a certified skin care coach with a knack for unearthing products that help with skin issues like aging. She suggests using the above-mentioned anti-aging face masks as she spent hours researching each of them and their reviews on various user forums. These face masks were selected based on the key ingredients, ease of use, skin care benefits, and more.
Frequently Asked Questions
Can I use an anti-aging face mask every day?
No, daily use of an anti-aging face mask can deplete your skin's essential nutrients, leaving it irritated and dull. Instead, use it 2-3 times weekly for the best results.
What is the best time to use an anti-aging face mask?
They are suitable for use at any time of day. However, if you're using a mask to exfoliate or clarify your skin, you should use it at night. But, if you use one that moisturizes the skin, apply it in the morning to get the glow.
Do anti-aging face masks make you look younger?
Face masks nourish the skin, reverse wrinkles, and prevent the production of fine lines, giving you a more youthful appearance.
How long should you leave an anti-aging face mask on?
Anti-aging face masks should only be left on for 15-20 minutes for the best results.
Should I apply toner after the anti-aging mask?
Yes, a toner after applying a mask relaxes the skin, lowers inflammation, and keeps the skin hydrated.
Can I leave an anti-aging face mask overnight?
No, you cannot leave an anti-aging face mask overnight since most of them are for short time use.
Recommended Articles