The 5 Best Anti-Aging Serums For Women Over 50 + Buying Guide
Restore the youthful glow of your mature skin with these dermatologist-tested formulas.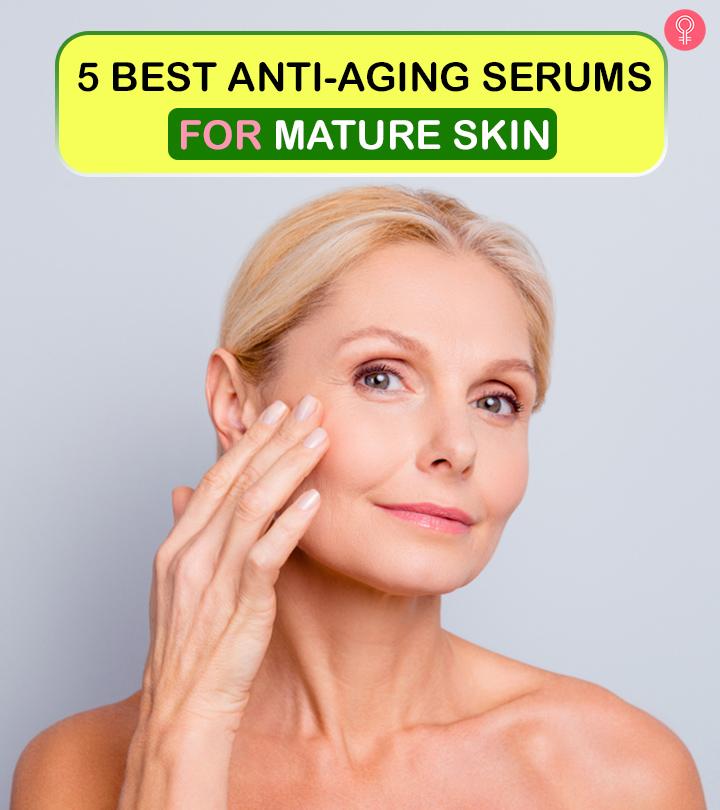 People often battle with age spots and wrinkles as they age. Are you going through the same? Ever wondered which is the best anti-aging face serum for mature women? You must have, but finding the best and effective serum can be difficult as it requires a lot of research and time.
Dr. Priya Gill, one of Malaysia's leading dermatologists, suggests, " Anti-aging serums are a great way to boost a basic skin care routine in women above the age of 30 and should certainly be incorporated into our daily skin care routine."
These anti-aging products contain soothing ingredients that help manage aging signs and offer a youthful look. In this article, we have listed 5 anti-aging serums that mature women can rely on. Take a look!
Top 5 Anti-Aging Serums Women Over 50 Should Use
The Better Skin Epik C Serum from The Better Skin Co. is a vegan, multipurpose anti-aging serum for mature skin. It contains a Power Trio Complex of chemically-stable vitamin C and two French botanical actives Majestem™ and PhytoVie®.
Vitamin C brightens the skin, and the plant-based actives enhance the skin's elasticity and texture and guard against pollution. This anti-aging serum also contains extracts of green tea leaves, hops, rapeseed, sea buckthorn, borago, starflower, and several botanicals. All these ingredients protect your skin from pollutants and naturally soften wrinkles, fine lines, and dullness.
Key Ingredients: Vitamin C, Majestem™ and PhytoVie®
Pros
Paraben-free
Vegan
Gluten-free
Cruelty-free
No residue
Long-lasting
Hypoallergenic
Cons
Price at the time of publication: $38.0
The Skin Renewing Gel Oil by CeraVe features CeraPlex™, a unique blend of five ceramides and sunflower oil. The gentle, weightless, and hydrating formula boosts your skin's radiance.
This high-performance serum uses a patented MVE delivery technology for the continuous release of moisturizing ingredients. The ceramides help restore the skin barrier and lock in moisture all day long. Use the gel oil on its own or along with moisturizer for better hydration and anti-aging effects. This product is suitable for normal to dry skin. In this video, you will learn about the benefits of CeraVe Skin Renewing Gel Oil for your skin.
Key Ingredients: CeraPlex™
Pros
Fragrance-free
Non-comedogenic
Hypoallergenic
Developed by dermatologists
Non-greasy
Easy to apply
Cons
None
Price at the time of publication: $19.0
The dermalogica Overnight Repair Serum is enriched with natural emollients, including sunflower, argan, pumpkin seed, rosewood, clove flower, and carrot seed oils. These oils quickly penetrate the skin to deliver essential fats, antioxidants, and growth factors. The serum contains potent extracts of winged kelp, rosemary, lemongrass, and bergamot to promote cell repair, renewal, and recovery. It boosts collagen development, dermal strength and reduces the appearance of fine lines and wrinkles.
Key Ingredients: Sunflower seed, Argan, Rosewood, Pumpkin seed oil, and Clove flower oils
Pros
Fast-acting formula
Non-greasy
No residue
Subtle fragrance
Suits sensitive skin
Cons
Price at the time of publication: $67.0
The Multivitamin C Serum by insta natural supports healthy skin and improves fine lines, wrinkles, and hyperpigmentation. The lightweight formula contains a blend of vitamin C, hyaluronic acid, collagen, peptides, and glucosamine. This blend supports the skin barrier, balances hydration, softens wrinkles, plumps the skin, and improves overall skin health. The serum also combines NASA Stem Cell Technology to improve multiple signs of aging and the skin's moisture-retaining ability. Watch this video for an honest review of theinsta natural Multivitamin C Serum .
Key Ingredients: Vitamin C, Hyaluronic acid, Collagen, Glucosamine, Peptides, and NASA Stem Cell Technology
Pros
Lightweight
Paraben-free
SLS-free
Cruelty-free
Mineral oil-free
Petroleum-free
Synthetic dye-free
Formaldehyde releasers-free
DEA/MEA/TEA-free
Polyethylene glycol-free
No sticky residue
Cons
Price at the time of publication: $9.99
MP MintPear's Rosehip Night Serum is an organic product that efficiently restores and repairs your skin. It is made with an anti-inflammatory, calming, and antioxidant-rich oil blend of rosehip seed, jojoba, carrot seed, passion fruit, pomegranate, calendula, lavender, tomato seeds, and watercress.
These are natural reservoirs of vitamins A, E, and C, emollients, and proteins that revitalize your skin. They stimulate collagen production, clear blemishes, soften the signs of aging, and calm inflammation. This serum is suitable for all skin types and claims to calm rosacea and eczema-prone skin. It softens and brightens the skin to keep it naturally radiant and youthful.
Key Ingredients: Rosehip seed, Jojoba, Pomegranate seed, Carrot seed, Maraca, and Calendula oils
Pros
Refreshing smell
Fast-acting formula
Non-sticky
No residue
Cruelty-free (Leaping Bunny certified)
Paraben-free
Sulfate-free
Synthetic fragrance-free
Dye-free
Cons
Price at the time of publication: $34.0
Serums are the most effective way to get rid of wrinkles, fine lines, and other signs of aging skin. While there are a plethora of anti-aging serums to choose from, making a choice for yourself can be confusing. To help make a selection, here's a quick buying guide with some factors to keep in mind while you make a choice.
How To Select The Best Anti-Aging Serums For Mature Skin
Skin Type: not every serum is made for every skin type. If you have dry skin, look for a hydrating serum. If you have oily, check for a clarifying serum. Opt for serums rich in Vitamin C for dull skin and uneven tone.
Ingredients To Look For: choose products that contain anti-aging ingredients. Look for ingredients such as retinol, Vitamin A, hyaluronic acid, and antioxidants like vitamins C, E, and F substrates. Organic serums are best but essential oils like lavender, jojoba, and rosemary are good alternatives. Though the ingredients are important, keep in mind that some products with a high concentration of ingredients can be harsh on your skin.
Ingredients To Avoid: always check the ingredients listed on the product label, and avoid products that have synthetic vitamins and chemicals like paraben, mineral oils, phthalates, etc. Check to see if the products are dermatologically tested. It indicates they're hypoallergenic and doesn't cause any issue.
Price: consider what's affordable within your budget. But also don't skimp on the quality of serum because it is cheaper. Opt for products that are affordable but assure quality. Always look for products that are proven to work and deliver impressive results.
Why Trust StyleCraze?
Oyendrila Kanjilal, the author of this article, is a certified skin care coach. She enjoys creating comprehensive beauty and lifestyle content for her readers. For this article, she read product specifications and browsed various online forums to check the feedback and read hundreds of user reviews to recommend the best anti-aging face serums for mature women. These products enhance the skin's elasticity, keep it hydrated, and boost radiance.
Frequently Asked Questions
Do anti-aging serums really work for mature people?
Yes. Anti-aging serums contain vitamin C, ceramides, hyaluronic acid, and retinol that help improve collagen production and skin elasticity. However, they cannot eliminate fine lines and wrinkles, but smoothen the skin and reduce the appearance of visible signs of aging.
What anti-aging serum do dermatologists recommend?
CeraVe is one of the most recommended anti-aging serums by dermatologists.
What serum makes you look younger?
The MP MintPear Rosehip night serum stimulates collagen production, reduces blemishes, smoothens fine lines and wrinkles, and soothes inflammation. Also, it softens the skin and imparts a youthful glow.
What is the secret to anti-aging serum?
Retinol and vitamins C, B3, and E are the secret ingredients of anti-aging serum. They are rich in antioxidants and promote cell regeneration. Also, vitamin C neutralizes free radicals, and the antioxidants improve collagen production, preventing sagginess and loss of elasticity.
Recommended Articles