10 Best Anti-Aging Face Washes And Cleansers To Keep Wrinkles At Bay – 2023
Cleanse your face and fight the signs of aging at the same time to look radiant.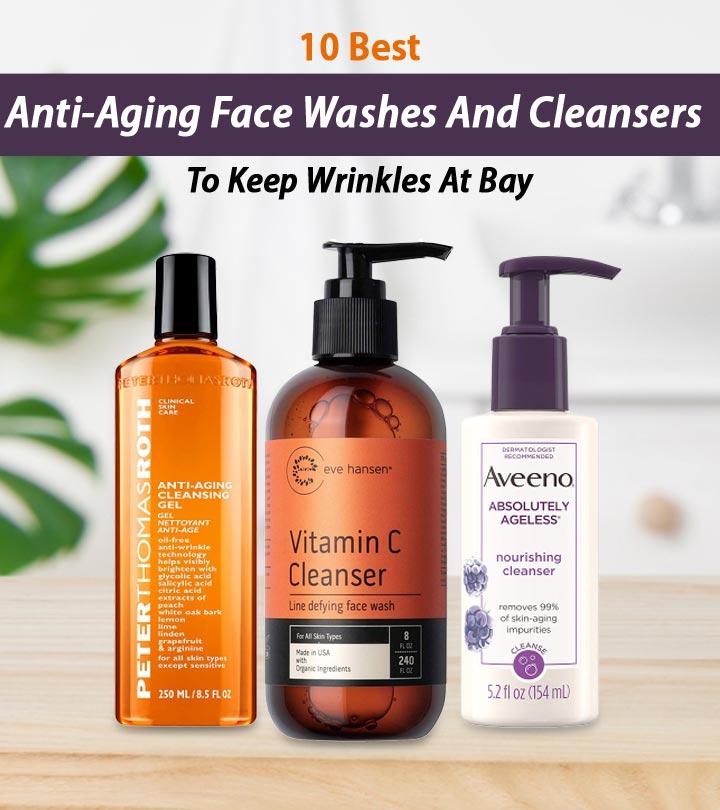 Aging is a natural part of life, and there is no way to stop it. But it doesn't mean you can't slow it down. With some of the best anti-aging face washes available, you can trick your skin into looking and feeling younger. They also act as a barrier against pollutants. Face washes, when formulated thoughtfully, contain ingredients that remove excess oil, dead skin buildup and impurities, unclog your pores, and increase the production of collagen, the protein responsible for keeping your skin firm and strong. While stopping your skin from aging is not possible, you surely can take the right measures to keep it healthy, young, and happy. Along with a balanced diet, hydration, sleep, and physical activity, you can keep those fine lines at arm's length. These are definitely a great addition to your anti-aging skincare routine! To help you get started, we have compiled a must-buy list of the top anti-aging face washes you can incorporate into your daily skincare routine for happy and glowing skin. Check them out right away!
Top Picks
Top 10 Anti-Aging Face Washes And Cleansers – 2023
Pros
Keeps your skin soft and supple
Lathers well
Just a little product required per use
Decreases black and whiteheads
Brightens the skin tone
Safe to use on sensitive skin
Cons
None

Pros
Vegan
Cruelty-free
Paraben-free
Anti-blemish
Free of artificial colors
Free of artificial fragrances
Cons
Pros
Dermatologist recommended
Gentle enough for everyday use
Non-comedogenic
Nourishing formula
Lathers gently
Cons
None
Pros
Dermatologist-tested
Improves skin elasticity
Delivers quick results
Skin feels refreshed and invigorated
Cons
None
Pros
Reduces dark spots
Evens out skin tone
Tightens pores
Just a little product required per use
Safe to use on sensitive skin
Cons
None

Pros
lt helps repair damaged skin cells
lt reduces wrinkles and fine lines
lt softens and smoothens the skin
Just a little product required per use
Cons
Pros
Promotes deep cleansing
Replenishes moisture
Boosts collagen
Sulfate-free
Lathers well
Cons
Not suitable for sensitive skin
Pros
Dermatologist recommended
Non-comedogenic
No harsh exfoliants
Oil-free
Paraben-free
Dermatologist-recommended
Cons
Not suitable for sensitive skin
Pros
Reduces dullness
Removes dark circles
Delivers quick results
Cons
Not suitable for sensitive skin
Pros
Eliminates dark spots
Reduces the size of pores
Delivers quick results
Oil control
Cons
May not suit sensitive skin
Availability issues
*The prices provided in this article are based on the latest available information. However, they may vary due to changes in pricing by the seller and/or promotional offers.
A good anti-aging face wash, keeps your wrinkles at bay and effectively cleanses your skin, leaving it moisturized and supple. In order to pick the right anti-aging face wash, below mentioned pointers need to be considered.
How To Choose The Best Anti-Aging Face Washes And Cleansers
When choosing an anti-aging face wash it is vital that you also consider your skin type for the best results.
Normal Skin: For normal skin, choose a good anti-aging cleanser or face wash that is enriched with moisturizing agents like aloe vera, glycerin, niacinamide, hyaluronic acid,  and shea butter. Avoid clay cleanser as it can be a bit drying on your skin.
Combination Skin: For combination skin choose a facial cleanser or wash that addresses the excess oil but does not dry out your skin. Avoid cleansers with benzoyl peroxide, mineral oil, and SLS as it can cause irritation or clog pores.
Oily skin: This skin type is susceptible to breakouts and acne. Always choose a cleanser that absorbs excess oil like clay-based or consisting of AHs and BHAs which fight breakouts. Avoid formulas with mineral oils, alcohols, and fragrances as it may trigger breakouts.
Dry Skin: This skin type is more susceptible to premature aging signs like wrinkles and fine lines. Opt for a cleanser that gives you effective cleansing with extra moisturization. Avoid SLS, alcohols, benzoyl peroxide, and polyethylene glycol. Instead, choose formulas with vitamin C, green tea extract, coconut oil, cocoa butter, aloe vera, and shea butter.
Sensitive Skin: This skin type is prone to breakouts, redness, and irritation. Always opt for natural products that are gentle on sensitive skin, are hypoallergenic and non-irritating, and have anti-inflammatory properties with few chemical additives. Avoid face washes with added fragrances, or choose ones with natural scents.
Choose the right cleanser formulation based on your skin type and the cleansing routine you follow. For instance if you follow the Korean double cleansing method, you can go for a foaming and a balm cleanser. For dry skin, choose a lotion or cream-based cleanser to prevent dryness and for oily skin, try a gel or foaming cleanser to wash away the excess oil and sebum. Choosing the correct cleanser can also also help rejuvenate mature skin.
Several facial cleansers on the market contain harmful additives and chemicals like sulfates, parabens, artificial fragrances, and mineral oils, which irritate your skin and strip it of its natural oil and moisture. Ensure that these products keep you protected from environmental pollutants and do not cause further damage.
Why Trust Stylecraze?
We have curated this list of the best anti-aging face washes after extensive research. We have checked the user feedback of all the similar products available on the market and picked only the top-rated one for the list. We also checked the brand website, ingredients to understand how the face washes may help reduce the signs of aging. The shortlisted products contain potent ingredients and are safe for all skin types.
Frequently Asked Questions
What face wash is good for anti-aging?
The Alpha Skin Care Refreshing Face Wash and the Touch Glycolic Face Wash are highly recommended for anti-aging benefits. These have highly moisturizing and pore-minimizing formulas to fight the signs of aging such as wrinkles, fine lines, or large pores, and add commendable radiance.
Do anti-aging face washes work?
Yes. Anti-aging face washes actively work towards eliminating dead skin cells and regenerating fresh cells. They impart a natural and youthful glow to the skin.
Does foaming face wash work on aging skin?
A foaming face wash works best on oily and acne-rpone skin types to get rid of excess oiliness and clean the pores. But it is suitable for all skin types. It generally has a gentle formulation that helps preserve the natural skin barrier and keeps the skin supple and healthy. So, yes, it works on aging skin as well.
Antioxidant vs exfoliating anti-aging face wash?
An antioxidant-based face wash fights oxidation and the effects of free radicals to prevent aging, But, an exfoliating face wash brings a youthful glow by removing the dead cells and dirt from the outermost layer of the skin.