15 Best Anti-Aging Hand Creams You Can Try In 2023
Enhance your skin's texture and keep wrinkles at bay with creams from trustworthy brands.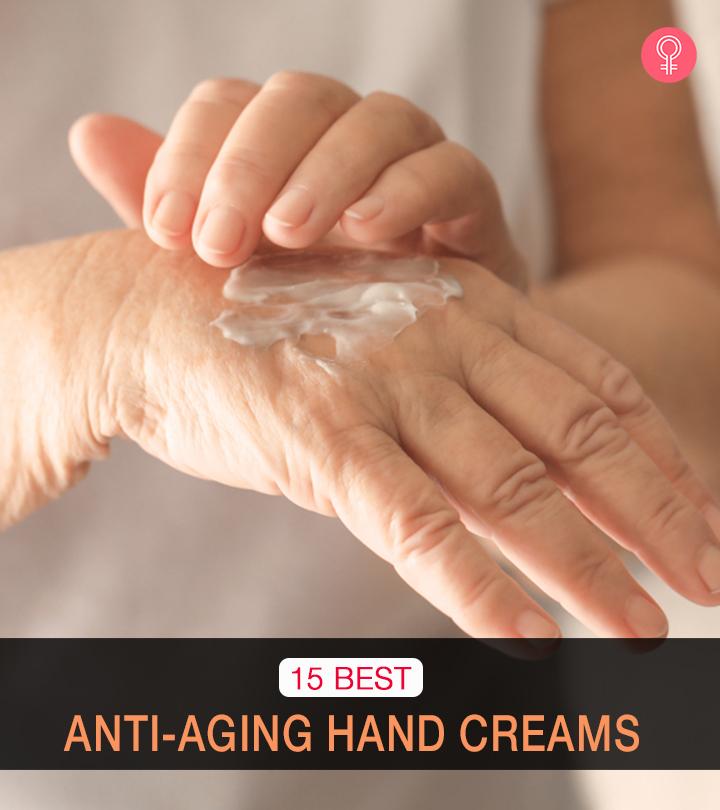 Aging is everybody's concern. The changes become visible not only on the face but the entire body. Unfortunately, most skin rejuvenating treatments focus on the face leaving behind other body parts. Hands are the most ignored ones, and thus, the best anti-aging hand creams come to your rescue. You can enhance your skin texture with the topical application of products that are rich in fatty acids, antioxidants, and humectants. These products can refine the skin's protective barrier and hydrate your hands (1).
We know that aging is an unavoidable natural process that results in visible changes like wrinkles, saggy skin, and fine lines. In addition, frequent exposure to detergents and soaps that are chemically incorporated can lead to aggressive aging signs. So, to keep your skin intact, we have made a list of 15 anti-aging hand creams that hydrate your skin after carefully analyzing the reviews and ratings. Read on!
15 Best Anti-Aging Hand Creams
The -417 Serenity Legend Hand Moisturizer is a boon to dry, dehydrated, and flaky hands. This anti-aging hand cream is infused with shea butter and beeswax that hydrate, repair, and nourish the skin. The rejuvenating power of dead sea minerals makes hands silky smooth. The infused vitamins and essential fatty acids in the moisturizer reduce the appearance of fine lines and wrinkles.
Key Ingredients: Shea butter, beeswax
Pros
Rejuvenates skin
100% vegan
Made of natural ingredients
Makes hand soft, supple
Protects from pollution
Cons
Strong fragrance
May feel greasy
The Salcoll Collagen Anti-Aging Hand Cream contains 100% pure collagen that moisturizes dry hands and masks the signs of aging. The potent collagen from salmon seals the skin moisture for long hours. It also smoothens the skin texture and boosts the regeneration of natural skin. It protects the skin from environmental and chemical aggressors. The unique formula penetrates deeply, and repairs damaged tissues by supplying essential proteins and elastins.
Key Ingredients: Salmon collagen
Pros
Hypoallergenic
100% natural marine collagen
Skin-regenerating
Non-greasy
Heals cracks, broken skin, and external wounds
Smoothens skin texture
Long-lasting moisturization
Cons
Expensive
May not work on dry skin due to diabetes
The Honey DewShea Butter Hand Cream is infused with shea butter and vitamin E that offer ultra-nourishment and hydration to the skin. The cream repairs dry, dehydrated, and flaky hands. Shea butter is rich in fatty acids that act as a protective barrier to soften the skin. Vitamin E is a potent antioxidant that lightens old scars, reduces fine lines, and masks the signs of aging. This Honeydew's hydrating hand cream also contains rosehip oil, pure cocoa butter, and coconut oil. This long-lasting formula is suitable for both men and women. It helps renew rough hands and smoothens painful cracks and calluses.
Key Ingredients: Shea butter, Vitamin E
Pros
Fragrance-free
Hypoallergenic
Fast-absorbing
Long-lasting
Skin-renewing
Can be used by both men and women
Intense moisture therapy
Heals cracked hands
Soothes calluses
Protects skin from toxins
Cons
None
The Cucina Fruits &Passion Anti-Aging Hand Cream is a rich moisturizing formula with a delicate blend of coriander seeds and cold-pressed olive oil. It is rich in oleic acid that helps maintain skin hydration, elasticity, and suppleness. Olive oil is rich in antioxidants that reduce the signs of aging and protect the skin from free radical damage. The infused fat-soluble vitamins in cold-pressed olive oil offer nourishment and prevent excess skin dryness. The cream absorbs quickly into the skin. It repairs chapped hands and leaves them feeling smooth, supple, and well moisturized.
Key Ingredients: Cold-pressed olive oil
Pros
Deep moisturizing formula
Lightweight
Regenerates skin's moisture barrier
Provides intense skin hydration
Vegan
Environmental-friendly
Natural, soothing fragrance
Non-greasy
Safe
Biodegradable formula
Absorbs quickly
Cons
None
Epionce Restorative Hand Cream contains the best natural ingredients to make your hands soft and supple. It is infused with natural ingredients like meadowfoam extract, avocado oil, lavender extract, flaxseed oil, orange extract, and hyaluronic acid to restore moisture and smoothness. The formula is non-greasy and absorbs easily into the skin for a non-sticky finish. This hand cream is the best when it comes to reducing the signs of aging and any other visible imperfections on your hands.
Key Ingredients: Hyaluronic acid, Apple fruit extract, Rosa canina oil
Pros
Best for dry skin
Lightweight texture
Quick absorbing
Subtle fragrance
Improves rough and dry skin
Not tested on animals
Cons
None
The Robanda Retinol Anti-Aging Hand Treatment helps lighten age spots on the hands. It is infused with Emblica, vitamin A, and other anti-aging ingredients that reduce the appearance of fine lines. These ingredients also renew skin cells. The cream's broad-spectrum with SPF 15 protects the skin from UVA and UVB rays.
Key Ingredients: Retinol
Pros
Collagen-boosting formula
Protects skin from sun damage
Increases skin vitamin C levels
Lightens age spots
Cons
Strong fragrance
Greasy texture
The Retinol Anti-Aging Hand Cream from Skincare LdeL Cosmetics is enriched with vitamins A, C, and E, and green tea extract. These offer intense nourishment to worn out, chapped, and overworked hands. The retinoids are a scientifically proven formula that boosts collagen synthesis and smoothens skin surface. This formula also exfoliates your skin and reduces skin tone irregularities. It can be used for age spots, such as the appearance of fine lines and wrinkles and for improving and brightening skin texture.
Key Ingredients: Retinol
Pros
Non-greasy
Ultra-nourishing
Leaves hands feeling soft, supple, smooth
Protects hands from toxins
Gently exfoliates uneven skin
Cons
None
The Elemis Pro-RadianceAnti-Aging Hand & Nail Cream instantly rejuvenates dry, dehydrated, and flaky skin. The cream is infused with white flowers, milk protein, Avellana seed oil, omega 7 fatty acids, tea extract, virgin plum, and macadamia extract. This invigorating blend of natural extracts offers a protective barrier to the skin and seals skin moisture. The cream leaves your hands with a youthful glow.
Key Ingredients: Blend of natural extracts
Pros
Paraben-free
Silicone-free
Sulfate-free
Youth-enhancing formula
Free from mineral oils
No artificial colors
Protects skin from aggressors
Seals moisture
Cons
None
The Crépe Erase Anti-Aging Hand Repair Treatment is a luxurious formula that slows down the aging process and masks fine lines. Its exclusive Tru Firm complex is anti-wrinkle and gradually blurs the visible signs of aging. The cream's antioxidant properties protect the skin from chemical and environmental aggressors. The super hydrators squalene and shea butter give your hands a smooth texture. The powerful blend of dill, apple, and sage extracts boosts natural elastin production and promotes skin elasticity. This gives your hands a firmer appearance.
Key Ingredients: TruFirm complex (a phytonutrient)
Pros
Lightweight
Absorbs easily
Restores skin glow
Elasticity-restoring
Prevents chemical and environmental damage
Cons
None
The Bee My Honey Anti-Aging Hand Cream offers relief from dryness and fine lines. It is infused with nourishing and protective beeswax, vegetable linseed, almond oil, and licorice root extract that deeply penetrate the skin and seal skin moisture. The cream also keeps the hands from getting dried or chapped. The anti-inflammatory properties of the beeswax heal wounds and calluses.
Key Ingredients: Beeswax
Pros
Paraben-free
Silicone-free
Sulfate-free
Free from mineral oil
Free from artificial fragrances
No coloring agents added
Made from 97.9% natural ingredients
Soothing, natural fragrance
Ultra-hydrating
Cons
None
The Onsen Anti-Aging Hand Cream is made with Japanese secret ingredients that ultra-hydrate hands and reduce excess dryness. This gentle hand cream is infused with white pagoda tree flowers, Wasabi flavone, shea butter, and hyaluronic acid that make your hands silky smooth. The Japanese white pagoda tree flower is rich in vitamins C, E, and a potent antioxidant that protect the skin from UV damage. These nutrients also blur fine lines and other signs of aging. The Wasabi flavone detoxifies the skin, clarifies skin, restores collagen, and improves skin elasticity. The shea butter and hyaluronic acid act as humectants to hydrate the skin and make it look plumper.
Key Ingredients: Japanese white pagoda flower extract, Wasabi flavone, hyaluronic acid, shea butter
Pros
Gentle formula
No animal testing
Plumping formula
Moisture-rich
Protects skin from UV damage
Infused with natural ingredients
Repairs dry hands
A nail-care lotion
Suitable for all skin types
Eco-friendly
Paraben-free
Free from artificial colorants
Cruelty-free
Cons
None
Immerse your hands in a luxurious, grease-free, silken formula of the Dermelect Timeless Anti-Aging Daily Hand Treatment. The innovative formulation is made by protein-peptide technology that instantly improves skin firmness and smoothens its appearance. It is infused with hyaluronic acid, Emblica, papaya extract, GABA (gamma-aminobutyric acid), and collagen that enhance skin appearance. Hyaluronic acid is a humectant that offers advanced skin hydration, while the papaya extract provides mild exfoliation to remove dry, flaky, and dead skin cells from the hands. Emblica extract is a skin lightening agent, while collagen makes the skin plump, reduces age spots, and protects the skin from free radical damage.
Key Ingredients: GABA, hyaluronic acid, collagen
Pros
Instantly improves skin firmness
Protects against free radical damage
Provides mild exfoliation
Paraben-free
Seals skin hydration
Hydroquinone-free
Non-greasy
Fast-absorbing
Combats dryness
Cons
None
The Clarins Super Restorative Hand Cream is a potent anti-aging product that targets rough texture and dark spots while encouraging a youthful appearance for your hands. This delicious-smelling hand cream is infused with shea and mango butter. It nourishes, softens, and smoothes the skin for both short-term and long-term benefits. It helps to enhance skin firmness and texture while targeting dark spots and smoothing out wrinkles. Your hands will feel silky smooth and beautifully hydrated after just one application of this thick and velvety cream, which rapidly absorbs into the skin.
Key Ingredients: Shea butter, Glycerin, and Betaine
Pros
Anti-aging benefits
Wrinkle-reducing formula
Firming formula
Nourishing
Absorbs quickly
Gentle
Non-greasy
Reputable brand
Cons
The derma-nu Miracle Skin remedies Anti-Aging Hand Cream is infused with high-quality organic shea butter and cocoa butter that hydrate and tone hands. The butters are rich in essential fatty acids that provide a protective barrier to the skin. They also seal skin moisture and heal rough and dry hands. The infused vitamin E helps reduce premature signs of aging and protects the skin from UV damage. Aloe vera contains powerful antioxidants that fight against signs of aging. This ultra-nourishing hand cream absorbs quickly, providing long-lasting moisturization.
Key Ingredients: Shea butter, cocoa butter
Pros
Non-greasy
Provides long-lasting hydration
Heals cracked hands
Safe for all skin types
Paraben-free
Non-comedogenic
Cruelty-free
Infused with organic ingredients
No harsh chemicals
Cons
The Hand MD Rehydration Anti-Aging Cream is infused with shea butter, jojoba, olive oil, and oats that offer intense moisturization and gentle exfoliation to hands. They also help treat dry and cracked hands. This age-defying formula is rich in antioxidants that fade the signs of aging and restore youthful radiance. The cream is fast-absorbing.
Key Ingredients: Shea butter, jojoba oil, olive oil
Pros
Relieves dry, cracked hands
Paraben-free
No mineral oil
Vegan formula
No toxic ingredients
Fast-absorbing
Clinically tested
Cons
None
These are the 15 best anti-aging hand creams you can buy online. It also is essential to know why we need to take care of our hands. Check the following section.
Why It Is Important To Take Care Of Your Hands
Skin aging is a natural process that affects not only your face but also your hands. Our body contains subcutaneous tissue beneath the skin that is continuously exposed to chemical and environmental aggressors. This leads to age spots, dryness and flakiness,  wrinkles, yellow nails, and protruding veins. These symptoms need to be treated with scientifically formulated hand creams. Applying a good anti-aging hand cream restores skin hydration and radiance.
The following section enables you to pick the right moisturizer to care for your hands.
How To Choose The Best Hand Cream
Natural, vegan ingredients are ideal for use on hands. Hyaluronic acid helps moisturize and nourish hands. Pick hand creams that are dermatologically tested and contain retinol which stimulates collagen production, improves elasticity, and evens out pigmentation.
Anti-aging hand creams should be rich in antioxidants that protect hands from chemical and environmental aggressors.
Skip products that contain toxic chemicals like parabens, phthalates, sulfates, and synthetic ingredients. Studies show that the topical application of harmful ingredients may adversely affect health (2).
Lightweight, fast-absorbing hand creams are effective in providing visible results and instant relief from dry, cracked, and chapped hands.
The powerful anti-aging nutrients and emollients in the creams restore skin strength, boost skin freshness, and reduce saggy skin.
Why Trust StyleCraze?
The author of this article, Oyendrila Kanjilal, is a certified skin care coach. She has conducted thorough research on the ingredients that are used in many anti-aging products to compile the list of the best hand creams for aging hands. These products not only improve skin texture but also hydrate the skin.
Frequently Asked Questions
How many times should you use anti-aging creams?
You should apply anti-aging cream once daily, particularly at night, for best results.
Are there any allergic reactions from anti-aging hand creams?
No. However, if the hand cream is not dermatologically tested and contains harsh chemicals, it can cause skin irritation and rashes.
How to use anti-aging hand cream?
•  Wash your hands thoroughly with a moisturizing hand wash.
•  Gently apply anti-aging hand cream.
•  Massage it for better coverage.
What is the best natural hand cream for aging hands?
The Cucina Fruits & Passion Anti-Aging Hand Cream is the best product to include in your daily routine. It protects your skin from radical damage and reduces wrinkles.
Is a wrinkle hand cream right for you?
Yes, if you notice wrinkles in your hands, try hand creams with retinol for the best results.
Recommended Articles