16 Best Anti-Aging Herbs For Youthful Skin
Slow down the signs of aging and nourish your skin with these nutritious herbs.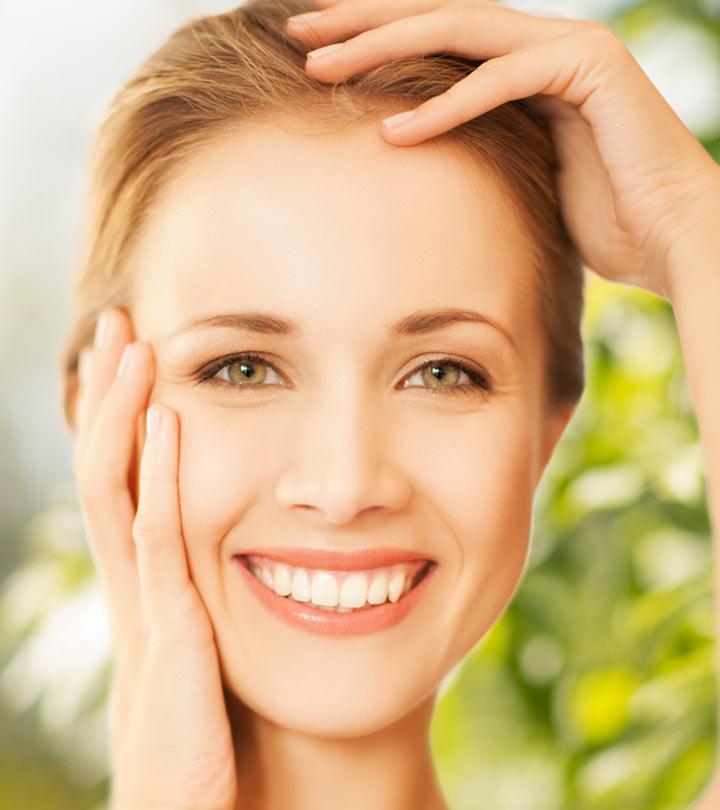 If you were granted a wish to turn the skin clock back, wouldn't you love to do that? I mean, who wouldn't? But, unfortunately, none of us have the magic lamp. But worry not – nature has many anti-aging herbs in its lap. Wondering what they are? We are here to reveal some of nature's best-kept anti-aging secrets that can slow down the signs of premature aging. Continue reading to know them in detail and make their best use.
16 Anti-Aging Herbs To Fight Skin Aging
1. Basil
Holy basil or tulsi helps in preventing the signs of aging. Excessive UV exposure damages your skin and causes collagen depletion (1). Collagen is the compound that maintains the elasticity of your skin. In a study, researchers found that topical application of basil helped in retaining skin moisture levels, reduced skin roughness and scaliness, prevented wrinkles, and made the skin smooth (2 )
How To Use Basil For Anti-Aging Benefits
You Will Need
1 cup holy basil leaves
1 tablespoon gram flour
1 teaspoon honey
Method
Soak the basil leaves in warm water to soften them and make a paste.
Mix it with gram flour and honey.
Apply it to your face and let it dry.
Wash with lukewarm water.

Did You Know?
Including basil in your diet at least thrice a week can help you achieve younger-looking skin. You can add basil to your soups or smoothies or can even have basil tea.
2. Cinnamon
It is also said to have anti-aging benefits as it prevents collagen breakdown and prevents loss of skin elasticity. A study says that it also boosts collagen synthesis and prevents signs of aging (3). You can also consume a glass of red wine made with cinnamon to boost skin health. Red wine contains resveratrol that reduces oxidative stress on skin, slows down bacterial growth to prevent acne, and treats sunburns (4).
How To Use Cinnamon For Anti-Aging Benefits
You Will Need
1 teaspoon cinnamon powder
1 tablespoon raw honey
Method
Mix both the ingredients.
Apply the face mask.
Leave it on for 10-15 minutes.
Wash with lukewarm water.
3. Clove
Clove has immense health benefits. Clove oil is widely used in Ayurveda for treating many ailments. A study has also found that clove has free radical scavenging properties and contains antioxidants that slow down signs of aging (5).
Note: Clove and its oil can be toxic at high doses. Therefore, only use it as directed.
How To Use Clove For Anti-Aging Benefits
You Will Need
Method
Wash your face with warm water (you can even steam it a bit).
Mix the coconut and clove oils.
Massage on your face and let it stay for half an hour.
Wash your face with cold water.
4. Ginger
This herb has been used in Ayurvedic and Chinese medicine for over thousands of years for treating multiple ailments. Ginger has high levels of antioxidants and anti-inflammatory properties that help in preventing the signs of aging. A study found that ginger has phenolic compounds and flavonoids with antioxidant properties that could control the production of harmful free radicals that affect your metabolismi  XChemical reactions in the body's cells that convert food into energy needed to perform daily activities. and increase oxidative stressi  XAn unbalanced ratio of antioxidants and free radicals in your body. , which is harmful to your skin (6)
How To Use Ginger For Anti-Aging Benefits
You Will Need
2 tablespoons olive oil
4 tablespoons brown sugar
1 tablespoon grated ginger
Method
Clean your skin with a mild cleanser.
Mix all the ingredients.
Scrub your face with the mixture for 10 minutes.
Leave it on for another 5-10 minutes.
Wash it off with lukewarm water.
5. Guggula
Guggula is a very powerful herb that is extracted from the Mukul Myrrh tree. A study found that Guggula could prevent wrinkles (7). It is also used for its anti-inflammatory properties that inhibit the effect of the harmful free radicals.
How To Use Guggula For Anti-Aging Benefits
You Will Need
1 teaspoon Guggula powder
1 tablespoon coconut oil (or shea butter)
Method
Mix the powder with the oil or butter.
Massage the mixture on your face (use it as a night cream).
Let it stay on overnight.
Wash it off the next day.
6. Gingko
This is one herb that has been widely studied for its immense health benefits. Gingko biloba is revered for its memory-boosting properties and phytonutrients, but it is also known for its anti-aging benefits. A clinical study found that Gingko extracts, when applied to the skin, could prevent wrinkles and improve skin texture by boosting skin hydration levels and smoothness and reducing roughness (8).
How To Use Gingko For Anti-Aging Benefits
You Will Need
1 teaspoon Gingko extract
1 tablespoon bentonite clay
Method
Mix the clay and honey and make a paste.
If the consistency is too thick, use distilled water.
Mix the Gingko extracts with the pack.
Apply it to your face. Let it dry.
Wash with lukewarm water.
7. Ashwagandha
Ashwagandha or Indian ginseng or winter cherry is an extremely popular herb used for its medicinal properties. It has antibacterial, antifungal, and cognitive boosting properties and is loaded with alkaloids that protect the cells (including skin cells) from oxidative stress and damage. This keeps your skin healthy and the signs of aging at bay (9). It may also promote cellular regeneration when consumed regularly.
How To Use Ashwagandha For Anti-Aging Benefits
You Will Need
½ teaspoon ashwagandha powder
½ teaspoon dried ginger powder
½ teaspoon lemon juice (diluted)
Method
Mix all the ingredients and make a paste.
Add a bit of water if it is too thick.
Apply it all over your face and let it dry.
Wash it off with water.
8. Ginseng
This Chinese medicinal herb is popular worldwide for its anti-aging benefits. A study found that a mixture of ginseng and Chinese hawthorni  XA small tree or shrub from the rose family with stinging thorns that bears white or pink flowers and dark red berries. protected the skin from the effects of aging. It improves procollagen synthesis and moisture levels of the skin and prevents wrinkle formation (10) .
How To Use Ginseng For Anti-Aging Benefits
You Will Need
1 teaspoon ginseng powder
1 cup warm water
Cotton balls
Method
Mix the ginseng powder in water.
Let it cool.
Soak the cotton ball in the toner and apply it all over your face and neck.
Leave it on overnight.
Wash off the next day with warm water.
9. Horsetail
Also called shave grass or mare's tail, this perennial herb contains natural silicon that can give you youthful and glowing skin. Horsetail contains flavonoids, vitamins E and C, carotenoids, and coenzyme Q10 that improve the collagen levels in your skin, neutralize the harmful free radicals, and enhance the skin firmness (11)
How To Use Horsetail For Anti-Aging Benefits 
You Will Need
1 tablespoon chopped horsetail shoot
3 tablespoons raw honey
Method
Warm the honey and mix the horsetail shoot in it.
Store it for 2-3 days and then strain the honey.
Consume a tablespoon of the strain twice a day.
10. Oregano
This herb not just makes your food taste good, but it also helps in slowing down the aging of your skin. Oregano is a storehouse of antioxidants and flavonoids that prevent free radical damage and delay the signs of aging (12) .
How To Use Oregano For Anti-Aging Benefits
You Will Need
10-15 drops oregano essential oil
2 tablespoons olive, coconut, or jojoba oil
Method
Mix the essential oil with the carrier oil.
Use the mixture for massaging your face and neck.
Apply before bedtime and keep it on overnight.
Wash off the next day.
11. Rosemary
This herb protects your skin from photodamage. Excessive exposure to UV rays causes fine lines, wrinkles, and other signs of UV-induced aging. Rosemary prevents photodamage while improving your skin's elasticity and aiding in wrinkle reduction (13).
How To Use Rosemary For Anti-Aging Benefits 
You Will Need
2 cups water
2 fresh sprigs of rosemary
3 tablespoons apple cider vinegar
Method
Combine all the ingredients in a pot and boil it on medium heat.
Simmer for a while (until the quantity is reduced to half) and let it cool.
Strain the liquid and store in a spray bottle.
Use it as a toner for your skin.
12. Sage
Sage is rich in antioxidants that help in reversing the signs of aging, such as age spots, wrinkles, and fine lines. Sage contains flavonoids, phenolic carboxylic acidsi  XOne of the main groups of plant compounds (known as polyphenols) that are found in a wide range of plant-based foods. , phenolic diterpenes, and other antioxidants that protect your skin from aging (12) .
How To Use Sage For Anti-Aging Benefits
You Will Need
1 ½ teaspoons sage leaves
1 cup water
Method
Boil sage leaves in a pan filled with water and steep it for 20-30 minutes.
Strain the liquid and let it cool down.
Transfer it to a glass bottle and use it as a toner.
13. Thyme
This is another herb with multiple benefits. It not only makes your food flavorful but also prevents skin damage and signs of aging. Thyme is a free radical scavenger and has antioxidant and anti-inflammatory properties that aids in skin repair and protects your skin from the signs of aging (12) .
How To Use Thyme For Anti-Aging Benefits
You Will Need
1 tablespoon dried thyme
½ cup alcohol-free witch hazel
Method
Take a glass jar and add the ingredients to it.
Let the thyme soak in the witch hazel for a week.
Strain it and then use as a toner.
14. Gotu Kola
In Ayurveda, Gotukola is considered a magic remedy for its Vayasthapana (meaning age-defying properties). The Ayurvedic texts say that it maintains a balance between all the doshasi  XSanskrit term used in Ayurveda to refer to impurities or morbidities. in your body and promotes collagen synthesis and cell renewal (14). It can also be taken internally.
How To Use Gotu Kola For Anti-Aging Benefits
You Will Need
A handful of dried Gotu kola
A handful of calendula flowers (optional)
Sesame oil (you can use coconut, olive, jojoba, or almond oil)
A glass jar
Method
Put the herbs into the glass jar and pour oil into it.
Make sure that the oil covers the herbs completely.
Fasten the lid and shake the jar a bit.
Let it infuse for 2-3 weeks.
Leave the bottle under the sun for the duration.
Use it as a massage oil all over your body and face.

Did You Know?
Gotu Kola can combat the signs of aging by also effectively fighting environmental stress.
15. Turmeric
Whether it is for treating an infection, a cut, or a bruise, improving your immunity, or skin rejuvenation turmeric is a solution for everything. But did you know that it has age-defying properties? Yes. That's because of a compound called curcumin. This compound is a strong antioxidant that has free radical scavenging and anti-inflammatory properties that protect your skin from UV-induced signs of aging (12).
How To Use Curcumin For Anti-Aging Benefits 
You Will Need
½ teaspoon turmeric
1 tablespoon raw honey
1 drop lemon essential oil (optional)
Method
Mix all the ingredients.
Apply the face mask and massage for 10 minutes.
Let it stay for another 10 minutes or until it dries.
Wash off.
16. Aloe Vera
Aloe vera gel revitalizes the skin by preserving its moisture and ensuring a consistently fresh appearance. Besides serving as an outstanding skin moisturizer, it is also renowned for maintaining skin elasticity, which makes it quite popular as a topical anti-aging ingredient (15). As a potent natural antioxidant, aloe vera prevents oxidative damage, reducing dullness and imparting a natural radiance to your skin (16).
How To Use Aloe Vera For Anti-Aging Benefits
You Will Need
Aloe vera gel (freshly extracted)
Method
Apply a thin layer of aloe vera gel to your neck and face.
Use gentle upward motions to massage it into your skin.
Leave the gel on for 15-20 minutes.
Rinse with lukewarm water and pat your skin dry.
Repeat this 2-3 times a week for optimum results.
Ngumabi, a Cameroonian lifestyle blogger, shared her experience of using a turmeric and honey face mask for the first time on her blog: "The change I realized after using it on day one was that my face was softer, brighter and smoother (i)."
Infographic: 7 Powerful Herbal Remedies To Combat Skin Aging
Aging is a natural process, and women start becoming conscious of their skin when they reach their 30s. While there are numerous anti-aging skin care products on the market, herbal remedies are becoming increasingly popular due to their low risk of causing adverse reactions. Check out the infographic below to learn how to use some common herbs as anti-aging skin care solutions.


Apart from these herbs, Rhodiola, milk thistle, nettle leaf, schisandra, red clover, elderberry, licorice root, rosehip, amla, and spirulina are a few other useful herbs that may help manage premature skin aging (17), (18), (19).
Sometimes, how fast our skin ages may also depend on our genes and stress levels. While some women look youthful even in their mid-40s, others may start noticing signs of aging in their 30s. We cannot always control our body's mechanisms. While we cannot promise that these anti-aging herbs mentioned in the article will be your way to maintaining a lasting youthful look, they can surely promote skin health. Certain herbal medicines and anti-aging supplements might help too! Therefore, you may try the remedies discussed in the article to slow down aging signs and let your skin look healthy, glowing, and youthful.
Frequently Asked Questions
What herb tightens the skin?
Various herbs like basil, cinnamon, ashwagandha, and turmeric can help tighten saggy skin due to their antioxidant properties (12).
Can loose skin tighten over time?
Yes, loose skin can be tightened with the help of various energy-based devices that do not involve invasive procedures. This leads to the production of new collagen in the skin that may help in skin firming (20).
What foods improve skin elasticity?
Basil and cinnamon are known for their anti-aging properties. While basil improves skin elasticity and delays wrinkles by maintaining moisture levels, cinnamon boosts collagen production  .
Does coffee age your face?
Unfortunately for coffee lovers, it can cause dehydration and affect collagen production, leading to aging skin, wrinkles, fine lines, and dull skin texture.
Key Takeaways
Herbs contain a high amount of antioxidants and nutrients that can delay the signs of skin aging.
Ginkgo Biloba is known for increasing blood flow to the skin and reducing cell damage.
Green tea can help improve skin elasticity, reduce inflammation, and prevent skin damage.
Turmeric is a powerful antioxidant that helps achieve a clearer complexion and reduce fine lines.
Ashwagandha is known to help reduce stress and anxiety and may reverse signs of aging.
Discover the top seven herbs that can help you look and feel younger with this video! Check it out to learn how to use them to reduce wrinkles and keep your skin looking youthful.
Personal Experience: Source
i. I TRIED THE TURMERIC & HONEY FACE MASK FOR ALMOST TWO WEEKS!; https://mylocaladventuresblog.blogspot.com/2019/09/tumeric-honey-beauty-face-mask-home.html
Sources
Articles on StyleCraze are backed by verified information from peer-reviewed and academic research papers, reputed organizations, research institutions, and medical associations to ensure accuracy and relevance. Read our editorial policy to learn more.
The following two tabs change content below.