12 Best Anti-Aging Kits
Diminish dark spots, fine lines, and all other aging signs to get youthful, glowing skin.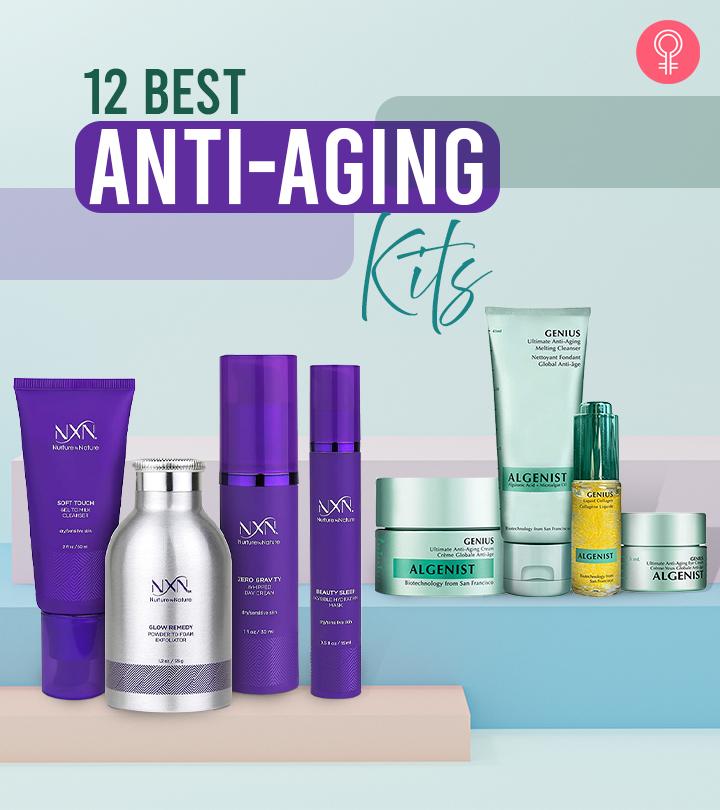 Treating visible signs of aging does not necessarily mean you have to take an expensive trip to a cosmetic surgeon or esthetician. Instead, you can easily improve their appearance from the comfort of your own home with the help of the best anti-aging kits available online.
Though having fine lines, wrinkles, and sagginess is normal, you can always improve your appearance using the products in these kits. The best anti-aging products will help reduce fine lines, wrinkles, and crow's feet while fighting external aggressors and free radical damage. In addition, they help make your skin firm and offer a youthful radiance. In this article, we have curated a list of the 15 best anti-aging kits. Keep reading!
12 Best Anti-Aging Kits
The Olay Total Effects 7 In One Skincare Kit contains a foaming cleanser, a moisturizer, and a night firming cream. The cleanser helps remove impurities and revives the skin. The fragrance-free moisturizer has SPF 15 that protects the skin from the harmful UVA/UVB rays and replenishes its moisture barrier. The night firming cream nourishes your skin and make it younger-looking.
Pros
Absorbed quickly
Oil-free
Non-comedogenic
Non-greasy
Cons
The Derma-Nu Anti-Aging Kit contains a firming serum, a youth activating eye gel, and a youth regenerating moisturizing cream. The firming serum contains hyaluronic acid, vitamin C, and green tea that enhance your skin's collagen production and maintain its natural elasticity. It plumps the skin, prevents dryness, and brightens your skin, reducing fine lines and wrinkles.
The eye gel reduces dark circles and puffiness around the eyes. It is formulated with Peptide Complex, cucumber, amino acids, and hyaluronic acid. The moisturizing cream penetrates the skin at a cellular level to make it younger and tighter. It is enriched with coenzyme Q10, hyaluronic acid, and vitamins C and B5. This cream stimulates cell turnover, repairs sun damage, and fights free radical damage.
Pros
Cruelty-free
Paraben-free
No harmful chemicals
Non-greasy
Non-comedogenic
All-natural
Suitable for all skin types
Cons
None
This Anti-Aging Treatment by NXN is a 4-step skin care routine that includes a cleanser, exfoliator, a whipped day cream, and an invisible hydration mask. The cleanser contains coconut, coffee, green tea, and multi-fruit extracts. The plant-derived emulsifiers and omega 6 fatty acids restore your skin's moisture levels and remove stubborn waterproof makeup.
The exfoliator contains activated bamboo charcoal, grape seed, oat proteins, and blueberry extracts. It eliminates toxins and helps smoothen and soften the skin, revealing its natural radiance. Activated bamboo charcoal is a detoxifying agent that deeply cleanses your skin and minimizes the appearance of pores. Grapeseed gently polishes the skin and remove dead skin cells. Blueberry extracts help repair sun damage and increase cell turnover.
The whipped day cream is made with squalane, marine algae, seagrape, sea buckthorn, and raspberry seed. It moisturizes the skin and enhances its elasticity without any greasy residue. The invisible hydration mask is enriched with marine algae, seagrape, licorice root, and chia seed extracts that reduce dark spots and combat the visible signs of aging. It uses Cloud Burst Moisture Technology to hydrate your skin while sleeping. This mask locks in moisture and helps eliminate of fine lines, wrinkles, and crow's feet.
Pros
Dermatologist recommended
Cruelty-free
Sulfate-free
Paraben-free
Gluten-free
Phthalate-free
No harmful chemicals
No synthetic colorants
Mineral oil-free
Formaldehyde-free
Triclosan-free
Urea-free
Petrolatum-free
Suitable for dry and sensitive types
Cons
None
The Murad Youth Renewal Retinol Kit includes a serum, an eye serum, and a night cream. The serum claims to reduce wrinkles and fine lines, revealing smoother skin within two weeks. This anti-aging kit is formulated with Retinol Tri-Active Technology, niacinamide, and hyaluronic acid that boost skin firmness and even out your skin tone.
Pros
Clinically-proven
Travel-friendly packaging
Cruelty-free
Gentle formula
Suitable for all skin types
Cons
None
The Retinol Anti-Aging Starter Kit includes a gel cleanser, an eye gel, a facial serum, and a night cream. All the products are enriched with vitamins A, C, and E. This anti-aging kit contains kale, rosemary, raspberries, green apple, grapefruit, lemon, and sunflower seeds to nourish your skin.
Pros
Recommended by doctors
Clinically proven
Vitamin-rich formula
Travel-friendly
Cons
None
The W Beauty VC & Flowers Brightening Essence Anti Aging Kit comes with an Amino Acid Facial Cleanser, a Soothing Radiance Toner, a 7 in 1 Ultra Moisturizer, and a Restoring Night Cream. The facial cleanser contains amino acids that eliminate makeup and excess oil and unclog your pores without irritating your skin. The gentle formula protects the natural skin barrier and leaves your skin refreshed, smooth and glowing.
The Soothing Radiance Toner is enriched with rose water, hazel, and aloe vera that refresh your skin and tighten the pores. It balances the pH level of your skin, prevents acne, and treats inflammation.
The 7 in 1 Ultra Moisturizer contains nutrient-dense and antioxidant-rich ingredients that smoothen fine lines and wrinkles and reduce age spots and enlarged pores. It helps firm your skin and evens out the skin tone.
The Restoring Night Cream contains shea butter, sweet almond oil, sunflower oil, wheat germ oil, macadamia oil, jojoba oil, and vitamin E. It revitalizes fatigued skin and minimizes dark and dull skin tone, offering a healthy glow. Centella asiatica extract replenishes the natural moisture barrier of your skin and restores damaged skin.
Pros
Paraben-free
Alcohol-free
No artificial colors
Cruelty-free
Mineral oil-free
Long-lasting
Cons
The Algenist Pure Genius Collection Kit includes an Ultimate Anti-Aging Melting Cleanser, a Liquid Collagen, an Ultimate Anti-Aging Cream, and an Ultimate Anti-Aging Eye Cream. It is enriched with alguronic acid that combats the appearance of fine lines and wrinkles.
The Ultimate Anti-Aging Cleanser melts into a silky oil and eliminates stubborn makeup. The Liquid Collagen is formulated with plant collagen and 13,000 beads of microalgae oil that provide you a youthful appearance.
The Ultimate Anti-Aging Cream is infused with collagen that moisturizes, firms, smoothens, and brightens the skin. The Ultimate Anti-Aging Eye Cream contains naturally sourced alguronic acid and microalgae oil that enhances skin elasticity and replenish under-eye moisture.
Pros
Claims to shows results in 10 days
Hypoallergenic
Non-comedogenic
Vegan
Gentle formula
Cons
None
This Anti-Aging Kit by Toulon includes an Exfoliating Cleansing Gel, an Eye Renewal Therapy, and an Anti-Wrinkle Face Moisturizer. The Exfoliating Cleansing Gel contains glycolic acid, vitamin C, panthenol, and rosehip that gently remove impurities and excess oil. It clears acne and breakouts and minimizes pore size.
The Anti-Wrinkle Face Moisturizer is enriched with glycolic acid and jojoba oil that builds collagen and diminishes fine lines and wrinkles. The Eye Renewal Therapy contains peptides and AHAs that treat discolored under-eye skin, dryness, and puffiness.
Pros
Suitable for all skin types
Hypoallergenic
Non-comedogenic
Paraben-free
Cruelty-free
Gluten-free
No synthetic fragrances
Cons
None
The Luminesce Anti-Aging Kit consists of a Cellular Rejuvenation Serum, Daily Moisturizing Complex, Advanced Night Repair, Youth Restoring Cleanser, and Essential Body Renewal. It restores the youthful vitality and radiance of the skin. This anti-aging kit helps reduce the appearance of fine lines and wrinkles. It is formulated with an exclusive, proprietary APT-200 that makes your skin smooth and soft.
Pros
Dermatologist-developed
Imparts a healthy glow
Absorbed quickly
Provides 24-hour hydration
Cons
The YEOUTH Anti-Aging System Thirties helps prevent the appearance of wrinkles, roughness, and age spots. This kit includes a Vitamin C Facial Cleanser, a Balancing Facial Toner, a Vitamin C & E Serum, a Radiance Eye Gel, and a Day/Night Cream.
The Vitamin C Facial Cleanser contains antioxidants and nutrients that help eliminate impurities.  The Balancing Facial Toner refreshes, soothes, and preps your skin for better absorption of the skin care products.
The Vitamin C & E Serum reduces fine lines and wrinkles, enhances the skin tone, and nourishes your skin. The Radiance Eye Gel combats free radicals, seals under-eye moisture, and prevents sun spots and dark circles. The Day/Night Cream deeply moisturizes your skin, reduces age spots, and treats acne scars.
Pros
Suitable for all skin types
FDA approved
Non-greasy
Non-irritating
Claims to show results within 2-3 days
Cons
The toner might feel sticky.
This anti-aging kit consists of an Exfoliating Cleanser, a Facial Serum, and an Intense Hydrator Repair Complex. The medical-grade natural ingredients, such as hyaluronic acid, acai berry, grass seed extract, and blueberry extract, prevent wrinkle-causing collagen breakdown. Berrimatrix, a unique anti-aging ingredient, delays wrinkle formation.
The Exfoliating Cleanser gently removes impurities, leaving your skin smooth and refreshed. The Facial Serum prevents premature signs of aging and improves your skin tone. The Intense Hydrator Repair Complex repairs damaged skin and enhances natural skin elasticity, making your skin firm. This kit helps prevent the appearance of fine lines, wrinkles, crow's feet, and acne. It is recommended by dermatologists, plastic surgeons, and Hollywood makeup artists.
Pros
Gluten-free
Recyclable packaging
Cruelty-free
Value for money
Cons
Might cause rashes.
Not suitable for sensitive skin.
The annmarie Restore Travel Kit includes an Aloe Herb Cleanser, a Kaolin Micro Exfoliant, a Neroli Toning Mist, an Anti-Aging Facial Oil, and a Coconut Honey Mask. It moisturizes your skin and smoothens the appearance of fine lines and wrinkles.
The organic ingredients help nourish your skin and impart a healthy glow. The aloe and herb-infused oils brighten your skin and restore its youthfulness, reviving dull skin. The kit addresses specific travel skin concerns, such as airplane dryness, a spike in humidity, or refreshment after a long journey.
Pros
Travel-friendly
Cruelty-free
Paraben-free
Alcohol-free
No artificial fragrance and colorants
Non-GMO
Sustainably packed
Comes in a linen drawstring bag
Suitable for dry skin types
Cons
None
Why Trust StyleCraze?
Oyendrila Kanjilal, the author, is a certified skin care coach. After wading through countless user testimonials and clinical reviews, she has picked the best anti-aging kits for her readers. So, if you are pressed for time or can't wrap your head around elaborate skin care routines, these kits are just for you. They eliminate the need to mix and match different ingredients and actives.
Recommended Articles