15 Best Anti-Aging Lotions To Fight Wrinkles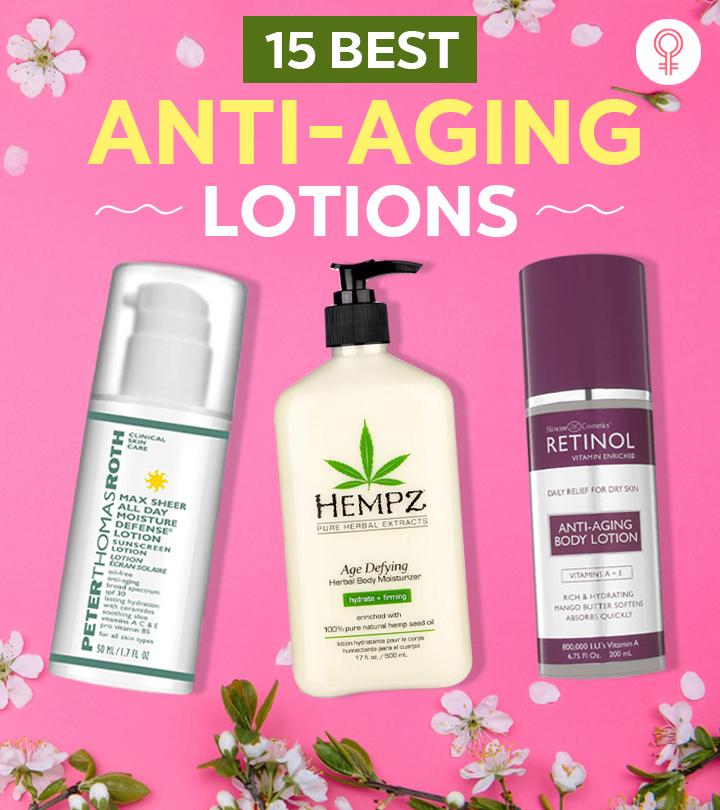 As you age, your skin also ages with you. Your skin loses its elasticity and texture, and you might notice fine lines, wrinkles, age spots. This is where anti-aging lotions come in! They restore your skin's health and make it young-looking. They also improve skin elasticity and even out the skin tone. Check out our list of the 15 best anti-aging lotions available online! Scroll down! 
15 Best Anti-Aging Lotions To Fight Wrinkles
The Peter Thomas Roth Max Sheer All Day Moisture Defense Lotion is a lightweight anti-aging lotion that acts as a hydrator backed with sun protection. It is formulated with ceramides, aloe vera, vitamins A, C, and E, pro vitamin B5, and broad-spectrum SPF 30 UVA/UVB protection. It is free of oil and added fragrances. This lotion protects the skin from aging and sun damage while revitalizing it. The ceramides help retain hydration and keep the skin young and healthy. 
Pros
Contains SPF 30
Oil-free
No added fragrances
Lightweight
Revitalizes the skin
Cons
Might be greasy for dry skin 
The Alpha Skin Care Renewal Body Lotion uses 12% glycolic AHA, with a pH level of 4. The glycolic AHA, derived from natural sugar cane, boosts collagen production while reducing the appearance of lines and wrinkles. This lotion removes dead skin cells to stimulate healthy, young, and smooth skin. It also contains specially selected vitamins and nutrients, paired with anti-aging ingredients that moisturize and soothe the skin.
Pros
Reduces acne
Lightens dark spots
Makes the skin healthy
Non-comedogenic
12% glycolic AHA
Paraben-free
No added fragrances
Non-greasy formula
Soothes the skin
Cons
Not suitable for all skin types
Might cause breakouts and rashes
The Hempz Age Defying Herbal Body Moisturizer is a daily lotion to reduce fine lines and wrinkles. It is formulated with she a butter, cucumber, ginseng, essential fatty acids, key amino acids, 100% pure hemp seed oil, natural minerals, polypeptides blend, algae extract, and vitamins. These ingredients keep the skin hydrated, smooth, toned, and nourished. It also helps improve overall skin health. The caffeine nut calms redness on the skin, while the vitamins protect the skin from natural and environmental oxidant triggers.
Pros
Paraben-free
Vegan
THC-free
Gluten-free
Absorbed quickly
Pleasant scent
No residue
Softensthe skin
Suitable for daily use
Cons
Might feel sticky
Might dry out the skin
The Olay Total Effects 7-in-1 Advanced Anti-Aging Body Lotion helps fight the seven signs of aging. It helps improve skin elasticity, keeps the skin hydrated, and relieves dryness. This lotion contains VitaNiacin complex that deeply nourishes and conditions the skin, brightens dull skin, smoothens rough skin, and minimizes the appearance of fine lines. It provides long-lasting moisturization, which helps fight against the signs of aging and keeps the skin toned.
Pros
Pleasant scent
Affordable
Lightweight
Softens the skin
Brightens the skin
Cons
Greasy
Not suitable for all skin types
The Retinol Skincare Cosmetics Anti-Aging Body Lotion replenishes the skin making it look younger, smoother and softer. This lotion eliminates dry, dull, and itchy skin. It provides moisturization and nourishment to keep the skin toned and healthy. It is formulated with vitamins A and E and mango butter that moisturize and revitalize the skin.
Pros
Absorbed easily
Evens skin tone
Gentle formula
Clears dark spots
Revitalizes the skin
Smoothens the skin
Cons
The Rosen Apothecary Age Defying Retinol Body Lotion is a skin firming moisturizer formulated with retinol, which is well-known for its anti-aging properties. Retinol also helps boost collagen production while tightening the skin and restoring its natural glow. This lotion also contains pure argan oil that deeply hydrates the skin and restores its moisture balance. The caffeine provides maximum firming to make the skin smooth and soft. This anti-aging lotion plumps the skin to reduce fine lines and imperfections while enhancing the skin's natural luminosity and complexion.
Pros
Paraben-free
GMO-free
Silicone-free
Cruelty-free
Mild scent
Improves skin texture and tone
Reduces the appearance of stretch marks 
Cons
Not suitable for all skin types
The Puritan's Pride Retinol Body Lotion is formulated with coconut oil and vitamins E and A. Vitamin A is extremely beneficial to the skin, and vitamin E is enriched with antioxidants that prevent signs of aging. Coconut oil hydrates the skin, making it smooth, toned, and healthy.
Pros
Paraben-free
Non-greasy formula
Pleasant scent
Reduces sun damage
Softens the skin
Cons
The Olay Pro X Age Repair Lotion protects sensitive skin with SPF 30. This light, non-greasy formula hydrates and moisturizes dry skin. It is formulated with aloe vera, vitamins E and B3, and pro vitamin B5, which make the skin healthy. Its effects are enhanced with niacinamide, amino peptides, and glycerin. This lotion reduces fine lines and wrinkles and protects the skin from sun damage.
Pros
Mild scent
Dermatologically-tested
Non-comedogenic
Brightens the skin
Non-greasy formula
Contains SPF 30
Cons
Might burn under the eyes
Not suitable for all skin types
Might not work with makeup
The Body Merry Super C-22 Moisturizer rejuvenates the skin with its gentle and effective formula. This lightweight cream helps reverse the signs of aging like fine lines and wrinkles, and sun damage like redness, spots, and hyperpigmentation. It is formulated with vitamins C, B3, and B5, CoQ10, organic aloe vera, clementine essential oil, organic she a butter, and jojoba oil. These ingredients help moisturize the skin and make it smooth and silky. The lotion also contains botanical hyaluronic acid that penetrates the skin and keeps it hydrated.
Pros
No added fragrance
Made of natural ingredients
Cruelty-free
Citrus scent
Brightens complexion
No film or residue
Fights sun damage
Gentle formula
Cons
The Eucerin Q10 Anti-Wrinkle Face Lotion is formulated with coenzyme Q10, vitamin E, and sunscreen. These ingredients help to keep the skin healthy and young. The lotion claims to reduce the appearance of fine lines and wrinkles within five weeks. It contains SPF 15 and keeps the skin moisturized, smooth and soft. It is non-comedogenic and gentle on sensitive skin.
Pros
Non-comedogenic
No added fragrance
Contains SPF 15
Lightweight
Light scent
Tightens the skin
Absorbed easily
Softensthe skin
Suitable for sensitive skin
Cons
Greasy
Might leave a white residue
The Herb Xtract Pure Collagen Hand Cream is an anti-aging cream that moisturizes, smoothens, heals, and restores the skin on the hand. It helps slow down skin aging, improve elasticity, reduce dryness, and diminish fine lines. This lotion is made with 100% natural ingredients like organic rose oil, 99.5% pure collagen, and vitamin E that make the skin silky smooth. It prevents moisture loss and rejuvenates and nourishes the skin to make it look young and healthy.
Pros
Pleasant scent
Plumps fine lines on hands and wrist
Lightweight
Non-greasy formula
Made of 100% natural ingredients
Cons
Not suitable for all skin types
The Ancient Greek Remedy 100% Pure Nature's Moisturizer is formulated with seven natural, raw ingredients – extra virgin olive oil, organic castor, grapeseed, sunflower, vitamin E, and lavender essential oil. This cream reduces fine lines, wrinkles, age spots, crow's feet, frown lines, and ashy skin and evens out the skin tone. Its organic ingredients help moisturize, smoothen, and tighten the skin. It also clears acne, shrinks enlarged pores, prevents breakouts, and reduces acne scars. This cream helps reduce dry and itchy skin, skin irritation, and minor skin discolorations.
Pros
Moisturizes the skin
GMO-free
Paraben-free
Gluten-free
Chemical-free
Made of natural ingredients
Smoothens the skin
Absorbed quickly
Soothes skin irritation
Suitable for daily use
Reduces discoloration
Cons
Strong smell
Might feel sticky
Might cause breakouts
The Revive Science Daytime Moisturizer is an anti-aging facial moisturizer that replenishes and hydrates the skin. It is formulated with proteins and peptides that diminish the appearance of wrinkles and boost collagen production. This lightweight cream also helps smooth fine lines, minimize enlarged pores, and tighten the skin to make it young-looking. It contains natural botanical extracts that seal in moisture and restore dehydrated skin. The squalene, vitamin C, vitamin E, and CoQ10 nourish the skin deeply, lighten dark spots, improve acne scars, and protect the skin from daily damage. The cream also contains aloe vera, cucumber, and avocado that visibly soften and nurture the skin.
Pros
No added fragrance
Cruelty-free
GMO-free
Paraben-free
Absorbed easily
Lightweight
Improves acne scars
Non-greasy formula
Softensthe skin
Suitable for daily use
Cons
The Aveeno Positively Ageless Firming Body Lotion offers all-day moisture while improving skin texture and elasticity. Its unique formula contains shiitake mushroom complex and wheat protein that make the skin firm and resilient. This lotion is absorbed easily into the skin and keeps it hydrated without feeling greasy. It also helps retain moisture and soften the skin.
Pros
Softens the skin
Mild scent
Gentle formula
Ideal for sensitive skin
Reduces eczema
Dermatologist recommended
Suitable for daily use
Cons
Might not work on dry skin
Might feel sticky
The Dr. Barbara Sturm Anti-Aging Body Cream provides long-lasting hydration and makes the skin soft and smooth. This lightweight cream is formulated with pure glacier water, white almond extracts, elderberry blossom, and nutrient-rich oils. The white almond extracts and elderberry blossom tighten and firm the skin. The oils and highly active compounds restore the skin's elasticity and to neit. The cream also contains purslane, which is an anti-aging powerhouse that helps calm the skin, refine pores, and reduce signs of irritation.
Pros
Lightweight
Absorbed quickly
Non-greasy formula
Softens theskin
Adds a dewy glow
Dye-free
Fragrance-free
Cons
Might cause breakouts
Expensive
Might not work on oily skin
[ Also Try – Patanjali Anti Wrinkle Cream ]
Here are a few factors to help you pick the best anti-aging lotion for your skin.
How To Choose The Best Anti-Aging Wrinkle Lotion – Buying Guide
Skin Type: It is very important to pick lotions (and other skin products) as per your skin type. What works for oily skin might not work best for dry or sensitive skin. Check the product description and reviews to know with which skin type the product works best.
Skin Issues: Pick a product that can address your skin issues. If you have fine lines and age spots, pick an anti-aging cream to treat them.
Sensitivities: If you have acne-prone or sensitive skin, choose products that are formulated especially for your skin type. Consult a dermatologist before purchasing a product. Also, perform a patch test to avoid severe breakouts or rashes.
Ingredients: Harsh ingredients like parabens and other skin irritants might harm your skin. Avoid these ingredients when you buy a product.
The skin is the largest organ and protects the body from water loss, sun damage, and much more. But over the years, the skin gets weak and loses its elasticity, and texture. Using these anti-aging lotions can give your skin a new life. What are you waiting for? Check out our products and achieve a wrinkle-free, glowing skin!
Recommended Articles