10 Best Anti-Aging Products For Acne-Prone Skin
Reverse your skin aging with these skincare essentials to flaunt the youthful skin of your dreams.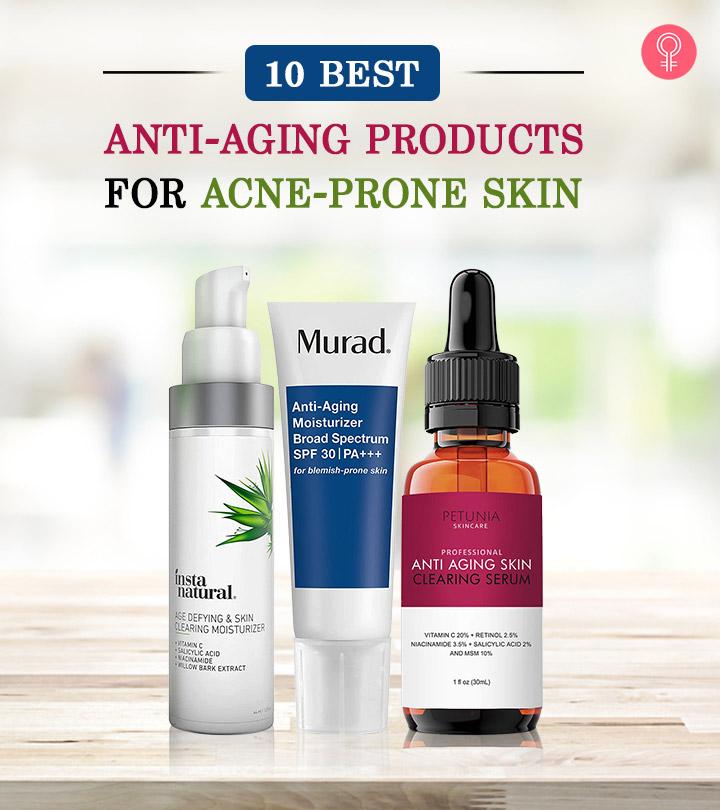 Leading a lifestyle high on junk food and low on sleep can lead to acne breakouts and make us look older than we are. We are here to tell you that you can tackle both the issues using the best anti-aging products for acne-prone skin. When selecting the right product for your skin, look for ingredients such as hyaluronic acid, antioxidants, and vitamin C that remove excess oils from your skin and keep it moist and soft. With the perfect products at your fingertips, you can slow down the process of aging and reduce acne breakouts. Check out our list of anti-aging products for acne-prone skin for more information.
10 Best Anti-Aging Products For Acne-Prone Skin
Paula's Choice Skin Perfecting Liquid Exfoliant is formulated with 2% BHA or salicylic acid that is helpful in treating acne. It gently removes the dead skin cells, unclogs pores, and reduces the appearance of fine lines and wrinkles. This non-abrasive exfoliant works well on delicate or sensitive skin and does not cause micro-tears like the harsh physical scrubs. It can be used daily to even out your skin tone and brighten your complexion. The anti-aging ingredients help in fighting the signs of premature aging while the BHA combats redness, blackheads, and enlarged pores. The antioxidants, like green tea, soothe the skin and protect it from sun damage. Regular use of this product reveals healthier skin with smaller pores and improved skin texture. Here's a personal review video to help you get a better understanding of the product.
Pros
Non-abrasive
Fragrance-free
Paraben-free
Cruelty-free
Does not irritate the skin
Cons
Oily and greasy formula
Contains polysorbate 20
Eva Naturals Skin Clearing Serum Vitamin C+ is one of the best anti-aging serums available for acne-prone skin. It has all the important anti-aging ingredients like retinol, niacinamide, hyaluronic acid, vitamin C, and salicylic acid! The vitamin C in the serum is an antioxidant that protects your skin from UV rays and free-radical damage. Niacinamide helps reduce hyperpigmentation and dark spots and brightens the complexion of the skin. The seingredients also help reduce inflammation of the skin. Hyaluronic acid provides intense hydration and replenishes the skin with moisture, giving it a plump and soft look. It is scientifically proven that retinol boosts the process of cell regeneration. It fights the signs of premature aging and stops the appearance of fine lines and wrinkles. Aloe is moisturizing as well as calming to the skin, while salicylic acid helps in cleansing and tightening clogged pores, absorbing excess oil, and preventing the formation of acne. This anti-aging serum gently exfoliates the skin to reveal a fresh complexion without blemishes or acne scars. It repairs, protects, and revitalizes your skin. Check out this video to better understand the functions of this product.
Pros
Moisturizes the skin
Reduces acne scars and blemishes
High-quality ingredients
Gets absorbed quickly
Easy to apply
Affordable 
Cons
May not be suitable for dry or sensitive skin
Insta Natural Vitamin C Cleanser contains glycolic acid, aloe vera, and soothing oils that help balance the skin complexion, reduce dullness and blackheads, cleanse clogged pores, and soothe the skin affected by inflammation and sun damage. This anti-aging face wash can be used daily to exfoliate the grime and dirt on the skin and reap the nourishing benefits of green tea, coconut water, and sugar cane extracts. The rich moisturizing oils replenish and restore your skin's lost moisture, tone, and elasticity. Click here to check out this YouTuber's unbiased review of the cleanser.
Pros
Reduces dullness
Softens the skin
No synthetic dyes
Para ben-free
Cruelty-free
No mineral oil
Cons
May cause irritation or breakouts
May dry out the skin
Tru Skin Tea Tree Clear Skin Super Serum'sage-defying formula is perfect for acne-prone skin. It contains powerful anti-aging ingredients like vitamin C, retinol, niacinamide, salicylic acid, and hyaluronic acid that help you get blemish-free, soft, radiant, and youthful skin. The serum soothes and heals acne and fades the appearance of acne scars, blemishes, dark spots, hyperpigmentation, and fine lines. The tea tree oil in it absorbs excess sebum, unclogs the pores, and reduces the pore size to help you get clean and clear skin. These ingredients prevent acne breakouts as well as nourish and protect your skin. This tea tree serum alsocontains the essential oils of lavender, ylang ylang, rosehip seed, and wild geranium that have been known to help calm, nurture, and rejuvenate the skin.
Pros
High-quality organic ingredients
Prevents breakouts
Reduces the size of pores
Reduces acne scars
Cruelty-free
Suitable for sensitive skin
Cons
Contains phenoxyethanol
May dry out the skin
Next on our list is Murad Anti-Aging Moisturizer For Blemish-Prone Skin that also offers sun protection! This moisturizer is very light in texture and gets absorbed quickly into the skin, which is perfect for acne- and blemish-prone skin. The kombucha black tea ferment in it hydrates the skin from within and helps in fighting the early signs of aging like fine lines, age spots, acne scars, and wrinkles. It has broad spectrum SPF 30 that helps in protecting your skin from the harmful UV rays. This moisturizer also containsan oil-control complex that helps in keeping your acne-prone skin non-greasy and clear by unclogging the pores. Its regular use will leave your skin feeling soft and smooth.
Pros
Prevents breakouts
Lightweight
Gets absorbed quickly
Paraben-free
Sulfate-free
Phthalate-free
Gluten-free
Cruelty-free
Cons
Rachel Moayer's skin care line brings this amazing anti-aging face cream for acne-prone skin. It contains 12 % alpha hydroxy acids (AHA) that havemany anti-aging benefits. It primarily exfoliates dull and dead skin cells to reduce the appearance of fine lines and wrinkles. AHAs boost collagen production and blood circulation to brighten your complexion. They are especially beneficial for treating acne as they prevent breakouts and reduce blemishes, acne scars, and age spots. This face cream also contains important peptides that revitalize and repair the skin. Peptides are precursors of proteins such as collagen, keratin, and elastin, which are essential in the formation of skin. They can help lift your skin and make it look firm and young.
Pros
Smoothens the skin
Hydrates the skin
Prevents breakouts
Brightens the skin
Paraben-free
Cruelty-free
Cons
AHAs can be harsh on certain skin types
InstaNatural's Niacinamide Serum helps in preventing breakouts and treating blemishes, dark spots, hyperpigmentation, and blotchiness on the skin. Niacinamide helps treat severe acne and controls inflammation and oil production in the skin. It is also important in building up the skin barrier and reducing the appearance of fine lines and wrinkles. It contains ingredients like hyaluronic acid and vitamin E that nourish and hydrate the skin. Avocado oil and rosemary extracts soothe irritated skin and improve the tone and texture of the skin. Its regular use reduces sagging and puffiness. This advanced anti-aging serum can strengthen your skin's elasticity and help it retain a firm and youthful appearance.
Pros
Reduces redness
Reduces the size of pores
Prevents breakouts
Reduces puffiness around the eyes
No synthetic dyes
Paraben-free
No mineral oil
Cruelty-free
Formaldehyde-free
SLS-free
Cons
May cause mild irritation
Neutralyze Renewal Complex is a moisturizer for acne-prone skin. It is formulated with the multi-patented Nitrogen Boost Skincare Technology, which is the world's first acne solution with nitric oxide. Nitric oxide helps get rid of redness, irritation, and acne quickly by promoting skin healing. This advanced anti-acne cream contains salicylic acid (2%) and mandelic acid (1%) that can help eliminate cystic acne, blackheads, pimples, whiteheads, blemishes, acne scars, and post-acne marks. It is formulated to work on skin conditions such as dermatitis, psoriasis, rosacea, eczema, and keratosis pilaris. The time-released hydroxy acids (AHA and BHA) gently exfoliate your skin, unclog your pores, and prevent future breakouts. This anti-aging serum evens out your skin tone, increases cell turnover, hydrates your skin, improves its elasticity, and fights against the appearance of wrinkles and fine lines.
Pros
Reduces the size of pores
Treats breakouts
Reduces oiliness
All-natural ingredients
Fragrance-free
Paraben-free
Cruelty-free
Prescription-grade
Cons
The PCA SKIN Hyaluronic Acid Boosting Serum has a HA-Pro Complex that provides instant hydration to your skin. The hydrolyzed hyaluronic acid stimulates your skin to produce its own hyaluronic acid and thereby strengthen its barrier. It also has niacinamide that protects acne-prone skin and soothes redness and inflammation. You can apply this serum both morning and night. The boosting serum plumps your skin and makes it firm for a youthful appearance.
Pros
 Suitable for all skin types
 Smoothes the skin
 Provide instant hydration
 A little bit of the product goes a long way
 Paraben-free
 Sulfate-free
 Fragrance-free
Cons
None
Reduce fine lines and wrinkles with the InstaNatural Vitamin C Moisturizer. This moisturizer is infused with aloe vera, niacinamide, hyaluronic acid, and sunflower seed oil to suit acne-prone skin. The moisturizer safely diminishes dullness, signs of aging, and makes the skin bright and radiant. Vitamin C infused in the moisturizer minimizes the dark spots, fine lines, and wrinkles. Additionally, this moisturizer replenishes your skin by keeping it hydrated and protects its moisture barrier.
Pros
 Paraben-free
 SLS-free
 Mineral oil-free
 Polyethylene Glycol-free
 Synthetic dye-free
 Formaldehyde releaser-free
 Cruelty-free
 Lightweight
 Unisex
Cons
None
Why Trust StyleCraze?
Shiboli Chakraborti, the author of this article, is a certified skin care coach and understands the needs of different skin types and concerns. She curated this list of the best anti-aging products for acne-prone skin by conducting hours of research and going through hundreds of user reviews online. These products may help slow down the aging process and reduce acne breakouts.
Frequently Asked Questions
Are anti-aging products good for acne?
Yes. Anti-aging products like retinoids can prevent fine lines and wrinkles and cleanse your pores naturally to reduce the formation of acne. But, certain anti-aging products use active ingredients that can further worsen acne. So read the ingredients before buying one for your acne.
What is the most important anti-aging product?
Sunscreens and moisturizers are the most essential anti-aging products. The UV rays of the sun can speed up our aging process so putting on sunblock is a necessity. Plus, dry skin is always akin to getting fine lines and wrinkles faster; so moisturization is a must.
How do I choose anti-aging products?
• Sun protection: Pick a sunblock that has a minimum of SPF 30 or more. A formula that is water-resistant is always recommended.
• Skin-type: Select products based on your skin type. Opt for a non-comedogenic water-based formula for oily skin, an oil-based one for dry skin, and a formula free from any irritants for sensitive skin.
• Ingredients: Look for anti-aging creams with ingredients like vitamins C, B3, and E to retain moisture in your mature skin. Additionally, add products with Vitamin A to your cart to fight environmental aggressors and boost collagen production. Coenzyme Q10, oligopeptide, and green tea extract also protect your skin against aging signs.
What ingredient makes skin glow?
Vitamin C is the main ingredient that increases the luminosity of your skin. Alpha-hydroxy acids, turmeric, and green tea extracts also contribute to brightening of the skin.
Recommended Articles