10 Best Anti-Aging Products For Acne-Prone Skin
Reverse your skin aging with these skincare essentials to flaunt the youthful skin of your dreams.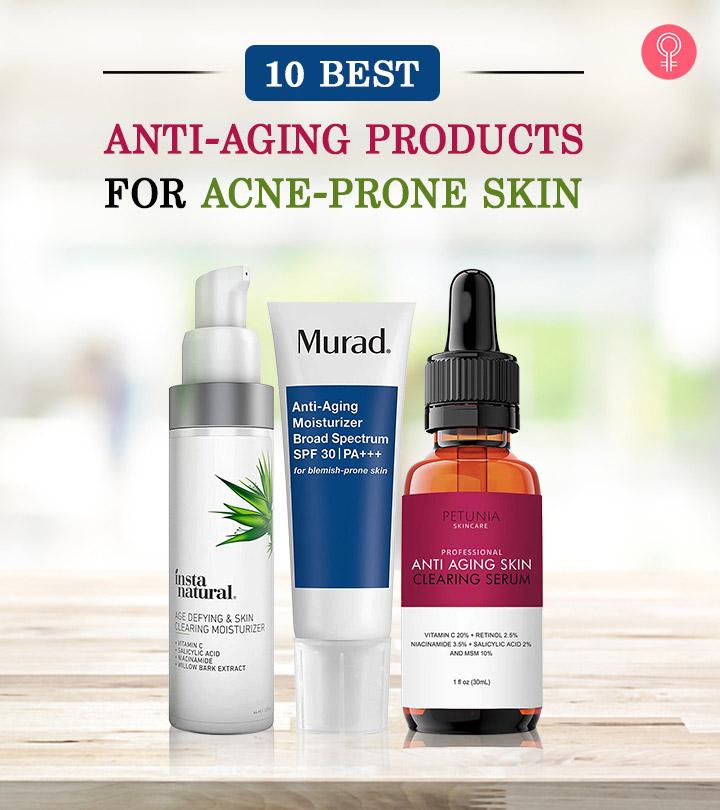 Leading a lifestyle high on junk food and low on sleep can lead to acne breakouts and make us look older than we are. We are here to tell you that you can tackle both the issues using the best anti-aging products for acne-prone skin. When selecting the right product for your skin, look for ingredients such as hyaluronic acid, antioxidants, and vitamin C that remove excess oils from your skin and keep it moist and soft. With the perfect products at your fingertips, you can slow down the process of aging and reduce acne breakouts. Check out our list of anti-aging products for acne-prone skin for more information.
10 Best Anti-Aging Products For Acne-Prone Skin
Pros
Non-abrasive
Fragrance-free
Paraben-free
Cruelty-free
Non-irritating
Cons
Oily and greasy formula
Contains polysorbate 20
Pros
Moisturizes the skin
Reduces acne scars and blemishes
Blemish control
High-quality ingredients
Gets absorbed quickly
Easy to apply
Affordable
Cons
May not be suitable for dry or sensitive skin
Pros
Reduces dullness
Softens the skin
No synthetic dyes
Para ben-free
Cruelty-free
No mineral oil
Cons
May cause irritation or breakouts
May dry out the skin
Tru Skin Tea Tree Clear Skin Super Serum'sage-defying formula is perfect for acne-prone skin. This clinically-tested formula contains powerful anti-aging ingredients like vitamin C, retinol, niacinamide, salicylic acid, and hyaluronic acid that help you get blemish-free, soft, radiant, and youthful skin. The antioxidant serum soothes and heals acne and fades the appearance of acne scars, blemishes, dark spots, hyperpigmentation, and fine lines. It has a lightweight texture. The tea tree oil in it absorbs excess sebum, unclogs the pores, and reduces the pore size to help you get clean and clear skin. Its acne-fighting ingredients help with acne control and excess oil production. These ingredients prevent acne breakouts as well as nourish and protect your skin. This dermatologist-tested tea tree serum alsocontains the essential oils of lavender, ylang ylang, rosehip seed, and wild geranium that have been known to help calm, nurture, and rejuvenate the skin.
Dr. Schwarzburg, a leading authority in the field of minimally invasive cosmetic and laser medicine in New York City, says, "Keep in mind that tea tree oil can be strong and may irritate sensitive skin."
Pros
High-quality organic ingredients
Prevents breakouts
Minimizes pores
Reduces acne scars
Cruelty-free
Sensitive skin-friendly
Cons
Contains phenoxyethanol
May dry out the skin
Next on our list is Murad Anti-Aging Moisturizer For Blemish-Prone Skin that also offers sun protection! This clinically backed skincare moisturizer is very light in texture and gets absorbed quickly into the skin, which is perfect for acne- and blemish-prone skin. The kombucha black tea ferment in it hydrates the skin from within and helps in fighting the early signs of aging like fine lines, age spots, acne scars, and wrinkles. It has broad spectrum SPF 30 that helps in protecting your skin harmful UV exposure. It reduces the appearance of skin blemishes. This moisturizer also contains an oil-control complex that helps in keeping your acne-prone skin non-greasy and clear by pore-refining and unclogging. Its regular use will leave your skin feeling soft and smooth. Also, this product has left reviewers seriously impressed with its high performance.
Dr. Schwarzburg, a leading authority in the field of minimally invasive cosmetic and laser medicine in New York City, says, "Moisturizer containing SPF is always a plus, as it helps protect your skin from the sun."
Pros
Prevents breakouts
Lightweight
Clinically-proven results
Fast-absorbing
Paraben-free
Sulfate-free
Phthalate-free
Gluten-free
Cruelty-free
Cons
Pros
Smoothens the skin
Hydrates the skin
Prevents breakouts
Brightens the skin
Paraben-free
Cruelty-free
Cons
AHAs can be harsh on certain skin types
Pros
Reduces redness
Reduces the size of pores
Prevents breakouts
Reduces puffiness around the eyes
No synthetic dyes
Paraben-free
No mineral oil
Cruelty-free
Formaldehyde-free
SLS-free
Cons
May cause mild irritation
Pros
Reduces the size of pores
Treats breakouts
Dermatologist-recommended
Reduces oiliness
All-natural ingredients
Fragrance-free
Paraben-free
Cruelty-free
Prescription-grade
Cons
The PCA SKIN Hyaluronic Acid Boosting Serum has a HA-Pro Complex that provides instant hydration to your skin. The hydrolyzed hyaluronic acid stimulates your skin to produce its own hyaluronic acid and thereby strengthen its barrier. It also has niacinamide that protects and soothes acne-prone skin helping in inflammation and redness reduction. You can apply this serum both morning and night. It promotes firmer skin and fights visible signs of skin aging. The boosting serum plumps your skin and makes it firm for a youthful appearance. Plus, this product has reported positive reviewers' experiences.
Pros
 Suitable for all skin types
 Smoothes the skin
 Provide instant hydration
 A little bit of the product goes a long way
 Paraben-free
 Sulfate-free
 Fragrance-free
Cons
None
Reduce fine lines and wrinkles with the InstaNatural Vitamin C Moisturizer. This moisturizer is infused with aloe vera, niacinamide, hyaluronic acid, and sunflower seed oil to suit acne-prone skin. The moisturizer safely diminishes dullness, signs of aging, and makes the skin bright and radiant. Vitamin C infused in the moisturizer minimizes the dark spots, fine lines, and wrinkles. Additionally, this moisturizer replenishes your skin by keeping it hydrated and protects its moisture barrier.
Pros
 Paraben-free
 SLS-free
 Mineral oil-free
 Polyethylene Glycol-free
 Synthetic dye-free
 Formaldehyde releaser-free
 Cruelty-free
Allergy-tested
 Lightweight
 Unisex
Cons
None
*The prices provided in this article are based on the latest available information. However, they may vary due to changes in pricing by the seller and/or promotional offers.
The market has a plethora of anti-aging products but when it comes to picking the right one that caters to acne prone skin, you must be very careful. There are a few factors to consider while picking the best ant-aging products for acne prone skin. Read on to find out more.
How To Choose The Best Anti-Aging Products For Acne-Prone Skin
There are a very few ingredients that work miraculously well for acne prone skin whilst catering to skin aging concerns. To start off, it is best to pick products that are formulated with organic and natural ingredients, unless you are allergic to some ingredient. Opt for a product that contains glycolic acid or salicylic acid for combination skin as they unclog pores and hydrate your skin without making it dry. This helps control acne breakouts and keeps excess sebum production at bay. Lactic acid helps exfoliate and remove dead skin cells. This helps to deal with skin concerns like hyperpigmentation and age spots. Choose anti-aging products for acne prone skin that contain ingredients like retinoids, other AHAs and BHA, niacinamide, amino acid, hyaluronic acid, vitamin C, along with other antioxidants like green tea, vitamin E, or aloe vera. These protect, calm, and nourish acne prone skin while boosting skin's elasticity and firmness.
Be careful when exposing your skin to active ingredients like retinol, vitamin C, AHAs or BHAs. For example, retinol is the key ingredient in every anti-aging product as it speeds up skin cell turnover and increases collagen production.If you are a beginner to retinol or anti-aging products over all, start with mild formulations with 0.5% of retinols and allow your skin to build tolerance thereafter. Once your skin adapts to it, switch to 1.5% to 2% of retinol concentration in your anti-aging product.
Another key factor apart from locking in moisture to prevent skin aging is to give your skin a thorough protection from the sun. Include sunscreen in your daytime skin regime with a broad-spectrum sunscreen with an SPF of 30 or more. A sunscreen is necessary as it protects your skin from sun damage which is one of the major causes of premature skin aging.
Acne-prone skin is sensitive and you must choose products accordingly. Pick a formula that has antioxidants and anti-inflammatory properties. Choose lightweight, result-driven formulas that are non-comedogenic, hypoallergenic, non-greasy, and quick absorbing.
Why Trust StyleCraze?
Shiboli Chakraborti, the author of this article, is a certified skin care coach and understands the needs of different skin types and concerns. She curated this list of the best anti-aging products for acne-prone skin by conducting hours of research and going through hundreds of user reviews online. These products may help slow down the aging process and reduce acne breakouts.
Frequently Asked Questions
Are anti-aging products good for acne?
Yes. Anti-aging products like retinoids can reduce fine lines and help in wrinkle prevention, while cleansing your pores naturally to reduce the formation of acne. But, certain anti-aging products use active ingredients that can further worsen acne. So read the ingredients before buying one for your acne.
What is the most important anti-aging product?
Sunscreens and moisturizers are the most essential anti-aging products. The UV rays of the sun can speed up our aging process so putting on sunblock is a necessity. Plus, dry skin is always akin to getting fine lines and wrinkles faster; so moisturization is a must.
How do I choose anti-aging products?
• Sun protection: Pick a sunblock that has a minimum of SPF 30 or more. A formula that is water-resistant is always recommended.
• Skin-type: Select products based on your skin type. Opt for a non-comedogenic water-based formula for oily skin, an oil-based one for dry skin, and a formula free from any irritants for sensitive skin.
• Ingredients: Look for anti-aging creams with ingredients like vitamins C, B3, and E to retain moisture in your mature skin. Additionally, add products with Vitamin A to your cart to fight environmental aggressors and boost collagen production. Coenzyme Q10, oligopeptide, and green tea extract also protect your skin against aging signs.
What ingredient makes skin glow?
Vitamin C is the main ingredient that increases the luminosity of your skin. Alpha-hydroxy acids, turmeric, and green tea extracts also contribute to brightening of the skin.