13 Best Anti-Aging Products For Oily Skin You Need In 2023
Make the signs of aging disappear with these skincare products that control oil, shine, and sebum.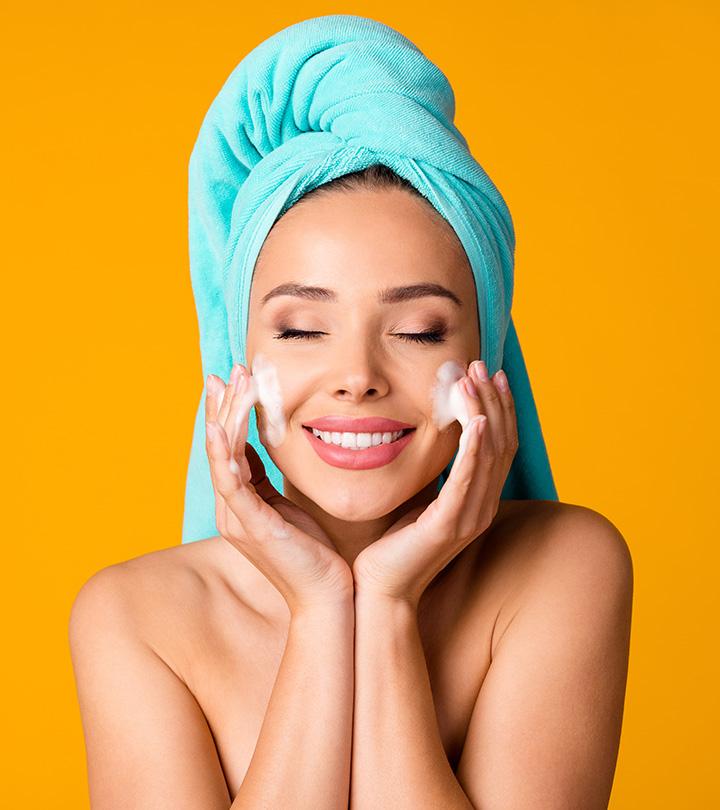 If you have oily skin, you are well aware of its problems. Fortunately, this skin type can visibly show aging signs, like fine lines and wrinkles, much earlier. But fret not – as the best anti-aging products for oily skin can help. Also, minimizing the signs of aging at an early stage will help keep your skin young and supple for a long time. While the market has many anti-aging products meant for oily skin, most can be heavy on your skin and tend to clog the skin pores. Hence, it is important to choose the right product formulated with effective yet gentle ingredients suitable for your skin type.
You also must pay extra attention to these products as oily skin is more prone to acne and breakouts. This article lists the best 13 anti-aging products for oily skin. Scroll down and check them out.
13 Best Anti-Aging Products For Oily Skin In 2023
Restore youthful radiance with the ENVISHA Collagen Anti-Aging Cream. The cream is enriched with hyaluronic acid, vitamin C, vitamin E, jojoba oil, and collagen that moisturizes your skin, minimizes the appearance of wrinkles and fine lines, and reduces the signs of aging. In addition, this anti-wrinkle cream nourishes your skin, makes the skin texture smooth, and hydrates your skin. The lightweight formula of the cream gets well absorbed into the skin and provides long-lasting hydration and visible results in terms of increased radiance and softer and smoother skin. This product has many positive reviews, making it the top product on our list.
Product Dimensions: 3.94 x 1.57 x 0.75 inches | Weight: 1.7 Ounces.
Pros
Non-greasy
Non-comedogenic
SLS-free
Phthalate-free
Paraben-free
Petrochemical-free
Toxin-free
Cons
None


Pro Tip
Anti-aging creams work best when paired with face serums. Apply your cream after your serums in your routine. During the day, follow it up with sunscreen.
If you want a gentle, hydrating cleanser, turn to the Botanic Tree Glycolic Acid Exfoliating Cleanser with 10% glycolic acid and other natural ingredients. This cleanser has a mild tea tree leaf oil scent and works to deeply cleanse your pores to give you hydration from within. Tea tree oil is an excellent ingredient to look for in skincare for oil and problematic skin. It kills bacteria and is also anti-fungal. Infused with bamboo, shea butter, willow bark, and seaweed, this product exfoliates, brightens, and fights signs of aging for all skin types. This AHA exfoliant also erases fine lines and plump wrinkles to show noticeable results while you tackle dead skin cells, acne breakouts, redness, and blemishes.
Skin Type: Acne Prone,Oily,Sensitive
Pros
Paraben-free
Sulfate-free
Suitable for men and women of all age groups
100% organic extracts ingredients
Cruelty-free
Cons
Contains aluminum oxides.
The LilyAna Naturals Vitamin C Serum has a high potency formula that reduces age spots and protects your skin from sun damage. The water-based vitamin C serum visibly revitalizes and boosts dull and tired skin by promoting collagen and skin elasticity. Vitamin C is excellent for the exfoliation of dead skin cells and facilitates cell-rejuvenation, as well as lightening hyper-pigmentation. Formulated with vitamin C and E, aloe leaf juice, wild geranium, horsetail, and dandelion extracts, this serum moisturizes and delivers antioxidants for a radiant complexion. This natural blend of proven anti-aging activities also includes jojoba oil and 5% botanical hyaluronic acid, which encourage moisture retention in the skin. Not only is this anti-aging serum for oily skin suitable for all skin types, but it also caters to a wider range of skin concerns, including dark spots, hyper-pigmentation, scars, skin texture, acne redness, and dull skin tones. Vitamin C can be sensitive for many for everyday use, so start out slowly. Buffering with a moisturizer or serum is often effective. Take a look at this video for a tester's experience in an honest review of the LilyAna Naturals Vitamin C Serum.
Skin Type: All, Oily, Combination, Sensitive, Normal | Product Dimensions: 2.2 x 5.98 x 3.46 inches | Weight: 1 Ounces
Pros
Vegan ingredients
No artificial colors or fragrances
Gluten-free
Paraben-free
Cruelty-free
Non-comedogenic
Cons
The product may have a slightly sticky consistency but can be used with moisturizer to eliminate the effect.

Caution
LilyAna products are organic and thus come with a PAO (period after opening) expiration date. Use it within 12 months of opening the lid.