13 Best Anti-Aging Products For Oily Skin You Need In 2023
Make the signs of aging disappear with these skincare products that control oil, shine, and sebum.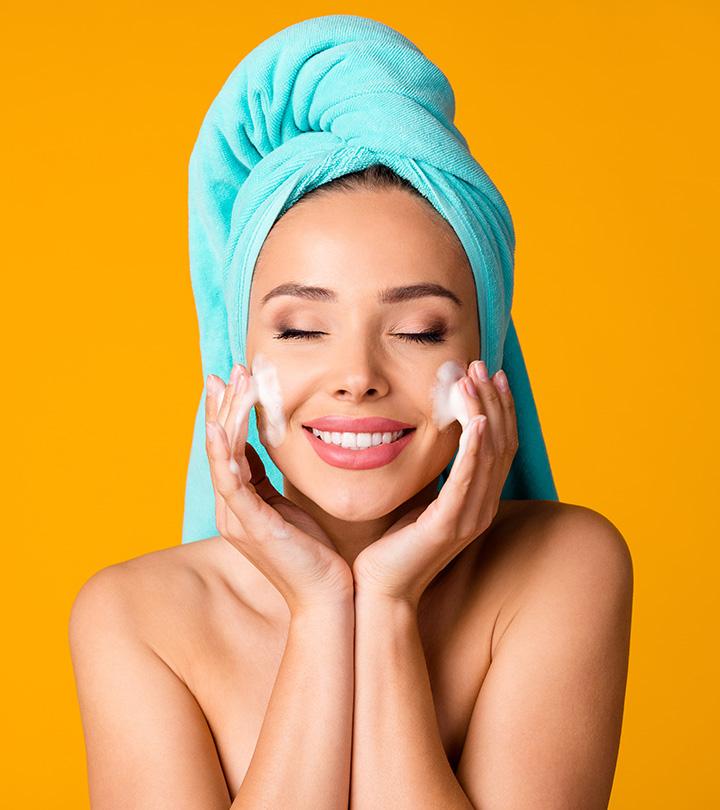 If you have oily skin, you are well aware of its problems. Fortunately, this skin type can visibly show aging signs, like fine lines and wrinkles, much earlier. But fret not – as the best anti-aging products for oily skin can help. Also, minimizing the signs of aging at an early stage will help keep your skin young and supple for a long time. While the market has many anti-aging products meant for oily skin, most can be heavy on your skin and tend to clog the skin pores. Hence, it is important to choose the right product formulated with effective yet gentle ingredients suitable for your skin type.
You also must pay extra attention to these products as oily skin is more prone to acne and breakouts. This article lists the best 13 anti-aging products for oily skin. Scroll down and check them out.
13 Best Anti-Aging Products For Oily Skin In 2023
Restore youthful radiance with the ENVISHA Collagen Anti-Aging Cream. The cream is enriched with hyaluronic acid, vitamin C, vitamin E, jojoba oil, and collagen that moisturizes your skin, minimizes the appearance of wrinkles and fine lines, and reduces the signs of aging. In addition, this cream nourishes your skin, makes the skin texture smooth, and hydrates your skin. The lightweight formula of the cream gets well absorbed into the skin and provides long-lasting hydration.
Pros
Non-greasy
Non-comedogenic
SLS-free
Phthalate-free
Paraben-free
Petrochemical-free
Toxin-free
Cons
None
Price at the time of publication: $26.99
If you want a gentle, hydrating cleanser, turn to the Botanic Tree Glycolic Acid Exfoliating Cleanser with 10% glycolic acid and other natural ingredients. This cleanser has a mild tea tree leaf oil scent and works to deeply cleanse your pores to give you hydration from within. Infused with bamboo, shea butter, willow bark, and seaweed, this product exfoliates, brightens, and fights signs of aging for all skin types. This AHA exfoliant also erases fine lines and plump wrinkles to show noticeable results while you tackle dead skin cells, acne breakouts, redness, and blemishes.
Pros
Paraben-free
Sulfate-free
Suitable for men and women of all age groups
100% organic extracts ingredients
Cruelty-free
Cons
Contains aluminum oxides.
Price at the time of publication: $22.9
The LilyAna Naturals Vitamin C Serum has a high potency formula that reduces age spots and protects your skin from sun damage. The water-based vitamin C serum visibly revitalizes and boosts dull and tired skin by promoting collagen and skin elasticity. Formulated with vitamin C and E, aloe leaf juice, wild geranium, horsetail, and dandelion extracts, this serum moisturizes and delivers antioxidants for a radiant complexion. This natural blend of proven anti-aging actives also includes jojoba oil and 5% botanical hyaluronic acid, which encourage moisture retention in the skin. Not only is this anti-aging serum for oily skin suitable for all skin types, but it also caters to a wider range of skin concerns, including dark spots, hyper-pigmentation, scars, skin texture, acne redness, and dull skin tones. For an honest review of the LilyAna Naturals Vitamin C Serum, have a look at this video.
Pros
Vegan ingredients
No artificial colors or fragrances
Gluten-free
Paraben-free
Cruelty-free
Non-comedogenic
Cons
The product may have a slightly sticky consistency but can be used with moisturizer to eliminate the effect.
Price at the time of publication: $18.29
The LilyAna Naturals Collagen Building Complex Face Cream is a smooth and featherweight option that hydrates your skin and minimizes the signs of aging, including fine lines, deep wrinkles, rough texture, dehydration, flaking, peeling, and tightness. Scented with rose and pomegranate, this all-natural anti-aging wrinkle cream is infused with rose distillate, aloe vera juice, alpha-lipoic acid, provitamin A, vitamin C and E, cranberry, lemon, and orange extracts. These skin-loving botanicals and actives nourish your skin and help banish dullness, dark spots, and hyperpigmentation while keeping skin soft, smooth, and radiant.
Pros
Suitable for all skin types
Can be used on skin conditions like rosacea, eczema, and dermatitis
Easily absorbed
Vegan ingredients
No artificial fragrances or colors
Gluten-free and paraben-free
Cons
May cause drying in some cases and requires reapplication
Price at the time of publication: $19.67
For the ideal product that encourages collagen production and maintains firmness and elasticity, your best choice is the InstaNatural Vitamin C Toner. The face spray is infused with witch hazel, MSM, lavender oil, and geranium oil that prevent and reduce signs of aging. This anti-aging cleanser for oily skin cleans and preps your skin by penetrating the pores and increasing their elasticity to absorb serums, oils, and moisturizers better. Glycolic acid and vitamin C work together to remove excess oils and restore your natural pH levels while still being gentle on all skin types. With anti-aging oxidants, toner for oily skin is sure to restore health and beauty to your skin.
Pros
Suitable for all skin types
Cruelty-free
Paraben-free
No mineral oils
Contains botanical ingredients
Cons
May have a filmy after-feel
Price at the time of publication: $13.97
With a 97.5% high concentration of snail mucin extract, the SeoulCeuticals Multi-Function All-In-One Anti-Aging Snail Repair Cream eliminates fine lines and is effective for brighter, healthier, and more youthful-looking skin. Infused with organic aloe, deionized water, organic sunflower, snail mucin, glycerin, shea butter, organic jojoba oil, organic comfrey, and organic green tea, this cream will have you looking visibly fresh and radiant. Ethically harvested, this Korean snail cream is naturally anti-microbial and contains vitamin E and B5, along with retinol for effective skin results that suit all skin types. To know more about the benefits of the SeoulCeuticals Multi-Function All-In-One Anti-Aging Snail Repair Cream, click on this YouTube video.
Pros
Non-comedogenic
Cruelty-free
97% naturally derived formula
Suitable for all skin types
Cons
This product may have a fragrance that some might find pungent.
Price at the time of publication: $20.0
You can experience deep, relaxing hydration with the plant-derived Ebanel Hyaluronic Collagen Sheet Mask with brightening and antioxidant properties. Infused with hyaluronic acid, vitamin C and E, aloe vera, tomato, edelweiss, and purslane extracts, this thick and soft moisturizing face mask leaves your skin smoother, softer, and healthier. Extracted from seaweed, collagen peptides in this mask help boost skin cell regeneration and help you get firmer skin. Finally, the chamomile extracts and ascorbic acid in this sheet mask reduce redness and blemishes, and other skin irritations. The Ebanel Hyaluronic Collagen Sheet Mask will work wonders on your skin. For detailed review, check out this video.
Pros
Cruelty-free
Vegan-friendly product
Hypoallergenic
Oil and alcohol-free
Plant-derived and biodegradable
Cons
Mask may come in a large size and requires extra care during application
Price at the time of publication: $31.99
With anti-aging oxidants and blemish-busting essential oils, the TruSkin Daily Facial Cleanser is designed to promote your skin's natural health. Infused with vitamin C and organic rosehip oil, you will find this cleanser to be effective and lightweight. This cleanser works deep into your pores to clean the grime, targeting breakouts and minimizing sun damage without stripping your skin of its natural moisture. Its plant-based ingredients include aloe vera, vitamin E, and tea tree oil, known for their refining texture and will convince you to add this product to your daily skincare routine.
Pros
Suitable for all skin types
Certified cruelty-free
Advances vitamin C moisturizer
Contains antioxidants
Vegan
Paraben and sulfate-free
Cons
This product can cause irritation if it gets into your eyes.
Price at the time of publication: $15.99
The InstaNatural Exfoliating Glycolic Mask And Face Scrub provides dual-action exfoliation to hydrate and renew the skin. This natural mask treatment supports collagen production and provides brightening exfoliation as it highlights the appearance of uneven and dull skin tones. The glycolic acid in this mask boosts cell turnover to exfoliate dulling skin cells, and in combination with quartz crystals, provides both physical and chemical exfoliating benefits. While the combination of natural ingredients like pumpkin, vitamin C, aloe vera, and turmeric works to soothe, tone, brighten and smooth the skin, leaving you with tightened pores and younger-looking skin.
Pros
Cruelty-free
Paraben-free
No synthetic dyes used
Clinically proven ingredients
Suitable for men and women with all skin types.
Cons
It may take longer than expected to wash off the entire mask.
Price at the time of publication: $13.97
A pearlescent foam that gently whisks away dirt and grime from your skin, the Best Unscented:Paula's Choice Perfectly Balanced Foaming Cleanser works its magic without stripping your skin off its moisture. This lightweight, balancing face wash is non-greasy and helps visibly reduce enlarged pores with ingredients like hyaluronic acid that plumps skin and gives you a smooth and refreshed feeling. This anti-aging cleanser not only gently removes makeup, but also excess oils that can cause breakouts without leaving your skin tight or dried out. The sunflower seed oil and aloe vera in this cleanser keep your skin supple, and that's what makes this product the perfect addition to your daily skin routines.
Pros
Non-greasy
Unscented
Paraben-free
Suitable for all skin types.
Cons
May feel heavy on your skin
Price at the time of publication: $22.0
Paula's Choice CLINICAL 0.3% Retinol + 2% Bakuchiol Treatment is a triple-action anti-aging serum infused with retinol, bakuchiol extract, and peptides to fight signs of aging. The treatment helps to stimulate collagen production in the skin, resulting in reducing the appearance of wrinkles and fine lines for radiant and youthful skin. This blend is a gift to your skin if you are struggling with dark spots and hyperpigmentation. It is a non-greasy blend that prevents your face from breaking out. The peptides in this serum help maintain your skin's moisture barrier while restoring the lost firmness.
Pros
Fragrance-free
Paraben-free
Potent formulation
Suitable for all skin types
Improves skin barrier
Cons
Might dry out your skin
Might cause irritation on sensitive skin
Price at the time of publication: $62.0
You can get your daily dose of moisture from the water-based First Aid Beauty Ultra Repair Hydrating Serum that helps reduce wrinkles, fine lines, and other signs of aging. This alcohol-free serum is infused with hyaluronic acid that seals in hydration for an all-day healthy-looking complexion. Apart from the increased firmness and moisture levels, you can also use this lightweight product to fight dryness and redness. The collagen and peptides in this serum help improve the health, balance, and overall appearance of skin.
Pros
Dermatologist-tested and oil-free
No artificial fragrance
Safe for oily, sensitive skin
Cruelty-free
Gluten-free
Non-comedogenic
Cons
The product may feel a little sticky on your skin.
Price at the time of publication: $19.0
The non-foaming, soothing formula of the Leven Rose Oil Cleansing Face Wash is perfect for hydrating sensitive skin, dry skin, mature skin, and oily skin types. Not only does this cleansing oil shrink pores, fight wrinkles, and give you a balanced complexion, but it also leaves your skin feeling soft and nourished. Infused with a range of hydrating oils like argan oil, amla oil, marula oil, monoi oil, babassu oil, coconut oil, soja oil, and lavender essential oil, you can use this face wash to naturally soften and slow down signs of aging, diminish redness and other skin irritations. 
Pros
100% natural
Suitable for all skin types
Has a gentle fragrance
Fights anti-aging signs
Cons
It may have a slightly greasy formula
Price at the time of publication: $22.97
Aging is a natural process that you can embrace with these products in hand. Now that you've browsed through the list of the best anti-aging products for oily skin, you can decide what works best for you. You can find listed below a few guidelines that will further help you choose the right anti-aging products for oily skin types.
Things To Keep In Mind While Choosing Anti-Aging Products For Oily Skin
For oily skin, you will generally want to stay away from oily creams and emulsions. Most anti-aging creams are super heavy and packed with a lot of hydrating properties. You don't need extra hydration for your skin, but instead, you need a properly hydrating product that has other ingredients that address wrinkles, sagging, brightness, and puffiness directly. Integrating anti-aging products into your skin routine is important, as is drinking enough water, eating properly, and staying away from the sun, whether you are in your 30s or 50s. There are so many products out there that can overwhelm you with their qualities, but you can choose the right one with our help.
Factors To Consider While Buying Anti-Aging Products For Oily Skin

Choose products that have a lighter consistency like gentle cleansers and toners. Oily and combination skin is best treated without stripping the skin with ingredients that remove excess oils.
Select products that have hyaluronic acid, glycolic acid, and/or salicylic acid with anti-aging benefits that can help you achieve a healthy level of degreasing without causing excess dryness and inflammation.
If you're looking for a product that stays on and infuses skin with nutrients, seeks a toner or serum. Trust formulas that balance your skin and control sebum production and formulas that are packed with light ingredients that target specific issues.
If you have oily skin and are also starting to see some fine lines, do not give up on your dreams of younger-looking skin. The correct product type (lightweight toners or serums) with the correct ingredients (actives and vitamin-enriched nutrients instead of occlusives) will work wonders for your skin.
Busting Myths With The Best Anti-Aging Skin Care Products For Oily Skin
One common myth is that oily skin ages more slowly than other skin types and doesn't wrinkle as easily. Like all other types, oily skin ages but may just appear smoother because continued production of sebum helps maintain the skin's texture and natural glow. However, excessive sebum makes aging skin more susceptible to conditions such as acne and rosacea and may decrease the effectiveness of procedures such as laser treatments for skin resurfacing. Factors such as sun damage and the amount of collagen and elastin in your skin ultimately have a more significant impact on its appearance as you age than the amount of sebum produced by your skin. In oily skin, sebum is an inflammatory substance that can stimulate an immune response (in excess amounts), such as swelling or irritation. Aging skin, which can worsen the problem, tends to be thinner than younger skin. Using antioxidants, which act as inflammation blockers, is one solution. Products should be non-comedogenic and oil-free, meaning they do not clog pores. Look for labels with active ingredients, such as sulfur, retinol, and salicylic acid, that help your oil glands work more naturally. It is essential to moisturize daily and to wear sunscreen as well.
Why Trust StyleCraze?
The author, Kirtana Divakar, is a skin care enthusiast who provides you with the scoop on the most effective products to help you achieve beautiful skin. She shares tips for choosing the best anti-aging products for oily skin in her buying guide and explains how to consider ingredients, consistency, and product formulation parameters for a better experience. After conducting extensive research and reviewing numerous online reviews, she compiled this list of top products.
Frequently Asked Questions
Does retinol help oily skin?
Yes. Retinol decreases the potency of overactive oil glands. It unclogs pores and prevents the development of new acne. Therefore, retinol helps oily skin.
Does oily skin make you look older?
No. People with oily skin get fewer wrinkles due to the hyperactive oil gland and does not make you look older.
When should I start using anti-aging products?
Start using anti-aging products in your early to mid 20s to combat the premature aging signs.
Which face cream is the best for oily skin for daily use?
The ENVISHA Collagen Anti-Aging Cream is the best daily wear cream for oily skin. It features potent, non-comedogenic ingredients that nourish, smoothen, and hydrate the skin. It also stimulates collagen production to improve the elasticity of your skin.
What products should not be used for oily skin?
Skip using products with comedogenic formulas if you have oily skin. In addition, avoid products that contain alcohol, fragrances, and synthetic dyes to prevent stripping the natural oils from the skin.
How do you stop oily skin from aging?
• Apply sunscreen specially formulated for oily skin.
• Do not cleanse your face frequently. Instead, wash your face twice daily and use blotting paper to keep the oil away from the face.
• Opt for an oil-free moisturizer that contains antioxidants to keep your skin supple and soft.
• Avoid sugar, alcohol, and tobacco. They dull the complexion and damage the skin texture.
• Consume food rich in omega-3 fatty acids to revitalize the skin and nourish it from within.
• Improve your sleeping posture to prevent the formation of wrinkles.

Recommended Articles