9 Best Anti-Aging Products For Sensitive Skin – 2023
Build your skin care regime and bid farewell to premature aging signs with these products.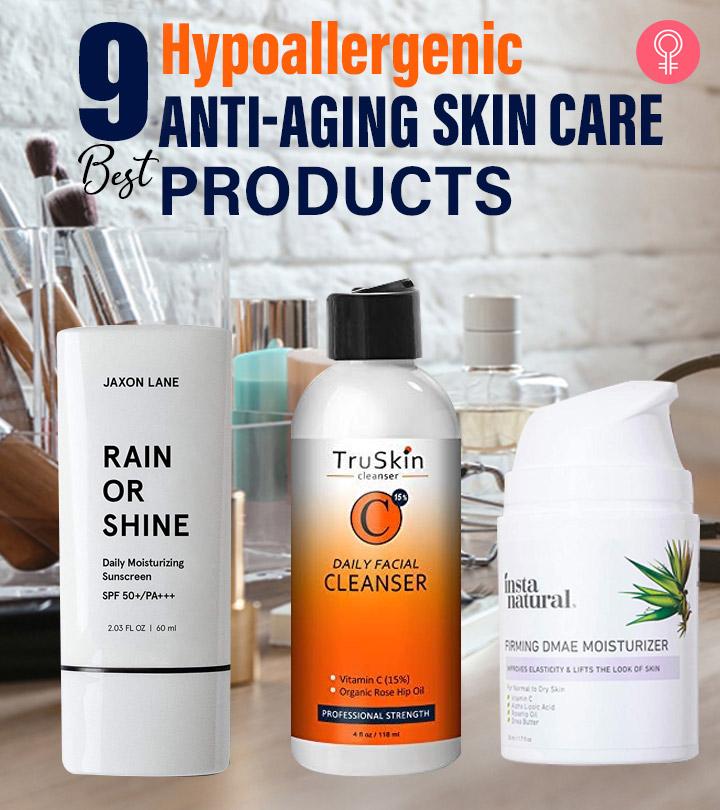 If you're looking for the best anti-aging products for sensitive skin, you've come to the right place. As we know, sensitive skin is more prone to damages; it requires extra special care. To give your skin a youthful appearance, it's time to forsake your typical skincare routine and choose medically tested anti-aging products. These incredible skincare products are made to help relieve sensitive skin while also preventing irritation. We've compiled a list of the top 8 anti-aging products for sensitive skin in this article. Select your favorite and treat your skin to a youthful makeover!
9 Best Anti-Aging Products For Sensitive Skin
Pros
Fragrance-free
Paraben-free
Cruelty-free
Safe and effective
SPF 30
Non-greasy
Cons
None
Price at the time of publication: $11.0
Note: When using retinol-based products, always do a patch test before using them all over your skin. While a little purging is fine, discontinue use if your skin reacts badly to them. These products also increase the skin's sensitivity to the sun. Therefore, use sunscreen daily.
Pros
Rich natural ingredients
Nourishing
Mild natural scent
Skin-friendly
Gentle formulation
Ideal for sensitive skin
Non-greasy
Soothing
Long-lasting results
pH-balanced
Hydrating
Cons
None
Price at the time of publication: $24.99
Keep premature signs of aging at bay with the SuperNAD Youth Activating Facial Sheet Mask. This age-defying, skin tightening treatment includes sheet mask enriched with Nicotinamide Adenine Dinucleotide (NAD) that calms and hydrates your skin while activating your skin's natural cellular defense. It illuminates your skin while helping it repair, revitalize, and replenish.
This soft banana natural fiber face mask reverses the signs of aging by nourishing your skin and activating up to 80% of its cellular energy. It contains snow algae that delays the collagen and elastic breakdown to keep your skin youthful. Sunflower sprout promotes cell longevity and reduces aging signs, while tamarind seed gum and prickly pear hydrate the skin. White snow tea improves skin firmness and reduces wrinkles and cell damage.
Key Ingredients: Snow algae, Sunflower sprout, Prickly pear, Tamarind seed gum, and White snow tea
Pros
Clean ingredients
Hydrating formula
Non-bleaching
Vegan
Cruelty-free
Cons
None
Pros
Multipurpose
All-natural ingredients
Gluten-free
Paraben-free
GMO-free
Vegan
Cons
Takes time to dry on the skin.
Price at the time of publication: $16.99
Pros
Fragrance-free
Paraben-free
Silicone-free
SLS- and SLES-free
Gluten-free
Mineral oil-free
Alcohol-free
Vegan
Not tested on animals
Cons
Price at the time of publication: $34.99
Pros
Silicone-free
SLS-free
Fragrance-free
Alcohol-free
Cons
Price at the time of publication: $58.0
Note: A patch test is recommended before using any vitamin C product, especially if you have sensitive skin. Avoid using the product if it irritates the patch test area. Also, ensure to use a broad-spectrum sunscreen daily alongside it.
Pros
Gentle
Lightweight
Clinically tested
Dermatologist-tested
Ideal for daily use
Sulfate-free
Phthalate-free
Paraben-free
Vegan
Cruelty-free
PEG-free
Cons
Price at the time of publication: $15.99
Pros
Dermatologist-tested
Gentle
Non-comedogenic
Non-irritating Fragrance-free
Cons
Less quantity for the price.
Price at the time of publication: $15.87
Pros
Gentle
Hypoallergenic
Non-comedogenic
Lightweight Non-greasy
Absorbed quickly
Oxybenzone-free
Alcohol-free
Fragrance-free
Dermatologist-recommended
Cons
None

Price at the time of publication: $32
It can be a task to pick the right kind of anti-aging ingredients for sensitive skin as these are usually packed with actives. Here are a few factors to consider your skin isn't hampered and gets all the benefits from the anti-aging products.
How To Select The Best Anti-Aging Products For Sensitive Skin
Types Of Products And Ingredients
Anti-aging products, like other kinds of skin care, come in a variety of forms, including creams, serums, moisturizers, and sunscreens. Look for a moisturizer with ingredients like squalane, hyaluronic acid, ceramides, retinoid, or alpha-hydroxy acid (AHA). These help to keep your skin thoroughly nourished and maintain the skin's barrier from causing moisture loss that can lead to fine lines and wrinkles.
Opt for creams with ingredients such as tea extracts, shea butter, vitamin C, vitamin E, niacinamide, and hydroxy acids. These anti-wrinkle treatment creams help in wrinkle reduction and diminishing the appearance of fine lines by improving the firmness of your skin and increasing its elasticity.
There are multiple facial oils and anti-ageing serums which are packed with ingredients like rosehip oil, olive oil, almond oil, jojoba oil, castor oil, sunflower oil, grape seed oil, or lavender oil. These are not only great for reducing signs of aging but are also soothing to sensitive skin.
For your daytime skincare routine, include a broad-spectrum sunscreen with an SPF 30 or more. SPF is essential as it protects your skin from sun damage, one of the main reasons for premature skin aging.
When you have sensitive skin, ensure you pick a formula that is oil-free, non-comedogenic, hypoallergenic, anti-inflammatory, and antioxidant properties. Also, look for labels like 'clinically tested,' 'dermatologist-tested,' or dermatologist-recommended' to be extra safe.
Look for mineral oil-free products that do not have synthetic fragrance, color, or dyes as these can cause breakouts and have damaging effects on your skin. It is best to avoid formulas that contain silicones, lanolin, coconut oil, castor oil, alcohol, parabens, sulfates, siloxane, stearates, mineral oils, petroleum, paraffin, or beeswax. These may clog your pores and can aggravate acne breakouts.
Apart from tackling the signs of aging, the products you pick for sensitive skin should also aid in preventing inflammation, redness, irritation, acne breakouts, dryness or sun damage.
In addition to this, check out the reviews of the product you want to buy on different e-commerce websites. This will give you an insight of the reviewer's experience and help you choose the best option.
Why Trust StyleCraze?
A certified skin care coach, Shiboli Chakraborti, strives to recommend the most reliable skin care products for her readers. She has analyzed various trusted websites and customer reviews to put together this list of the best hypoallergenic anti-aging skin care products. These products are effective in protecting your sensitive skin from aging effects. She has also included each product's key ingredients and specifications to help you make the right decision.
Frequently Asked Questions
At what age should I start using anti-aging skincare products?
Begin using anti-aging skincare products in your 20s before you start seeing any signs of aging.
Is vitamin E anti-aging?
Yes, vitamin E is an antioxidant by nature. It aids the skin in preventing signs of premature aging. In addition, it can help keep your skin hydrated and enhances skin suppleness and protects it from sun damage.
Is vitamin C good for anti-aging treatment?
Yes. Vitamin C is a powerful antioxidant. It neutralizes free radicals, which, otherwise, cause chronic stress to the skin and premature skin aging. It also delivers visible results by helping you achieve even-toned skin.
What are the benefits of using anti-aging products for sensitive skin?
Most sensitive anti-aging creams comprise ingredients such as retinol AHAs, which revitalize skin cells, increase cell production, reduce wrinkles, spots, and blemishes, and improve the texture of your skin.
What ingredients do anti-aging products usually contain?
• SPF 30
• Retinol
• Retinoic acid
• Vitamin C
• Niacinamide
• Salicylic acid
• Glycolic acid
• Lactic acid
• Azelaic acid
• Hyaluronic acid