11 Best Anti-Aging Serums For Sensitive Skin In 2022 For Eternal Youthfulness
Protect your sensitive skin from the signs of aging like fine lines and wrinkles.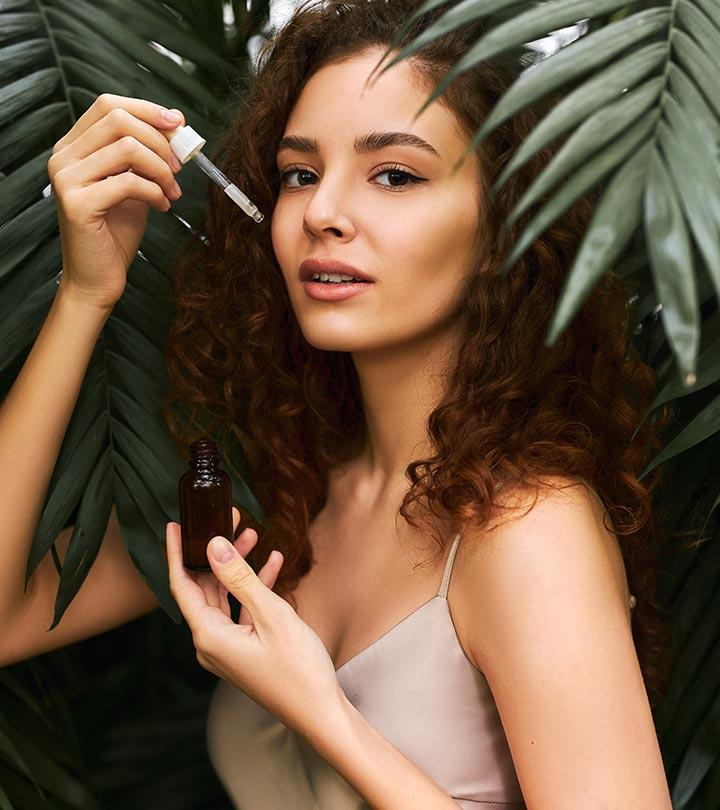 If you have sensitive skin, delaying the early signs of aging could be a challenge. But including the best anti-aging serums for sensitive skin can solve many of your skin concerns. Anti-aging serums are effective and non-invasive products that help reduce signs of premature aging. Most anti-aging products are formulated with ingredients like retinol and AHA (alpha hydroxy acid), known to speed up the process of skin cell turnover. However, they can make skin dry, which is a primary concern for sensitive skin. This is where serums specifically designed for sensitive skin can help.
Anti-aging serums for sensitive skin are designed with active ingredients that work gently on the skin and reduce fine lines, wrinkles, and age spots. These highly-concentrated formulations get absorbed quickly, are lightweight, and penetrate the skin deeply. You can find two groups of anti-aging components in these serums – these are antioxidants like vitamins C and E and cell regulators like peptides and retinol. In this article, we have listed the 11 best anti-aging serums for sensitive skin available on the market. Scroll down and check them out.
11 Best Anti-Aging Serums For Sensitive Skin In 2022
Have you ever wished for a magic wand, which would turn aging, dull, and dry skin into younger-looking and radiant skin? This is one of the best anti-aging products for sensitive skin as this hydrating serum with pure hyaluronic acid targets dull and dry skin and reduces fine lines and wrinkles. Pure hyaluronic acid absorbs and holds moisture, boosts collagen production, and preserves the firmness and elasticity of the skin. Don't get misled by the word 'acid' as hyaluronic acid is very gentle and a naturally occurring compound in the skin that attracts water molecules, giving your skin that coveted dewy and refreshed look. This lightweight, fast-absorbing formula reduces dark spots and blemishes and protects and nourishes even the most sensitive skin, including the delicate skin around the eyes and lips. This serum for aging sensitive skin also provides an antioxidant defense against environmental stressors.
Pros
Vegan
Paraben-free
Cruelty-free
Naturally-derived ingredients
Cons
May cause tightness of skin when fully dry
One of the best anti-aging serums for sensitive skin, it contains 2 types of hyaluronic acid, madecassoside, and vitamin B5, and is an anti-wrinkle concentrate that repairs and re-plumps the skin. Made with La Roche-Posay thermal water, this anti-aging serum is good for reducing fine lines, dehydration, loss of volume, and elasticity. This serum features a dermatological active, booster, and buffer ingredient in its formula and its rich serum texture leaves your skin feeling supple and hydrated. It is the best anti aging serum for sensitive skin.
Pros
Dermatologist-tested
Ophthalmologist-tested
Allergy-tested
Non-comedogenic
Oil-free
paraben-free
Tested on sensitive skin
Cons
This anti-aging serum for sensitive skin contains vitamin C and E along with hyaluronic acid and ferulic acid and offers essential anti-aging treatment. This safe and effective serum hydrates, softens, and brightens your skin, reducing wrinkles and fine lines, and also protects it from the harmful rays of the sun. The powerful ingredients blend together to boost collagen production and give you a more radiant and youthful complexion. It contains 22% natural vitamin C, sodium ascorbyl phosphate, which is vitamin C in its most organic and purest form and is non-irritating for even the most sensitive skins. It works as both a primer and moisturizer, making it all the more special. It's infused with the extracts of wild geranium, aloe vera, dandelion, gotu kola, witch hazel, and jojoba oil to name a few.
Pros
Vegan
100% natural
Cruelty-free
Paraben-free
Sulfate-free
Fragrance-free
Dye-free
Petrochemical-free
No GMOs
Phthalate-free
Cons
May leave a residue on the skin
With 24K gold foil, this anti-aging serum for sensitive skin double locks in skin moisture and works wonders for wrinkles, crow's feet, and fine lines. It cleans pores and lifts and firms your skin. Inspired by Cleopatra's beauty regimen of using pure 24K gold, this serum combines the traditional craft of ancient Egypt and advanced nanotechnology. It is also infused with many other ingredients, such as vitamin C, hyaluronic acid, vitamin E, coconut oil, and rosehip oil, to name a few, which help your skin look younger. It also hydrates your skin, reduces wrinkles, firms your skin, and reduces blemishes and age spots. This gold serum is a natural antioxidant that protects skin from radiation, promotes cell metabolism and regeneration, and gives your skin a collagen boost.
Pros
Organic
Contains antioxidants
Contains pure gold foil
Reduces inflammation
Cons
If you would like to recapture the days of your youth with radiant and luminous skin, it's a good idea to check out this anti-aging serum for sensitive skin. It makes a promise of enhancing collagen production, reducing fine lines and wrinkles, plumping the skin, and deeply hydrating the skin. It packs the goodness of the highest-quality hyaluronic acid and works wonders for your skin, due to which it's recommended by dermatologists. The 4% sodium hyaluronate solution has the highest pure hyaluronic acid concentration in the market. Sodium hyaluronate is the most easily absorbed form of hyaluronic acid among all hyaluronic acid forms and can penetrate deep into the skin without causing inflammation. It's gentle enough to be used on sensitive skin and the delicate area of the eyes. This serum is non-greasy and has a pH of 4.5-5.5, which is exactly the same as healthy normal skin.
Pros
100% vegan
Cruelty-free
Paraben-free
Phthalate-free
Alcohol-free
Dye-free
Non-comedogenic
Fragrance-free
Mineral oil-free
PEG-free
GMO-free
Gluten-free
Dermatologist-recommended
Cons
May take a long time to show results
Fine lines, wrinkles, pigmentation, or dead skin cells — put your finger on any of these skin issues and this anti-aging serum for sensitive skin will solve it for you. Packed with antioxidants and enriched with hyaluronic acid and 30% vitamin C, this retinol serum improves skin texture and elasticity, and tightens, tones, and smooths your skin. It's also infused with aloe vera, camellia chinensis, and hamamelis virginiana leaf along with retinol, hyaluronic acid, and vitamin C that repair damage caused by sunlight exposure, pollution, and aging. They rebuild and strengthen skin resulting in plump and smooth skin, while offering deep hydration. This retinol serum is free of fillers and other harsh ingredients, making it safe for all users.
Pros
Cruelty-free
GMP-certified
Paraben-free
Fragrance-free
Alcohol-free
Cons
May cause temporary dryness or tightening of skin
A youthful and flawless complexion and brighter skin are no more a far-fetched dream with this hyaluronic acid serum. This natural anti-aging serum for sensitive skin along with hyaluronic acid contains botanic extracts, and vitamin E. It gives a collagen boost to aging skin and reduces fine lines and wrinkles. It also improved the elasticity and texture of your skin. This anti-aging serum has a soothing effect on your skin as it repairs damage caused by the sun and pollution, making your skin look well-rested and glowing. This plant serum contains codium tomentosum extract, fig fruit extract, grape seed extract, portulaca oleracea extract, and other plant extracts, which naturally and gently resurrect and repair the skin and can be safely used, even on the most sensitive skin.
Pros
Hypoallergenic
Paraben-free
Cruelty-free
Vegan
Silicon-free
Cons
Fragrance may not be liked by all
If you're losing hope because of stubborn age spots, fine lines, and wrinkles that just won't fade, it's time to try this anti-aging skincare for sensitive skin. Packed with a unique blend of EGF (Epidermal Growth Factor), vitamin C and E, collagen, hyaluronic acid, and ferulic acid, it fights free radical damage and reduces wrinkles and fine lines, so that your skin looks more youthful and radiant. Vitamin C is a natural and effective exfoliator that penetrates deep into your skin, creating new collagen and restoring texture and elasticity. Sea kelp ferment and betulinic acid replenish the essential nutrients of your skin giving it a radiant glow. This antioxidant serum visibly reduces signs of aging as it brightens, revives, firms, and tones your skin.
Pros
Cruelty-free
Paraben-free
Alcohol-free
Natural active ingredients
Contains antioxidants
Dermatologist-approved
Suitable for all skin types
Cons
Some may find the product sticky
Infused with organic turmeric, chamomile, sea buckthorn, camellia oil, calendula, helichrysum oil, jojoba oil, and rosehip, this serum for mature sensitive skin leaves your skin nourished, moisturized, healthy, smooth, and radiant. It works its magic by reducing fine lines, wrinkles, age spots, and blemishes while hydrating and plumping your skin, so that it regains its youthful tone and texture. It is suitable for all skin types and is especially good for sensitive skin. It can be used as just a moisturizer or a natural moisturizing cream. It also works wonders as an under-eye serum.
Pros
Plant-based
Cruelty-free
Vegan
No fillers
No chemicals
No dyes
Cons
May not be suitable for very dry skin
Do you still dream about the time when the condition of your skin was something that never crossed your mind? One of the best anti-aging serums for sensitive skin, this product along with collagen has algae extract, soy extract, and glycerin. Collagen reduces fine lines and wrinkles and infuses the skin with moisture for a firmer and more toned look. Soy extract targets sagging skin and fine lines, and improves the elasticity of the skin. Glycerin gives that dewy look to your skin because of its intense hydration. Algae extract firms the skin and improve its tone and texture.
Pros
Paraben-free
Sulfate-free
Formaldehyde-free
Mineral oil-free
PEG-free
Non-greasy
Fast-absorbing
Cons
Some may find its fragrance strong
This anti-wrinkle serum for sensitive skin promises to be age-defying while revitalizing and hydrating your skin. It not only reduces the appearance of wrinkles, but it also plumps and tightens the skin, and heals skin damage. This serum has a 100% certified vegan formula and is produced through wheat-free fermentation. Infused with vegan-sourced hyaluronic acid, aloe vera, coconut oil, and jojoba seed oil, it provides intense hydration to your skin and reduces fine lines, age spots, acne, acne scars, and wrinkles. Due to its intense hydration, hyaluronic acid naturally soothes skin inflammation. It gives a silky smooth finish to your skin with no greasy residue and is a perfect post-treatment after Microdermabrasion to nourish your skin.
Pros
Vegan formula
Paraben-free
Cruelty-free
Dye-free
Gluten-free
No GMOs
No residue
No chemical fragrance
Cons
May cause a tingling sensation in the skin in rare cases
Now that we have looked at the 11 best anti-aging serums for sensitive skin of 2022, here are a few things you need to keep in mind when buying anti-aging skin care products so that you make the right choice for yourself.
How To Choose An Anti-Aging Serum For Sensitive Skin
What works well for one skin type may not necessarily do the same for another. If you have aging, sensitive skin, you have all the more reasons to be careful with what you put on your skin.
Hyaluronic acid, unlike the 'acid' in its name, is definitely an ingredient to look for. It's hydrating, gentle, and non-irritating on your skin. When combined with antioxidants like vitamins C and E, it becomes a strong enemy against free radicals and reduces pigmentation, fine lines, and wrinkles and also protects your skin against pollution and sun damage. Niaciamide balances the skin's oil production and reduces inflammation.
Salicylic acid cleanses your skin of blemish-causing toxins by unclogging skin pores.
Other notable ingredients in anti-agers include retinol to calm puffiness and reduce fine lines, and MSM which reduces inflammation.
Coal Tar: Often used for the treatment of dry or sensitive skin, coal tar is carcinogenic. Benzoyl Peroxide: Found in acne products, benzoyl peroxide can cause irritation to your eyes, skin, respiratory system, and even damage DNA.
Dioxin: Not mentioned on product labels, dioxin, often used in facial cleansers can cause cancer, affect the immune system, and increase the chance of miscarriages and birth defects.
Parabens: Parabens, again often not listed in ingredients, have been linked to breast cancer and could contribute to male infertility and early puberty in females.
Polyethylene Glycol (PEG): PEGS can be found in most skin care products and usually contain high levels of dioxin.
Oxybenzone: An active ingredient in some sunscreens, oxybenzone can cause allergies, damage cells, and disrupt hormones.
Phthalates: Another chemical not always listed on labels, phthalates can cause liver and kidney damage, cancer, birth defects, and endocrine disruption.
Things To Consider
You should apply sunscreen every day, but applying it becomes even more crucial when you use retinol or vitamin C into your skincare routine. These make your skin more susceptible to sun damage, which is why it's advisable to use products with those ingredients at night.
Retinol is famous for its skin-smoothing effects, but can irritate some skin types. With sensitive skin, it's advisable to use a serum that also contains ceramides, which helps to rebuild the skin's protective barrier.
For oily or normal skin, L-ascorbic acid is the best and most beneficial form of vitamin C for dry and sensitive skin, while magnesium ascorbyl phosphate, a water-soluble vitamin C, is less irritating.
Those with dry skin should use serums suitable for sensitive skin and which contain hydrating ingredients, like hyaluronic acid, ceramides, and squalene.
Anti-aging serums are usually applied after cleansing and toning on moist skin for quick absorption. Only in the case of retinol, if you have sensitive skin, apply on completely dry skin to slow down the absorption of the serum and reduce the risk of irritation.
Why Trust StyleCraze?
The author, Vaishnavi Kothuri, is a skin care enthusiast who keeps herself updated with the emerging trends. She conducted thorough research and went through hundreds of customer reviews online from trusted platforms to shortlist the best anti-aging serums for sensitive skin. The products on this list are made with ingredients that work gently on the skin to reduce fine lines, wrinkles, and age spots. Their highly-concentrated and lightweight formulas get absorbed quickly and penetrate the skin deeply.
Frequently Asked Questions
When should I use anti-aging serum?
You must start using anti-aging products around your early 30s. However, if you include effective anti-aging products during your late 20s, you may be able to postpone the onset of premature aging.
Does anti-aging serum work?
Yes. Anti-aging skin care products, such as moisturizers and serums, help reverse the effects of aging. Also, potent ingredients, such as retinol and hyaluronic acid, may delay the process of premature aging and impart a youthful glow.
How do anti-aging products work?
Yes. Anti-aging products contain antioxidants and other potent ingredients that help exfoliate dead skin cells, regenerate the skin, neutralize harmful free radicals to reduce oxidative stress (one of the main causes of skin aging), and protect the skin from environmental stressors. Also, they help retain skin moisture and minimize collagen breakdown to reduce fine lines and wrinkles.
Recommended Articles