10 Best Anti-Aging Serums For Dark Spots And Uneven Skin Tone
For the glowing, spotless skin of your dreams, try only the best skincare essentials.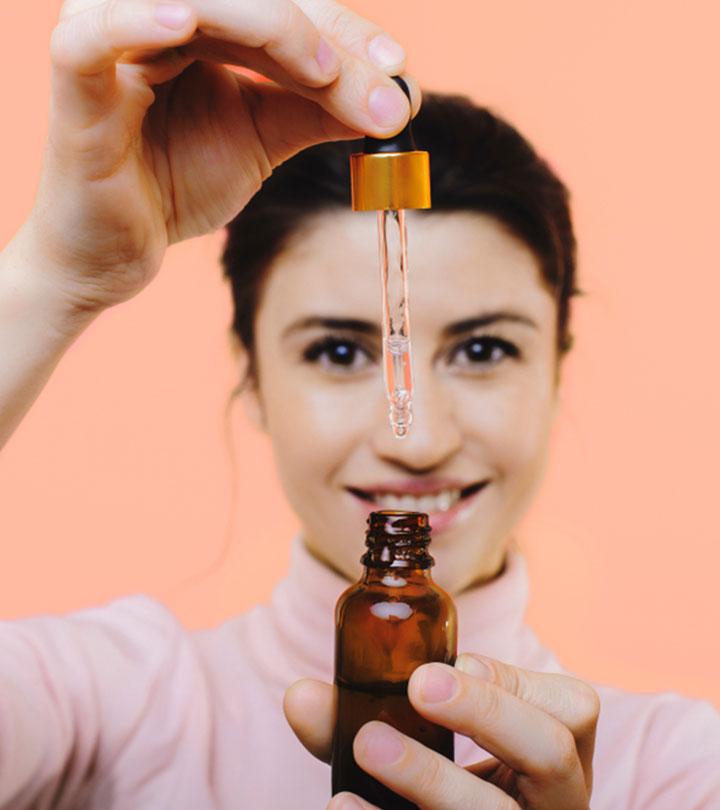 Behind every good skin care routine, the key secret is the use of serums. If you want to achieve healthy, youthful, and clear skin, then the good news is you have the best anti-aging serum for dark spots. They are enriched with active ingredients that help hydrate, firm, brighten the skin, and also help to reduce dark spots.
These spots may happen due to excessive sun exposure, insufficient moisture, hormonal imbalances, and environmental aggressors. The serums that contain ingredients like glycolic acid, hyaluronic acid, salicylic acid, and vitamin C helps you to get rid of dead skin cells effectively. As a result, new skin cells will appear without the dark spots and pigmentation, giving a youthful look.
However, with various options available in the market, you may find it difficult to find the right serum that will help address your concern. Fret not because we have got you covered. In this article, we have compiled a list of the best anti-aging serums for dark spots that will specifically target your issue. Scroll down to know more!
How can I treat dark spots at home?
There are many ways to treat dark spots by using ingredients easily found at home.
Few of them are as follows:
Use papaya fruit to naturally exfoliate the skin and diminish spots
Turmeric evens skin tone and eliminates blemishes
A lemon juice with yogurt mask works wonders to rid dark spots
Oatmeal clears dead cells and soothes skin
Aloe vera to help with scarring of dark spots
Do anti-aging serums really work on it?
Yes, serums with the right and effective ingredients which possess anti-aging properties such as retinol, vitamin C, and grapeseed oil can treat spots, fine lines, and wrinkles.
10 Best Anti-Aging Serums for Dark Spots You Can Buy In 2023
Are you looking for an anti-aging serum for dark spots? Meera Beauty's anti-aging face serum with 20% vitamin C might be your ideal choice. The amazing blend of witch hazel aloe, jojoba oil, vitamins C and E, amino and hyaluronic acids boost collagen production, reduce pigmentation, blemishes, and dark spots give you the flawless skin you always wanted. Free of harmful ingredients, this lightweight serum with an antioxidant-rich formula fights aging and the harmful effects of free radicals. In this YouTube video, you will find a detailed review of this product.
Pros
Vegan
Sulfate-free
Paraben-free
Brightens skin
Hydrating effect
Boosts exfoliation
Cons
Some may find the texture of this product to be watered-down.
Price at the time of publication: $12.95
This age spot correcting serum is a must-have if what you're looking for is radiant and youthful skin. It is formulated with a blend of hyaluronic acid, vitamin C, retinol, and titanium dioxide to reduce dark spots, increase elasticity in the skin, attract and hold moisture while providing hydration. It also repairs damage and protects skin against sun-damaged, acne-pone, and aging skin for a younger, radiant you. Add this miracle product to your skin care routine and achieve wrinkle-free, young-looking skin in just 1 week.
Pros
Quick results
Brightens skin
Ideal for daily use
Improves skin texture
Suitable for all skin types
Cons
May not yield immediate results
Price at the time of publication: $17.97
Achieve ageless skin that is plump, radiant, and flawless within no time. This age spot-lightening face serum from Ebanel with its skin-renewing ingredients will leave you stunned with its fast and efficient results. Infused with vitamin C, this serum dramatically brightens your skin and reduces uneven skin tone and texture. Its liposomal technology helps the other active ingredients like hyaluronic acid and retinol to deeply penetrate the skin and prevent skin from drying out and aging, leaving you with smoother and brighter skin.
Pros
Vegan
Oil-free
Sulfate-free
Alcohol-free
Paraben-free
Hypoallergenic
Cons
May not be best suited for sensitive skin
Price at the time of publication: $21.99
Do you want an age spot and pigment lightening serum? Check out this anti-aging serum from Advanced Clinicals that gives you visible results within a month. This face serum is highly concentrated with vitamin C, aloe vera, and glycolic acid to reduce the appearance of dark spots, fine lines, crow's feet, and expression lines. It also improves the skin's complexion, holds moisture for hydrated skin, and reduces excess oil. Check out this video on YouTube for a detailed understanding of the product.
Pros
Paraben-free
Tightens skin
Reduces inflammation
Suitable for all skin types
Cons
Contains added fragrances.
Price at the time of publication: $18.99
This face serum from The Better Skin Co. is probably the best serum for wrinkles and dark spots. Made with the most advanced plant-based technology, this serum stands tall as it contains the most stable form of vitamin C with a mix of other nourishing ingredients like green tea extracts and citrus lemon oil. It keeps your skin hydrated all day long, balances skin tone, and reduces the appearance of fine lines and wrinkles by tightening your skin.
Pros
Vegan
Gluten-free
Cruelty-free
Paraben-free
Calms down inflammation
Suitable for on all skin types
Plant-based, natural ingredients
Prevents skin damage caused by pollution
Cons
The texture may not absorb quickly into the skin.
Price at the time of publication: $38.0
If you're looking for an organic age spot-lightening serum, give this anti-aging face serum from Cutis Sanus a shot. Ideal for daily use, it has zero additives or fillers. The blend of argan oil, grapeseed oil, olive oil, and chamomile oil in this serum firm your skin, hold and attract moisture, and reduce unwanted pigmentation on the skin. Certified organic, this potent vitamin C serum is suitable for sensitive skin and improves collagen production for younger-looking, radiant skin.
Pros
Treats acne
Alcohol-free
Paraben-free
Emulsifier-free
Ideal for daily use
Suitable for sensitive skin
Certified organic ingredients
Cons
The scent may be overpowering for some.
Price at the time of publication: $9.99
This face serum from InstaNaturals is the best face serum for wrinkles and dark spots, which prevents breakouts. Who wouldn't love a product that is the perfect solution to all their skin concerns? Infused with vitamin C, antioxidants, mineral oils, ferulic acid, and hyaluronic acid, this serum deeply penetrates the skin and naturally increases collagen production, and reduces the appearance of fine lines, dark spots, and wrinkles.
Pros
Exfoliates the skin
Does not clog pores
Corrects complexion
Works on all skin types
Protects skin from sun damage
Cons
Price at the time of publication: $32.0
Say hello to beautiful and radiant skin with this age spot serum by Refineu. Formulated with hyaluronic acid and botanical extracts, it brightens your skin, restores even skin tone, corrects spots and blemishes. Astaxanthin derived from red algae, treats redness, discoloration, and fine lines effectively. It also contains kojic acid, which nourishes your skin and brightens it for faultless skin with imperfections.
Pros
Lifts the skin
Adds firmness
Improves skin elasticity
Antioxidant-rich formula
Fights against free radicals
Safe and effective on all skin types
Cons
May contain ingredients that lead to skin sensitivity. Use a suitable sunscreen for day-time use.
Price at the time of publication: $9.99
Don't miss out on this rejuvenating anti-aging serum by Goodal, which comes with multiple skin benefits! This vitamin C serum clears away impurities, treats blemishes, corrects dark spots, and delivers an even skin tone. Crafted with 70% green tangerine extracts, it contains 10x more vitamin C, which repairs skin completely, treats wrinkles, and other aging signs, leaving you with nourished and healthy skin.
Pros
Mild formula
Offers hydration
Gentle on sensitive skin
Lends you clear and even skin
Immediate results within 2 weeks
Cons
Some may find the texture of this product to be a bit greasy.
Price at the time of publication: $19.9
Are you worried about your wrinkles and fine lines? Say goodbye to skin aging signs with this age spot correcting serum by Tiger Lily! Enriched with hyaluronic acid, this serum reduces aging signs such as wrinkles, fine lines, hyperpigmentation, and dark spots effectively. It also contains jojoba oil, vitamin C extracts, green tea, and aloe vera to boost collagen production in the skin, reduce cellulite, and deliver an even complexion.
Pros
Vegan
Retains moisture
Reduces dark circles
Ideal for everyday usage
Delivers younger looking skin
Helps you get rid of crow's feet
Cons
The consistency might be slightly thick
Price at the time of publication: $12.97
When it comes to choosing the best anti-aging serum for dark spots, there are a few important points to consider.
Top Skin-Brightening Ingredients To Look For:
Today's serums come with many brightening ingredients to help you achieve smoother, brighter, and more radiant skin. These include kojic acid, vitamins A and C, niacinamide, aloe vera, retinol, and more. These ingredients target hyperpigmentation, uneven skin tones, dark spots, blemishes, and other skin imperfections to give even-toned skin that is brighter and flawless.
How to Use Serums For Dark Spots
Step 1 – Take two pumps or just 2-3 drops of the serum on your fingertips.
Step 2 – Gently rub the solution within your palms to warm and activate the face oil or serum.
Step 3 – Apply it on dark spots and other pigmented areas of the skin in an upward and outward direction.
Step 4 – Pat and let it absorb. Avoid rubbing your skin harshly.
Why Trust StyleCraze?
Kirtana Divakar, the author, is a skin care enthusiast who is always on the hunt for different skin care products that give her readers glowing skin. Knowing how serums are essential to your daily skin care regime, she has thoroughly researched several online reviews by users to curate a list of the best anti-aging serums you should try. These products contain natural ingredients like vitamin C that help get rid of dead cells, reduce your dark spots, and help you achieve youthful and glowing skin.
Frequently Asked Questions
What causes dark spots?
Exposure to UV rays speeds up the production of melanin, a natural pigment that gives color to your skin. This is what causes dark spots on the skin. Always wear sunscreen when you are out in the sun to prevent dark spots and early skin aging.
When should you start applying anti-aging cream on dark sports?
You should ideally start using an anti-aging cream before you start showing signs of aging. But if you already have spots, invest in an anti-aging formula that caters to this issue and use it religiously to get good results.
Should I use SPF while trying to fade dark spots?
Yes, even if you are using a serum to fade your dark spots, you should apply sunscreen when you go out.
How often should you use an anti-aging serum on dark spots?
Apply an anti-aging serum twice every day after cleansing your face to fade dark spots.
How long does an anti-aging serum take to fade dark spots?
It takes at least 14 days for the most potent anti-aging serums to start showing visible results on fading dark spots.
Do you use a serum or moisturizer first?
Apply serum first and then gently massage the moisturizer on your skin.