10 Best Anti-Aging Toners – 2023
Slow down the aging process with these skincare essentials and enjoy glowing skin.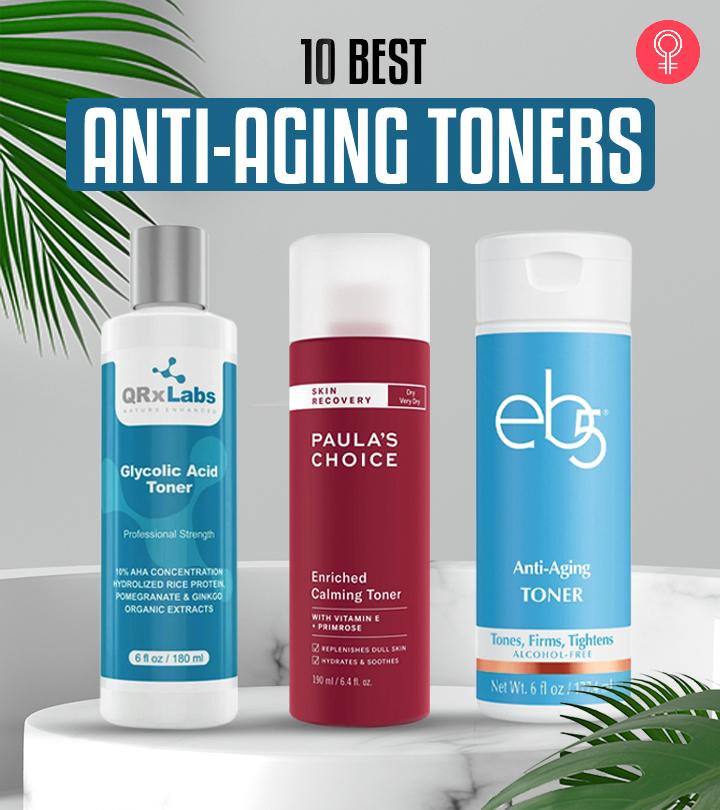 Fiction infused in beauty sounds fascinating, and the best Huxley skincare products are undeniably so. A South Korean minimalist skincare brand inspired by Aldous Leonard Huxley's 'Brave New World', this brand has been offering solutions to skin struggling with urban stress and toxins since 2017. With 100% organic ingredients carefully selected from the risky nooks of deserts, mountains, and seas, their products are cruelty-free, vegan, and hypoallergenic. Besides, they are dermatologically tested and suit all skin types. Boost your skin vitality with our top picks for Huxley products mentioned in the list below.
Top Picks
10 Best Anti-AgingToners Available Right Now
InstaNatural Vitamin C Toner is a hydrating, mineral-infused toner with 50 active ingredients that brighten, tone, prime, and moisturize the skin effectively. It contains Methylsulfonylmethane (MSM) that has age-defying properties and skin-lightening, anti-acne, and soothing effects. Witch hazel oil and lavender oil act as astringents by drying out all the acne blemishes. They also effectively reduce wrinkles. This anti-aging toner also has geranium oil that soothes the skin, reduces irritation, and prevents infections. You can gently apply this toner to your cleansed face and allow it to dry. Watch this video for a thorough understanding of the product.
Key Ingredients: Methylsulfonylmethane (MSM), witch hazel oil, lavender oil, and geranium oil.
Pros
Moisturizes the skin
Treats acne blemishes
Soothes the skin
Refreshes the skin
Dries quickly
Makes your skin glow
Suitable for sensitive skin
Affordable
Cons
Unpleasant fragrance
Spray nozzle may malfunction

Pro Tip
Use your facial toner as an aftershave spray to remove dead skin cells and soothe the skin.
Price at the time of publication: $13.97
Paula's Choice's Skin Recovery Enriched Calming Toner is the best anti-aging toner for people with dry or very dry skin. It hydrates your skin and helps in recovering its lost moisture. Its milky, moisturizing formula replenishes dull skin with the help of vitamin E, hyaluronic acid, and evening primrose oil. Vitamin E strengthens and tightens your skin and reduces inflammation. Hyaluronic acid restores the skin's vigor, instantly plumps it up, and reduces wrinkles. Evening primrose oil is non-fragrant and rich in antioxidants that are effective in removing dry, flaky skin. You can apply this toner to your face with a cotton pad after cleansing it.
Key Ingredients: Vitamin E, hyaluronic acid, and evening primrose oil.
Pros
Hydrates the skin
Tightens the skin
Reduces inflammation
Does not sting
Soothes and moisturizes the skin
Value for money
Fragrance-free
Cons
Not a spray bottle
May cause breakouts
Price at the time of publication: $23.0
eb5 Anti-Aging Toner is an alcohol-free toner that tones and tightens your skin effectively without irritating or drying it out. This toner for aging skin minimizes pores, reduces oiliness, moisturizes your skin, and gives you a fresh and clear complexion. The algae extract in it is an excellent source of moisture. It nourishes the skin with many vitamins and minerals as well. Sage extract has anti-inflammatory and antimicrobial properties that help in reversing the signs of aging. Cucumber extract is high in antioxidants that reduce the signs of aging effectively. It also contains vitamin E that helps in the regeneration of cells and reduction of wrinkles. It also acts as a protective barrier against dirt, impurities, and UV rays. You can apply this toner to your cleansed face using a cotton pad.
Key Ingredients: Vitamin E and algae, sage, and cucumber extracts.
Pros
Moisturizes the skin
Tightens the skin
Reduces oiliness
Imparts a clean and refreshing feeling
Safe for sensitive skin
Value for money
Suitable for all skin types
Pleasant fragrance
Cons
May cause breakouts
May burn slightly

Pro Tip
Store your toner in the refrigerator to make it last longer. Chilled toner will also soothe your skin and help reduce puffiness and redness.
Price at the time of publication: $9.99
Voibella Beauty Advanced Anti-Aging Hydrating Toning Mist is alcohol-free and fits perfectly into any skin care regimen. It contains Lebanese rosewater that is high in antioxidants and soothes skin irritation and redness. Witch hazel minimizes pores and gives a clean and refreshing feel and look to your skin. Aloe vera is also an excellent cooling agent that calms the skin. It also contains chamomile that has anti-inflammatory and antifungal properties that rejuvenate your skin and make it look youthful. Glycerin is a great moisturizer that keeps your skin hydrated. This toner for aging skin is multipurpose and can be used as an all-in-one product – as a replacement for a moisturizer or serum, to refresh your face instantly, as a nighttime moisturizer, and in bathwater.
Key Ingredients: Lebanese rosewater, witch hazel, aloe vera, chamomile, and glycerin.
Pros
Hydrates the skin
Soothes the skin
Suitable for all skin types
Reduces irritation
Light fragrance
Affordable
Multipurpose
Cons
May get sticky after application
May dry out the skin
Price at the time of publication: $20.97
QRxLabs Glycolic Acid Toner contains 10% alpha hydroxy acid that exfoliates old, dead cells, removes excess sebum, evens out the skin tone, and refreshes the skin. The proportional mix of glycolic and lactic acids gently exfoliates and brightens the skin. Hydrolyzed rice protein has hydrating properties that nourish the skin. Pomegranate extract is an anti-aging ingredient that naturally that encourages cell growth. Ginkgo biloba extract is a powerful antioxidant that acts as a protective barrier against free radicals. Its balanced pH level of 3.8 ensures maximum exfoliation and minimum irritation and redness.
Key Ingredients: Glycolic and lactic acids, hydrolyzed rice protein, pomegranate extract, and ginkgo biloba extract.
Pros
Easy to use
Revitalizes the skin
Exfoliates the skin
Minimizes acne and pores
Smoothens the skin
Evens out the skin tone
Pleasant fragrance
Cons
Slightly strong formula
Bottle may leak
Price at the time of publication: $16.95
Eva Naturals Skin Clearing Vitamin C+ Toner is great for acne-prone skin because it reduces breakouts, soothes irritation, reduces wrinkles, and fades pigmentation. The blend of salicylic acid and tea tree oil makes this anti-aging toner rich in antimicrobial properties. It also soothes the skin and reduces redness and irritation. These acids also reduce the symptoms of acne, giving you blemish-free and clear skin. Vitamin C and hyaluronic acid promote collagen production which, in turn, reduces the signs of aging like wrinkles, fine lines, and sagging skin. Witch hazel and retinol provide antioxidant protection and keep your skin radiant. Niacinamide is soothing on harsh breakouts and prevents inflammation.
Key Ingredients: Salicylic acid, tea tree oil, vitamin C, hyaluronic acid, witch hazel, retinol, and niacinamide.
Pros
Clears the skin
Soothes the skin
Minimizes stubborn pimples
Reduces fine lines and wrinkles
Works great under makeup
Value for money
High quality
Cons
Price at the time of publication: $19.95
Dermalogica Antioxidant Hydramist Toner is apt for dry skin. This hydrating toner firms the skin and reduces fine lines caused by dryness. It strengthens the skin's protective barrier by creating an active antioxidant barrier to protect the skin from free radical damage and anti-aging signs. It contains pea extract that firms skin,while rose and clove extracts soothe and refresh the skin. The refreshing mist is ideal for all-day use to get fresh, nourished, and healthy skin. Need more information? Watch this video.
Key Ingredients: Pea extract, clove extract, and rose extract
Pros
Cruelty-free
Gluten-free
Vegan
Paraben-free
Soothes the skin
No artificial fragrance or color
Cons
Price at the time of publication: $13.5
Revision Skincare Soothing Facial Rinse is an alcohol-free anti-aging toner made with plant and algae extracts that help in cleansing and hydrating your skin effectively without altering its pH level. This toner for aging skin is suitable for all skin types, especially sensitive skin. Arnica montana extract is a key ingredient that is high in flavonoids and calms and soothes the skin. Allantoin moisturizes and soothes the skin. The bisabolol in it is derived from German chamomile that has excellent soothing properties. Panthenol (pro-vitamin B5) is a source of nourishment for the skin and keeps it plump and hydrated. Grape seed extract provides powerful antioxidant benefits like protecting your skin from the harmful UV rays, pollution, and free radicals. You can apply this toner to cleansed skin twice a day.
Key Ingredients: Arnica montana extract, allantoin, bisabolol, panthenol, and grape seed extract.
Pros
Hydrates the skin
Prevents skin damage
Does not cause dryness
Lightly scented
Spreads easily
Cons
May not remove all makeup
Price at the time of publication: $36.0
Etude House Soon Jung pH 5.5 Relief Toner has a low pHs that keeps your skin balanced and well-hydrated throughout the day. This anti-aging toner is great for sensitive skin as it is free of parabens and artificial fragrances or colors. It has panthenol, which is a powerhouse of hydration properties. Madecassoside is excellent for repairing skin damage as it is an active ingredient that reduces itching and redness. Camellia sinensis leaf extract has anti-inflammatory and antioxidants properties. It not only soothes the skin but also protects it from degradation and signs of aging. This toner can be used twice a day on your skin for the best results. Watch this YouTuber's honest review to get a better idea about the product and its functions.
Key Ingredients: Panthenol, madecassoside, and Camellia sinensis leaf extract
Pros
Soothes the skin
Hydrates the skin
Suitable for sensitive skin
Value for money
Gentle formula
Cons

Pro Tip
If you are looking for anti-aging toners for sensitive skin, choose a formula that does not contain alcohol or astringent.
Price at the time of publication: $17.77
IOPE LiveLift Softener Intensive Toner is an effective toner that reduces wrinkles and hydrates and smoothens the skin. It contains agave leaf extract that provides vitality and tightens the skin. The agave plant is known for its immense strength and resilience. An energy source called 'fructan' exists within this plant that is extracted and fed into this anti-aging toner's formula. This toner for aging skin strikes the perfect balance between providing skin firmness and moisture. It restores the skin's vigor and gives you a balanced, smooth, and instantly glowing complexion.
Key Ingredients: Agave leaf extract and fructan
Pros
Hydrates the skin
Tightens the skin
Lightweight
Mild fragrance
Imparts a sheer glow
Cons
Price at the time of publication: $30.0
Now that you have gone through the 10 best toners for aging skin, read on to find out what an anti-aging toner does and what's in it.
What Does An Anti-Aging Toner Do?
An anti-aging toner is to be used after cleansing your face to act as a secondary cleanser and wipe off all the residual dirt. It restores the skin's pH balance and moisture without drying it out. Most importantly, it shrinks pores and fights the signs of aging like fine lines and wrinkles. It can also be used to prep your skin before applying makeup to enhance its look.
What Is In An Anti-Aging Toner?
You can choose a toner based on its key ingredients. Natural and alcohol-free toners are less harmful and more gentle on your skin. They can enhance the absorption and efficacy of other skin care products. Ingredients that are rich in antioxidants or have antimicrobial properties are usually found in anti-aging toners.
Infographic: How To Choose The Right Anti-Aging Toner
The right anti-aging toner can help not only delay the appearance of fine lines and wrinkles but also deep cleanse your skin. So, if you are thinking of adding a toner to your skin care box, know what factors you must consider before spending money on a product. Check out the infographic below to get a clear idea about what to expect in the toner you buy.


Aging is a natural phenomenon, and there is no escape from aging. But the right product helps to minimize the appearance of the aging signs. The best anti-aging toners help to unclog the open pores, close the pores, and prevent penetration of impurities into the skin. And when the toners are formulated with the right ingredient, they keep your skin hydrated, minimize the blemishes and other aging signs, and tighten the skin. The toners listed above tighten your skin, hydrate it, and make it appear smooth and soft. But consider investing in toners formulated with potent ingredients like hyaluronic acid, vitamin C, tea tree oil, or more. Also, restrain from using the ones that irritate your skin.
Why Trust StyleCraze?
Oyendrila Kanjilal, a certified skin care coach, brings you this list of the best anti-aging products to rejuvenate your skin and bring back that youthful glow. These products have been carefully selected after carefully considering their constituents, suitability to various skin types, and user reviews. A buying guide has also been prepared to help you make an informed choice according to your skin's needs.
Frequently Asked Questions
Does toner help anti-aging?
Yes, using a toner regularly can prevent premature aging signs on your face. Toners keep your skin healthy by shrinking pores, removing oils, and tightening cell gaps.
Is toner necessary for mature skin?
Yes. Mature skin or not, a toner should always be in your skin care regime. A hydrating toner contains glycerin and hyaluronic acid that help prevent fine lines and improve your skin texture.
Should you use an anti-aging toner everyday?
Yes, use an anti-aging toner daily. Ideally, toners should be applied twice daily (after waking up and before going to bed) to keep your skin soft and supple.
When should we apply toner?
A toner can be applied after waking up in the morning and before bed at night. You can couple your toner with a moisturizer or a night cream to offer your skin some extra nourishment.
Can I use toner without serum?
Yes, you can use a toner without serum. However, make sure your skin is free of makeup or other residue before applying the toner.
Do I need to apply moisturizer after anti-aging toner?
People with normal to dry skin should apply a moisturizer after using toner. But people with oily skin can skip using a moisturizer sometimes since toners contain moisturizing ingredients that keep your skin soft and supple.