13 Best Anti-Blister Running Socks For Long And Blissful Runs
Sweat as much as you want but never get pocky blisters when wearing these socks.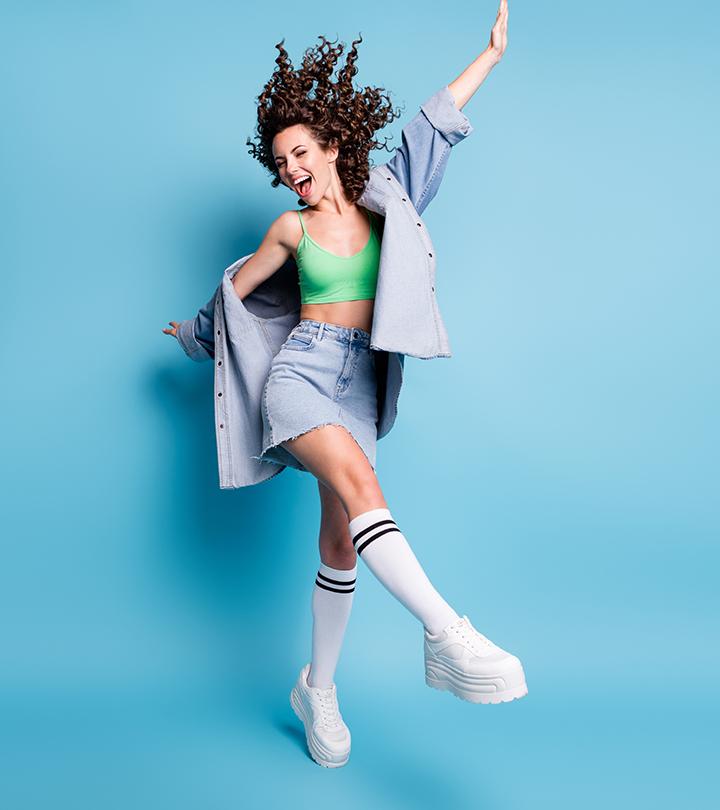 Running a trail is difficult enough, and you do not need the added discomfort of burning blisters to pile up on you. The best anti-blister socks can help prevent the formation of these fluid-filled sacs and support your performance. Blisters are caused due to excessive rubbing or friction and heat. These usually form when your feet rub against your shoes and get sweaty or if your shoes are the wrong fit.
Blisters tend to wreak havoc on your feet and make it difficult for you to run trails or even on tracks and roads. Most often, we tend to focus on just our shoes and choose regular cotton socks for long-distance running or trekking. This leads to discomfort and pain caused by blisters that you cannot get rid of easily. A good pair of anti-blister socks is made of moisture-wicking synthetic material that keeps your feet comfortable and safe for long-distance running or walking. Invest in a few of these pairs so that you can concentrate on your performance and your journey while the socks take care of your feet. Check out the best anti-blister socks available on the market right now and also understand how they work.
Here's How Anti-Blister Running Socks Actually Work
The insides of every blister-proof socks have a silicone polymer coating that sticks to the skin and protects it from the friction that fabric would create as you move. The coating separates your feet from the sock fabric without inhibiting constant movements by absorbing this friction and giving you a slip-free surface. It basically works like Vaseline, to put it in lay terms.
How efficiently a sock manages to keep moisture from accumulating over the skin is of the essence for preventing blisters. Anti-blister socks use hydrophobic materials like polyester, acrylic, spandex, and silicone instead of hydrophilic ones like cotton and wool. Merino wool and bamboo are exceptions to this rule — while the former is thinner than normal wool and thus better at wicking sweat, the latter is a comfy alternative to synthetic socks. However, synthetic materials are the gold standard of anti-blister running socks as they provide proper cushioning, dry quickly, repel water, and retain their shape on getting wet. They're also known for resisting odor and keeping your feet in the kind of sweat-free zone they need on the run.
The thicker and more densely padded your socks, the more effective its moisture-wicking ability, and the safer your feet are from blisters. Thick padding reduces not only the chances of blister formation but also the severity. However, there's a caveat here: this thickness should be accounted for when you buy a shoe; otherwise, the tight fit would make the sock redundant.
13 Best Anti-Blister Running Socks To Keep Your Feet Sore-Free
Step into the world of padded comfort with these running socks, which are cushioned in the heel and toe areas to make every minute of your run blister-less and sweat-free. Having been track-tested by Olympic athletes from Denmark, these frictionless socks for blisters do more than just wick away moisture and keep your feet cozy — they feature cooling meshes on the sides to help you stay ventilated throughout your course. They come in 5 colors and meet the highest OEKO-TEX standards to ensure that only harmless substances and materials have been used in construction. Whether you're running a marathon or charting unknown terrains, these are an ideal fit for every long-distance activity.
Pros
Anti-blister cushioning
Ventilation on the sides
Arch compression
Moisture-wicking
Olympian-tested
Available in 5 colors
Cons
They might not be tight enough around the ankles for some.
Price at the time of publication: $24.95
Built with Drynamix, which is known to wick moisture like a pro, these compression performance socks keep your feet dry and nip blisters right in the bud — all without even being visible. Their polyester blend is supported by synthetic fibers and knit patterns that create pressure on varying parts of your feet without restricting movement. Designed with a high tab heel and midfoot that locks, the sock doesn't slip down during activities regardless of how much your feet bend. Cushioned in the right places to increase comfort as well as durability and boasting a ventilating upper mesh along with a seamless toe, these no-show socks minimize friction and are ideal for extended training and endurance sports.
Pros
75% Drynamix
High tab anti-slip heel
Compression-fit
Seamless toe
Medium cushioning
Available in 16 colors
Cons
May not be suited for hiking shoes with high tongues
Price at the time of publication: $19
Constructed with a nylon-lycra blend with wick poly and cotton for good measure, these socks feel as soft and comfy as a second layer of skin. In addition to complementing the natural structure of your feet, they come with a padded instep that prevents shoelaces from digging into your skin. While the hydrophobic nylon wicks away moisture and keeps you dry plus odor-free, the curled heel tab ensures that the socks don't slide down when you're in the middle of a run. The padded socks have distinct contours for the left and right foot for a truly unique fit. They also feature a lightweight mesh to enhance ventilation and wearability.
Pros
High moisture-wicking
Contoured for left and right foot
Ultra-stretchable fabric
Seamless toe closure
Extra instep cushioning
Available in 12 colors
Cons
Not no-show due to the high heel tab
Price at the time of publication: $13.5
Built with a poly-cotton blend, these socks boast moisture-wicking abilities that keep water and sweat away from your skin. Complementing the quick-drying synthetic fabric is the ventilated mesh that regulates temperature and ensures that your feet stay warm in the winter and cool during summers, making them suitable for round-the-year use. The reinforced seamless toe raised heel tab, and Y-type heel combine their powers to accomplish 2 things: prevent the socks from slipping into your shoe and take the overall comfort level up several notches. With a cushioned footbed and antibacterial technology, your feet will be protected from shock and free of unpleasant odors. We also highly recommend these for all-day wear.
Pros
Moisture-wicking
Antibacterial and odor-free
Cushioned footbed
Elastic anti-slip cuffs
Breathable mesh design
Available in 3 colors
Cons
May not provide too much compression
Price at the time of publication: $13.59
Few fabrics come close to beating Merino wool (and by extension, these socks) at regulating temperature to keep you comfortable in every season and any environment. Despite that, they feel neither too bulky nor too thin when worn with shoes. In addition, the no-show socks feature a lightweight mesh ventilation that lends breathability, while seamless toe closure aids flexibility and prevents abrasion in vulnerable spots. Available in a wide range of colors, sizes, and styles, this pair is ideal for pretty much any kind of sport, from running and hiking to tennis and football.
Pros
Superior moisture-wicking
Fast-drying and anti-odor
Conform to left and right foot
Thermal regulation
Seamless toe closure
Available in 37 colors
Cons
May feel a bit stiff after washing
Price at the time of publication: $29.99
With strategically placed mesh zones and extra cushioning, these trail socks are the perfect blend of protection and breathability. The extra height makes them suitable for pairing with hiking boots or shoes with high tongues, especially with the seamless toe closure that serves as a shock-absorbing surface and protects your feet from abrasion. You can be sure they'll stand the test of time and distance because of how well they perform in extreme conditions like obstacle races and marathons. The best part is that along with making your runs more comfortable and supporting you in the journey to excellent health, these no-blister socks promote the planet's health by recycling plastic waste from the ocean. These are ideal for eco-conscious trail runners for a secure fit, seamless construction, compressive arch support, and sustainable build.
Pros
Anti-slip heel
Reflective logo
Reinforced toe closure
Compressive arch support
Ventilated mesh zones
Available in 6 colors
Cons
May be a little warm for hot days
Price at the time of publication: $25
If you've ever dreamed of a sock that stretches in 4 directions and comes with adjustable ankle cuffs that can be customized to your feet, you may have been thinking about this pair. Its nylon upper is excellent at repelling moisture and keeping feet dry all the way, making it ideal for hot sand as well as water-based activities like snorkeling. The flat seams provide durability and strength, while the neoprene soles feature X-Foam, which lends the socks hypoallergenic properties and render them suitable for sensitive skin types. We recommend these not only to prevent blisters but for when you already have a blister but don't want to agitate it or let it come in the way of playtime.
Pros
Recycled polyester
Hypoallergenic
Flat-stitched seams
4-way stretch lycra
Adjustable ankle cuffs
Available in 11 colors and 10 sizes
Cons
The velcro on the opening may not be tight enough for those with narrower calves.
Price at the time of publication: $29.95
The lightweight, incredibly durable Feetures Elite Ultra Light No Show Tab socks are perfect for any athlete. They have a nylon and spandex composition. They may be worn as bicycle, tennis, jogging, or golf socks. Their custom-like fit is distinct and tangible, decreasing the possibility of blisters or other running sock issues. With the seamless toe design, the socks include a tab in the rear to cover your heels and avoid discomfort, allowing you to feel comfortable without sweat or blisters. As a result, you can count on these socks to keep your feet dry and cool. They also feature a "no-show" anatomical design, where each sock's shape will be confined to that respective foot.
Pros
Versatile
Moisture wicking
Targeted compression
Maximum comfort
Protection the feet
Improves performance
Cons
Price at the time of publication: $18
This polyester-polypropylene blend from Adidas is designed to offer maximum grip and stability, which will allow you to be more deliberate in your movements. We love several things about these anti-blister socks, starting with the fact that they provide 360° cushioning and compression around the ankle, which makes them hug your foot in all the right areas while increasing the amount of support. There are multiple mesh ventilation zones around the top that let your feet breathe through the most intense activities and durable yarns throughout the sock that feel super-soft and comfy against the skin while wicking moisture away. All of these features combine to make these a go-to for trail running and sports involving intricate footwork.
Pros
Moisture-wicking yarn
360° cushioning
Breathable mesh zones
Increased traction at the achilles
Easy to wash
Available in 4 colors
Cons
Might feel slightly warmer during summers
Price at the time of publication: $15.22
The Swiftwick FLITE XT ZERO is right for you if you want to improve your steadiness while working out. These socks use exclusive GripDry Fiber combined with Olefino to provide your feet with the required stability during fast movements. Additionally, they have AnkleLock Technology, which effectively wraps the ankle and heel in a strong elastic for targeted support and added safety during fast transitions. Their moderate compression gently hugs your feet to support the muscles, keeping your socks in place. They have a moisture-wicking material that provides you with skin breathability. As a result, you can keep your feet dry and blister-free. Some of the other notable features of these socks include medium cushioning, a seamless toe eliminating toe friction, and a "no-show" design where they sit with minimal extension above the shoe.
Pros
Lightweight
High-quality build
Proper feet support
Comfortable
Breathable
Cons
The material thickness could have been better
Price at the time of publication: $19.99
The TANSTC Mens Socks are made of high-quality material to make them more comfortable and breathable, so you can wear them all day long without irritation. The material provides air permeability and wicks moisture easily to keep your feet dry and odor-free. These socks feature soft sole cushioning for enhanced durability, especially in high-wear areas. The socks' seamless toe construction protects against chafing and discomfort and is one of its other standout qualities. The socks won't slide down because of their high heel tab, extra-deep heel pocket, and enhanced elastane, which also adds to the no-slip security.
Pros
Offers great support
Good fit
Better breathability
Durable
Comfortable
Keeps your feet dry and cool all-day
Cons
Cushioning could have been better
Price at the time of publication: $14.39
Designed by runners for runners, this award-winning product from Runderwear combines dual-layered protection with premium-level breathability to create one of the most comfortable socks out there right now. With a reinforced heel and toe that are hand-stitched to minimize the seams, you get all the support and cushioning you need before you hit the pavement. They also perform an expert job of wicking moisture, preventing unwanted rubbing, and discouraging the growth of odor-causing bacteria. Boasting a strategic design in the form of specific left-right contouring, these socks were made to support your feet in every circumstance and keep them free of blisters.
Pros
Double-layered
Reinforced heel and toe
Left-right contouring
Lycra arch support
Moisture-wicking socks
Available in 2 colors
Cons
Slightly exposed due to the raised heel tab
Price at the time of publication: $20
The Avoalre Athletic Running Sports Socks come in various sizes, from small to extra-large, and are made of a material blend of Coolmax, cotton, nylon, and lycra. These socks contain specialized cushion supports that provide permanent all-around protection while keeping your feet relaxed and comfortable. With these socks, you can expect to receive 360-degree protection for your feet and recover your muscles quickly. Its compression arch support' design encourages oxygen and blood circulation in your body, avoiding weariness and cramps. They offer a custom fit to ensure that every foot receives the best possible protection and can prevent accidents. Interestingly, these socks were knit utilizing a "200-needle" process, which allows them to manage moisture and transfer sweat away from your skin's surface effortlessly. Thus, you are no longer bothered by blisters or odorous feet.
Pros
Comfortable
High-performance
Non-slip
Breathable and durable
Long-lasting
Cons
The fit could have been better
Price at the time of publication: $19.99
For runners, walkers, and bikers, socks are much more than an impulsive decision. It requires some careful deliberation because of the various moving parts that are (literally) involved. To simplify this as much as possible, here are a few tips on choosing the right anti-blister socks for you.
How To Choose Anti-Blister Socks
The best anti-blister socks are the ones that offer a high level of moisture-wicking, meaning moving sweat and water away from your skin. They also regulate temperature to keep you cool and dry on the run. Materials like cotton and regular wool tend to retain moisture, whereas polyester, acrylic, and spandex repel it, rendering them miles better for a long-distance running relationship.
With casualwear socks, you can get away with the loose ends and gapey hems, but not here. If your blister-prevention socks are too loose, they'll only end up adding to your chafing issues. On the other hand, you risk cutting off that all-important blood circulation to the feet if they are too tight. Also, in case they hang too low, the upper edges at the back of your shoe might dig into your skin, while a pair that sits too high might make your already hot, sweaty feet even hotter. Therefore, when it comes to keeping blisters at bay, the perfect (and we've never meant this more literally) fit is everything.
From thin with a delicate lining to thick with double layers, socks come in various types. You need a pair that's thick but not unreasonably warm lest you get burned by your own sock. Double-layer socks are widely preferred by runners because they reduce friction without piling on with unnecessary bulk. Those with some extra padding around the toes, heels, and underfoot will give you the right cushioning and the ultimate protection.
Everything You Need To Know About Anti-Blister Socks
Do anti-blister socks work?
Yes, they do. Anti-blister socks have been tested and clinically proven to not only decrease but also eliminate the odds of blister formation, provided they are chosen according to your needs as well as industry-recommended standards.
Which socks are better for preventing blisters, thick or thin?
Since socks that prevent blisters are inevitably made out of synthetic materials, greater thickness can increase their moisture-wicking capacity while providing you with extra cushioning that can muffle the impact of friction.
Do polyester socks prevent blisters?
Yes, polyester is a hydrophobic material, meaning that unlike natural fibers, it repels liquids. This is the essence of preventing blisters from forming as a heavy accumulation of sweat creates even more friction as well as weakens the skin. Polyester can absorb moisture better than most fabrics, reducing the risk of friction.
Can compression socks prevent blisters?
Yes. Compression socks work by applying extra pressure on your lower legs, which stimulates blood circulation in your feet. Most compression socks are infused with antimicrobial and wicking properties, thus creating a hostile environment for blister-forming organisms.
Why Trust StyleCraze?
Chaitra Krishnan is a fashion aficionado who understands the importance of anti-blister running socks. She recommends using these socks because they prevent the formation of fluid-filled blisters and support your performance. After conducting thorough research and going through multiple online reviews, she has carefully chosen the best ones for her readers. The socks included in the list will keep your feet comfortable and safe for long-distance running or walking.
Frequently Asked Questions
Is it better to wear thin or thick socks to prevent blisters?
Thick socks are better for preventing blisters because it adds extra protection to your feet and helps prevent blister.
How do anti-blister socks work?
Anti-blister socks prevent blisters from forming by minimizing friction between your skin and the sock's fabric. Their moisture-wicking abilities also aid in keeping your feet dry and comfy.
How do I harden my feet to prevent blisters?
Take numerous weekly strolls to the neighborhood park or beach without shoes. When barefoot, stay on the grassy or sand area. It helps to expose the feet's soles to a texture that is just barely rough. Start with short walks and gradually lengthen them as your feet become more resistant to prevent blisters.
Can the wrong socks cause blisters?
Yes, wearing the wrong socks increases your risk of developing blisters. For example, wearing thin or cotton socks can increase friction against the top layer of your skin and cause blisters to form.
How do you prevent blisters when running?
•  Stop using cotton socks when running because they cause friction and blisters.
•  Make sure your shoes fit correctly because tight shoes provide extra pressure and friction on your feet, increasing  your risk of blisters.
•  Put on two socks to avoid rubbing the socks against your feet.
•  To keep moisture at bay, use talcum powder or skin-drying products.
Recommended Articles: