19 Best Anti-Chafing Products To Prevent Inner Thigh Irritation
These non-irritating, non-greasy formulas reduce inflammation associated with chafing.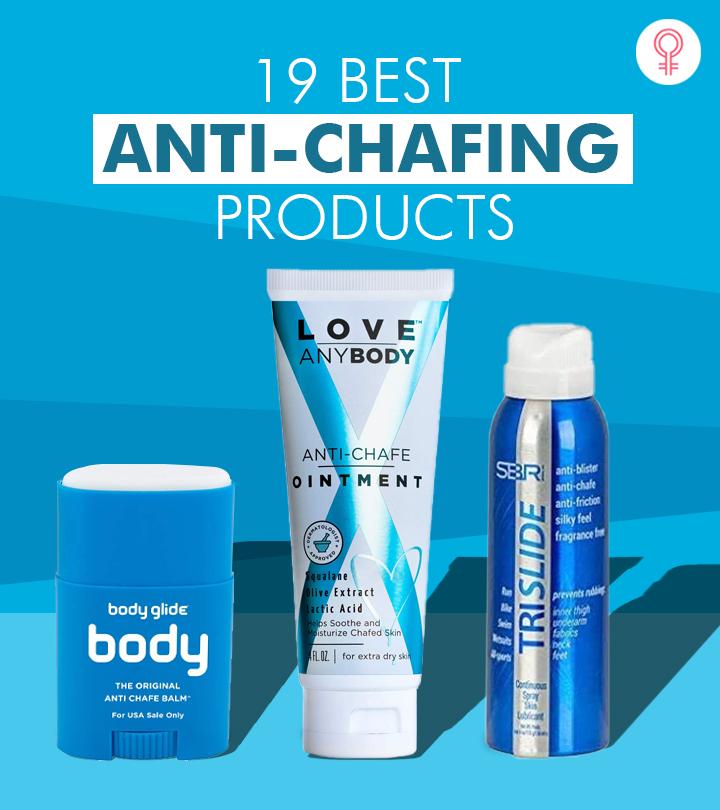 Chafing is not only uncomfortable but also very irritable, which ruins your entire day. This time we have brought you the best anti-chafing products. This skin condition can occur in most folded areas like armpits, inner thighs, knee bends, arm bends, and nipples. It usually happens when there is a lot of friction and moisture filled with impurities. Slowly, your skin starts appearing red, along with a burn sensation. That is no way to feel fresh, so relying on anti-chafing products like gel, cream, balms, and sprays can help you get rid of this annoying skin condition. Read this article for more information.
19 Best Anti-Chafing Products To Try – Reviews
The Chamois Butt' r Original Anti-Chafe Cream is a non-greasy skin lubricant and is developed by cyclists. The formula is infused with aloe vera, glycerin, and vitamin E to nourish the skin, keep it lubricated, and reduce inflammation caused by chafing. It comforts the skin without any residue, damage, or stain on your clothes. If you want to find out more about this product and its usage, make sure to check out this review on YouTube.  
Key Ingredients: Glycerin, Aloe vera, and Vitamin E 
Pros
Non-greasy
Paraben-free
Fragrance-free
Gluten-free
Stain-resistant
Phthalate-free
Cons
Contains mineral oil
Contains urea
Price at the time of publication: $17.74
The Body Glide The Original Anti-Chafe Balm helps prevent skin chafing and is perfect for hot, humid, and dry weather conditions. The product uses plant-derived ingredients that do not clog the skin pores and keep your skin comfortable.
Apply the balm on your thighs, arms, feet, chest, and any area where the skin rubs before starting any activity to minimize friction and prevent chafing. This balm lets the sweat escape and the skin breathe. It does not leave any greasy residue nor contains any harmful chemicals.
Key Ingredients: Tocopherol (Vitamin E) and Plant extracts 
Pros
Child-safe
Allergen-free
Lasting effects
Fragrance-free
Hypoallergenic
Water-resistant
Petroleum-free
Lanolin-free
Not tested on animals
Cons
None

Price at the time of publication: $33.98
The Monistat Care Chafing Relief Powder Gel comes with the benefits of lotion and powder to relieve skin chafing in intimate and delicate areas. The product contains a unique formula containing dimethicone that shields the skin to prevent chafing. It is a non-greasy product that creates a moisture-control barrier on the skin without staining the clothes. It lets the skin breathe without irritation and can be used on the bikini area, inner thighs, breasts, and underarms. 
Key Ingredients: Dimethicone 
Pros
Non-greasy
Fragrance-free
Stain-proof
Gynecologist-recommended
Cons
Price at the time of publication: $23.2
The TRISLIDE Anti-Chafe Continuous Spray is an anti-blister, anti-friction, and anti-chafe product meant for cyclists to prevent saddle sores. This environment-friendly and sweat-proof aerosol spray is easy to use and safe to share. It is a liquid silicone-based product that does not stain clothes and stays for long hours without leaving a greasy residue. This product is easily removable with soap and water and is recommended for triathletes, swimmers, cyclists, and runners.
Key Ingredients: Dimethicone
Pros
Anti-blistering
Sweat-proof
Waterproof
Easy-to-use
Fragrance-free
Environment-friendly
Cons
Price at the time of publication: $15.99
Protect your friction-prone areas with the KT Tape KT Performance+ Anti Chafing Stick. It lasts up to 24 hours with its sweat and water-resistant formula, preventing skin irritation. It is designed in a non-greasy gel form to make it easy to apply at a convenient time in a suitable place. The stick delivers all-day protection to all skin types due to its paraben-free, sulfate-free, petrolatum-free and dye-free content.
Pros
Sweat-resistant
Water-resistant
Long-lasting formula
Non-greasy
Travel-friendly
Easy to apply
For all skin types
Paraben-free
Sulfate-free
Petrolatum-free
Dye-free
Cons
None
Price at the time of publication: $22.2
The Zoe Naturals Chub Rub Anti-Chafe Stick is made with natural ingredients that hydrate and protect the skin while creating an anti-chafing barrier. It comes in a form of stick and is made with natural ingredients like coconut oil, shea butter, and aloe vera which defend your skin against bacterial infections. The formula minimizes skin irritation, sweating, and also forms a protective layer against harsh UV rays. This long-lasting stick is easy to apply and does not leave any greasy residue after application and lets the skin breathe. It also moisturizes the skin while preventing excessive dryness and creates a protective barrier for the skin against rashes, chafing, and painful irritation. You can apply this product on the butt region, the inner thighs, and under the armpits.
Key Ingredients: Aloe vera, Shea butter, Coconut oil, and Vitamin E
Pros
Natural ingredients
Long-lasting effect
Non-greasy
Stain-proof
Non-sticky
Skin-friendly formula
Fragrance-free
Safe for children
Cons
None
Price at the time of publication: $12.98
The Blue Steel Sports Anti-Chafe Cream is one of the most effective silicone-based anti-chafe creams for runners and athletes.
It is formulated with tea tree oil that has antifungal and anti-inflammatory properties to ensure complete skin care.
It is an effective solution for skin rashes, blisters, and saddle sores.
This non-sticky cream is sweat-proof, easy to apply, and glides smoothly on the skin. It is stain-proof, and even if it does stain your clothes, the residue can be cleaned with detergent and water. It can be applied on the feet, groin, buttocks, armpits, and breasts.
Key Ingredients: Tea tree oil
Pros
Long-lasting
Non-staining
Non-sticky
Fragrance-free
Colorant free
Cons
Price at the time of publication: $16.99
The Ruby's Lube Anti-Chaffe Balm is formulated with natural ingredients like lemongrass, calendula, beeswax, and olive oil. All the ingredients make this cream perfect for preventing infection, healing rashes and irritation, preventing drying, and ensuring hydration. This anti-chafing cream also helps soothe skin issues like eczema, insect bites, diaper rash, and minor burns. It has a water and sweat-resistant formula and can also be used on baby's skin, callused feet, and hands. 
Key Ingredients: Lemongrass, Calendula, Benzoin, Beeswax, and Olive oil
Pros
Organic
Water-resistant
Sweat-resistant
Can heal razor burns
Recommended for dry skin
Cons
Oily
Overpowering fragrance
Price at the time of publication: $16.75
The 2Toms SportShield For Her is an easy to use anti-chafing roll-on stick that provides 24-hour protection from chafing and rubbing. It has a silicone-based formula that contains vitamin E, aloe vera, and shea butter to hydrate the skin and form a protective barrier to minimize irritation and maximize the comfort level. It also has natural antimicrobial and skin healing ingredients like calendula, green tea, horsetail extract to protect sensitive skin from infection and inflammation. This product is easy to clean and comes off with mild soap and hand wipes. 
Key Ingredients: Dimethicone, Shea butter, Calendula extract, Green tea extract, Horsetail plant extract, Aloe vera extract, and Vitamin E 
Pros
Fragrance-free
Dye-free
Non-toxic
Moisture-rich protection
Heals sensitive skin
Sweat-proof
Waterproof
No animal ingredients
Cons
Price at the time of publication: $15.24
The Lady Anti-Monkey Butt Anti Friction Powder absorbs sweat and prevents chafing by reducing excessive skin friction to ensure that you remain comfortable throughout the day. It can be safely applied on the neck, waistline, groin, bra line, chub rub, and feet. This sweat-absorbing powder has anti-inflammatory properties that soothe the skin. The formula contains calamine and corn starch which eliminate irritation while soothing skin to end discomforts like irritation or pain. Sodium bicarbonate helps fight off an unpleasant odor and kaolin gives an extra protection against chafing while cooling down the skin. You may apply this powder before activities such as yoga, dancing, and horse riding.
Key Ingredients: Calamine, Kaolin, and Tricalcium phosphate
Pros
Soothes the skin
Sweat-absorbing formula
Long lasting effect
Heals painful blisters
Stain-proof formula
Talc-free
Controls odor
Cons
Unpleasant fragrance
Not suitable for sensitive skin
Price at the time of publication: $5.99
Solpri All Natural Anti-Chafe Balm is formulated with sunflower oil, shea butter, beeswax, and Vitamin E. It reduces inflammation, repairs damaged skin, and soothes chafed skin. It is made of natural ingredients to be safe on your skin. This anti-chafe balm has been designed by athletes and ensures you have friction-free movements. It has a semi-solid consistency that melts on contact with your skin.
Key Ingredients: Sunflower Oil, Shea Butter, Beeswax, and Vitamin E
Pros
 Natural ingredients
 Easy to use
 No strong smell
 Non-irritating
 Non-greasy
Cons
None
Price at the time of publication: $10.99
The Zealios Betwixt Athletic Anti-Chafe Cream is a long-lasting and ultra-comforting product. This vegan product contains ingredients like aloe vera and vitamins B5 and E that prevent bacterial infections, inflammation, and infection. This multipurpose product also repairs cracked heels and can be applied to all-risk areas on your body. It has a non-staining formula and easily washes out of clothes. 
Key Ingredient: Organic aloe vera, Vitamins E and B5 
Pros
Non-stain cream
Vegan
Cruelty-free
Skin lubricant
Long-lasting
Paraben-free
30 days return policy
Cons
None
Price at the time of publication: $14.95
The Dznuts Bliss Chamois Cream has antibacterial properties that prevent painful saddle sores and reduce skin irritation. This paraben-free cream is enriched with pre and probiotics complexes which reduce skin discomforts like itching, rashes, and prickling. Its anti-inflammatory properties activate the skin defense mechanism and promote healing. It forms a protective layer and is safe to apply on the thighs, under the armpits, and the feet. Its moisture wicking polymers absorb excess moisture and further protect the skin against chamois. It is ideal for cyclists and bikers to apply this cream while riding comfortably with zero risk of tingling sensation. The cream acts as a friction barrier and is recommended for athletes and trainers. It is excellent for athletic activities such as hiking, running, or biking.
Key Ingredients: Probiotic complexes
Pros
Hypoallergenic
Antibacterial properties
Reduce tingling sensation
Anti-inflammatory properties
Skin-friendly formula
Organic ingredients
Paraben-free
Sweat-resistant
Suitable for sensitive skin
Cons
None
Price at the time of publication: $41.99
The Monkey Movement Balm is a healing chamois cream that prevents rubbing, chaffing, friction, and windburn. It contains natural ingredients like sunflower oil, virgin olive oil, wild calendula, propolis, lemon oil, and beeswax. All these ingredients moisturize the skin, heal dried skin, prevent irritation, and have an antiseptic effect. This is a sweat-proof treatment and has antibacterial and anti-inflammatory properties to soothe your skin. It can also soothe eczema, rashes, dermatitis, and psoriasis.
Key Ingredients: Olive oil, Sunflower oil, Calendula extract, Beeswax, Bee propolis, and Lemon essence 
Pros
Heals burnt skin
Suits sensitive skin
Sweat-proof
Heals blisters
Organic ingredients
Cons
Price at the time of publication: $29.95
The ChafeX Skin Cream helps prevent chafing and heal blisters and calluses. This cream forms microlayers to support the cellular structure of the skin. It bonds well with the skin to prevent chafing and blisters. This cream will not wash off and will stay put even if the weather is hot and humid. Its sweat-resistant and stain-proof formula makes it a perfect product for marathoners. This is a doctor-recommended product and is not tested on animals. 
Key Ingredients: Stearamidoethyl ethanolamine, Stearoylethyl dihydroxyethylamine, Distearoylethyl hydroxyethylamine, and Acetic acid 
Pros
Gluten-free
Vegan
Stain-proof
Fragrance-free
Cons
Price at the time of publication: $25.0
The Skin Slick Continuous Spray Skin Lubricant prevents painful chafing, blistering, and friction, making it an ideal pick for everyday and athletic uses. It is great for runners, cyclists, and swimmers as one single spray can prevent irritation effortlessly. It is suitable for everyone who experiences chafing caused by cloth straps, underarm sweating, shoe blisters, etc. It is safe to use on most fabrics without the worry of transferring or leaving a mark.
Key ingredients: Cyclopentasiloxane, Dimethicone, Propane, and n-Butane
Pros
Suitable for everyday usage
Safe to use on most fabrics
Water and sweat-resistant
Great for athletes
Prevents chafing and blisters
Fragrance-free
Travel-friendly
Cons
Expensive
Takes time to dry
Price at the time of publication: $13.95
Keep your thighs friction-free and rash-free with the Megababe Thigh Rescue Anti-Chafe Stick. The formula in the anti-friction stick contains natural ingredients like aloe vera, grapeseed oil, orange oil, ginger root extract, pomegranate seed extract, and vitamins with antioxidant properties. It forms a barrier on your skin to make the thighs glide against each other. It is a multi-functional stick that is useful for toes, shoulders, and elbows. It is safe and healthy for all skin types due to its paraben-free, aluminum-free, sulfate-free, and phthalates-free content.
Key Ingredients: Aloe vera, Grapeseed oil, Orange oil, and Pomegranate seed extract
Pros
Natural formula
Skin-friendly formula
Prevents rashes
Paraben-free
Aluminum-free
Sulfate-free
Phthalate-free
Suitable for daily use
Cons
None
The Azani Anti-chafing Cream is a chemical-free formulation that contains natural ingredients which form a protective layer on your skin that cools, soothes, and heals the skin. The anti-chafing cream helps maintain your regular routine without worrying about blisters,soreness, and rashes. Botanical ingredients like shea butter hydrate and enhance the healing capabilities of the skin while coconut oil ensures your skin remains moisturized for a longer period of time without triggering rashes or redness. Moringa extract aids in healing and rejuvenating the skin. Neem extracts have antibacterial properties which prevent infections and cleanse impurities from the skin.
It is further non-greasy and absorbs quickly without staining the clothes. It is recommended to be applied before any physical activities like running, cycling, and gym workouts.
Key Ingredients: Shea butter, Neem,Multani mitti, Coconut extracts and Moringa extracts
Pros
Natural ingredients
Long-lasting
Non-greasy
Non-staining
SLS-free
Paraben-free
Sulfate-free
Cons
Price at the time of publication: $9.99
The Calmmé Anti-Chafe Cream is perfect for sensitive skin. The product soothes redness and painful inflammation without feeling greasy or causing any burning or tingling sensation.
This hydrating cream is made of 100% natural and pharmaceutical-grade ingredients, including calendula, aloe vera, pomegranate, and ginger extracts, that create a silky protective barrier on your skin to prevent friction and irritation. It does not leave any residue and eliminate the chances of bacterial infection. You can use this product on the breasts, nipples, inner thighs, bikini area, underarms, and between the buttocks. 
Key Ingredients: St John's wort, Aloe vera, Ginger, Calendula, and Pomegranate 
Pros
Recommended for sensitive skin
Fragrance-free
Paraben-free
Allergen-free
Non-greasy
Suitable for all ages
Cons
None
Price at the time of publication: $15.0
How To Treat Chafed Skin
Gently cleaning the chafed area with mild soap and water.
Pat it dry with a soft towel. Avoid rubbing.
Once dry, apply a medicated ointment, anti-chafing cream, lotion, or roll-on and let the area heal.
Avoid wearing tight clothes during this time. Here are a few measures you can take to prevent chafing.
Measures To Take To Prevent Skin Chafing
Avoid wearing tight-fitting garments. Choose ones made from breathable cotton fabric.
Avoid moisture buildup. Change your clothes as soon as you start feeling discomfort.
Avoid clothes that fold and dig into your skin tightly. For instance, an underwired sports bra can rub against the folds of your breast and cause chafing.
Choose your workout gear wisely. Look for moisture-wicking activewear.
Skin chafing can make walking, running, or any other activity uncomfortable and painful. If left untreated, the blisters may start to peel, restricting your movement. To prevent chafing, avoid moisture buildup in the skin folds, and use any anti-chafing products from the above list.
Why Trust StyleCraze?
The author of this article, Shiboli Chakraborti, is a certified skin care coach. She has expertise in reviewing skin care products and recommend them based on different skin needs and issues. She curated the list of best anti-chafing products after extensive research and reading customer reviews on various trusted forums. These products are skin-safe and help ease the irritation and burning sensation.
Frequently Asked Questions
Why does chafing hurt so badly?
Chafing gets worse with constant friction, which turns into bleeding and excessive rashes at times. If left untreated, it starts to burn and then may peel the upper layer of skin. In worse cases, it restricts movement.
How long does it take for chafing to heal?
It depends on how severe the condition is. If the skin is inflamed, red, and irritated, it might heal in a week. However, if it starts to bleed, it may take 2 to 3 weeks to heal completely.
When do you use anti-chafing products?
Anti-chafing products such as gel, lotion, cream, etc. are used on chafed areas of the body after gently cleaning them.
Can vaseline prevent chafing?
Yes, vaseline can be used in the first place to prevent chafing from occurring. However, if your skin is already chafed, it is best to treat it with the help of anti-chafing products listed in the article.
Can you use anti-chafing cream every day?
Yes, you can use anti-chafing cream on the affected area every day. Ensure that the product is right for you and doesn't irritate the skin.
Can anti-chafing products be used on irritated skin?
Yes. Anti-chafing products are made to use on chafed and irritated skin to treat them.
What is chafing and what causes it?
Already covered in the article.
What ingredients should you look for in an anti-chafing cream?
When using anti-chafing creams, the ingredients in it should be able to build a barrier against the affected region to avoid friction. Along with that, look for ingredients that will calm and soothe the skin's inflammation. Glycerin, aloe vera, vitamin E, petrolatum, and tea tree are all very effective for this purpose.
How can people prevent chafing?
Already covered in the article.
Recommended Articles