10 Best Dandruff Conditioners Of 2023
The soothing effects of these gentle anti-dandruff conditioners will change your locks!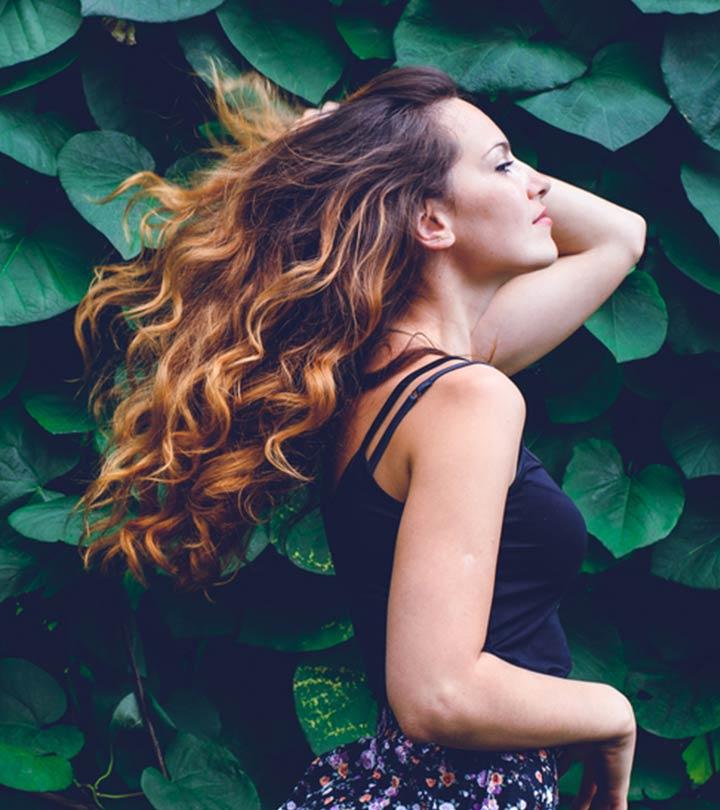 If you suffer from severe dandruff, itchiness, and flaky scalp, simply using an anti-dandruff shampoo might not be enough to control the condition. You need to pair it with the best anti-dandruff conditioner to uproot the visible whitish flakes on the scalp. Dandruff might be as stubborn as pimples, and it can be challenging to get rid of it completely. So, to manage those stubborn flakes, the best thing to do is to soothe the common symptoms that cause dandruff.
For those who are not aware, dandruff causes excessive shedding of dead skin cells in the form of whitish flakes, mostly found on the roots of your hair and sometimes on your shoulders if you are someone with short hair. Besides causing itchy and irritated scalp, dandruff might also cause discomfort in your scalp. So, to manage uncontrollable dandruff issues, you need to have a healthy hair care routine. Coupling your trusted anti-dandruff shampoo with an anti-dandruff conditioner might do the trick for you. An anti-dandruff conditioner will nourish your hair, and at the same time, protect your scalp from damage and inflammation. Check out our best picks of anti-dandruff conditioners on the market. Keep scrolling!
Top 10 Conditioners To Battle Dandruff In 2023
This Dove conditioner is moisturizing and incredibly soothing. With actives like pyrithione zinc, this conditioner effectively tackles dandruff with a formula that nourishes and soothes the scalp and gets rid of the symptoms that contribute towards the buildup of dandruff. The pH-balanced formula of this conditioner blends in with the natural oils of your scalp, allowing gentle conditioning. This Dove product tops our list as the best conditioner for dandruff due to its flake-free formula. It not only gets rid of dead skin cells that linger in your hair but also relieves irritation and itchiness. It leaves behind a fresh scent, keeping your hair and nose happy! As a part of the new Dove DermaCare Scalp Series, this product is your best bet in banishing dandruff and having smooth and manageable hair, all in one go!
Pros
Affordable
Soothing
Moisturizing
Helps reduce itchiness
Ideal for normal to dry hair
Cons
Not ideal for very oily hair
Price at the time of publication: $9.94
This paraben-free product is the best bet for our colored-hair readers who suffer from dandruff. It provides deep moisture to your hair and protects your scalp against dandruff. With up to 100% flake-free results, Head & Shoulders claims that you will see results almost instantly after regular and prescribed use. Infused with avocado oil, this is the best anti-dandruff conditioner is healthier than your breakfast.
Pros
Deep moisturizing
Up to 100% flake-free results
Ideal for colored hair
Dermatologist-recommended
Cons
Some may find the fragrance too strong.
Price at the time of publication: $5.84
Avlon's new technologically-advanced anti-dandruff conditioner for a dry and itchy scalp is a godsent miracle for all chronic dandruff sufferers. It actively relieves irritation, so you no longer need to constantly fight the urge of keeping your hands off your head and live an itch-free life! This product rehydrates and rebuilds hair fibers to reduce breakage. It is gentle enough to be used frequently on relaxed, permed, color-treated, and even natural hair! With natural ingredients such as flaxseed extract, coconut, and aloe leaf juice, this conditioner is going to be your best buddy in helping you fight dandruff.
Pros
Ideal for an itchy and irritable scalp
Suitable for relaxed, permed, and color-treated hair
Infused with flaxseed extract, coconut, and aloe leaf juice
Moisturizing properties
Cons
Price at the time of publication: $22.5
A big shout out to our curly-haired readers who find it hard to find products that suit their curls while tackling specific problems. Well, look no further! We have the perfect product for you. This Mizani Scalp Care Conditioner is the best product out there to give your curls some much-needed moisturization. This creamy scalp care conditioner nourishes and calms the scalp using peppermint oil and cucumber extracts. The conditioner relieves discomfort and keeps your hair and scalp healthy and beautiful. The best way to get optimum results is to apply the conditioner to your hair, cover it with a plastic cap, let it sit for a couple of minutes, and let it work its magic.
Pros
Non-greasy
Softens hair
Suitable for curly hair
Best for deep conditioning
Cons
Price at the time of publication: $44.0
With a handful of certified organic ingredients, this homeopathic conditioner keeps your scalp moisturized, and your hair detangled. The soothing mix of aloe and plantain enzymes, help alleviate the itchiness and irritation in the scalp. Ingredients such as willow bark and tea tree oil moisturize the scalp, and help battle bacteria. The formula adds volume and shine without weighing your hair down. Great for detoxifying and exfoliating the scalp; this formula cleanses and rejuvenates your scalp. Unlike other conditioners, this is the best conditioner for dandruff hair is made from locally harvested ingredients.
Pros
All-natural
Anti-bacterial
No sulfates
Smoothening
Moisturizing
Cons
It may take a long time to wash off.
Price at the time of publication: $19.99
Here's a conditioner that helps you tackle all dandruff causing agents like a pro. Yes, you read that right! The unique formula helps in de-stressing your scalp and improving the overall health of your hair. It is suitable for all hair types and all levels of hair thinning. It battles dandruff and soothes an itchy, flaky scalp from the very first use. Infused with pyrithione zinc and green tea extracts, this medical-grade conditioner won't disappoint you. With FDA-approved active ingredients, this conditioner cleanses your scalp and restores its natural balance.
Pros
Ideal for a dry scalp
Visible results from first use
Medically-graded
FDA-approved active ingredients
Cons
Price at the time of publication: $59.0
This hair conditioner is the perfect treatment for dandruff and thinning hair. Let's face it; not everyone has the time to deal with one problem at a time. As an anti-dandruff hair treatment, this formula nourishes the hair with antifungal properties that improve the health of the scalp and hair. To make things better, this conditioner improves hair texture and growth, making it thicker and healthier! The lavender, rosemary, and tea tree oil-infused formula leaves your hair with a subtle fragrance and stimulates hair follicles that increase the volume of the hair.
Pros
No sulfates
Cruelty-free
Ethically-made with sustainable ingredients
Ideal for chemically treated hair
Cons
Might not suit all curly hair types
This contemporary ayurvedic conditioner by Blue Nectar is made from everything your grandma has ever raved about. It contains herbs that help in moisture retention in your scalp, which reduces scalp dryness and itchiness and eventually helps in dandruff management. The antioxidants in the formula help in smoothing away dry, frizzy hair. To top it all off, this conditioner adds a layer of shine that mimics a fresh blow-out. Made from natural products, this Blue Nectar product is suitable for all hair types and hair that have undergone all types of chemical treatments.
Pros
Sulfate-free
Paraben-free
Adds shine
Contains 12 Ayurvedic herbs
Suitable for all hair types
Easy to use pump-out packaging
Cons
It is a leave-in conditioner.
Price at the time of publication: $19.45
This conditioner is ideal for treating dry and damaged hair. It helps reduce dandruff and contains nourishing amino acids that help in smoothing and repairing thinning, frizzy, or brittle hair. This Luseta product contains tea tree oil known for its antiseptic properties, and it directly heals dryness from the scalp and reduces itchiness. The argan oil-infused into this conditioner contains high quantities of vitamins A, C, and E, which helps repair damaged hair. To make things even better, it is a chemical-free product that is organically formulated to maintain the natural pH balance of your scalp
Pros
Cruelty-free
Chemical-free
Ideal for all hair types
Tea tree and argan oil-infused
Contains antiseptic properties
Suitable for chemically-treated hair
Cons
Price at the time of publication: $16.98
Aquableu's approach towards hair care is simple, to the point, and yet effective. Their conditioners are formulated with pure natural ingredients combined with soothing fragrances and essential oils that result in happier and healthier hair. This product is infused with jojoba oil, eucalyptus, and green tea extracts. It is the best repair and protect anti dandruff conditioner as it gently cleanses your hair and scalp, removing all the buildup, leaving you with a healthy scalp and softened moisturized hair.
Pros
Sulfate-free
Paraben-free
Cruelty-free
Gluten-free
Essential oils infused
Cons
The conditioner may feel heavy for some.
Price at the time of publication: $8.99
Now that you have a list of products to choose from, here's a list of things you should keep in mind before buying your next anti-dandruff conditioner:
How To Buy The Best Dandruff Conditioner For Yourself
1. Hair type
Before you jump into another bottle of anti-dandruff conditioner, make sure you choose a product that is suitable for your hair type. This is especially important for our curly hair readers who need a little bit of a personal touch when it comes to hair care.
2. Scalp condition
Scalp condition involves things like an excessively dry scalp, an oily scalp, or a scalp that is prone to buildup. All of these conditions are unique to everyone and contribute differently to dandruff.
3. Hair treatment
If your hair has undergone any kind of chemical treatment, it is important to look out for products that supplement and support the current condition of your hair. Colored hair is prone to shed color and becomes brittle if it is not taken care of properly.
Dandruff can be annoying. We know this all too well. It makes our scalp itchy and painful, and sometimes even prevents us from wearing our favorite black T-shirt or that cute little dress. Dandruff can also be an embarrassing problem for many. But, no anymore. Now that you have a long list of products and a buying guide, go ahead and get that bottle of conditioner that gets rid of all your dandruff problems.
Why Trust StyleCraze?
The author of this article, Vaishnavi Kothuri, is a hair care enthusiast. After conducting hours of in-depth research and sifting hundreds of user reviews online, she compiled this list of the best anti-dandruff conditioners. She considered factors like hair type, ingredients, and efficacy before shortlisting the top options for her readers. The products can help reduce visible flaking and nourish the hair.
Frequently Asked Questions
Is a conditioner good for dandruff?
Yes, absolutely! Dandruff is usually caused due to dry scalps and the best solution to dry scalps (apart from deep oiling – of course) is conditioning. A moisturized scalp is soothing and relieves itchiness.
What is the best way to treat severe dandruff?
In addition to using a good anti-dandruff conditioner, it is always good to use a shampoo that helps your conditioner treat dandruff.
What is the best thing to use for dandruff?
The best way to get rid of dandruff is by having a full-blown hair care regime best suited to your hair type.
Is dandruff a fungus?
Yes, it is true! A fungus causes dandruff, and we have no idea why and how. But we do know that symptoms such as dryness, itchy scalp, and buildup lead to dandruff.
Does coconut oil increase dandruff?
No, not at all! Coconut oil is the best thing that's happened to hair. It is moisturizing and healthy for your hair. We recommend a thorough wash within an hour or so of applying the oil. It will ensure your hair is conditioned and does not have any buildup.
Does hot water cause dandruff?
Hot water can cause moisture loss, which will inevitably cause dryness and lead to dandruff. However, it cannot be the sole cause of your dandruff. It is highly recommended by most hair care brands and doctors to wash your hair with cold water. We'd say keep it lukewarm. This applies especially to all our readers who tend to use hot-tools in high heat settings.
Recommended Articles