The Best Anti-Fog Safety Glasses of 2021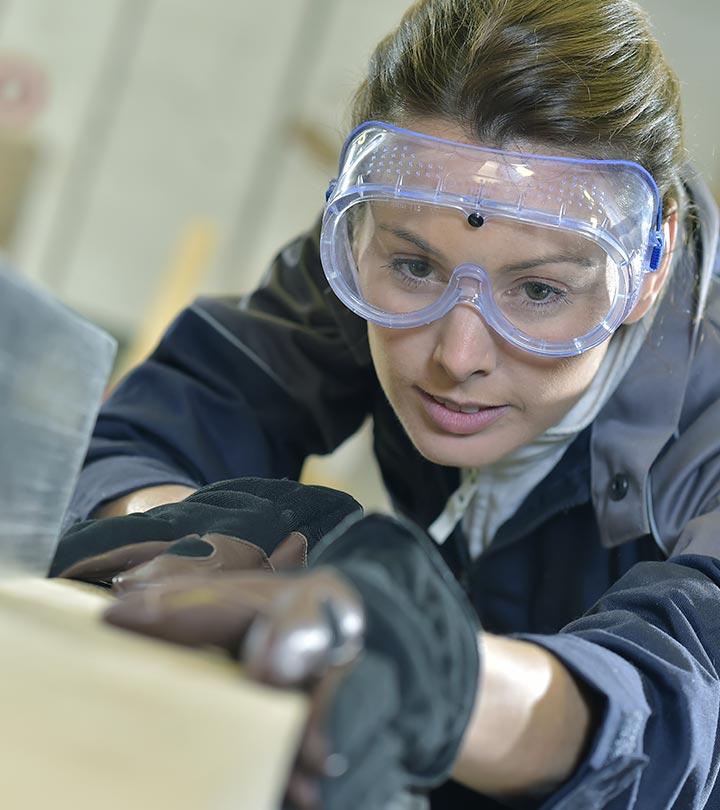 You know how important your eyes are, and that is probably why you're looking for safety glasses. Whether you are working in highly humid conditions, or your work involves intense labor, wearing safety glasses is the go-to solution to protect your eyes and vision.
Considering you've already come halfway when it comes to protecting your eyes, why not walk the other half and pick up the right pair of anti-fog safety glasses? Read on as we have listed the top 10 anti-fog safety glasses of 2021 for you.
Top 10 Anti Fog Safety Glasses of 2021
These NoCry Safety Glasses are one of the bestselling protective glasses in the market right now. Offering complete protection, they ensure safety from all potential hazards. The wrap-around design makes it sturdy, and they are also customizable, which means they can be adjusted to the required fit and comfort. Another benefit of NoCry Safety Glasses is that its nose pieces and sides are adjustable too. Plus, it does not hamper visibility owing to its double-coated lenses, which keep the tint away.
Pros
Designed with durable polycarbonate construction
Does not cause optical distortion and fogging
Customizable and comfortable
Ideal for carpenters, doctors, dentists, chemists, metal workers, etc.
Cons
Earpieces might hurt over the ears.
Similar Products:
Sporting a fascinating and unique design, these anti-fog glasses are absolute trend-setters. They are scratch-resistant, and the lenses, which are made of polycarbonate, are highly durable. That's not all; one of its best features is the clear side shields that assure no obstruction to your peripheral vision. These safety glasses also meet PPE eyewear protection standards, thus minimizing any eye damage caused by occupational hazards.
Pros
Customized design available for all ages
Polycarbonate material makes the lenses scratch-free
Cons
Vision tends to get a little hazy after wearing it for a long time
Similar Products:
Are you looking for a pair of safety eyewear that you can trust? Then DEWALT Anti-fog eyeglasses are the ones for you! The reason is simple- their anti-fog lens coating is durable, and the polycarbonate lens provides impact resistance. So you get the benefit of complete protection from mist and scratches for a long time. They are designed with dual rubber conforms to keep hazardous particles from harming your eyes. These glasses have ventilation channels too.
Pros:
Scratch-free and impact-resistant lenses
Adjustable elastic head strap offers a good fit
The lenses are replaceable
Cons:
Takes up quite a bit of storage space
Similar Products:
Who said you can't look stylish at work? Show off your sporty side and switch those boring glasses with these sleek and performance-driven anti-fog frames. Designed with glare reduction and indoor to outdoor transition, the Uvex lens comes with permanent bonding. This makes its anti-fog and anti-scratch resistance, long-lasting. No matter how many times you wipe or wash these glasses, they are going to look as good as new! They are lightweight, and the nosepiece and temples have soft molded inserts for absolute comfort.
Pros
Durable with permanent bonding on lenses
Comfortable nosepiece and temples with soft molded inserts
Cons
The nosepiece is not adjustable
The side rims are hard and may cause discomfort after long hours
Similar Products:
Bringing the best of two worlds to the table, Kleenguard Maverick Safety Glasses are a classic mix of style and protection. This feather-light eyewear spells comfort like no other. The protective sides panes are highly durable, thus providing safety to the wearer. They are both anti-fog and anti-scratch tested with comfort touch points on the nose bridge and temples. So don't worry about safety and looking good at the same time because Kleenguard Maverick Safety Glasses have got your back!
Pros
Lightweight and comfortable
Counter harmful rays and shield vision from fine particles
Specialized coating to combat extreme fogging
Cons
The nose bridge is not adjustable and may cause discomfort after prolonged wearing
Limited sizes
Similar Products:
Flex it, bend it, it ain't breaking! So strong, they are military tested, UV rays resistant, and come with a permanent anti-fog coating that will never wash or wear off. Ergodyne Skullerz eyewear is so user-friendly that one can bend it to custom fit the frame. Also, they are non-slip, and the soft pads on the nose and temple offer a firm grip and resist perspiration too. The lenses are tested for high-velocity impact protection along with fog and scratch resistance.
Pros
It is ideal for all tasks that need eye protection
Made of nylon, they are flexible and customizable
Cons
Nosepiece and temple pads may not last long
Now, don't these safety glasses look fancy? Not only do they have a unique design, but they are highly efficient too! The wrap-around design provides you with the ultimate protection from all sides and limits eye exposure from all harmful elements. It is designed to offer dust defense, which means it keeps out dust and even moisture if you are working in humid conditions. Also, irrespective of the environment you're in, the long-lasting coating makes it fog-resistant, thus letting you work in peace.
Pros
State-of-the-art wrap-around design
Limited eye exposure due to foam gasket
Additional cushioning near the eyes
Cons:
Limited size options
Wearing them for long hours can cause discomfort
Earplugs sold separately
Pyramex I-Force Sporty Glasses takes safety to a whole new level, and it does so with dual lenses. Polycarbonate lens on the outside to protect against the environment and acetate lens on the inside to prevent fogging, it makes shielding your eyes look so easy. Its sturdy design assures complete protection, while its vented foam carriage keeps your face cool when working. The quick-release interchangeable temples and strap make this product customizable and versatile.
Pros
Vented foam carriage helps keep your face cool.
Quick-release interchangeable temples and strap.
Cons
Are you wondering what is unique about these anti-fog safety glasses? You can wear it over your prescription glasses! These may look huge but leaves no stones unturned when it comes to preventing harmful particles or chemical spills from causing damage to your eyes. The lens has a Dura-Streme dual coat that makes it anti-fog and anti-scratch without hampering your vision. Its elastomer body is crafted to fit your face comfortably with gap-free vents. Don't go through the pain of wearing contact lenses before putting on safety glasses, when you have Uvex Stealth OTG Safety Goggles.
Pros
It can be worn over prescription eyewear
Dura-Streme dual coat make it anti-fog and anti-scratch
Adjustable headband
Cons
One may feel uncomfortable for the first couple of times
Suitable for indoor work
Wearing glasses for long hours may irritate your skin, causing it to sting or pain. Some may even leave a scar, but SolidWork Professional Safety Glasses do not. They are incredibly light, thin-rimmed, and built with high-quality protection lenses that assure mist-free and scratch-free performance even after multiple washes and wipes. The temples are adjustable, allowing you to bend them as you like for a perfect fit. Another feature that makes them stand out is their integrated side protection that offers complete safety to your eyes.
Pros
Adjustable and comfortable fit
Integrated side protection
Cons
It may not be ideal for indoor working because of the grey-tinted lens
What Are Anti-fog Safety Glasses or Goggles?
Anti-fog safety glasses are to be worn by professionals whose work environment is intense and involves potential harm to the eyes. It is ideal for doctors, carpenters, metal workers, chemists, scientists, engineers, etc. They come coated with anti-fog and scratch-resistant material, thereby preventing the hampering of vision by fog or humidity.
How Does It Work?
Anti-fog glasses feature lenses that are coated with a high-quality anti-fog coating. This helps repel moisture from catching onto the lenses and compromise your vision. Some of these goggles come with LED lights, thereby enabling you to work even in dimly-lit areas. These glasses act like a barrier and protect your eyes from hazards such as small parts of equipment or chemicals, etc.
Types Of Anti-fog Safety Glasses
There are several types of anti-fog safety glasses:
Bifocals: As the term suggests, these glasses come with bifocal lenses that enable you to read while working. Also known as reading safety glasses, these are especially useful if you need a pair of glasses for reading, but your work environment demands you to wear safety glasses.
Over-prescription: As discussed above, these are the safety glasses that can be easily worn over your prescription glasses. This means that you don't need to wear contact lenses before donning these safety glasses as there is enough space to accommodate your glasses.
Safety sunglasses: With these safety glasses, you will not have to get another pair of sunglasses if you want to step out from work. These come with sun and glare protection making them double as sunglasses.
Why You Need To Wear Anti-Fog Safety Glasses
Here are some of the benefits of investing in a pair of safety glasses:
Say bye-bye to foggy frustrations – If you are used to working in conditions that are humid or foggy, you very well know the hazards of working without a pair of safety glasses. While these glasses protect you from potential risks, a poorly fitted one can cause frustration. Your vision can be compromised, which, in turn, leads to lower productivity.
Must fight humidity – It goes without saying that these glasses must combat humidity and keep the moisture from getting in your eyes.
Helps in handling sudden changes in the environment – You may have encountered situations wherein you moved from a cold room to a humid one. This can cause fogging. Your anti-fog glasses must ensure that it does not fog up.
Improves your vision – Most importantly, your eyewear must not impair the clarity of your vision. You must ensure that your glasses are scratch-resistant and do not compromise your vision even after prolonged use.
How To Choose The Best Anti-Fog Safety Glasses?
Take a look at some of the attributes you must look for before you buy anti-fog safety glasses:
Visibility: The anti-fog safety glasses must provide clarity of vision in foggy or dusty conditions and also be scratch and high-velocity impact resistant.
Where Will You Use It– Anti-fog glasses can be used indoors or outdoors, in humid environments, places where work is intense, or temperature tends to fall. You can also use it out in the sun as most of these glasses have inbuilt sun and glare reduction that protect from UV rays.
Fit and coverage – Your safety glasses must fit you tightly enough not to cause fogging when worn in humid conditions. They must cover your eyes completely, and preferably come with a nose bridge and temple cushioning.
Safety features – The whole purpose of the safety glasses is to provide protection. Ensure that the glasses you buy have adjustable and cushioned nose pieces. If you are not going for the adjustable ones, make sure the rims, temples, and nose bridge are cushioned to make them wearable for long periods. Also, check if the coating on the lenses is high-quality and fog and scratch-resistant.
How do you take care of safety glasses? Read on to know more.
Care And Maintenance
To make sure your anti-fog glasses last longer, you must take special care of it. Here's a routine you can follow:
Clean them regularly.
Use a microfiber cloth to clean them as they are soft and will not damage the anti-fog coating.
If you don't have an anti-fog solution, then you can run them under lukewarm or cold water.
Make sure you clean the rims, nose bridge, and temples too to maintain hygiene.
With these 10 best anti-fog safety eyewear to choose from, we seem to have spoiled you for choices, haven't we? Gift your eyes the right protection, and don't let any distractions like fog, scratches, sudden impacts, etc., keep you from having a productive day at work! Do you have a query about anti-fog safety glasses? Write to us in the comments below.
Expert's Answers For Readers' Questions
How do I keep my safety glasses from fogging up?
We recommend you shop for anti-fog safety glasses that come with permanent bonding on lenses or double coating to keep it from fogging.
Can anti-fog safety glasses offer protection from glare?
Yes, several anti-fog safety glasses have inbuilt sun and glare reduction coating that can shield eyes from the harmful effects of UV rays.
Who can use anti-fog safety glasses?
It is ideal for doctors, carpenters, metal workers, chemists, scientists, engineers, etc.
How can you take care of and clean these safety glasses?
Firstly, you must avoid touching the lenses frequently or cleaning it rigorously as it may damage the anti-fog coating. There are several anti-fog solutions available in the market that one can use. Spray it on the lenses and use a microfiber cloth to clean.