11 Best Anti-Grey Hair Oils In India That Work Wonders
Banish greys with these hair conditioning formulas to put an end to your hair woes!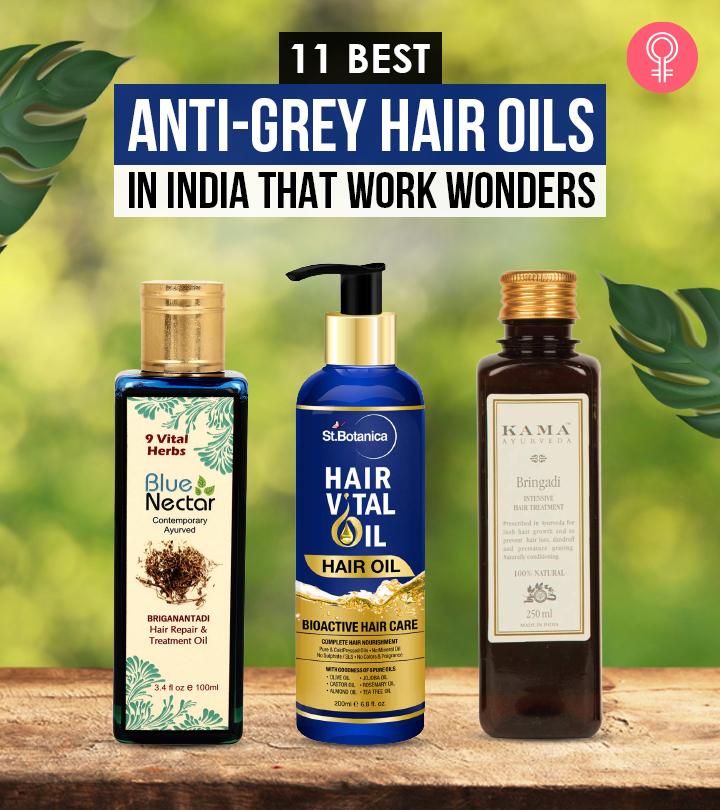 If you are reading this, we are guessing you have spotted a few grey strands in your hair and are probably feeling a meltdown coming. We have all been there. What if we told you that there's no need to freak out just yet? Yes, that's right! There are simple solutions like oils to keep those greys at bay.
When it comes to hair oils for grey hair, the market is flooded with options that nourish your hair, give it a lustrous shine, and help you get rid of those pesky greys. Below, we have collated a list of the 11 best anti-grey hair oils in India that can tackle premature greying with surprising ease and efficiency. Take a look!
11 Best Anti-Grey Hair Oils in India That Work Wonders
The Dabur Amla Hair Oil is one of the best hair oils for premature greying. It preserves the natural color of your hair and keeps it healthy and nourished. The main ingredient, amla, is enriched with natural antioxidants and omega-3 fatty acids, along with nutrients like tannins, amino acids, and vitamin C – all of which help strengthen your hair from the roots to the tips. Regular use of this hair oil also helps reduce hair loss and dandruff.
Pros
Suitable for all hair types
Makes the hair thicker and longer
Imparts shine
Affordable
Cons
The Kama Ayurveda Bringadi Intensive Hair Treatment is next on our list of the best oils for grey hair. It features an Ayurvedic formulation that promotes lush hair growth. This hair oil contains nourishing ingredients that prevent premature greying, hair loss, and dandruff. It has an earthy scent that calms the mind, uplifts the mood, and soothes frayed nerves. The key ingredients include indigo, bhringraj, and gooseberry, which reduce greying, make hair darker, and keep it lustrous.
Pros
100% natural formula
No artificial preservatives
No artificial colorants
No artificial fragrances
Petrochemical-free
Cruelty-free
Cons
None
Price at the time of publication: ₹27.99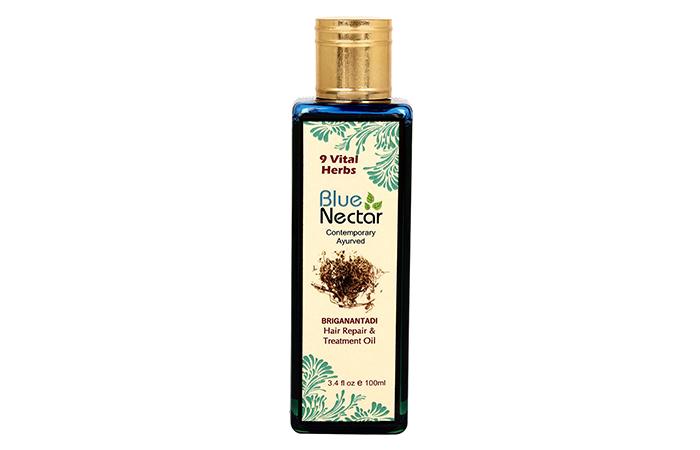 The Blue Nectar Briganantadi Hair Repair &Treatment Oil is enriched with nine vital herbs, including amla, bhringraj, anantmool, neel patra, mulethi, and malkangani, making it the perfect anti-grey hair oil. The Ayurvedic formula is 100% natural and promotes healthy hair growth. It prevents hair loss, premature greying, and dandruff. The nourishing ingredients help your hair retain moisture and prevent split ends. This hair oil leaves your hair roots stronger, detangles unruly hair strands, and makes the hair silky and shiny.
Pros
Paraffin-free
Paraben-free
Mineral oil-free
Non-sticky
Non-greasy
100% natural
Cons
Price at the time of publication: ₹375.0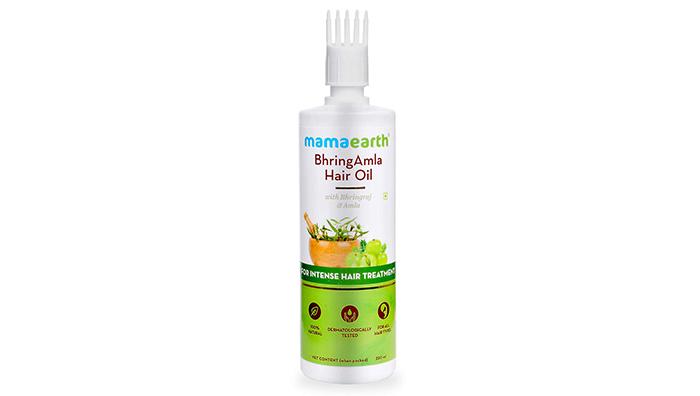 The mamaearth BhringAmla Hair Oil contains the goodness of bhringraj and amla that offer intense hair treatment. It strengthens the hair follicles, promotes hair growth, and prevents greying of hair. This oil also helps reduce dandruff and relieve dry scalp. One of the nourishing ingredients in this Ayurvedic hair oil is amla, which is rich in Vitamin C. It stimulates melanin production and helps restore natural color to your hair.
Pros
Suitable for all hair types
Dermatologically tested
100% natural
No harmful chemicals
Paraben-free
Mineral oil-free
Cons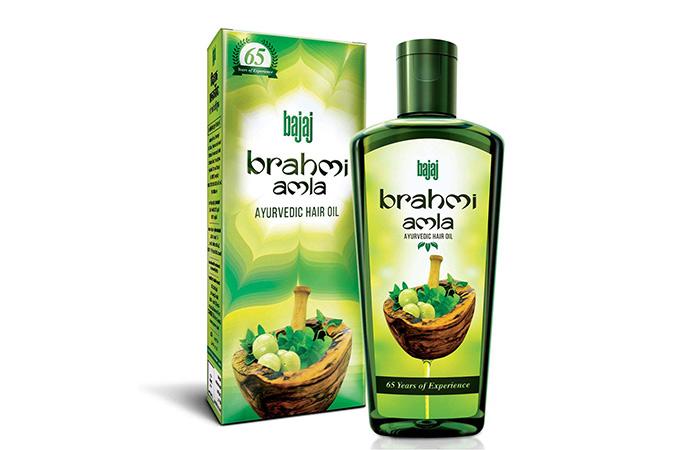 The bajaj Brahmi Amla Ayurvedic Hair Oil strengthens the hair, improves blood circulation, and helps reduce hair fall. The formula is an Ayurvedic blend of amla and brahmi. It nourishes and strengthens your hair from deep within and imparts a healthy shine. This oil cools the scalp and has an anti-inflammatory effect.
Pros
Cooling effect
Reduces hair fall
Makes the hair shiny
Cons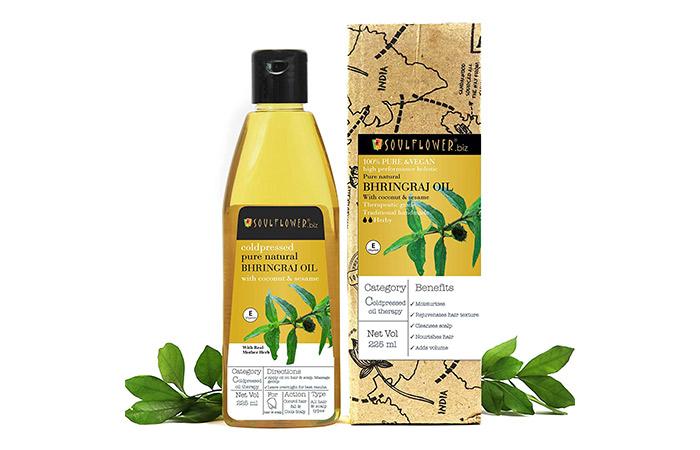 The Soulflower Bhringraj Oil is a pure herb oil extracted from bhringraj flowers and leaves and locally sourced organic sesame seeds and coconuts. The cold-pressed oil uses an ancient Indian remedy to strengthen and restore damaged hair to a healthy state. It controls premature greying and makes your hair more voluminous, lustrous, and shiny. This hair oil also gets rid of dandruff and nourishes dry scalps.
Pros
Non-greasy
Natural ingredients
Cruelty-free
Paraben-free
Phthalate-free
Cons
May not work consistently on all hair types.
The Patanjali Kesh Kanti Hair Oil is a popular choice in the list of oils for grey hair in India. It nourishes and hydrates dry and rough hair and makes it strong and healthy. This hair oil contains wheat germ oil, bhringraj, sunflower oil, and aloe vera that soothe the scalp, reduce toxin buildup, and make the hair soft and smooth. The herbs can also relieve sleeplessness and headaches. This hair oil strengthens hair from the roots, helping combat problems like dandruff, split ends, and hair fall. It rejuvenates the hair follicles and stimulates healthy hair growth.
Pros
Detangles hair
Controls hair fall
Nice fragrance
Cons
May not work on all hair types.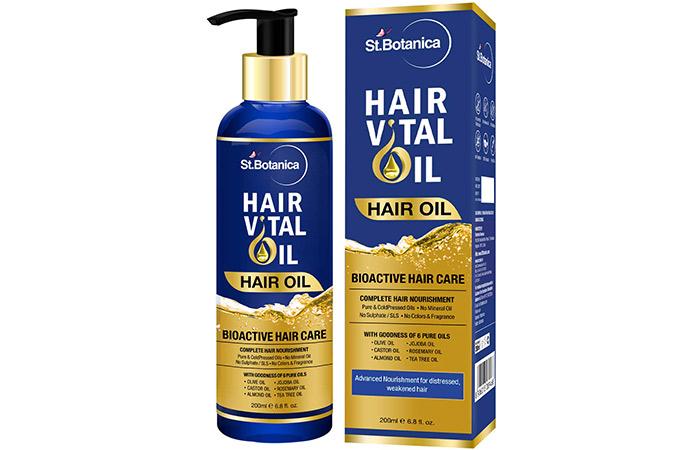 The StBotanica Hair Vital Oil is a blend of six natural, pure, and cold-pressed oils. They include extra virgin olive oil, castor oil, sweet almond oil, golden virgin jojoba oil, rosemary oil, and tea tree oil.
Olive oil contains vitamin E that nourishes and protects the hair. Castor oil improves blood circulation to the scalp and fills in the damaged gaps in the hair shafts. Sweet almond oil is rich in omega-3 fatty acids and vitamin E that aid healthy hair growth. Rosemary oil delays greying and stimulates hair growth. Jojoba oil smooths the cuticles and forms a protective layer on the hair shaft, locking in moisture. Tea tree oil has antifungal properties that prevent scalp infections.
Pros
Mineral oil-free
Paraben-free
Sulfate-free
Silicone-free
No added color or fragrance
Cons
Not suitable for oily hair.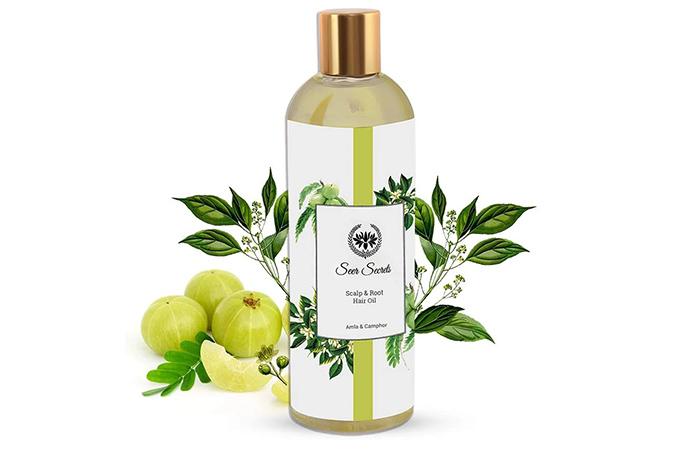 The Seer Secrets Amla & Camphor Hair Oil nourishes dry and damaged hair and restores its health. Apart from amla and camphor, it also contains olive oil, sesame oil, shikakai extract, and jatamansi root extract.
While amla and camphor oils repair damage and aid hair regrowth, olive oil moisturizes the scalp, and sesame oil improves blood circulation to it. The shikakai extract cleans your scalp of impurities, and the jatamansi root extract prevents further greying of hair. This hair oil prevents dandruff, reduces hair breakage, and imparts softness and shine.
Pros
Suitable for all hair types
Organic formula
Silicone-free
Quick-absorbing
Imparts shine
Cons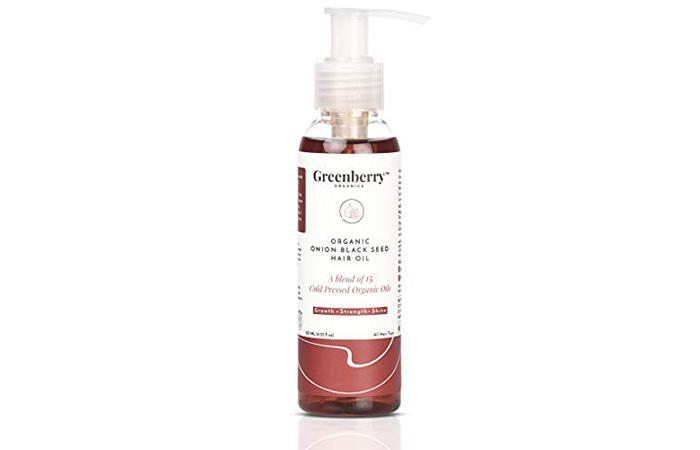 The Greenberry Organics Organic Onion Black Seed Hair Oil is a nutrient-rich blend of 15 cold-pressed organic oils. Apart from onion and black seed oils, it also contains sesame oil, rosehip oil, lavender oil, hibiscus oil, castor oil, sunflower oil, neem oil, amla oil, bhringraj oil, peppermint oil, macadamia oil, argan oil, and virgin coconut oil. The blend is an ideal moisturizer for dry, brittle hair. It controls premature greying, reduces dandruff, strengthens the hair follicles, and makes the hair healthy and shiny.
Pros
Suitable for all hair types
Organic formula
100% natural ingredients
Toxin-free
Cons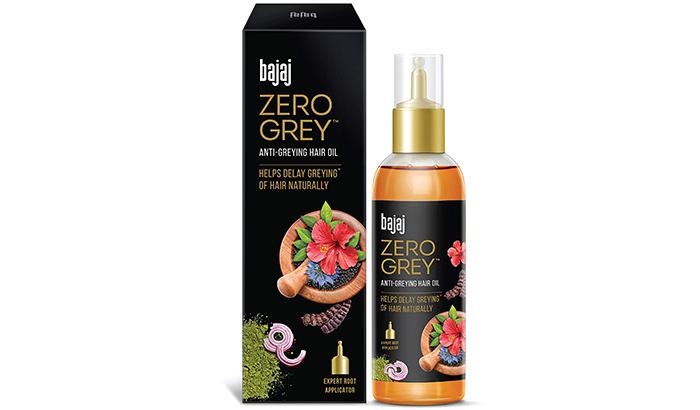 The bajaj Zero Grey Anti-Greying Hair Oil is enriched with the power of natural active ingredients like henna, onion, hibiscus, shikakai, and kalonji with almond oil. The light and non-sticky hair oil helps delay the greying of hair and stimulates the production of the natural black color of hair by five times. The expert root applicator lets you apply the oil directly to your roots with ease and precision.
Pros
Suitable for all hair types
Comes with root applicator
Non-sticky
Cons
Contains paraffin and added perfume.
Now that you are aware of the best hair oils for your grey hair, take a look at the following buying guide for the points to consider before making a purchase.
What To Consider Before Buying An Anti-Grey Hair Oil
Different types of hair demand different kinds of hair oils. If your hair is naturally greasy, a lightweight hair oil will be ideal. For dry and frizzy tresses, you may go for moisturizing hair oil.
Look for ingredients that are known to treat and prevent grey hair. These include rosemary, henna, and fenugreek seed extracts. Ensure there are no harmful chemicals like formaldehyde or artificial fragrances.
There are several brands at different price points. The quality of the ingredients or the brand value determines the price. Go for a reasonably priced product coming from a known brand.
Get your hands on an anti-grey oil and nip the premature greying problem in the bud. The right ingredients and nourishment are all you need for dark and beautiful hair. So, get shopping!

Recommended Articles: