7 Best Anti-Aging Pillows For Smooth, Younger-Looking Skin – 2023
Beauty sleep is done right with pillows that are gentle on your sensitive facial tissues.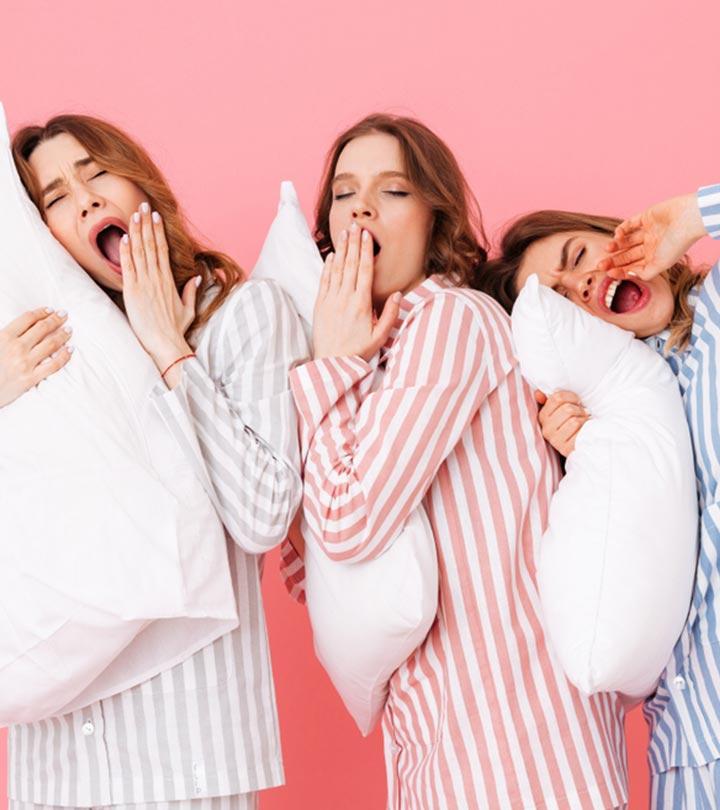 Sleeping is one activity that you should never compromise on. Everyone tells you how important it is to get your 'beauty sleep', and yet, it's believed that sleeping can speed up the aging process. It's a typical catch 22 situation when you think of it, because not sleeping enough can also make you look pretty bad. That really makes one wonder if there is an answer to this. Is it possible to get sufficient sleep without showing signs of aging? And that's when an anti-wrinkle pillow comes to your rescue.
Who among us hasn't woken up with those ugly lines etched on our faces! And unfortunately, that can cause dryness and irritation resulting in wrinkles. This is more common among people who sleep on their stomach or side. When you are young, you have good skin elasticity and volume, and so those lines kind of iron themselves out in a couple of hours, but with age those wrinkles become permanent. Regular pillows cause your skin to get stretched and squashed, adding to creases and morning puffiness. So, do go through our review of the 7 best anti wrinkle pillows of 2023 and find the pillow of your dreams.
7 Best Anti Wrinkle Pillows Of 2023 – Our Top Picks
This anti wrinkle pillow is the natural solution for beautiful skin as it prevents wrinkles and acne, and as a result is anti-aging. Its memory foam offers optimal comfort and support as do its side supports and neck support. It also has cooling flow channels and a tapered front. Instead of your face getting squished against your pillow at night, it's comfortably supported by the pillow, keeping your face and skin free from any harmful pressure. If you have difficulty adjusting in sleeping on your back, you can start on your side and move to your back over a few weeks. It comes in a standard and large size, the only difference being that the standard size has a slightly lower headrest and the side supports are slightly closer together. The standard sized pillow is suitable for most people.
Pros
No PBDEs
No TDCPP
No TCEP flame retardants
No mercury, lead, and heavy metals
No formaldehyde
No phthalates
Hypoallergenic inner cover
Washable bamboo outer cover
Cons
Some may find the pillow too soft
Price at the time of publication: $79.99
Say hello to this revolutionary breast pillow which makes for the best and safest solution to prevent chest wrinkles, especially for those women who enjoy sleeping on their sides. Instead of peels, laser rejuvenation, temporary fillers, and microdermabrasion, all you need is a chest pillow to reduce wrinkles. It's perfectly contoured to your body and fits snugly between the breasts and reduces discomfort while sleeping. It also reduces and prevents chest wrinkles, and acts as a breast separator for women who experience pain or discomfort because of surgery or breast feeding. The contoured design prevents chafing and ensures that the pillow stays in place, regardless of your sleeping position. You no longer have to alter the way you dress to hide those chest wrinkles. This anti wrinkle pillow is ideal for a B cup size and above and is available in sizes XS to XL.
Pros
Fits snugly
Adjustable straps
Safe and comfortable
Available in a range of sizes
Cons
Some may find putting it on a bit cumbersome
Price at the time of publication: $36
It can be extremely annoying when you are sleeping on your side and your ear gets twisted under you. Well, this special anti wrinkle pillow features ear cutouts to eliminate ear pain during the night. The pillow is also designed to reduce overall pressure on the face while you sleep. Made with certiPUR certified memory foam, it's fully adjustable and has height inserts to fine tune the pillow to your requirements so that you never suffer from neck pain. This wrinkle prevention pillow meets CertiPUR-US standards for content, emissions and durability, and is made without any harmful or toxic material. This hypoallergenic pillow doesn't have that distasteful memory foam smell and can be easily machine washed.
Pros
Hypoallergenic
Soft bamboo cover
5 year warranty
No PBDEs
No TDCPP
No TCEP flame retardants
No mercury, lead, or heavy metals
No formaldehyde
No phthalates
Cons
May not offer proper neck support to some
Price at the time of publication: $79.99
This beauty sleep pillow is made of 100% satin and has a hypoallergenic filling. This innovative pillow has a double crescent design that elevates and suspends your face, relieving it of pressure on the tissues and muscles that can cause wrinkles. It can be folded in half for additional neck support and reduce neck and back pain, ensuring a more restful night's sleep. It's an ideal travel companion and easy to maintain and wash in the machine. Literally a face saving pillow!
Pros
Hypoallergenic filling
Soft satin cover
Machine washable
Great for travelling
Cons
Some may find the size too small
Price at the time of publication: $32
The proprietary design of this beauty sleep, anti wrinkle pillow, cradles your head and prevents it from falling side-to-side, and also keeps your delicate facial skin from being damaged during sleep. Its versatile and compact design enables it to be used in several positions, alone, and on top of other pillows for added elevation and support,allowing you to find the most comfortable position. Made without foam, it's filled with a hypoallergenic down-alternative fiber. It's smaller than a standard pillow and is designed to cradle the head, protect the face, and retain fluffiness.
Pros
Foam free
Hypoallergenic
Versatile
Down-alternative fiber
Cons
Some may find it too small and hard
Price at the time of publication: $69
With the brand new Nurse Jamie Healthy Skin Solutions Beauty BearTM Age Delay Pillow, you can now fight wrinkles while you sleep. Develop healthy sleeping patterns rather than worrying about developing wrinkles. After spending the night sleeping on this pillow, you'll wake up looking years younger. This cutting-edge anti-wrinkle pillow has an innovative design in the form of a U that cradles the face and neck while also pleasantly conforming to the natural curves of the head and face. The Beauty Bear has a smooth texture similar to satin, designed to accommodate even the most sensitive skin. This one-of-a-kind anti-aging pillow can even enhance the quality of your slumber and reduce the appearance of sleep lines, which are caused when a person sleeps on their side and gets etched into the skin.
Pros
2 sided pillow
Travel-friendly
Reduces wrinkles
Provides lumbar support
Comfortable
Cons
None
Price at the time of publication: $79
The CASAROL Beauty Pillow uses a patented technology called the SKIN+ to stop and fix the damage that aging does to skin cells. It aids in maintaining the skin's natural hydration, suppleness, and smoothness. The pillow, made of highly responsive memory foam, is contoured to your head, neck, and shoulders to provide a restful night's sleep. As a result, you can prevent puffiness and creases caused by sleep. It helps your cosmetic procedures last longer. Its cheek gaps protect your eyelashes from getting caught in anything. It supports your back, takes the pressure off your neck, and molds to your head, neck, and shoulders so you can have a good night's sleep without any aches or pains.
Pros
Refines the skin
Prevents sleep wrinkles
Prevents morning swelling
Provides neck support
Lightweight
Chemical-free
Cons
Price at the time of publication: $208.99
Now that you have been through our review of the 7 best anti wrinkle pillows, we will give you a few pointers on what to keep in mind while choosing the best pillow for yourself, so that you can make an informed choice.
How To Choose The Right Anti Wrinkle Pillow
Your anti wrinkle pillow should be designed so that it reduces the pressure on your face while you sleep. It should allow you to sleep without your face touching the pillow which would range from those that encourage you to sleep on your back to those that have cutaways for your ears so that you can sleep on your side while leaving your face exposed. Your pillow should also be breathable so that it doesn't lead to the build up of allergens while staying cool through the night.
A silk cover for your anti wrinkle pillow is a great idea as, unlike cotton covers, they do not absorb moisture from your skin or rub off any anti-aging cream you may have applied. They are soft and gentle against your skin and do not cause any friction or traction which can eventually lead to the appearance of wrinkles.
Your anti-wrinkle pillow should be hypoallergenic and also have microbial properties so it causes no harm to your skin. It should have openings for airflow which will reduce acne, as dirt doesn't rub off the pillow and clog your skin pores
It's always better that the pillow you buy is washable considering how long you use it every single day. It's most convenient if you can just toss it into the washing machine whenever you feel it needs to be cleaned. It prevents the build up of allergens and is essential for people suffering from respiratory issues.
Why Trust StyleCraze?
Shreya Vishwanathan is a lover of all things health and fitness. Her recommendations for the best anti-wrinkle pillows help in fighting the signs of aging. She shortlisted these products after conducting intensive research and considering hundreds of user reviews. These pillows are designed to ensure that you get a good night's sleep and wake up fresh without any puffiness or sleep lines on your face.
Frequently Asked Questions
Do memory foam pillows prevent wrinkles?
Yes, memory foam pillows compress under the weight of your head and can be molded as per your face shape. This prevents wrinkles, acne, and creases while keeping your skin free of suffocation.
What kind of pillowcase is best for wrinkles?
The silk pillowcases are best for wrinkles. The lightweight and skin-friendly material does not block your pores and glides over your face without tugging or pulling. Silk also makes your hair appear non-frizzy and tangle-free in the morning.
Are sleep wrinkles permanent?
Yes, sleep wrinkles may become permanent over time. Therefore, it is better to improve your sleeping postures and skin elasticity, and boost collagen production to keep sleep wrinkles at bay.
Does back sleeping reduce wrinkles?
Yes, with the help of back sleeping, you avoid face-to-pillow contact. This prevents the formation and deepening of premature lines and wrinkles.
Do anti aging pillow cases work?
Anti-aging pillowcases prevent creases on your face, and because of this, wrinkles don't stand a chance. Anti-aging pillow cases ensure that you wake up to softer, and more beautiful skin every day.
Do silk pillowcases help with wrinkles?
Silk pillowcases provide a smooth surface for your skin and in contrast to the cotton pillowcases do not absorb moisture from your skin. They also do not pull at your face skin, scrunch the collagen, or cause sleep lines to appear on your face, all of which can lead to the onset of wrinkles.
How should you sleep to avoid pillow wrinkles?
Sleeping on your stomach or side causes you to press your face against the pillow. When this happens repeatedly for many hours every night, it can eventually lead to the appearance of wrinkles. The supine position, or lying on your back, is the best position for youthful skin. Not only does it prevent wrinkles due to the lack of friction, it also stops the skin from feeling the pressure of your face pressing into the pillow.
Recommended Articles