The 25 Best Antioxidant Serums For Every Skin Type – 2023
For the rejuvenated, flawless skin of your dreams that do not show the signs of aging.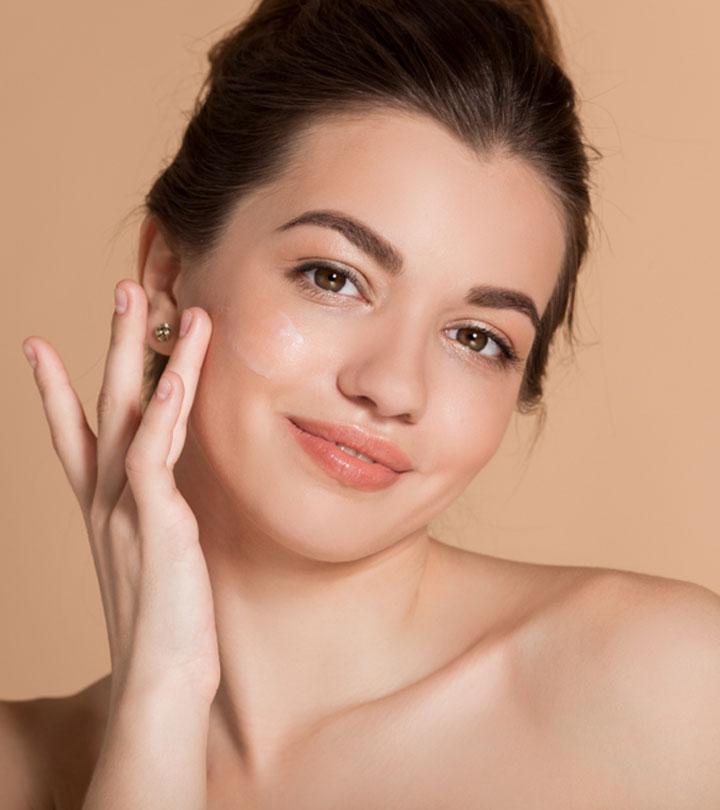 An antioxidant serum prevents the formation of free radicals. They also protect the skin from the sun and environmental damage. The best antioxidant serums minimize aging signs, prevent pigmentation, and reduce the appearance of wrinkles, fine lines.
Free radicals steal healthy cells from the skin and create oxidative stress. Prolonged oxidative stress damages the skin DNA and promotes the aging process. Hence, experts recommend antioxidant serums to keep your skin rejuvenated, fresh, and gorgeous. Keep scrolling to learn more about the best antioxidant serums.
 Top 25 Antioxidant Serums for Every Skin Type In 2023
This advanced antioxidant serum comes with the richness of hyaluronic acid, vitamin C, and vitamin E oil to prevent signs of aging like fine lines, dark spots, and wrinkles. Not only for fighting signs of aging, but this clinically-tested serum is also great for reducing breakouts, improving skin tone, and for reducing the appearance of pores.  So if you are looking for a natural antioxidant serum that is formulated using botanicals, essential oils, and other rich skincare ingredients, this one is a great option. However, doing a patch test is recommended before regular use of this product.
Pros
Composed of vitamin C which can improve collagen synthesis and boost softness
It is free from fragrances, stabilizers, and color additives
Fights aging by hydrating and nourishing the skin
Prevents breakouts and fights signs of aging
Dermatologist-tested
Great for oily skin
Cons
Might irritate sensitive skin
May dry out skin
Price at the time of publication: $38.99
Hyaluronic acid is the one ingredient you might want to look for when your skin feels hydrated and dull. The primary cause of dull and lifeless skin is dehydration, and with this hyaluronic acid serum, you can add a sparkling glow to your skin. The serum features an organic and anti-wrinkle formula that will rejuvenate your skin while also fighting signs of aging like black spots, saggy or loose skin, wrinkles, etc. This serum creates a protective layer to prevent sun damage.
Pros
Premium grade black spot corrector
Minimizes clogged pores and breakouts
Vitamin C-rich serum that fights hyperpigmentation and photoaging
Gets easily absorbed in the skin
Boosts collagen production
Is not tested on animals
Cons
May cause breakouts on sensitive skin
Has an unpleasant scent
Price at the time of publication: $32.0
This cleansing serum locks moisture in the skin and improves skin texture. Filled with antioxidants and made using ingredients like aloe vera, vitamin C, essential oils, etc. This serum promotes healthy skin by reducing pores, breakouts, wrinkles, and other signs of aging. Plus, the salicylic acid skin gently improves elasticity. Thus, if you are looking for a serum that prevents your skin from premature aging, this one is the perfect pick!
Pros
Blend of hydrating and nourishing ingredients
Gently exfoliates and cleanses skin
Also helps with sun damage and offers UV protection
Comes in an easy-to-use bottle
Reasonably-priced product
Cons
Price at the time of publication: $14.95
Vitamin C is a rich antioxidant that can protect your skin from damage and also prevent premature skin aging. From fighting dark spots to improving skin color and texture, it does everything. Thus, if you want a one-shot solution for all your skin issues, this serum enriched with the goodness of vitamin C will work like magic on your skin. As a bonus, it is available at an affordable price compared to other luxury serums!
Pros
Reduces the appearance of sun damage
The unique formula regulates melanin production and removes hyperpigmentation and dull skin
Prevents the formation of free radicals and offers a protective layer
Cruelty-free and 100% vegan serum
Rich and creamy texture
Cons
Price at the time of publication: $14.99
With an energizing blend of active ingredients like vitamin C, hyaluronic acid, salicylic acid, retinol, botanicals, etc., this serum is here to offer protection against skin damage and also to promote healthy skin. Add years to your skin with this anti-aging and anti-wrinkle serum. The best part is that the serum is free from any artificial fragrances, silicone, or parabens.
Pros
Blend of rich and multi-benefit ingredients
Protects the skin from sun damage
Absorbs quickly into the skin
Promotes collagen production and improves blood flow
Feeds nutrients to the skin
Cons
Serum fades away quickly
Runny consistency
Price at the time of publication: $24.79
This vitamin C-rich, professional-grade serum is perfect for mature skin as it offers tons of benefits. The serum is a must-have if you are struggling with dark spots and acne as it is composed of vitamin E, white jelly mushroom, and witch hazel. These potent ingredients are proven to combat acne and excessively oily skin. Also, if you have fine lines and wrinkles caused by stress and exposure to environmental pollutants, this anti-pollution serum will help soften your skin and reduce the appearance of blemishes.
Pros
Features plant-based formula
Professional-grade
Rich antioxidants restore elasticity of skin
Enriched with essential vitamins and minerals
Chemical and paraben-free
Improves uneven skin tone
Cons
May not be adequately absorbed into the skin
Not a pleasant scent
Price at the time of publication: $14.99
L'Oreal is well known for some of the most promising skincare products in the industry, and here it is with yet another superb product! This antioxidant-rich, hyaluronic acid serum helps prevent premature skin aging. This gentle and refreshing serum blends the goodness of hyaluronic acid with an organic base to offer a lightweight and highly absorbent serum.  Especially if your skin feels dry, this serum is by far the most hydrating and healthy option you could consider indulging in.
Pros
Instantly moisturizes dry and dull skin
Improves complexion and promotes blood flow
Makes skin feel smoother and supple within a few uses
Lightweight gel absorbs quickly into the skin
Offers a glossy finish
Suitable for all skin types
Cons
Very thick and viscous serum
Skin may remain sticky or greasy after rinsing
Price at the time of publication: $22.69
If you are exposed to pollutants, impurities, and harmful sun rays on a daily basis, you will certainly benefit from this all-in-one vitamin C serum. It is a daily-use serum that consists of safe-to-use and non-irritating ingredients that help rejuvenate skin. This product features concentrated vitamin C and natural ingredients for hydrating and nourishing the skin. The best part of this serum is that it is non-comedogenic, so apply away and get your skin care regime right!
Pros
Contains non-comedogenic ingredients
Protects skin from excessive pigmentation
Fades brown and dark spots
Offers a healthy and sparkling glow
Soothes irritated skin
Cons
Does not get absorbed adequately
Inconvenient packaging
Price at the time of publication: $17.25
This fast-absorbing serum by Dr. Song is designed for all skin types, and it contains some of the most effective ingredients used for fighting skin aging. From free radical damage to wrinkles, this serum addresses almost all your skin woes and leaves it smoother and supple. The serum is enriched with ingredients like vitamin E, witch hazel, aloe, vitamin C, hyaluronic acid, etc. that help stimulate collagen production and eliminate dark spots and other signs of aging.
Pros
Protects against oxidative stress
Restores healthy glow and moisture balance
Also reduces acne breakouts
Very affordable
Cons
Feels sticky on oily skin
Price at the time of publication: $12.99
Here's a great way to fight and prevent premature aging! Neutrogena has launched this unique formula that hydrates skin and promotes collagen production for a healthy and vibrant glow. Niacinamide content in the serum helps you achieve an even tone. At the same time, hyaluronic acid and vitamin E restore the natural skin barrier for fighting sun damage and other skin issues. This dermatologist-tested product is undoubtedly a budget-friendly formula that's designed to revitalize you and your skin.
Pros
Skin feels energized and fresh after use
Offers intense hydration to the skin
Dermatologist-tested product
It does not clog pores
Cons
May cause breakouts on sensitive or acne-prone skin
Price at the time of publication: $39.99
The Tatcha Violet-C Brightening Serum is dermatologist-tested, rich in pure ingredients with 20% vitamin C and 10% AHAs that offers radiant and even skin tones. The 10% AHA comes from the mix of seven fruit extracts such as grapefruit, lime, apple, jujube, lemon and hawthorn. It effectively reduces the appearance of dull skin and fine lines over a period of time by removing dead skin cells. The formula also contains a blend of antioxidant-rich Japanese beautyberry and Japanese angelica roots to work on discoloration, hyperpigmentation, and post-acne scarring. It is easy to use on all skin types due to its non-comedogenic, non-sensitizing, and non-irritating formulation.
Pros
Natural formula
Non-sensitizing
Non-irritating
Vegan
Fragrance-free
Paraben-free
Urea-free
Sulfate-free
Phthalate-free
Dermatologist-tested
Cons
None
Price at the time of publication: $89
Swap your regular facial serums with this natural ascorbic acid-rich serum and watch as your skin shines with glory! This serum is formulated with tons of antioxidants that will help cleanse your skin and provide the much-needed nourishment. Especially for those with dry skin, this is a hydro-boost serum that is composed of hyaluronic acid. The serum helps impart a healthy glow and restores your radiant complexion. It is fragrance and paraben-free and thus, safe to use.
Pros
Improves skin tone and texture
Composed of hyaluronic acid, vitamin B5, ceramides, and vitamin C
Restores the natural protective barrier of your skin
Leaves your skin smooth, soft, and clear
Cons
Not a retinol serum
May cause itchiness on sensitive skin
Price at the time of publication: $20.94
This serum is designed to reduce the appearance of spots, wrinkles, and blemishes on your skin and to improve the complexion. The dermatologist-tested, antioxidant serum also works as a sunscreen with SPF 50 and is infused with vitamin oils for all the nourishment your skin needs. Loaded with powerful antioxidants like vitamin E and baicalin, this serum protects skin from free radical damage and penetrates deep within the layers of skin to offer visible results in a few uses.
Pros
Dermatologist-tested antioxidant serum
Improves wrinkles, fine lines, and spots
Broad-spectrum UV-protection with SPF 50
Allergy-tested and non-comedogenic
Oil-free
Suitable for sensitive skin
Cons
Poor packaging that is inconvenient to use
Price at the time of publication: $42.5
This miracle serum brings together some of the most hydrating and antioxidant-rich ingredients like green tea, vitamin C, vitamin E, and hyaluronic acid to work miracles on your skin! If you are struggling to reduce the appearance of fine lines and saggy skin, this organic and non-greasy serum works on cellular repair to minimize hyperpigmentation and signs of aging. Within a few uses, you'll witness your skin getting supple, smooth, and radiant!
Pros
Designed to fight signs of aging
Improves uneven skin tone
Fights dark circles, dark spots, blemishes, etc.
Shrinks pores and prevents breakouts
Great for all skin types
Available at a great price
Cons
Price at the time of publication: $9.99
There's nothing better than an antioxidant-rich serum that feels super light and provides intense hydration to the skin. If you are looking to address various skin issues, regular use of this botanical serum certainly yields the best results. This is an intense firming and hydrating serum that locks moisture in your skin and prevents it from getting dry or looking dull. As a bonus, the serum comes with a refreshing, mild scent that will have you leaving all your problems far, far away!
Pros
Organic and plant-derived serum
Loaded with antioxidants, botanical extracts, and amino acids
Feels super light and soothing on the skin
Suitable for all skin types
Offers intense hydration to the skin
Cons
Price at the time of publication: $82.99
The REN Clean Skincare Glow & Protect Serum brightens your skin tone with rich antioxidant properties in 14 days. The formula fights against free radicals to protect the skin from any damage. The formula contains three types of vitamin C, glycogen, vitamin E, polyphenols, hyaluronic acid and a blend of kakadu plum, dragon fruit, and pomegranate. The kakadu plum evens out the skin tone and brightens the skin, antioxidant-rich pomegranate and dragon fruit strengthens the skin barrier and hydrates the skin. Get the best results by gently massaging the serum in circular movements, in upwards and outwards motion as a part of your skincare regimen.
Pros
Lightweight
Gentle
Natural formula
3 types of vitamin C
Improves skin tone
For all skin types
Vegan
Cons
None
Price at the time of publication: $68
Jazz up your night-time skincare routine with this antioxidant rich serum. The serum offers overnight glow and consists of ferulic acid and resveratrol that removes dead skin cells and exfoliates the skin gently. If your skin is exposed to impurities, sun damage, and dust every day, this is the serum that'll not only prevent signs of aging but will also cleanse your skin from deep within.
Pros
Prevents hyperpigmentation
Improves skin tone
Lightweight and highly absorbent serum
Visibly reduces wrinkles and lines
Works well on all skin types
Hydrates and deeply cleanses skin
Cons  
Price at the time of publication: $19.99
Here is a tightening and brightening serum that consists of 15% ascorbic acid to flush out all the impurities from the skin and prevent free radical damage. For an added layer of protection from sun rays and other pollutants, this is the serum you should pamper your skin with! When it is difficult to find a serum that doesn't agitate your skin, choose this serum as it is suitable for use on sensitive skin too.
Pros
Brightens skin tone
It stays active on the skin for up to 72 hours
Cleanses the skin without clogging pores
Cruelty-free
Cons
Watery consistency
Poor packaging
Price at the time of publication: $70.0
This inexpensive skincare serum is just the right product for you if you are struggling to make your skin look more youthful. This organic serum also works as a skin brightening gel that features a rich, creamy formula and effectively reduces fine lines. The serum consists of vitamins, hyaluronic acid, and organic aloe to rejuvenate skin naturally and eliminates age spots. This multi-benefit cream will eventually eliminate brown spots, deep wrinkles, eye bags, dark circles, and saggy skin.
Pros
Natural pore minimizer and skin brightener
Enhances collagen production
Prevents environmental stressors from damaging skin
Offers a natural and radiant glow
Cons
Price at the time of publication: $16.98
Get rid of dull skin with the Sunday Riley C.E.O. 15% Vitamin C Brightening Serum in your skin care routine. The antioxidant-rich formula treats discoloration and dark spots while making the skin firmer and plumper for a refreshed look. The serum contains a powerful form of vitamin C known as THD Ascorbate, that also offers anti-aging benefits. Boost the appearance of any skin type by applying this harmful chemical-free antioxidant serum twice daily.
Pros
Anti-aging
Plumps the skin
Paraben-free
Vegan
Sulfate-free
Phthalate-free
Fragrance-free
Gluten-free
Cons
None
Price at the time of publication: $85
Like a hydrating lotion, this super antioxidant-rich serum is easily absorbed in your skin and prevents the environmental pollutants from damaging your skin. This serum features a rich blend of antioxidants that work in tandem to improve the natural barrier of your skin. This silky-smooth serum has a luxurious texture and hydrates the skin.
Pros
Works gently on the skin without irritating it
Visibly reduces signs of aging
It is great for sensitive and eczema-prone skin
Moisturizes skin and offers SPF
Cons
Price at the time of publication: $38.0
To get flawless and super smooth skin, you'll have to work on it. And if you want to start quickly, get this luxurious antioxidant serum that has a soothing effect on the skin and maintains the natural moisture balance. If you are looking to defend your skin against sun damage or pollution, this serum is worth a shot! It promotes collagen production and improves skin elasticity within a few uses.
Pros
Nourishes skin
Prevents free radical damage
Restores the natural moisture balance
Has a refreshing scent
Cons
Price at the time of publication: $54.0
Level up your skincare routine with the antioxidant properties of the Mario Badescu Vitamin C Serum. It smoothes and brightens your dull skin, except acne-prone skin. It is a lightweight vitamin C-rich serum that retexturizes the skin and reduces the appearance of fine lines and wrinkles. The combination of sodium hyaluronate and collagen offers moisturized and luminous skin for a long duration. Be mindful of applying a broad spectrum UVA/UVB blocking formula as Vitamin C makes the skin highly sensitive to sun rays.
Pros
Lightweight
Improves skin tone
Reduces wrinkles
Paraben-free
Phthalate-free
Fragrance-free
Gluten-free
Cruelty-free
Vegan
Cons
Not for acne-prone skin
Price at the time of publication: $45
Pamper your skin with this hydrating facial serum. The serum is formulated using green tea formula that is enriched with antioxidants. The serum is specifically designed to work on sensitive and combination skin types. It also has anti-inflammatory and anti-bacterial benefits that prevent breakouts and clogged pores. It quickly targets common signs of aging such as sunspots, lines, blemishes, etc.
Pros
Features retinol and hyaluronic acid
Helps your skin retain moisture
Reduces irritation, redness, baggy eyes
Accelerates cell growth and boosts collagen production
Cons
Does not get absorbed quickly in the skin
Price at the time of publication: $15.95
The secret to great skin is this antioxidant rich serum that protects the skin from free radical damage and hydrates the skin! It makes our skin look supple and flawless within a few uses. It efficiently shields the skin from damage and simultaneously reduces the appearance of dark spots, fine lines, wrinkles, and other signs of aging. The super-light texture of this serum soothes skin and has you coming for more!
Pros
Smoothes wrinkles to reveal a radiant complexion
Fights harmful oxidative stress
Does not clog pores or promote breakouts
Cons
Not a completely organic serum
Price at the time of publication: $46.0
Now we will endeavor at understanding these serums a little better.
Why You Should Be Using A Daily Antioxidant Serum
If you are confused about the type of serum that suits your skin and works for you, here are some points to consider:
The first thing to analyze while choosing a serum for your skin is to know your skin type and select the ingredients accordingly. If you have oily skin, pick serums that prevent breakouts and greasiness. If you have dry skin, pick a serum that moisturizes your skin.
The second thing to look for is the list of ingredients. Check the ingredients that are suitable for your skin type and would not irritate your skin. For dry skin, choose hyaluronic acid, while for oily skin, look for serums with salicylic or glycolic acid.
If you have combination skin, look for soothing ingredients like cucumber, aloe, green tea, etc. to hydrate the skin and prevent irritation.
How To Find The Best Antioxidant Serum For Your Skin Type
A serum will only provide you the required benefits if you choose a serum that suits your skin type. Here's how you can find the serum for your skin type:
Vitamin C – this is one of the essential antioxidants that boost collagen production and also prevents hyperpigmentation and dark spots.
Vitamin E – this anti-inflammatory ingredient soothes dry skin and also improves complexion.
Hyaluronic acid – this ingredient offers deep conditioning and moisturization to the skin. It can be used if your skin feels extremely dry.
Vitamin A – retinol or vitamin A is known for smoothing wrinkles and fine lines and thus can fight signs of aging.
Green tea – it has anti-inflammatory properties and is rich in antioxidants that hydrate skin and can cleanse it from deep within.
For sensitive skin, it is crucial to avoid serums with chemicals, acids, added fragrances, and chemical-based serums.
How To Add An Antioxidant Serum To Your Skincare Routine
To include antioxidant serums in your skincare routine, it is recommended that you use the serum right after cleansing it. Antioxidants are known to enhance the skin barrier. Thus, you can apply the serum after cleansing in the morning, so when you step out in the sun, the layer of antioxidant-rich serum protects your skin.
It is also recommended to use a moisturizer right after applying the serum to hydrate and nourish the skin.
Why Trust StyleCraze?
Medha Deb is a skin and hair care expert with over 100 articles to show her skin care expertise. She knows that the right facial serums can keep your skin looking youthful and healthy. She picked these best antioxidant serums after researching many products and reviews on different platforms. She chose her list on the basis of ingredient composition, antioxidants and anti-aging benefits, and skin-friendliness.
Frequently Asked Questions
What age should I start using an antioxidant serum?
It is recommended to start using the antioxidant serums at the age of 18.  This is the period when girls might face breakouts and clogged pores. Also, at this age, the skin gets easily exposed to environmental pollutants and sun, and thus, to prevent the skin from getting damaged, it is better to start using the antioxidant serum early. It will also prevent your skin from getting dull or saggy prematurely.
When should you use an antioxidant serum?
If your skin is regularly exposed to sun, pollutants, dust, and such skin-damaging elements, it is the right time to start using antioxidant serums. These serums prevent your skin from getting dried out and provide a natural glow.
What are the best antioxidants your skin needs?
Some of the best antioxidants for skin are vitamins A,C,and E niacinamide, flavonoids, resveratrol, polyphenols, glutathione, etc.
Are antioxidant serums good for sensitive skin?
Yes, antioxidant serums are excellent for sensitive skin. They strengthen the skin barrier and protect it against various environmental aggressors.
How long does it take an antioxidant serum to work?
If you start using an antioxidant serum daily, you can achieve brighter skin in less than a month.
Do antioxidant serums prevent aging?
Yes, antioxidant serums can prevent aging. They improve collagen production in the skin which in turn helps to improve skin elasticity. This ultimately delays aging and you have a youthful appearance for a long time.
Can antioxidant serum reverse skin damage?
Yes, antioxidants serums usually have a blend of potent ingredients that helps to reverse and prevent damage because of aging, inflammation, and sun rays.