7 Best And Trusted Water Jogging Belts For Women – 2023
Enjoy water-based workouts without the fear of losing posture or getting your hair wet.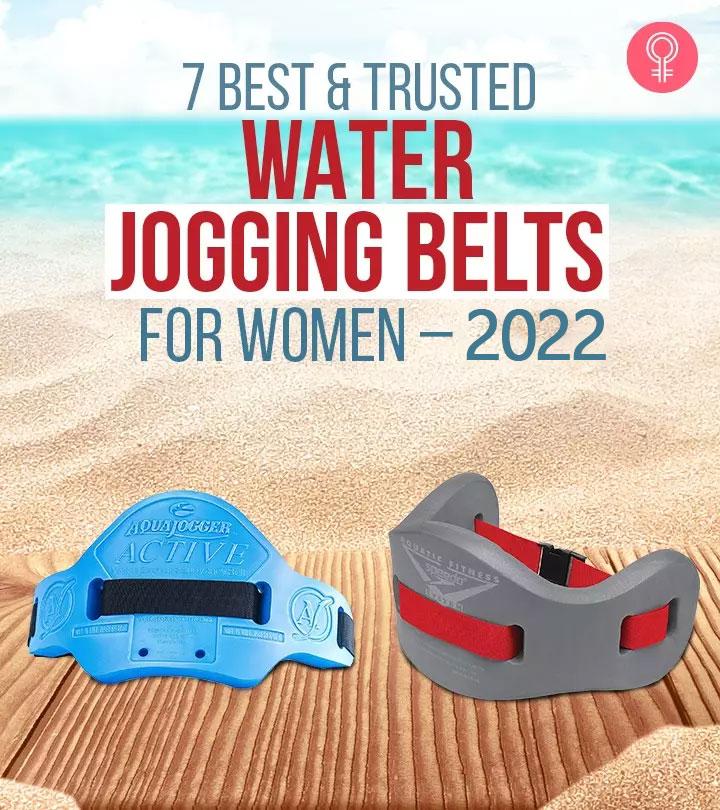 If you have been looking for the best aqua jogging belt, we have just what you need. Water exercise is not something that the millennials have come up with in recent times; it has existed for centuries and helps tone your body without risking ligament tears. Water-based workouts like water aerobics, aqua jogging, and cross-training in the pool help you reduce weight with the help of a water jogging belt. Wrapped around your waist, it gives you the flotation and buoyancy needed to keep you upright and make sure your head stays dry through the exercise routines. These belts are also incorporated in the physical rehabilitation process and therapies. While the function of aqua belts hasn't changed over time, finding the perfect one for you that is durable, of the proper shape, material and offers comfort might confuse you. To keep any kind of confusion at bay and help you choose a jogging belt that supports your back, we have something to help you choose from.
Mike Silverman, a Certified Personal Trainer, says "I'm a huge fan of float belts and pool aerobics because they can get you a great workout without the impact of standard cardio."
Go through these 7 highest-rated water jogging belts to find the one made according to your exercise needs.
7 Best Water Jogging Belts For Women
The Aquajogger Active Buoyancy Belt is one of the most popular belts used by water aqua workout enthusiasts. Whether you are jogging underwater, doing aerobics, or cross-training, this belt provides ideal lumbar support to keep you upright and ensures an effective workout. It does not ride up while working out, as it has an adjustable strap design that fits waists up to 48 inches. It also has a thickness of 1.5 inches, preventing any chafing or irritation.
Specifications
Pros
Comfortable
Adjustable fit
Does not ride up
Enhances buoyancy in water
Durable construction
Flexible
Reasonably priced
Cons
None

Price at the time of publication: $38.49
When it comes to aquatic sports products, nothing beats Speedo! Their aqua jogging belt comes in two sizes – small or medium that has an adjustable waist size of 25 to 48 inches and large or extra-large that can fit up to 56 inches. It offers great floatation and buoyancy with its chlorine-resistant 1.5-inch-thick foam. It can also be used for cross-training and rehabilitation from injuries.
Specifications
Material: Chlorine-resistant foam
Color: Charcoal gray and red
Pros
Durable
Quick release button
Soft and flexible foam
Reasonably priced
Cons
Price at the time of publication: $34.47
The WATERFLY Fanny Pack Waist Bag lets you carry around two water bottles at the same time and has a spacious front compartment where you can fit in anything like an iPad mini or a book or your phone. This fanny pack is made with high-quality water-resistant nylon and breathable back padding to allow your skin to breathe. The water bottle holders are designed with adjustable straps that prevent them from slipping. You can even transform this fanny pack into a sling bag if desired.
Specifications
Material: Nylon
Color: Black
Pros
Larger storage capacity
Multifunctional
Waterproof
Adjustable waist belt
Durable
Cons
May slide down during wear
Price at the time of publication: $27.59
Alleviate the stress and pressure on your joints by working out with this floatation belt by Sunlite Sports. It provides ample buoyancy to keep you floating and is great for water jogging, water exercises, and cross-training. It fits waist sizes from 35 to 45 inches with its easy-to-use adjustable strap and buckle design. The belt is lightweight and covered with a smooth fabric and does not feel uncomfortable on your hips.
Specifications
Material: EVA foam
Color: Blue
Pros
Comfortable
Lightweight
Durable
Soft fabric cover
Good buoyancy
Ideal for beginners
Cons
None
Price at the time of publication: $36.83
This high-quality water jogging belt by Crown Sporting Goods keeps you afloat and vertical, as it is designed for optimal safety and balance. It is made of EVA foam and has an ergonomic design for a flexible and comfortable fit. The adjustable strap, along with the easy to lock buckle, fits waists up to 40 inches. It is ideal for low-impact workouts, cardio, and recovery from an injury.
Specifications
Material: EVA foam
Color: Blue
Pros
Comfortable
Provides vertical support
Supports various water workout routines
Enhances balance and stability
Adjustable fit
Does not ride up
Reasonably priced
Odorless
Cons
Price at the time of publication: $31.99
The AiRunTech Upgraded No Bounce Hydration Belt has a unique design and a flexible water bottle holder that can carry any bottle with a diameter of 3.2 cm to 8 cm. The belt is designed with a 45-degree bottle holder that holds the bottle against the curves of your body so that it does not bounce around when you are running or hiking. This hydration belt has multiple spatial compartments and an elastic band that lets you carry around your phone, keys, hand towel, and headphones, making it your perfect jogging companion.
Specifications
Material: Nylon
Color: Black and Green
Pros
Can be worn by both men and women
Anti-slip design
Breathable material
Adjustable strap
Zip closure
Lightweight
Cons
Not sweat-resistant
Weak zipper
Price at the time of publication: $18.95
Now, you concentrate solely on working out instead of spending time in adjusting your aqua belt with the Hydro-Fit Classic Wave Belt. It features a unique shape that contours the shape of your body, enhancing proper body alignment and correct posture. The durable EVA foam material is soft and provides a comfortable fit. The belt has a quick release buckle strap for a secure fit and easy removal. It is available in three sizes – small, medium, and large – to accommodate any body size or shape.
Specifications
Material: EVA foam
Color: Blue
Pros
Soft and flexible foam
Wide size range
Snug fit
Secure
Durable
Promotes proper body posture
Non-restrictive
Easy to put on and take off
Cons
None

Price at the time of publication: $52.95
To get the best out of your in-water exercises, invest in a good water jogging belt. If you are not sure which one will be the right one for you, check out the guide below. We have listed all the factors that you can consider to narrow down your search.
Things To Look For In A Water Jogging Belt For Women
Size: A good water jogging belt should fit snugly and not too tight. If it's too tight, you'll be uncomfortable, and your movements will be restricted. If it's too loose, the belt may come off during a workout or chafe against your skin. A good rule of thumb is to get a belt that is half an inch larger than your waist measurement, although this may vary a little depending on the brand and model of belt you choose.
Material: A water jogging belt made from synthetic materials is less likely to cause chafing or discomfort than one made from natural materials like cotton. However, synthetic belts tend to be more slippery and difficult to grip. Make an informed choice based on your requirements.
Type: There are two popular types of water jogger belts- those with clips and those with buckles. With clips, you simply attach the belt around your waist and then attach the clip to the front of the treadmill or bike. With buckles, you first loop the belt around your waist and then buckle it into place on top of your pants.
Features: Some belts are equipped with features such as pockets to store keys or phones, reflective stripes for safety in low light conditions, or breathable fabric to help keep you cool on hot days.
Why Trust StyleCraze?
The author, Aditi Naskar, has a diploma in health and wellness and loves to review fitness products. She carefully listed the best aqua jogging belts based on user reviews and feedback on multiple forums and brand websites. These belts provide excellent lumbar support to keep you upright and ensure an effective workout.
Frequently Asked Questions
Is aqua jogging as good as running?
Yes, it is. Aqua jogging is a safer alternative to running as it allows you to maintain cardiovascular fitness while decreasing any injury or pain.
Does aqua jogging help you lose weight?
Yes. Aqua jogging can help you burn over 11 calories per minute, as the extra pressure of water pushes more blood back up to the other half of your body, raising your heartbeat and burning extra calories.
Can you aqua jog without a belt?
You can aqua jog without a belt, but you will have a hard time staying afloat and lose your concentration. It may also impact the effectiveness of the workout.
Is aqua jogging as good as running?
No. Aqua jogging is better as it burns more calories and reduces the impact on your joints.
How often should I aqua jog?
Aqua jogging two to three times weekly brings good results.
Can you aqua jog in the sea?
Yes, just wear a floatation belt and make sure your feet are above sea bed level.
How long should you aqua jog for?
30-45 mins of aqua jogging is good for everyone.
Does jogging in water burn calories?
Yes, jogging in water burns more calories than jogging or running on land. It can burn up to 700 kcals/hr, depending on your time and intensity.
Recommended Articles